CLICK ON PICTURES TO ENLARGE
JAPAN 2015
This was to be essentially a holiday combined with a brief visit to a Japanese company with which I have had a business relationship for many years. It would be my second trip to the country, with a similar itinerary to the one I had made eight years previously, travelling around by self-drive hire car.   When I originally suggested that idea the advice I was given by people who knew anything about Japan ranged from 'inadvisable' to 'impossible', but in the event it was very successful. Starting from Osaka the route covered about 1000 miles, taking in coastal areas, mountains, beautiful countryside and several major cities. Car museums as well, of course.
Despite my experience, in planning this new 11-day trip I made a major blunder.  After booking the flights with Emirates I discovered that it was difficult to make any hotel reservations for the first five days that I was going to be in Japan because the three week days were public holidays.  The Monday was Respect for the Elderly Day, which I rather liked, the Wednesday was Equinox Day, and Tuesday was a holiday because the other two were. The Japanese are inveterate travellers, and when they decide to move around they do so in a big way, putting a lot of pressure on accommodation and transport.  There were still 8 weeks to go, and with great difficulty I managed to book hotels for the whole route, mainly using Booking.com,  but it reduced my flexibility and would create big problems if I lost a day anywhere.  Also I had to alter my business visit, and the roads were likely to be even more congested than usual.
Hello, Japan.  Dancing chairs and bottled sweat.
About 25 hours after leaving home I went into the station at Kansai Airport to get the Haruka Limited Express train to Shin-Osaka, and was immediately left in no doubt that I was in Japan.  The train pulled in exactly on time, and I was just entering the carriage to take my numbered seat when a man stopped me and told me to wait behind a line on the platform.  He wheeled a trolley full of cleaning stuff into the carriage, and then something happened straight out of Alice in Wonderland.  All the seats, which were in lines of 2 or 3, started spinning round on their bases individually.  It was just like some sort of crazy Mad Hatter's dance, and appeared to be part of the cleaning procedure, but was actually a way of turning the seats round to face the direction of travel for the return journey as the train was at the end of the line.
It was too dark to see anything much outside, so I took the opportunity to check my navigation arrangements.  Finding the way in Japan can be very difficult and locating specific addresses is a big problem even for the locals because in most places buildings are not numbered in sequence along a road or street, but are identified by three numbers referring to the district, block and the number within the block.  This last number may be determined by the order in which the buildings were erected, which is not very obvious to a foreigner.  If a street has a name it will almost always only be in Japanese unless it is a major route.
To find a particular building you really have to know exactly where it is on a map, and there is something rather peculiar about the Japanese and maps.  The maps you find in leaflets and public places are strangely presented and usually do not have north at the top.  If you buy a local map it will be entirely in Japanese. Of course, you can always ask somebody, but almost nobody speaks English, which means that they will go off in search of someone who does. As a point of honour they will not let you go until they are satisfied that they have met your needs, which can take a very long time.  Businesses often have outline maps on which they will mark the place you are looking for, but they usually get it wrong.  It is no good showing someone an address in English because they won't be able to read it, and if you have the address in Japanese you won't be able to read it!
Rental cars usually come with satnav, but it will be all Japanese apart from the road numbers. This means that you need GPS in a phone or tablet, and there is still a problem, because for some strange reason to do with copyright the usual map providers (Google, Bing, HERE) do not have offline maps of Japan.  However, after much research I found a modified version of Bing Maps for my Windows phone, and MapsMe for my Android tablet.
Back to the train, and this was the opportunity to see whether the GPS worked with the maps, because I couldn't do it England.  To my great relief the little arrows moved along the maps and showed the position of the train, so that I could judge exactly when it was going to get to Shin-Osaka station, although there were clear indicators in the carriages anyway.  I chose Shin-Osaka as my base because I knew the area from my previous visit. It has lots of hotels, was convenient for car rental and not too far from my business associates' headquarters.
Shin-Osaka might have lots of hotels, but I had only been able to find one with a vacancy for the day of my arrival, and in my estimation it was at least twice the price that it should have been.  It was very close to the station in a road alongside the railway lines, and I must admit that I did wonder whether it offered services over and above those required for a normal night's sleep, but there was nothing untoward in the reviews.   The name LiveMax also seemed a bit strange, but in fact it is part of a large Japanese hotel and real estate group, and was perfectly respectable.
In the last thirty hours I had had a succession of airline meals, so I was still a bit hungry, and after checking in I went along the street to get something from a convenience store.   On the way I passed several of the refrigerated drinks dispensing machines found everywhere in Japanese towns, and containing among many other things bottles of Pocari Sweat and Calpis energy drinks, always a source of amusement to native English speakers.  They taste as bad as their names suggest, although Pocari is not actually bottled sweat, but just intended for sweat replacement.
These are just two examples of the very widespread use of English names for products and businesses, which seems very odd in a country in which so few people speak the language.  Most hotels have English names, and the two most popular convenience stores are Lawson and Family Mart.  Almost every door for public use in Japan has PUSH and PULL on it, a point that I raised with my business associates in a general discussion until I realized that it was dangerous ground and changed the subject.
Mountains and mad motorcyclists.
The next morning I checked out and went to pick up my car from Times Car Rental, a short walk from the hotel.   Shin-Osaka, like most urban areas in Japan, is totally safe but visually unattractive, a consequence of the headlong rush for development in the 1960s and 70s.  The main street, if you could call it that, is literally overshadowed by a multi-lane elevated highway running for its entire length (and far beyond), with two high level railway stations.
The staff in the car rental office did not speak much English, but after examining my credit card and International Driving Permit they handed me some forms in English to read and sign where indicated.  A man took me outside to introduce me to my silver Mazda Demio (Mazda 2 in England) and then left me to get sorted out.  Driving in Japan is on the left hand side of the road, with the steering wheel on the right, as at home, but there was one confusing thing, in that Japanese cars in Japan have the lever for the indicators on the right and one for the windscreen wipers on the left.   It took me several days to get used to that, and for a time I kept switching the wipers on when I wanted to turn.
Seventy-two percent of the area of Japan is mountainous, which means that a large proportion of the remaining land is built up, with vast, seemingly endless, conurbations along the coasts.  My next overnight stay was to be in a small town called Obama on a relatively undeveloped stretch of coast about 50 miles north of Shin-Osaka.  It was the other side of a range of mountains, and there were basically three ways of getting there, one being made up of comparatively minor roads across the mountains, and the other two being expressways (expensive toll motorways) on lower lying land to the east or west of the mountains.   These last two were each about 100 miles long, and the more direct route was actually about 90 miles, because it squiggled about so much.
There was an element of risk in the last route, as Japanese mountain roads are subject to closures during periods of bad weather, including heavy rain, of which there had been plenty prior to my visit.  On the other hand at holiday time there could be problems on the expressways, as on British motorways, and my inclination was to take the mountain route. The traffic north of Osaka on the Sunday morning was horrific and I spent about two hours going nowhere, mainly because of people queuing to get into shopping malls.  However, once I got out of that area the traffic cleared and I made quite good progress.
The road ran mainly between tree-covered hills, with villages and a couple of small towns along the way.  For some distance it was close to an expressway on which signs at the intersections warned of queueing traffic, so I think I made the right decision to avoid using the supposed high-speed route. For the last forty miles to Obama there were few other vehicles apart from lunatic motorcyclists flying round the endless hairpin bends with their knees scraping the road.  The scenery was not as spectacular as might be expected from the map, because of several tunnels through the highest mountains, including one about a mile long.
Obama festival chaos
At  4.30 I arrived in Obama, to find the streets leading to my hotel closed off by people with batons standing in the road.  In Japan there are lots of people with batons controlling the traffic, some obviously police, but others employed by businesses or for special events.  Nowadays they have batons with lights in them like the light sabres in Star Wars, but shorter and the lights are red.  In the distance I could see people marching in traditional costume and there was obviously a festival of some sort in progress.
Eventually I managed to get to the hotel, which was at the centre of the action, and once sorted I went for a walk around.  It seemed that there were several groups marching about, two or three of them with marvelous tall medieval carriages packed with people, pulled by strong men with ropes.  The carriages were made of wood, including the wheels, and were draped with elaborately-patterned cloths.
The main street was lined with stalls selling the usual tourist fare and all sorts of unrecognizable items of food, none of which appealed to me.  At one end of the street was a large shrine, with a kind of altar in front of it and brightly coloured  ropes hanging down with enormous tassles.   People would come and bow for a while before shaking the tassles, causing bells to ring, presumably as a form of prayer.  After a good and cheap rice meal in a restaurant I walked around the town and through to the promenade which overlooked a bay on the Sea of Japan.  Obama was an attractive place and I felt pleased with my choice of night stop.
Breakfast in the hotel the next morning was not available to me because I had not booked it in advance.  The streets of the town, with colonnades, were deserted, and the shops mostly closed but I resorted to breakfast in a convenience store before exploring the town a bit more.  Eventually I found a fair part of the population in a food and fish market near the harbour, where a vast variety of freshly-caught fish were beautifully displayed on slabs.
Heavenly views, tunnels and eating with the locals
The plan for day was to follow the coast northwards for about 80 miles and then turn inland to a city called Fukui.  Soon after leaving Obama I followed
a sign to the Angel Scenic Drive which led me on to a cul-de-sac mountain road to the top of Mount Kusuyagadake, on a peninsular.  It lived very well up to its name with superb views across the bay and ocean on both sides.  At the top was a massive car park with about three cars in it, although the inevitable group of motorcyclists turned up after a few minutes.  A very nice well-travelled couple from Kobe came over and talked to me for a while.  They were astonished that I was driving around on my own, because few Japanese people have ever driven in a foreign country and they find it hard to imagine doing it.
By now I was completely used to the ridiculously low speed limits on Japanese roads.  For almost the entire distance since I left Shin-Osaka the speed limit had been 40kph (25mph) or 50kph (31mph), even on open country roads.  These limits are normally exceeded by a margin of about 50%, i.e. people do 60kph in the 40 limit and 75kph in the 50 limit. Motorcycles go as fast as they can.  Police cars are few and far between as are cameras, and little effort is put into enforcement.
The main road wended its way along the coast past tiny fishing ports, from time to time passing through tunnels where the mountains came down to the sea.  I counted nine tunnels in about thirty miles to the town of Tsuruga.  Continuing to follow the coast line I stopped for a walk in a couple of small places right alongside the ocean and was surprised to find that there was lots of free parking and not many people about.  It is always said that you cannot find anywhere to park in Japanese towns and cities, which is not actually true.  It is usually easy to find somewhere, but just very expensive, although no more so now than in cities like London, Brighton or Oxford.  In some places the main road (Rt.305) was uncomfortably narrow, which might explain the lack of buses, and therefore people.
Eventually I turned inland to Fukui, an industrial city which has a population of 267,000, and managed to find the Route-Inn Court Hotel, in the middle of a big commercial development.  For my main meal of the day I went into a nearby restaurant, sat down and waited to be served, without realizing that it used a system that is widespread in the sort of cheap Japanese places that I frequent but had forgotten about.  A member of staff came over and indicated that I should follow him into the lobby, where there was a big cabinet with dozens of tiny pictures of meals.   Below each picture was a brief description of the meal in Japanese, the price, a button, and a small slot.  The procedure is to decide on a meal that does not look too revolting or poisonous, put an appropriate amount of money into a big slot on one side, and press the relevant button.  A little ticket then pops out through the small slot for you to give to someone in the restaurant and after a few minutes the meal will be put in front of you.  At that point it is no good saying "Oh no, I pressed the wrong button".  You just have to knuckle down and get on with it, chopsticks and all.
Old cars, old houses and scenery
For most people the highlight of a trip to Japan would be a visit to a historical monument or cultural event of some sort.
For me it was the Motorcar Museum of Japan at Komatsu, a name that will be familiar to anyone in the building industry as it is the home of one of the world's largest construction machinery  manufacturers.  The museum is an extraordinary place with an extraordinary history.
An extremely imposing European-style red brick building, it was put up by the man who introduced such bricks to Japan during the massive building boom of the 1960s and '70s.  He had a fleet of lorries that delivered the bricks to sites all over the country, and one of his customers asked him to take some old cars away on the empty lorries after the delivery.  He offered this service to other customers, and eventually finished up with 500 cars in a field, leading to the establishment of the museum .  In front of the building stand two classic British red telephone boxes and a matching red postbox, with a notice in Japanese that presumably states "Do Not Post Letters in This Box".  Apart from the display of cars there is another rather unusual collection 'Urinals From Around the World', twenty seven in total, all in working order and labelled with their country of origin.  Even I couldn't test all of them during my visit.
At mid-day I left the museum with a long cross-country drive in front of me, to the ancient town of Takayama, which is remotely situated in a mountainous area of Central Honshu.  From Komatsu it is possible to cover a large part of the journey on expressways, including an eight-mile long tunnel, but I preferred to use the old roads because it would be more interesting and I am too mean to pay the tolls.
Before leaving Komatsu I stopped to fill up with petrol, which was an unforgettable example of the application of Japanese culture to what would normally be a mundane experience.   Like most filling stations, this one had attended service, with two young men who smiled and bowed as they waved me into position by one of the pumps.   With a slight hint of anxiety one of them looked at me and said "Casha?" when he realized that I was a Westerner, because he was worried that I would offer him a credit card that he could not accept, which would be very embarrassing.  I assured him that it was "casha" and he put the petrol in while the other man ran round the car washing all the windows.  No tip was expected for this service, and my departure was accompanied by a session of bowing and waving to an almost absurd extent.
Once clear of the coastal town of Kanazawa it was back into the mountains, with miles of hairpin bends and a few tunnels, until I suddenly found myself looking down on a group of ancient thatched houses.  This was the Historic Village of Gokayama, a world heritage site and major tourist attraction.  It was not short of visitors, but I was guided into a parking space and set off to look round.
The houses were built of wood with steeply pitched thatched roofs in a chalet style, usually with one or two upper stories and were well spaced out between roads and small rice fields.  The village was essentially traffic-free, although a few cars were tucked in here and there.  Alongside a river and surrounded by wooded hills, it was an idyllic setting but gave the impression of being somewhat over-preserved.
About 15 miles further along the road was another larger and possibly more authentic place called Ogimachi, where I had stayed on my previous trip.   Still with wooden buildings, many thatched, the main street is normally open to traffic, and it has a few shops, traditional guest houses and a petrol station.  When I arrived the street was closed, with traffic being instructed to take the clogged-up bypass which runs through a tunnel.  Vehicles were queueing to get into the other end of the village, apparently for an evening event of some sort, so I had to give it a miss, an unfortunate consequence of the holiday period.
It was still about fifty miles to Takayama through tunnels, past lakes and mountains which meant that it was dark some time before I reached the town.   One thing I do not like about Japan is that they will not have daylight-saving time, so in late September it was dark soon after 6pm, very much earlier than at home.  I had resolved to avoid driving in the dark, because the road markings and street lighting are poor compared with England, but fortunately the road into the town led straight to the station, which was opposite to the inappropriately-named Country Hotel where I was staying.  Even in Japan everybody knows the way to the station.
Takayama is famed for its Old Town with traditional single-storey wooden buildings lining the streets, and the plan for the next day was to have a look round before driving over yet more mountains to Matsumoto.    In a street not far from the hotel was the Hida Kokubunji Temple with its three-level pagoda.  It seems strange to find a building like that in the middle of a densely built-up area, but it is really only the same as coming across a church or chapel in an English town.
Alongside a river running through the old town I found a morning market, extremely well attended not only by Japanese people, but also Westerners who were presumably on organized tours.   It was a few days since I had seen a Westerner, and as I have found before, it came as quite a surprise.  After spending only quite a short time among people of oriental appearance I felt as if I was one of them and the Westerners struck me as being different!
The old town appears to be quite authentic, with people living and working in the wooden buildings as they always did, although nowadays geared largely to tourism.  Many of them are traditional Japanese guest houses in which ancient customs are upheld, such as sleeping on the floor and communal bathing.  Had it not been for the pressures of the holiday period I am sure I could have stayed in one, as I did in Ogimachi on my previous trip, but I doubt whether I could have got in this time without pre-booking, which was virtually impossible from England.
More tunnels, a mountain pass, and a castle challenge
It was the last day of the five day holiday period, and I expected that people would be setting off home to the heavily-populated area in the south.  My destination for the day
was Matsumoto, about 70 miles to the east, the other side of some sizeable mountains, and as predicted the road (route 158) was busy but the traffic kept moving quite smartly for about 30 miles.  Some distance after a long tunnel it came to a right turn with a toll booth into another tunnel, and all the traffic in front and behind went that way, leaving me driving straight ahead on my own.  The road dwindled down into something like a country lane and started climbing, ultimately turning into the Abo Toge pass, one of the best drives I have ever done.  When I got to the top it was some time before another car appeared and I began to wonder if the road was actually closed.  The descent had a succession of tight hairpin bends that were beautifully depicted on the car satnav, about the only time it had shown anything useful, and eventually the road rejoined route 158 to go through at least another 12 tunnels before reaching the outskirts of Matsumoto.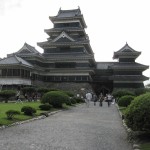 An essential part of any trip to Japan is a visit to a castle.  The ultimate Japanese castle is usually considered to be Himeji, which I had been to previously, but was not on my present itinerary.  The best opportunity this time was Matsumoto and as I entered the town I decided to go straight to the castle and to the hotel afterwards, because of the time. Although it is not as 'good' as Himeji, its appearance fulfils most people's expectation of a Japanese castle in every respect.
Just inside the entrance was a notice stating that the waiting time for entry was 20 minutes, and beyond that was a covered area with about 200 people sitting on wooden benches.  This was obviously the holiday factor in action, but we were actually taken in in batches of about 100 at a time at 10 minute intervals, so the proverbial Japanese punctuality was upheld.  As soon as we got through the door we were required to remove our shoes and given a plastic bag to carry them in. At Himeji visitors were provided with slippers which were a source of some amusement because none of the Western men could get into them. The largest were about English size 7, and I take 9 (EUR 43), so I was left with my socks.  At Matsumoto no slippers were provided, so it was socks or bare feet anyway. This might not have seemed too bad, had the floors and particularly the stairways not been so highly polished.
Progress was painfully slow, as the vast crowd was forced onto a single line that snaked its way up five flights of steep slippery stairs to the top of the building and down again. According to a notice the steepest flight was at an angle of 61 degrees from horizontal with a rise of 41cm between the treads.  In Britain I am sure this would have been banned by the Health and Safety Executive, and I was astonished by the way the Japanese people, many of them elderly, tackled it with great determination.  Going down was more difficult than going up, and surely they can't all have been in the navy?
Various historical items, mainly weapons, were on display as we went round, but the most memorable parts of the tour were the views from the upper floors, which were superb.  From the castle it was only a short distance to the centre of the city, which comes across as quite European in character.  The one major difference from most Japanese city centres is the absence of the incredibly ugly overhead cables that ruin almost every photograph that you try to take anywhere else.
It was time to find the Route-Inn Court Hotel, and I was pleased to discover that it was actually shown on the map in my phone.  In the reception I gave the booking form to the young lady, who took it into the office, emerging shortly afterwards to explain with some difficulty that I was in the wrong hotel.  I pointed out that the hotel pictured on the booking form was the one we were in, and she agreed in a vague sort of way, but still insisted that it was the wrong one.  She started to draw a sketch, explaining that the hotel  I wanted was another Route-Inn Court just off route 19 about three kilometers away.  By now it was dark and I realized that I was going to have a monumental task in finding this other hotel from the information she had given, when I suddenly thought that if one Route-Inn Court was shown on my phone the other one probably would be.  It was, and when I got there it turned out to be a building absolutely identical to the first one, so it seems that Route-Inn buy their hotels from a catalogue.
The hotels I had stayed in so far were 'business' hotels', which, as the term suggests, cater for the vast number of Japanese business travellers, but are not very well set up for foreigners, often having no one who can speak more than a few words of English.  The breakfasts, where they were provided, offered a fair selection of items, some hard to identify and labelled only in Japanese, so it was a bit hit and miss for me but I managed to find enough to fend off starvation.  As a last resort there were always the Lawson and Family Mart stores, which had coffee and Western style food at cheap prices.
A feature found in most en-suite rooms in Japanese hotels is the high tech lavatory.  When I first heard about such things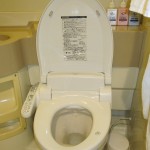 some years ago I thought it was a joke, but they are deadly serious about it.  Alongside the seat is an arm with a selection of controls to enable the toilet to perform a range of washing and flushing actions, including a bidet function and sometimes music to drown out any unwanted sounds.  The lengthy instructions are provided in Japanese and in some cases also English,  the more upmarket versions having a detachable panel to facilitate remote operation from anywhere in the room, although it is hard to see why anyone would want to do that.
A weird museum, bad weather and a Fuji non-event
On the Thursday morning I set off in a southerly direction towards Mount Fuji and the Pacific Ocean.  After a few miles a roadside notice advised of a stretch of heated road ahead, presumably relevant only to winter conditions.  The first stop was, of course, the Prince/Skyline car museum situated in parkland just off route 20 near Okaya.  Toriidairayamabiko Park was a strange place, with various educational, sporting and cultural institutions dotted about, some signs being in English.  The signs to the museum consisted of a few A4 sized pictures of a mundane car at irregular intervals until they ceased altogether.  I went back to the last sign, found a big empty car park and asked a man working on a building site (by pointing at the sign).  He indicated that the museum was at the top of a long flight of steps leading up a hill, and 189 steps later I found myself in front of the museum entrance.
The company that made the Prince Skyline cars of the 1950s and 60s was taken over by Nissan, who continued to use the Skyline name for their high-performance models on and off until the present day, and you would have to be a real anorak for these cars to appreciate this collection.  It was not quite my cup of tea, but just another one to tick off my list.
Route 20 was heavily built-up for a long way past Suwa and Chino and then ran through a valley with a mountain backdrop to Kofu, at which point the weather started to deteriorate. So far it had been good most of the time since I arrived in Japan, but on the approach to Mount Fuji it turned to mist and rain.  By the time I got as close as I could to the base of the mountain on the western side (about two miles away) it was barely possible to see it at all, and I abandoned plans to go to the nearby Shirato Falls.  This was a great disappointment, but the rain had obviously settled in for the day, so I continued south to my night stop in Mishima via a town called Gotemba.
The Shinkansen and Tokyo under an umbrella
The reason for choosing Mishima was that it is a main stop on the Shinkansen (Bullet Train) line to Tokyo, which I planned to visit the next day.  It would have been ridiculous to contemplate driving the 75 miles into Tokyo, and in any case I wanted to experience the Shinkansen, which is one of the most iconic features of Japan.
I had chosen the Massimo Hotel in Mishima because it was very close to the station, and it really was only about 100 yards away, which meant that it was easy to find.  A bonus was that it had a reserved area in the station car park.  Mishima is definitely not a very exciting place to spend a wet evening, especially if you go into a restaurant and choose a meal that is not to your liking.  With considerable fortitude I struggled through it, although I don't know what it was and I am not sure that I want to.
When I walked to the station the next morning it was still pouring with rain and I was the only person in sight without an umbrella.  At the Shinkansen counter I asked for a return ticket to Tokyo, which was 4000 yen (£22.50) for an unreserved seat on the 8.29 train.  The Shinkansen operates as a completely separate system from the other trains, with dedicated platforms and lines and I thought that was a good price for the distance.  About half the train has reserved seats, corresponding to numbers on the platform, and I was not sure where to stand with no reservation, but the other passengers guided me when I showed them my ticket.
Some stations have fixed barriers on the platform with gates that open automatically level with the carriage doors when the train stops.  Mishima didn't, but when the train came into the station, dead on time of course, it was an astonishing sight.  It was like an immensely long silver tube, stretching as far as the eye could see in both directions.  It was not crowded, and I got a window seat, the last remaining one in the carriage.
This route is part of the Tokaido Shinkansen, which runs from Shin-Osaka to Tokyo and is said to be by far the most heavily-used stretch of high-speed railway in the world.  There are different classes of Shinkansen, with varying numbers of stops, and mine, with four stops between Mishima and Tokyo, was the slowest.  Nevertheless, according to my phone, which knows these things, when it really got up to speed it was travelling very smoothly and quietly at 171mph.  For most of the distance it ran through a 1960s and 70s urban landscape, with glimpses of the Pacific Ocean in one area. Contrary to what I had heard, the station stops were quite long, so the overall journey time was 55 minutes for 75 miles.
Some people were not so lucky. On the other side of a station near Tokyo during one of the stops the scene was like the sort of thing you see in films of India, with a massive crowd of people waiting for an ordinary train, and I am sure the 'pushers' were ready to force the people into the carriage to make room for the doors to close.
At the barrier in Tokyo Station my return ticket disappeared into the machine and I explained to the man in the smart uniform nearby that the machine had eaten it, though not in exactly those words.  He took the side off the machine, extracted the ticket, and pointed out that it was not a return ticket in the first place, so I would have to buy another one to go back to Mishima.  This meant that the return fare was not £22.50 but a more realistic £45.
Tokyo Station is an absolute nightmare.  It is like all the main London Stations lumped together in one place, with 14 railway operators plus the metro.  Tokyo and its adjoining metropolitan areas have a total population of around 36 million, making it the largest city in the world by a considerable margin.  Like all transport hubs nowadays, the whole station is dominated by shopping malls, restaurants and other interests, making it very difficult to use for its primary purpose for anyone who is not there regularly.  The maps are good for little more than decoration, and information is hard to come by without walking enormous distances.  There is an even larger station on the western side of the city.
Eventually I managed to get my bearings and set off on foot northwards to the Transportation Museum and the Akibara Electronics district.  It was still raining fairly hard and the city streets presented a depressing sight.  By the time I got to Akibara I was pretty well soaked, so I thought it was time to get an umbrella like everyone else.  The shops in Akibara are dealing with foreigners all the time, and when I found an umbrella at the right price (approximately £3) I was rather amused to be offered the chance to reclaim the tax on it.  My friends will be surprised to learn that I didn't bother.
As might be expected, the electronics shops are enormous and stocked with all the latest gear, but the prices did not seem significantly lower than at home and there are the obvious disadvantages of not being able to return things if a problem
arises.  Back into the rain, and I trudged through the back streets for ages looking for the Transportation Museum, only to discover that the site had been redeveloped into something more profitable but less interesting.
It was not too far to the Imperial Palace, which turned out to be closed, and the guard standing in the rain on the pretty bridge over the moat looked as wretched as I felt.  Very little of the palace was visible without entering the grounds.
Next stop was Ginza, the shopping and entertainment district some distance the other side of the station.  The main street was lined with the famous names found in the Champs d'Elysee in Paris or the Konigsallee in Dusseldorf, but had a rather less opulent air about it.  As far as I am concerned such places are for walking down, imagining but not spending.  The vast expanse of neon does not seem entirely compatible with the clientele that might be expected to frequent these monuments to excess, but I was glad that I waited until dark to see the display at its best.
Rather surprisingly I managed to find the platform for the Shinkansen back to Mishima and was duly catapulted through the darkness at 179mph.  My day in Tokyo had not been a great success, due partly to the weather, partly to lack of planning, and partly because as far as I could see Tokyo is not a very attractive place anyway.
To Toyota in a Mazda, with a view of the Pacific
The targets for the next day were the Yamaha Plaza at Iwata and the Toyota museum near Nagoya, Japan's fourth largest city.  The day would be spent entirely driving through the massive industrial area in southern Honshu, so I decided to use the expressways and hang the expense.    For some distance road ran alongside the Pacific Ocean, and at Iwata I turned off and checked the details of the Yamaha Plaza, only to find that it was closed on Saturday.  Another piece of bad planning and my ownership of two Yamaha motorcycles would be unlikely to carry sufficient weight for them to open specially for me.
The Toyota Museum is situated between Nagoya and the city of Toyota, which was named after the company rather than the other way round.  The museum is not dedicated to the company's products but a very well presented and unbiased display of the history of the motorcar worldwide, including many rare and exotic exhibits.  Started by the Toyoda family as a textile machinery company, the firm was actually quite late on the car scene, its first models not appearing until the 1930s.
For my night stop I had chosen the Green Hotel in the little-known town of Okazaki and it proved to be best so far, as well as the cheapest, at about £29.  It was more like a traditional guest house, tucked away in the steep back streets not far from the centre.  The walls were adorned with pictures, mostly in heavy gilt frames, and the corridors were full of antiques, including large wooden carvings of lions, dragons and other animals.  The main street of Okazaki on a wet Saturday evening (yes, it was still raining) was thriving, with lots of restaurants and bars, and I managed to find adequate sustenance of some sort.  It was difficult to see what would attract visitors to the town, although the hotel was actually fully booked.
 Grand Prix chaos, rice fields, a Giant Buddha and dragon boats
The intention for the next day was to drive round Ise Bay to a town called Tsu and then cut across the mountains to Nara, the ancient capital of Japan before Kyoto and Tokyo. From Okazaki the Isewangen Expressway crossed the top of Ise Bay via three very spectacular bridges with fantastic views of the docks and shipyards south of Nagoya.  This is the kind of marine industrial landscape that hardly exists in Europe today, and certainly not in Britain.
Driving down the side of the bay I came to Suzuka and after a look at the waterfront I decided to have a quick glance at the Formula 1 circuit a few miles inland, before going on to Tsu.  This was a disastrous mistake.  Within a short time I met a lot of empty buses going the other way, and then came to an area of closed roads and diversions.  The truth slowly dawned that I had come to Suzuka to look at the circuit on the day of the Japanese Grand Prix!
It was clearly not going to be possible to get to Tsu without going many miles out of the way, so I had to find another cross-country route to Nara.  This was 'old Route 25', a more rural version of the main Route 25, passing through old villages and between rice fields.  Rice growing is hard to understand, because in towns people grow rice on tiny plots of land the size of a domestic lawn, and even in the countryside the fields are smaller than you would think to be economically viable.
Before going to Japan I always imagined that Kyoto was a small quaint town like Rye or Stow on the Wold, crammed full of ancient monuments.  In fact it is an industrial city with a population of 1.4 million, and the historical sites are spaced out over a large area.  Nara is smaller (368,000) and the sights are mostly concentrated within Nara Park, making it more like how I imagined Kyoto would be.  It is nevertheless an important industrial centre, being the headquarters of the Sharp Corporation, among others.
The strangely-named Hotel Cube was perfectly situated, right on the edge of Nara Park and within easy walking distance of the city centre.  It was difficult to get to, but had undercover parking, to my surprise.  Just across the road from the hotel was the temple of Kofuku-ji and its  five-storey pagoda, with the main entrance to the park not far away.  The really important thing to see is the Todai-ji Temple, in which the Great Buddha Hall houses the world's largest bronze figure of the deity, cast in 752.  Due to fires and earthquakes the head has been replaced several times, the present one being from 1692.  The current Hall dates from 1709, and until 1998 it was the world's largest wooden building. The Great Buddha is accompanied by a number of smaller statues, some them apparently covered with gold leaf.  Not far from the Great Hall is the wonderful Isui-en Garden, exactly as you would
imagine a Japanese garden to be, with lanterns, ponds, a stream and a teahouse.
Also in the park is the Kasuga Taisha Shrine, originally built in 768 but since demolished and rebuilt over 60 times, in accordance with Shinto beliefs.  The approach path is lined with around 3000 stone or bronze lanterns, some with flames alight.  Over 1200 small tame deer roam around the park and adjoining streets, with cartoon like signs warning that they can bite, butt, kick and push. They are regarded as 'messengers of the gods', but as soon as you sit down on a bench they will come to you hoping to get something to eat, which suggests that they are actually fairly mortal.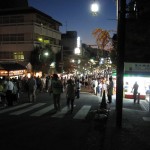 At dusk I walked past a lake on the way into the city centre for a meal, and saw that preparations were being made for a festival of some sort.  Dozens of big coloured lanterns like balloons with lights inside were placed around the shore of the lake, with a bandstand and lots of food stalls.  The main street was also full of stalls and all the shops were open.
When I came back an hour or so later the place was heaving with people, and two highly decorated dragon boats were making their way round the lake, accompanied by music from the bandstand.  It was not quite clear to me what it was all about, but everyone seemed to be enjoying it.
Down to business and a glimpse of vice
The next day I had an appointment at 11am with my business associates in Minoo, about six miles north of Shin-Osaka.   The most direct route, using expressways, was about 30 miles, and bearing in mind the time of day and reputation of Japanese traffic I allowed over 3 hours, including stopping for breakfast and petrol. It was slow going round Osaka, but I reached Minoo in 2¼  hours.
The first thing I had to do on entering the nine-story office block was to remove my shoes and put on some ridiculous floppy slippers that I could only get half way into. Mr.Seto commented that their Australian visitors had the same problem. At lunchtime we went out for a meal that was very much to my liking in a nearby restaurant.  I suspect that they remembered the last time they took me for a meal which was extremely difficult to eat with chopsticks, and when I had finished it looked as if a dog had been at the table.
At 4pm I took the car in to Times Car Rental, still unscathed after about 1000 miles in my hands, and walked down the road with my wheelie case to the Sunny Stone Hotel.  Apparently, when they choose English names they do it on the basis of whether it sounds nice to them, without much consideration of the meaning.  The Sunny Stone was a much better hotel than the LiveMax, where I had stayed the first night, and was about half the price, but, of course, the public holidays were now over.
Not far from the hotel was a slightly seedy nightlife area, with bars, restaurants and a Pachinko and Slot parlour. These are strange Japanese gambling dens in which rows of people, mainly men, sit for hours on end tightly packed in front of very elaborate slot machines that are a cross between a vertical pinball table and a fruit machine with lots of electronics.  In big cities these places can extend to several floors.  I had never been in one before, but I decided to have a look inside, and the first thing that hit me was the tremendous noise. Unlike the great casinos of Las Vegas, this was clearly not a public place, so I departed before getting too involved.
Gambling directly for money is not allowed, so the proceeds, if there are any, are converted into cash by some convoluted process.  On the bright Sunday morning when I walked through Shin-Osaka at 9am to pick up the car I passed people queuing round the block waiting for a Pachinko parlour to open, and it is undoubtedly addictive.  Anyone stressed out by the Pachinko can go round the corner to the Kintaro Relaxation Club, where they can relax in the company of other people who are relaxing.
Osaka shopping, a panorama, and a walk to the Red Baron
My flight home the next day was not until late evening, so I could spend the day in Osaka. As the weather looked fine I presented the umbrella to the young lady in reception, checked out and caught the Metro to Osaka Station.  Together with the adjoining Umeda Station this rivals Tokyo Station for size and confusion, but eventually I managed to deposit my wheelie case in the left luggage area and set off for the equally vast shops.  Someone at home had asked me to get something for them, and it turned out to be on the 11th floor of the 12-storey Hankyu department store. The lifts were under some pressure, and it took at least ten minutes to get back to the ground floor.  Surprisingly, I didn't have to take my shoes off.
One of the attractions of Osaka is the Umeda Sky Building, consisting of two 40-storey office blocks, bridged across at the
top by the 'Floating Garden Observatory', a structure containing a restaurant, garden, and observation platform.  A wide river runs through the city below, and the view is spectacular in all directions.  The last stage of access to the top is via a long covered escalator which is said to induce vertigo in some people, but it didn't bother me, which is unusual.
The view includes several bridges over the river, and from my map I knew that there was a Red Baron motorcycle shop at the far end of the third one along, so I decided to walk to it.  Red Baron must be the largest chain of motorcycle shops in the world, and is named after the World War 1 flying ace, although I don't think he had much to do with motorcycles or Japan. It was, by my standards, a very long walk, but there was plenty to look at along the way, including the view from the bridge.  Back at the station I retrieved my case, found the bus to the airport and eventually arrived home after being awake for more than forty hours.
Despite the obvious language problems Japan is actually a user-friendly country, in the sense that most of the time you can do what you want to do when you want to do it.  The people are as friendly and helpful as they can be given the difficulties of communication.  It is often said to be expensive and, like anywhere else, if you choose to buy your way through, staying in international hotels and eating in fancy restaurants, it will be.  However, if you operate at an all-Japanese level it is much more fun and far cheaper.
I found the driving easy, largely because other drivers are less aggressive than in Europe, and the traffic was no worse than in South-eastern England (which is not saying a lot).
.
.