Skiing by Elva Courier - December 1963
 This is a story of travelling hopefully and, somewhat against the odds, arriving.
 In the Autumn of 1963 I mentioned to my friend Jeff Ward that I was thinking of going skiing. He had been a couple of times before, whereas I was a complete beginner, and he suggested that we should go together on a package holiday to Austria. He duly made arrangements for us to go in February with a firm called Ski Plan to Oberau, a small village in the Tirol, flying to Innsbruck and on by coach.
 Towards the end of 1963 I had some holiday left and thought it might be a good idea to try to fit in a week's skiing before Christmas, which would mean that I would not be a complete beginner on the holiday. I contacted Ski Plan, and they said they did not have any organised holidays before the New Year, but they had a training week for their reps in December in St.Anton (Tirol) and they could provide me with accommodation, ski school and equipment there. However, I would have to make my own travel arrangements.
 There were no cheap flights in those days, and I did not want to go by train, which I saw as complicated, so I decided to drive down. At that time it was quite unusual to drive to the Alps in the winter, and people who did it wrote articles for magazines about the experience. I had driven to the Alps a couple of times in the summer, but had never been abroad at all in the winter, and had absolutely no idea of winter conditions in the mountains.
 I had three cars, an Austin 750 racing special, a hand-painted 1953 Austin Somerset Convertible, and a 1960 Elva Courier sports car. The 750 special was like a smaller, more primitive Lotus 7, which most people would find hard to imagine, and the Somerset, my everyday car on the days that it would go, was worn out and unreliable. The only car that had even the remotest chance of making it to St.Anton in December was the Elva.
For those unfortunate readers who are not members of the classic car cognoscenti I should explain that the Elva Courier was a lightweight, glass-fibre bodied sports car made in small numbers in the late 1950s and 1960s in England. Mine was a Mark II, with the 1600cc MGA engine. For weather protection the car had a basic hood and detachable side screens with Perspex windows, which left a hole about 3/4in square at the top corner of the windscreen on each side when everything was in place. There was a recirculating air heater, which just heated up the air already inside the car, but there was never any shortage of fresh air in a Courier from the numerous gaps around the scuttle and other areas of the bodywork.
 The ground clearance was a few inches, and the tyres were as you would expect to find on a car of that type, suitable for driving in what residents of alpine regions would describe as "summer" conditions. The idea of getting tyre chains did not occur to me, and anyway I doubt whether there was enough space under the wheel arches to fit them.
 At the time I was living in a flat in Bromley and kept the car in a garage but had little in the way of workshop facilities (no electricity) and I am sure that I did not do much preparation for the journey, beyond checking the oil, anti-freeze and tyres.
 The plan was to do the journey in two days, via France and Switzerland. On the first day I would drive to Lydd in Kent, cross the channel to Le Touquet with the Silver City air ferry, and stay the night in a hotel in Reims. From there I was hoping to reach St.Anton on the second day.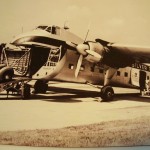 The Silver City air ferries were the fastest-ever way of taking a car across the channel and are still thought of with great affection by most people who used them. In 1963 they consisted of Bristol Freighters, converted to carry three cars and about 20 passengers. The cars were driven up a ramp at the front of the plane by airport staff, while the passengers waited in little groups in the terminal. Once the cars were loaded the passengers were called by tannoy e.g. "Mr.Smith and party", and took their seats in a cabin behind the car compartment. The planes had two engines, which started with a great commotion, belching out smoke and flames in full view of the passengers, accompanied by much noise and vibration. But it was fun. The plane flew at about 1500 feet and took 20 minutes from Lydd to Le Touquet.
 The journey through France was to be entirely on routes nationale, as there were no autoroutes in those days anywhere near where I was going. At the time I was attending French evening classes in Beckenham, and I told the lecturer what I was proposing to do. He knew nothing about cars but was supposed to know quite a bit about France, and when he came out to the car park he looked at the Elva and said "Well, you won't get over the Vosges Mountains in December in that!" I had never even heard of the Vosges Mountains.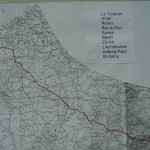 Possibly I did not think about it at the time, but the day I set off was Friday 13th December 1963. The 220 mile drive from Bromley to Reims, with the channel crossing, was uneventful, and I arrived at the Hotel Foch in the evening. The hotel was booked through a travel agent, and it still exists, but only as a restaurant now.
 At 7.30 the next morning I was rather perturbed to find that the streets of Reims were largely covered with ice, which meant a slow start to the long day's drive, but it cleared during the course of the morning. French road gradings have changed considerably since that time, and the most obvious route to take then was through Bar-le-Duc to join the N66 right down to Basel. I had some food in the car and stopped briefly a couple of times for snacks and fuel, but pushed on as far and fast as I could. There were few if any by-passes, which meant that I had to drive right through all the towns, including one called Remiremont, which still had a main street with a dirt and mud surface. This was actually the place in which, on a subsequent trip with a more sensible car, I caused confusion by going into a café and asking for a café blanche. After an impromptu staff meeting it was decided that I wanted a café au lait. It seemed that the French lessons hadn't had much impact on me.
 A few miles after Remiremont was the Col de Bussang, the crossing point over the dreaded Vosges Mountains. At 731m (approx 2400ft) this was little more than a bump in the landscape compared with most alpine passes and was no problem at all.
 I had calculated that it would take around 7½ hours to reach Basel, and that was about right. From there the route went through the entire length of northern Switzerland, including the centres of Basel and Zürich, and again there were no autobahns, just ordinary main roads. It was fairly flat, as it ran some distance north of the mountains, but was nevertheless slow going, and to the Austrian border near Feldkirch took about 4½ hours.
 St.Anton lies at the foot of the Arlberg Pass on the eastern side, which meant that it could only by reached via the pass, because the tunnel was still years away. At 1793m (5883ft) the Arlberg is not one of the highest alpine passes, but from experience on subsequent trips I know that it is a very cold area, and temperatures of -20ºC (-4ºF) are not unusual in the winter. At about 8.30pm I reached the start of the pass, by which time it was, of course, pitch dark, and with some trepidation decided to attempt to reach my accommodation in St.Anton. There was snow around, but the road itself was clear and dry and the indications were that it would stay that way. Although the road leads to the high villages of Lech, Zürs and St.Christoph there was no other traffic at all. So I had a whole mountain pass to myself in an Elva Courier, and with the exhaust note echoing off the rock faces this should have been paradise, but as I plunged ahead into the darkness after a long day it felt as if I was driving to the end of the world.
 Eventually I reached the summit and the lights of St.Christoph, from which it was quite literally downhill all the way to St.Anton. The main road ran straight into the centre of the town (no by-pass then) and without too much trouble I found Haus Kössler in a back road. The distance from Reims was 424 miles.
 The next morning, before my first skiing lesson, I went out to look at the car and tried to start it. The engine turned over slowly, with a strange noise, and when I looked into the header tank the anti-freeze had turned to sludge. As mentioned earlier, before leaving home I had checked the anti-freeze, and it was all right. All right for Bromley that is, but not for -15º in St.Anton. This was also the moment when I discovered that you cannot freeze bananas, or at any rate, you can't eat them afterwards. Behind the passenger's seat was a bag containing half a dozen totally black bananas.
 After a traumatic first day's skiing I came back to the car, which had been standing in the sun, and the anti-freeze had thawed out. The engine started immediately, so I drove to a garage in the town and got some anti-freeze to strengthen the mixture.
 During the week the weather was very cold but dry, and the roads were clear, so I took a bit of time off skiing to drive up the pass to St. Christoph, Lech and Zürs, all high ski resorts. The car seemed none the worse for its experiences so far, and I could now really enjoy the drive, with fantastic views. Much of the road was protected by concrete snow shelters, like open-sided tunnels to keep it clear at times of heavy snowfall, although it was still frequently closed for quite long periods in the winter.
 By the end of the week, with sore feet, aching muscles and many bruises it was time go home, so at 7.30 on the Saturday morning I set off to retrace my route to Reims. Conditions were much the same as before, but it was easier now, because I knew what lay ahead. After spending another night at the Hotel Foch, and surviving another flight with Silver City I arrived home on the Sunday evening.
 Over the next 40 years I was to drive to the alps in more sensible cars very many times for skiing, often over the same route as in 1963, and I realise now how lucky I was on that trip. Some journeys were trouble free as far as the weather was concerned, but often I would run into problems with snow and ice for at least part of the time, and occasionally I would have a real hell journey, battling through falling or drifting snow over long distances.
 It is actually not true to say that I travelled hopefully in the Elva, because I really had no idea of the conditions that I might face, and was quite confident that I would get there and back without trouble. Such was my optimism that I had no breakdown cover, and I cannot imagine what would have happened if I had broken down that night on the Arlberg Pass.
 Unfortunately I was not into photography in those days, and have no pictures of that holiday at all. The ones above were taken elsewhere and are of poor quality.
 The car - where is it now?
The survival rate of Elva Couriers has been quite high, because they were always a bit special and had well-made glass-fibre bodies that did not rust, so it is quite likely that my car still exists.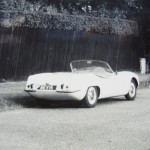 I bought it secondhand in August 1963 from Gold Seal Sports Cars, in south-east London, and it had the rather inappropriate registration number 6777VW. This was immediately changed for my own number BEV15, which stayed on it throughout my ownership. The car was eventually sold in about April or May 1965 by my father in Northampton, because I was working in Germany at the time. My registration number was put on retention, and I think the Elva reverted to 6777VW, but I am not sure about that. Unfortunately I did not keep a  record anywhere of the chassis or engine numbers.
 The Elva company still exists and Roger Dunbar, the present owner of the firm, has an archive but has no record of a Courier with either of the above registration numbers.   Since this article was first published Roger has advised me that the chassis number of my car was 200/25/R, and in the early 1980s it was registered in Kenley, Surrey, England, with the number TVV801.
In January 2011 Roger contacted me again to say that the car was advertised for sale on the Pistonheads web site.  It was still in Surrey, and I rang the owner, Craige Amos, and arranged to go and look at it.  On 8th January 2011, over 43 years since I had last seen the car, I sat in it again.  Craige, who used to be in the motor trade,  had rebuilt it completely with an MGB 1800cc engine, many other new parts, and sprayed the body red.  It was an excellent restoration, but I found it difficult to identify with the car, and could not really imagine driving to Austria in it.  I was surprised at how difficult it was to get in, something that I don't remember being a problem when I was 25, but that goes for a lot of other things.  It may be because Craige has fitted new racing-style seats which are ok for him but too low for me.
Anyway, it was good to see that the car has survived and is now in better condition that when I owned it.