CLICK ON PHOTOS TO ENLARGE
Iceland 2013
As the plane approached Reykjavik I was expecting a magnificent view of mountains, glaciers, smouldering volcanoes and waterfalls, all the things I had read about.  Instead of that, once we broke through the heavy cloud cover all that was visible was a flat, barren, treeless landscape with an assortment of buildings that looked like a large military airfield.  Not surprising, because that is what it was, built by the British when we invaded neutral Iceland during World War II, to prevent the Germans from doing the same thing.  I don't remember being told about that in school.
In the arrivals area a man from Sixt Car Rental was waiting for me, and took me to their depot, where I was introduced to my car, a blue Chevrolet Spark.  The Spark is not detectably related to any American car of that make, but a tiny, substantially blinged-up descendent of the Korean-built Daewoo Matiz.
Reykjavik International Airport is not actually near Reykjavik, but in Keflavik, a much smaller town about 30 miles away, right on the tip of the Reykjanes Peninsular in the extreme south west of the island.  The dual carriageway from the airport to Reykjavik has been described as the best road in Iceland in terms of a transport link, and that is probably true, but it runs for miles through the above-mentioned featureless landscape before entering the city.
Iceland is four-fifths of the area of England, with a population only slightly greater than that of Coventry (330,000), and two-thirds of those live in the south-western corner of the country, so it could hardly be described as densely populated.
Reykjavik
Reyjavik comes across as a thriving city, with an excellent road network running through extensive suburbs including a fair amount of industry.  My hotel was easy to get to, about a mile from the centre, just off a main thoroughfare called Borgetan lined with large modern commercial buildings.
The temperature was about 6 degrees, and it started to rain as I walked to the centre under the heavy grey sky.  This was just how I had imagined Iceland would be.  The daylight hours near the autumn equinox were similar to those at home, which gave me about three hours to look round before dark.   It was approaching the end of the holiday season, with some attractions and services already closed, but there were still plenty of tourists around.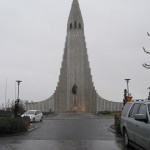 For a capital city Reykjavik has relatively few imposing buildings or 'sights'.  By far the most striking building is the Hallgrimskirkja, an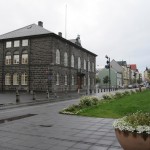 immense concrete church with dramatic architecture, built between 1940 and 1974.  It towers over its surroundings and is featured on every postcard and picture of the city.  Another notable building is the Alþing or parliament house, built of basalt in the 19th century with a modern glass and concrete extension.  The whole complex is no larger than most English town halls.  The main street starts quite downmarket, lined with shops of increasing quality as you go westwards, finishing in a pleasant little tree-lined square, but none of it is terribly impressive.  Tucked away amongst the more modern buildings are some with the traditional wooden construction covered with corrugated iron sheet, as seems to be the norm in all cold places.
However, bars, cafes, restaurants, pubs and clubs are not in short supply, and apparently every Saturday evening there is an almighty pub crawl called the Runtur, which takes over the whole city centre.
Mention of the Alþing brings me to matter of the Icelandic language, which uses the same character set as English, but with a few additional ones.  The most used extra characters are þ and đ, both pronounced 'th' but slightly differently.  Almost everyone I met in Iceland spoke good colloquial English with little accent, and sometimes I got the impression that they speak it amongst themselves.  Lots of signs and notices are in English, sometimes only in English. Place names can be difficult, because many of them are very similar and hard to remember, like those in Wales.
The Golden Circle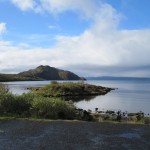 This is the real tourist trail.  Within a region about 40 miles east of Reykjavik is the Þingvellir National Park,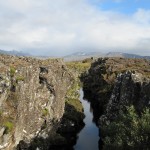 incorporating the largest lake in Iceland, and some of the best known sights in the country.  This area lies on the boundary of the North American and European tectonic  plates, which are slowly moving away from each other, causing spectacular fissures in the landscape where the rocks have literally been torn apart.
A drive round the north end of the lake leads to the hot springs area, with water at 80 to 100 degrees C. emerging from steaming pools of mud next to the road.  Adjacent to these is Geysir, the original geyser that gave its name to others all over the world.  Unfortunately Geysir, which spouted to a height of 80 metres, became blocked years ago by stones thrown into it by tourists, and although it has recovered to some extent following an earthquake the main attraction now is the nearby Strokkur.  Strokkur erupts spectacularly every few minutes, sending water up to 35m into the air.  When I arrived I joined a group of people standing on one side and watched it spout for a couple times.  It seemed
to me that the view would be better on the opposite side and I moved round to there, but realised when the geyser performed why the other people had not done the same.  The water had actually cooled considerably by the time it came down to drench me.
This was the first but far from the last time my camera nearly got soaked, and one thing you definitely need in Iceland is a waterproof camera.  On many occasions I saw people with expensive and complicated cameras (mine is not) standing in precariously wet conditions.
After the geysers the next stop on the tour circuit was Gullfoss, a magnificent waterfall, wide rather than high, like a miniature version of Niagara Falls but on two levels.  Public access is free and well organised, although it does mean quite a bit of scrambling about to get the    best views.
The road Rt. 35 northwards from Gullfoss is one of the few leading into the interior, and the only one apart from the Ring Road that goes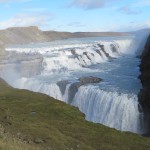 right through to the north of the country without fording any rivers.  In the summer it is used by toughened-up buses and by some locals with ordinary cars, but rented cars are not permitted to use it unless they have four wheel drive.  Apart from Rt.35 virtually all roads leading into the interior from Rt.1 have the prefix F, which means that they do not have a sealed surface and can only legally be used by 4x4s.  Had I realised how restricting this would be I would have rented a 4x4, but I was led to believe by Lonely Planet that an ordinary car would be suitable for most purposes, which is not the case.
From Gullfoss I cut across to Rt.30 leading southwards and even that involved a few miles of loose surface before coming back to tarmac and eventually Rt.1.  For much of the way the most prominent feature of the landscape was Heckla, perhaps Iceland's best known volcano until Eyjafjallajökull erupted in 2010.   That last eruption was not expected at all, and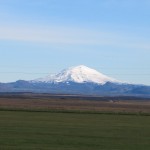 in the normal order of things it should have been Hekla, which had established a pattern of erupting about every 10 years, the last time in 2000.  Viewed from Rt.1 Heckla appears as an almost perfect snow-capped cone, reminiscent of the iconic view of Mount Fuji in Japan, although Fuji is far higher.  To my disappointment Hekla was not smoking, and was  covered in snow at the top, although apparently the crater floor is still hot.  It is possible to climb it, but that can be risky because it takes about four hours to get to the summit, and when it erupts it only gives about two hours warning.
Further to the east just off Rt.1 a few miles from a small town called Selfoss was my second night's accommodation, an isolated farm guesthouse. The Guesthouse Lambastedir had 11 rooms in an almost new building separate from the farmhouse, and was basic but scrupulously clean.  Amongst the guests were an American couple from Colorado who had been there for three weeks and were immensely enthusiastic about it, although they seemed to sit looking out the window at the flat and relatively featureless landscape most of the time.
On the advice of the friendly owner of Lambastadir I went into Selfoss for a meal at the Kaktus restaurant. As far as I know cactus is not on the menu, and I had fish and chips.  The town is described by LP as witlessly ugly, which I thought was a bit over the top, although it is rather like an industrial estate apart from the area around the river.
Back at the Lambastadir I asked the Americans whether they had seen the northern lights, which is something I hoped to do, and they
said they had looked every night but the weather had been overcast most of the time that they had been there.  At 9.00pm I went outside and it was a wonderfully clear sky with an exceptionally strong full moon, but no sign of the aurora borealis.  At 11.00pm I checked again, but still nothing.
However, this heralded a change in the weather which was to last throughout my stay in Iceland and the next morning was cold but bright.  The first port of call was the Urridafoss waterfall, a smaller version of Gullfoss, where I was able to enjoy the view entirely on my own.
By now I realised that foss  meant waterfall, and the next stop just off Rt.1 was Seljalandsfoss, in which the water tumbled over the edge of a high cliff in a comparatively narrow stream.  A rough path led down to the base of the fall and round behind it,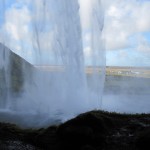 rising again, even rougher, on the other side.  Predictably, the stretch immediately behind the fall was rather wet, but I had to risk a photograph through the curtain of water.
A few miles farther along Rt.1 the road passes close to the infamous Eyjafjallajökull, which is now, like most Icelandic volcanoes, covered with an ice cap.  Right at the foot of the mountain is a farm which was devastated by the eruption but has since recovered to have good harvests and is benefitting from the increased tourism.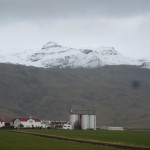 Like me, the pronunciation of Eyjafjallajökull probably defeats your imagination, but in every tourist shop in Iceland tee shirts can be bought emblazoned with a phonetic explanation in English – AY-yah-fyah-lah-YOH-kuul.  During the eruption the efforts of British television newsreaders to pronounce it were a source of great amusement in Iceland.
Following Rt.1, a flat, smooth-surfaced road with the mountains on my left and the coast not far away to the right brought me to Skógar and yet another waterfall, Skókarfoss.  This was like a larger, much wider version of Seljalandsfoss, but it was not possible to get behind it or even very close to it without getting wet.  A long winding flight of steps led up the mountainside to the top but after the first couple of  hundred I decided that it was not worth the effort.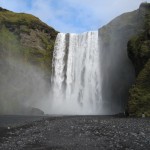 In the village of Skógar is the wonderful Folk Museum which covers all aspects of Icelandic life.  It is an unbelievable collection of old buildings and artefacts gathered over more than 70 years by one man, who is now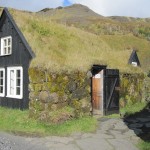 at least 90 years old.  As I looked around he came up to me and introduced himself, speaking good English, and gave me a short personal tour of some of the exhibits.
Amongst the buildings outside is a row of turf-roofed cottages from the 19th century, with the tiny rooms furnished in the original style.  In a separate complex nearby is the Transportation Museum, in which vehicles and communication systems used in Iceland throughout the 20th century are displayed.  This includes examples of cross-country and military vehicles dating back to the 1920s, including a rare Cirtroen Kegresse half-track truck, one of the few vehicles that would have been capable of travelling across the interior in the winter.
This spurred me on to try going off the beaten track again, towards the Mýrdalsjökull glacier, an ice cap covering the volcano Katla, which is also due to erupt before too long.  The road (Rt.222) was ok for a while, but then became increasingly rough until it reached a yellow sign stating IMPASSABLE .  By now stones were banging against the underside of the car and the sign clearly meant what it said.  Foiled again.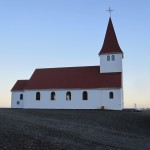 My night stop was to be in Vik, a tiny coastal town acclaimed for its beauty.  The road climbed for a while before Vik and then dropped down into the town, with a pretty little church perched on a hill above it.  The setting was undeniably beautiful, but the town itself was not, consisting of streets in a grid pattern lined with buildings in which function took priority over form in most cases.  There were two or three functional hotels and a functional filling station cum restaurant on the main road.  This afforded a good photo opportunity of my tiny car parked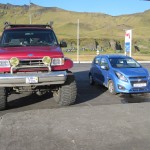 alongside one of the enormous special 4x4 vehicles that are used for journeys into the interior, and confirmed that I did not stand much chance of driving far off the main road.
The hotels were ridiculously expensive for what they were, but adjoining the Hotel Lundi was the Guesthouse Puffin, recommended by LP despite being described, correctly, as having very thin bedroom walls.  They also mentioned a 'possibly haunted lounge'.  Probably haunted by people who had dropped down dead on learning the prices of the hotels in Vik.
Once sorted in my tiny room I drove down to the beach which was covered with coarse black sand typical of volcanic areas.  This was said to be good place to see the puffins that live on the adjacent cliffs, but they were out at the time of my visit, so I climbed up to the church which afforded a good view over the town and sea.
Back to Reykjavik and the WestCoast
One problem with Iceland is that once you leave the south western corner you are confined to places not far from the ring road unless you have a vehicle suitable for going into the interior. The ring road is 832 miles long, which I could hardly complete in the time that I had left (1½ days), so the next day there was no alternative to retracing my steps in the direction of Reykjavik.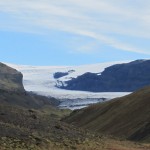 Looking at the map I realised that there was another road, no.221, leading towards the Mýrdalsjökull glacier and while it eventually became too rough I was able to get close enough for a decent photograph.  It was then a straight drive back to the outskirts of Reykjavik and up to Akranes, a small town on a peninsular about 30 miles north of the capital.
Between Reykjavik and  Akranes is Hvalfjörđur, a fjord under which a four mile long toll tunnel has been built to save a detour of about 40 miles.  The fjord did not seem to have a very high scenic value, so I took the tunnel.
Akranes was actually a fairly plain town, with a short promenade and beach, most of the waterfront being taken up by a massive and ugly fish processing factory.  This was offset to small extent by some quite attractive traditional house in various
colours and a nice wooden church, but on the whole Arkanes was not a place where one would really want to spend a lot of time.  I decided to go back to the hotel in Borgetan and have another look at Reyjavik, where, in the evening, there was an absolutely magnificent sunset which everybody was talking about the next morning.
Hafnarfjörđur,  Keflavik and home
Just off the road from Reykjavik to Keflavik is a fishing port called Hafnarfjörđur.  In a café somewhere I had read an article about whaling in an English-language newspaper published by an American living in Iceland.  Whaling was stopped in the country in 1989, but resumed a few years ago to protests from around the world, including from within Iceland itself.  The article I read was anti-whaling, and showed a picture of a partially dismembered whale carcase on the quayside in Hafnarfjörđur.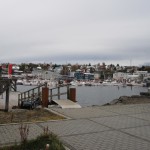 So far I had seen a fair number of towns and villages in Iceland, none of them very attractive, but Hafnarfjörđur was definitely an exception.  The main part of the town is on one side of the harbour, with a promenade, and a short drive round to the north side leads to a large open area with traditional white cottages and other old buildings dotted about on it.
On the far side of the harbour is the very large commercial fish landing and processing complex, with a network of roads running through it.  I drove around but there was no sign of whaling activity, and I have no doubt that it is kept well out of the sight of the prying eyes of Greenpeace and suchlike.  Hafnarfjörđur is also a base for whale watching tours, so they make money out of taking people to enjoy watching the whales and also out of killing them, though presumably not at the same time.
Before taking the car back I had a look at Keflavik, but if I had failed to do so I would not have missed much.
On the plane going home I sat next to a young British couple who had travelled out on the same flight as I did.  They were obviously quite well off and travelled a lot, but it was interesting to compare how they had spent their time in Iceland.  They had been on a whale watching tour, but were not sure whether they had seen any,  They went on a 'northern lights' tour (might have seen the aurora), and did a quad bike excursion which he thoroughly enjoyed and she hated.  Otherwise it was all great hotel and fine dining.
Icelandic oddities
Names
A bit about the strange system of Icelandic names.  After marriage a woman does not take her husband's name, she continues to use her own.  Male offspring have a surname made up of the father's first name with 'son' added to it, and female offspring have a surname consisting of the father's first name with 'dottir' (daughter) added to it.  Putting this in English terms, if John Smith marries Mary Jones they continue to be John Smith and Mary Jones.  If they have a son named Brian, his name will not be Brian Smith, but Brian Johnson (Brian son of John).  If they have a daughter named Emily she will be Emily Johndaughter (Emily daughter of John). Thus all four members of the family have completely different names.  Further offspring will have the surnames Johnson or Johndaughter, according to gender.  People are generally referred to and listed in the telephone directory by their first names.
This arrangement would appear to be a nightmare for genealogists, but genealogy is actual a popular subject in Iceland, and there is a well established system for dealing with it.
Little People
Many Icelanders seriously believe in the existence of elves, gnomes or other little people, and make provision for them in their everyday lives.  It is quite common to see little wooden houses in gardens to provide accommodation for them.  In early 2014 it was reported that the planned route of a new main road had been changed because it was believed that such people were living on the original one.  Still, we do it in England for newts.