Alaska 2012
Alaska. The Arctic Circle, North Pole, The Yukon and other cold places
It is probably a sign of advancing age, but shortly after booking my flight to Alaska I could not actually remember why I had decided to go there. I think it went back to the days of my early youth, when new books were hard to come by and my reading matter consisted of pre-war offerings with titles like the Big Adventure Book for Boys, with stirring stories of Real Men fighting against the elements and one another in the Yukon and Klondike in search of gold. They were far away places in those days and I could never have imagined that one day I might see them.
Alaska is not very easy to get to. There are no direct flights from England and some of the flights are very indirect, via places like Frankfurt or Los Angeles. The shortest time is over 15 hours and many are well over 20. The flight I eventually booked, with Delta via Minneapolis, took 21 hours from Heathrow to Anchorage, and at 6523 miles is one of the shortest by distance. It seems very uneconomical considering that the distance as the crow flies is only 4481 miles, but nobody actually goes that way, not even the crows.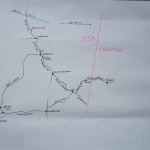 The plan was to fly to Anchorage, hire a car, drive up to the Arctic Circle on the infamous Dalton Highway and then cut across to Dawson City in Canada, where I hoped I might be able to pan enough gold to pay for the trip before returning to Anchorage. That was the original plan, anyway, but the more I read about Alaska the more ambitious it seemed to be, and I realised that once I got there I would have to take things as they came.  (Click twice on the map to enlarge, once on the other pictures).
For a start Alaskan roads are, quite literally, thin on the ground. Alaska is the largest state in the USA, twice as big as Texas and over six times as large as the UK, but has a total population much smaller than Birmingham. The great majority of people live in the south eastern part of the state and outside that region there are few roads at all. Of those most are what the Americans call 'unpaved', which means that they are surfaced with gravel or dirt in the summer and ice or snow in the winter. In addition there are the pure 'ice roads' over frozen rivers or lakes, usable only in prolonged cold periods. The main routes all have names, such as Parks Highway or Dalton Highway, mostly in honour of people who played a part in the development of the State..
Before making any definite arrangements for flights and accommodation I thought I should check to ensure that I could rent a suitable vehicle, and immediately ran into a stumbling block. It is standard practice in the USA (and most other places) for car rental firms to prohibit their vehicles from being driven on unpaved roads. The first two or three companies I contacted on the internet confirmed that that was their policy, and I would not be able to go on the Dalton Highway or most of the other routes I wanted to use. In one case I said I had read that the Dalton Highway was now paved at least as far as the Artic Circle, and they replied "Well, it might be, but you still can't take our cars on it, it's too dangerous".
After a long search on line I eventually found a firm called GoNorth that rented out 4x4 vehicles, including what they called trucks, that you were allowed to use on all roads. Accommodation was another problem, because in the areas where I wanted to go it seemed that 'lodgings' were few and far between and mostly very expensive. Amongst GoNorth's rental packages was a truck with camping gear, and that seemed to provide the combination of reasonable cost and flexibility that I was looking for.
So I booked a ¾ ton 4x4 truck with all the essential equipment for happy camping, including tent, sleeping bag, stove, crockery and cutlery, etc. It was a long time since I had done any tent camping, 39 years to be precise, and I was not greatly looking forward to putting up the tent for the first time in front of other people, especially in a place where I could not do it under cover of darkness..
Immigration at Minneapolis was very quick, but this was followed by a 6 hour wait for the flight to Anchorage, so I decided to get the light rail transit to the Mall of America, about 2 miles away. Claimed to be the largest mall in the USA, it has 570 shops around a large amusement park, so it was about as far from the wilds of Alaska as it is possible to get, but it was better than sitting around at the airport. One of the attractions was a rather strange exhibition called 'Diana – A Celebration', about the life of Diana, Princess of Wales. On the way the train passed a mind-bogglingly large military cemetery with lines of crosses as far as the eye could see.
The truck was arranged for collection from GoNorth in Anchorage at 10.30 the next morning so I had booked a room in America's Best Value Inn nearby, and arrived at 1.45am fairly shattered after being up for 29 hours, but I have known worse.,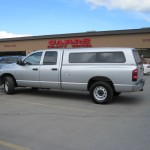 On arrival at GoNorth's premises I noticed a huge silver Dodge Ram truck in front of the door, and thought "I would like that". After sorting the paperwork the lady in the office said "We are giving you Ben, the truck in front of the door". Paradise! Ben was 20 feet long and had a 4.7 litre V8 engine. It was referred to by its manufacturer and its owners as a truck, so I really was a truck driver in Alaska. The load bed was about 10 feet long and had a glass-fibre top with windows, so I could sleep in it, which was ideal. All the specified items of camping gear were there including an axe and a large spade. I could imagine a use for the latter but I did not know what I was supposed to do with the axe. Perhaps they were expecting me to build a log cabin. There were also two sleeping bags.because the lady did not realise that I would be on my own. She offered to take one out, but I said I would keep it in case I met someone, as people always do in films.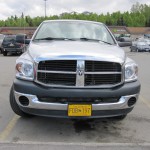 She also suggested that I stock up with food at a Safeway supermarket about 4 miles away in the direction I was going, but as soon as I stopped in the car park I could smell burning brake linings, and found that one of the front brakes was very hot. The only thing to do was to take Ben back, and I was worried that I might lose him and get something not so good, but as soon as I got to GoNorth the mechanic checked the brakes and said the pads had been replaced the previous day and were just bedding in. That would not be my method of bedding them in, but in the event there was no problem.
Back to Safeway, and I was astonished at the high prices of both the food and non-food items. American prices are generally reasonable, but many of the items were twice the price they would be in Lidl or Tesco, although there are substantial discounts for loyalty card holders. After a time I came to the conclusion that this was the Alaska effect, a consequence of the high cost of getting things there and the reduced economy of scale.
Anchorage to Willow
For the first 40 miles going north from Anchorage, to Wasilla, the road was like a typical American freeway, a dual carriageway with a fair amount of traffic. After Wasilla it became mostly single carriageway with overtaking lanes for short distances and there was much less traffic.
For the first night I found a campground at Willow Creek on the Parks Highway about 70 miles from Anchorage and set about organising my living arrangements. The truck was divided into 3 sections, the front seats, the rear seats, and the load bed, which was separated from the seating area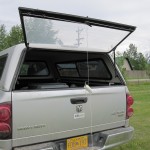 by a double bulkhead. This meant that the only access to the living area was through the tailgate, which was split into upper and lower halves. The lower half was part of the vehicle construction, not counterbalanced and so heavy that I could hardly lift it. It was also high when open, and GoNorth had given me some portable steps to make it easier to climb up. For normal access to the interior with the flimsy top tailgate open this was no problem, but when I retired for the night there was a difficulty, because I could not close the bottom tailgate once I was inside. The only way round this was to close the tailgate from the outside and then climb in through the slot above, Dukes of Hazzard style, although I did it with rather less panache than the occupants of General Lee. But there was still a problem, because I was then at the wrong angle to pull the top gate down against its strong pneumatic struts. This vehicle was definitely not for wimps, but I solved it by tying a piece of string (in the camping kit) to the top of the gate which enabled me to pull at a better angle.
Over a period of 2 months before going to Alaska I had been monitoring the local temperatures as reported in the Daily Telegraph, and they were generally 5 to 10 deg C. lower than in the south of England, so I was expecting to have a relatively cold holiday. In fact, as I prepared for the first night in the truck it was quite warm. Because I did not need electric hook-up I had a pitch close to the river away from the big camper vans with all their paraphernalia, and it was very pleasant until I woke up at 2am to find that it was cold and raining. The cold was dealt with by using the second sleeping bag as a cover, but some water was getting into the back end of the load area, and I decided that I was going to need a strict regime to prevent it from spreading to where I was sleeping. Memories flooded in of those student camping holidays when everything just got wetter and wetter.
In the morning the rain had stopped and it was warm outside, so I set up the stove, got breakfast, showered and quickly forgot about my concerns in the night.
Willow to Fairbanks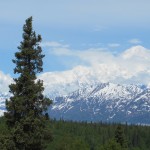 From Willow to Fairbanks was about 300 miles, which I expected to cover in a day. The road runs 30 miles from Mt.McKinley, the highest mountain on the whole North American continent at over 20,000ft, although the road itself does not reach any very great height. For a long way there are roadside viewpoints every few miles, and lots of other parking areas, some with toilets but otherwise few buildings of any kind.
In rural America everywhere you go you come across people living in tumbledown properties surrounded by everything they have ever owned or collected. Cars, trucks, tractors, buses, farm machinery, and in Alaska old snowmobiles and bits of pipeline or mining equipment. This is a lifestyle that I can empathise with. Many items are used as plant pots or decorated in other ways, and there are often dogs, cats, turkeys, geese, goats or other animals wandering about in the middle of the junk. It may or may not be for sale, but the owners are usually happy for people to take photos.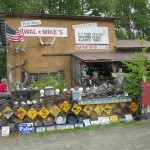 The first such place I came to in Alaska was at Trapper Creek, a place called Wal-Mikes (from WalMart), which claimed to be world famous, although I had never heard of it. It was a shop and post office, and did seem to have a wide selection of everyday essentials as well as the things nobody was likely to buy.
The Alaska Railroad runs alongside the Parks Highway for most of its length and at one point I saw a very glamorous train with 2 bright yellow diesel locomotives pulling a string of very smart double-deck carriages. This was the Alaska Express, a tourist train that runs from Anchorage to Fairbanks, and like most American trains it seemed to trundle along at about 30mph, which my father would have said is a nice speed for seeing the countryside. The Railroad is the only public railway in the state, and has just one route, with a couple of short branch lines, running from Whittier in the south to Fairbanks. Most of it seems to be single track.
About midday I stopped for coffee and a cake at a small place called Healey, and after that the landscape suddenly changed, with snow at the roadside and a general Arctic appearance. Approaching Fairbanks the road seemed to climb for miles, and I imagined that it would be much colder than in Anchorage, but in fact it was about 70deg F. Fairbanks is the second largest city in the state, after Anchorage, but neither is the capital, that honour going to Juneau, a small town in the far south east. You might find that information useful one day in a pub quiz. Some people in a kayak centre directed me to an excellent campground with a restaurant and shops nearby where I could top up on my provisions.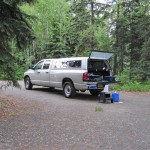 The campgrounds are used by a very diverse range of people, from backpackers who walk in with a tent to people in £100,000 motor homes towing a car behind them. Some sites are basic, but most have at least toilets and showers, and I found that the other campers were invariably well-behaved and quiet at night, which cannot be said for the occupants of a lot of American motels.
Fairbanks to the Arctic Circle – The Dalton Highway
At 2am I woke up briefly and it was still very light outside. At 7am I woke up again and looked around inside the truck. It was in such a mess that I thought for a moment that I was at home, so my new regime was not working very well. My target for the day was to reach the Arctic Circle, a distance of about 190 miles from Fairbanks. The only road in Alaska that crosses the Arctic Circle is the Dalton Highway, which was built in the 1970s to provide access to the Prudhoe Bay oilfield on the Arctic ocean and was made famous by Ice Road Truckers. Sometimes called the 'Haul Road', it was built by the oilfield operators (Conoco/Philips/BP) and for many years it was restricted to use by vehicles serving the oilfield and pipeline, but was eventually opened up to the public..
At Fox, a few miles north of Fairbamks, I got my first view of the Alaska Oil Pipieline, which runs 800 miles from Prudhoe Bay to the port at Valdez in the south. The pipeline is very close to the road at Fox, and there is a public information point with details of its construction and maintenance. It has a bore of 48in and is heavy insulated so the oil retains its natural heat to prevent it from freezing in the winter. The pipe is about 10ft above ground on stilts for almost its entire length.
It was very hard to get reliable information about the condition of the roads I was planning to use. Some reports said they were paved all the way, others suggested that they were not. My map of Alaska showed the whole route from Fox to Prudhoe Bay (485 miles) as a 'loose surface highway'.
Also at Fox was the Hilltop Truckstop with a sign stating that there were no more services for a very long way, so I decided to fill up with 'gas' at $4.459 per US gallon, which equates to £3.69 per Imp. gallon or £0.81 per litre, which Americans think is a dreadful price.
From Fox the first 74 miles is the Elliott Highway, which is a reasonably smooth tarmac road . There is nothing on the way apart from a general store surrounded by junk, masquerading as The Arctic Circle Trading Centre, and a place called Livengood which has a sign saying 'No Services'.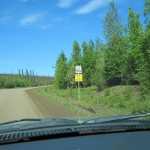 The Dalton Highway starts shortly after Livengood as a narrower tarmac road with a sign stating 'The James W.Dalton Highway', followed by a sign with 50MPH SPEED LIMIT FOR THE NEXT 416 MILES. For a few miles there was a thin covering of loose gravel on the road which I found slightly disconcerting, but it then changed to a compacted soil surface which continued on and off for a large proportion of the 120 miles to the Arctic Circle. There were two quite messy stretches of road works, one 9 miles long, with a lot of mud, before the Yukon River crossing where I stopped for a meal at the roadhouse.
So far I had seen very little traffic, just a couple of pick-ups and one or two trucks. In the summer there are supposed to be 160 trucks a day on the Dalton Highway, but it seemed to me that there were fewer, perhaps because it was Sunday.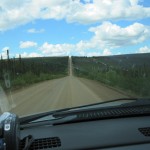 The roadhouse was exactly what might be expected, a single-storey shack-like building, and there were only a two or three customers in the restaurant. The lady in charge was very friendly and wanted to know where I was from and where I was going. A man then joined in and asked me if I had a CB radio, and I told him I didn't, although GoNorth had them but had not suggested that I ought to take one. He said "Well, you will probably be ok as far as the Arctic Circle, but if you go past there without a CB you will get KILLED!
CB radios are used to communicate with truck drivers on the approach to blind bends or brows, using the mile markers at the roadside as a reference. The trucks are very large, travel fast, and basically do not expect to have to give way to anything they cannot see or do not know about.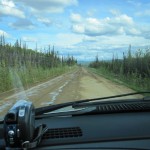 After the roadhouse there was about a half mile of thick yellow mud, 3 or 4 inches deep, all over the road and the surface was of variable quality for the next 60 miles to the Arctic Circle, but mostly unpaved in one way or another. One problem is that in many places the traffic causes the dirt to build up into a ridge along the edge of the road, making it even narrower, and they have a special machine that travels along scooping up the soil from the ridge and spreading it across the road in an even layer about 4 feet wide. The Dalton Highway would not be a good place to take your new car for its first outing. There were no significant bends, but some sharp brows with limited vision, especially on a stretch of road called the Rollercoaster.
At one point the landscape changed quite suddenly from forest with deciduous trees to Arctic tundra, with quite short pine trees. About 15 miles south of the Arctic Circle a rather extraordinary thing happened. I suddenly developed an urgent need for a restroom (as the Americans would say) and was wondering what to do, when a viewpoint appeared at the side of the road with a large parking area and two small toilet blocks. Next time Arun District Council are planning to close public lavatories in Littlehampton and Bognor Regis because of lack of demand I must remind them of this.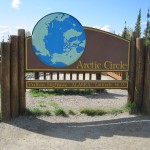 At the Arctic Circle there is a monument in a car park set back from the road, and when I arrived the only person there was a man from the US Bureau of Land Management, who offered to take a photograph of me alongside Ben in front of the monument. He said there was an undeveloped campground there with no facilities, but I decided that it was too early to stay for the night.
Just to make absolutely sure that I had been to the Arctic, in case they had put the monument in the wrong place, I drove four miles further north and did not get killed, contrary to the expectation of the man in the café. There was no point in going up to Prudhoe Bay on the Arctic Ocean, because it was another 300 miles, and the oil companies have taken steps to prevent anyone from getting through to the coast. It was time to turn round and go south again and by the time I got back to the Yukon River roadhouse I was ready to stop. I thought they had a campground, but they did not, and in any case the mosquitoes were intolerable (more about that later), so I drove on and decided to find somewhere just off the road to stay for the night.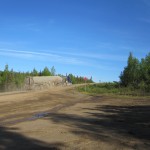 This proved to be quite difficult, because the only side roads are for access to the pipeline service points, and have barriers across them, but eventually I found a place and set up the stove next to the truck to get a meal. I suddenly realised that it might not be a very good idea, because I was a few feet from dense woodland, and there are known to be bears along the Elliott and Dalton Highways, so I packed everything away and got something to eat in the truck. .
Before going I had read up on the subject, was aware that there are brown bears (grizzlies) and black bears, the former being larger and more aggressive. Generally they don't go looking for people but are attracted by the food we eat and will attack if they are hungry or feel threatened. If you are approached by a grizzly, advice is to keep calm and still or play dead until the bear turns away. If you are attacked by a black bear, the recommended course of action is to fight back!
Despite occasional trucks passing by in the night I slept well and woke up to a magnificent view from inside the truck. I was standing outside using the door mirror for shaving when a pick-up stopped behind me and a cheerful young man with a beard and pony tail, on his way to the pipeline, said "I've just seen a bear at 9 mile" (this refers to the mile markers at the side of the road). At that moment I did not know exactly where I was, but shortly after starting off I discovered that I was at 8 mile, so my fears the previous evening were not unfounded.
Dalton Highway to Tok
With the bear probably on its way I decided not to hang around, but to get a proper breakfast somewhere. After 80 miles and over two hours driving I found myself back at the Hilltop Truckstop, and ordered the "Traincrash" breakfast, which consisted of diced ham, diced potato, diced vegetables and diced just about everything all piled up in a heap, which presumably someone thought looked like the aftermath of a train crash. For $3 I also got a shower.
For my next night stop I was aiming for a place called Tok, on the Alaska Highway, from where I could branch off to Canada and Dawson City, on the Klondike River. After by-passing Fairbanks I stopped at small city called North Pole to get fuel and stock up with food. North Pole was given its name by local traders in the hope of attracting a toy manufacturer, but it is used by unscrupulous tourists like myself who have no hesitation in leading people to think that they have been to the North Pole. .
From North Pole to Delta Junction was an easy, pleasant drive on the Richardson Highway, passing through forests with a mountain backdrop. Shortly before Delta Junction I stopped at Rika's Roadhouse, now a museum, where the lady guide sitting in front of the entrance looked at Ben and said "That's the dirtiest truck I have ever seen". Apart from the overall layer of yellow dirt, there were lumps of earth caked all around the wheel arches, and I had been thinking that I ought to clean it up before going to Canada. I don't know about the Canadians, but the Americans can be funny about people bringing soil into the country, even on their shoes, and I didn't want to have problems at the border.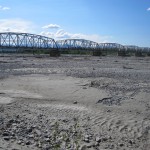 From Delta Junction the road is the Alaska Highway, dead straight for the first 35 miles, including an 8-span bridge over the Gerstle River, which was completely dry, exposing a vast expanse of gravel and rocks. Some miles farther on the road crossed the Johnson River, which was equally wide, but strangely full of ice floes. It was difficult to understand how this could be possible, because the air was really warm, but I can only suppose that the floes were maintained by the very cold water coming from the snow-covered mountains a few miles away.
At Tok I quickly booked in at the Tundra RV Park, next door to which was a filling station advertising "FREE WASH WITH FILL-UP". I filled up with gas, went into the office, pointed to Ben, and said to the lady at the desk "It says free wash, how far does that extend?" She looked out of the window and said " As far as you like. You have to do it yourself!" It was a Jet Wash (they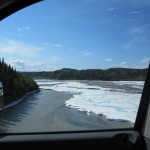 supply the water and high pressure hose, you point it at the vehicle), and twenty minutes later Ben looked reasonably smart, which is more than could be said for me. Fortunately there was a launderette at the campground.
Tok to Dawson City - Canada
The next morning I turned off the Alaska Highway at Tetlin Junction onto the Taylor Highway, towards the Canadian border. The road was well surfaced to start with and climbed to about 5000ft, passing on the way through vast areas of land on both sides blackened by forest fires. Unimaginably large tracts of land were affected, as far as the eye could see. These fires, caused mainly by lightning, are regarded as part of the natural ecological process and are often not fought unless there is danger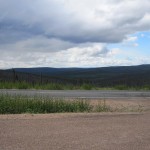 to human life or habitation. However, they are becoming more frequent and there is concern about the effect on global warming amongst other things.
For about an hour after leaving Tetlin Junction there was no traffic on the road at all, and I was somewhat surprised therefore to encounter a 1960s Rolls-Royce Silver Cloud going the other way. This was just about the last car I would expect anyone to own in a remote corner of Alaska, and a few minutes later I was still puzzling about it when a 1970s Ford Mustang came flying round a bend. That was followed by an open 1920s Bentley with two people in it, and British numbers! At this point I realised that it was one of the many long distance classic car rallies, organised mainly by British companies. These are for rich people, who pay large amounts of money to have their cars shipped around the world and then follow a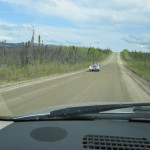 planned route, often over quite challenging terrain. They generally stay in good hotels, enjoy fine dining and have full engineering and medical support. There were about 30 cars in this group, mostly British registered, and as I was to find out, they had come over some rough roads, but I still thought I was having more of an adventure.
On the approach to a town called Chicken (more about Chicken later) the road surface began to deteriorate, and quickly changed to dirt, with a steep climb, hairpin bends and sheer drops on one or both sides. This continued for about 40 miles, almost to the Canadian border. My only previous experience of Canada was about three days in the Toronto area, and it rained solidly from when I entered the country to when I left. True to form, this time when I got about 100 yards from the border post it started to rain. The young officer at the frontier asked me what I was doing, where I was going, where I got the truck from, and then waved me through after checking Ben's papers. On the Canadian side of the border the road was called the Top of the World Highway, and although it is neither the highest road in the world nor the northernmost, it sometimes felt like it. The rain stopped, the views were magnificent and the surface was better, though there were still stretches of gravel..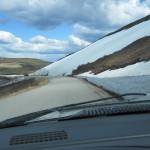 There is a time difference of one hour in Canada, and distances change to kilometres. After 106 km the road descended to the bank of the Klondike River, where there is a free ferry across to Dawson City. The ferry is very small and can carry only one truck or bus or a few cars.
With some help from the Tourist Information Centre I found the Gold Rush RV Park right in the city centre and went for a look round. Dawson City is a real time warp, with a mish-mash selection of buildings mostly dating from the 19th century, and I noticed that they were still using traditional materials like the corrugated iron sheeting for roofs and walls in some cases, There were some marvellous original features like the single storey building in the main street with LOWES MORTUARY in hand-painted lettering on the front. It still appeared to be a mortuary, though they probably don't get as many victims of shoot-outs nowadays.
Ba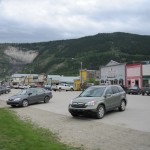 ck at the campground it was time to start recharging my batteries, or rather those of my camera, camcorder and netbook. I was not equipped with the cables to use the campground hook-ups, and had originally thought I might have to stay in a hotel at some point to get power, but shortly before leaving home I bought a 75W 12v dc to 240v ac inverter that plugged into a vehicle cigarette lighter socket. This meant that I could get the equivalent of a British mains supply from Ben, and use the normal leads for my gadgets, though only one at a time. It worked very well, but some care is needed with 240V inside a vehicle.
The next morning I stocked up with provisions at the very traditional grocery store on the river front, and drove down to look at Dredge no. 4, a restored dredge from the days when gold panning changed to an industrial scale. On the way back I also stopped at Claim no.33, where members of the public can pan for gold, but I got the feeling that it would take too long to earn enough to pay for my holiday. During my stay in Dawson City it rained on and off but was quite warm. However, I got the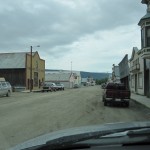 impression that life is still hard there through the long winters.
Dawson City to Tok
There are only two roads leading to anywhere from Dawson City, one being the one I came in on and the other leading to Whitehorse a long way down south, where it joins up with the Alaska Highway from the USA. The only way for me to go was to retrace my steps to Tok. At the border I was held up for some time behind a bus and was then quizzed much more thoroughly than when I had entered the USA at Minneapolis, although there was no fingerprinting.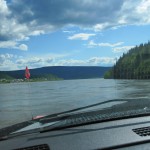 A few miles before Chicken I got behind a huge tanker truck and followed it all the way along the dirt road with the hairpin bends and sheer drops. It was travelling as fast as I wanted to go, and even if it was empty its performance was pretty impressive. American vehicles are not generally noted for good handling, but I can only conclude that the size and weight of the trucks gives them a degree of stability on rough roads that smaller vehicles do not enjoy.
There was a sign pointing to Downtown Chicken, but the place seemed to consist of three separate groups of buildings, and it was not clear which one was Downtown. There was the usual collection of old cars, trucks, pumps, tractors and other decaying junk, the 'streets' being delineated by bits of cast iron mining machinery. It was an original gold mining town, intended to be called Ptarmigan, which is a local bird, but due to disagreements over the spelling they decided to call it Chicken. The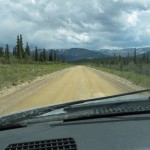 resident population is said to be 35 in the summer and no one at all in the winter, because the road is closed from mid-October to mid-March. The name is worked to death, and there is a big store selling every possible form of chicken-related merchandise, although I came away without a single T-shirt, mug or key ring to prove that I had been there.
At Tok I went back to the Tundra RV Park, and picked up a leaflet in the office about Mukluk Land. This was apparently a junk-based theme park nearby and decided that I just had time to get there before it closed. The RV Park was 1315 Alaska Highway, and Mukluk was 1317, so I thought it was next door, but it turned out that the numbers refer to miles along the Alaska Highway, which rather puts things into perspective. Anyway, when I got there I was welcomed by a lady who only charged me $2 instead of $5 because I was so late. She told me that she and her husband had come there as teachers in 1985, lived for 9 months in a tent (still there) and then built a log cabin. He started collecting junk and eventually had so much that they opened it as a theme park.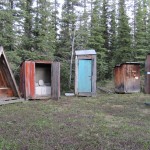 It was unbelievable. Some things in groups, some just scattered around. Cars, trucks, tractors, engines (aircraft, boat, stationary), a collection of wooden 'outhouses', 'Heater heaven' for old heaters of all sorts, and at least 40 snowmobiles, Everything out in the open and decaying. There were lots of children's play areas and, of course, a gift shop. When I left the lady told me I was the sort of person who made it all worthwhile, kissed me on the cheek and gave me a bag with some leaflets and a couple of sweets. This could only be America.
Tok to Glenallen
When I was shaving the next morning I noticed that my left eyelid was swollen from a mosquito bite. Since arriving in Alaska I had been bitten quite lot, but the bites were not very painful and went down after a couple of days, just leaving a little scab, I had been using insect repellent with 50% DEET, but it did not seem to work very well and was messy to use. If you are in one place you can use nets or coils which burn to produce vapour, but these are not very practical when you are going around.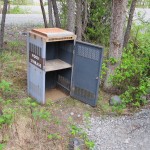 From Tok I took the Tok Cut-off Highway to Glenallen, which was a much easier drive than I expected and I arrived quite early in the afternoon, which gave me time to sort out and write my cards. At his point I realised that I could have done more than I originally planned, but I had already used the 1000 free miles with the truck, and it was now costing about 26p per mile plus fuel. The campground did not have many people but a vast number of mosquitoes and the tent-camper pitches had metal containers to store food so that the bears could not get it.
On the way in I saw a van with THAI FOOD on it at the road junction about 300 yards away. In the evening I walked along the wide verge to it, and while I was waiting for my food I saw a hand-written notice on the van: BEAR IN AREA. USE CAUTION. I realised that I had just walked past dense woodland, and as I hurried back with my hot pork and fried rice I decided that if the bear appeared I would throw the food at it and run. But what if it didn't like Thai food?
In the night I woke at about 2am and found that the mosquitoes had struck, My right eye was half closed and by 7am it was completely closed. The area around it was all puffed up and I looked like the One-eyed Monster from the Planet Zruk. However, the swelling was soft and not painful, so I thought it might go down quickly, which it did, and by mid-day I could see well enough to drive. The one place you can't put insect repellent is close to your eyes, and I supposed the mosquitoes have discovered that.
Glenallen to Wasilla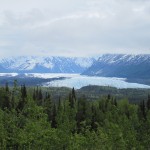 This was the Glenn Highway, another easy drive on good surfaces, with beautiful snow-covered mountains and a glacier quite close to the road at one point. At mid afternoon I stopped for coffee and a cake at a café surrounded by old tractors, farm machinery, and of course, general junk. There were some enormous black turkeys with tail feathers like a peacock, and one of them followed me as I walked around. The coffee was ok, but I think the cake was as old as the tractors. The lady said she would warm it up, as it would be nicer, but it was like eating a piece of charcoal.
At Wasilla, on the Parks Highway, I found the Big Bear Campground, which was relatively free of mosquitoes and totally free of big bears.
Wasilla to Hatcher Pass and back
On the way to Fairbanks I had intended to visit the Alaska Museum of Transportation in Wasilla, but somehow missed it, so I took the opportunity now that I was back there. There were trains, planes, boats, cars, engines and lots of other machinery, most of it outdoors. In that part of the world the idea of potentially valuable exhibits being left out in the weather to deteriorate seems to be accepted as the norm.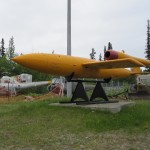 One odd item amongst the aircraft was what I identified as a V1 Flying Bomb from WW2. Many V1s exceeded their intended range, but it can be said with certainty that none reached Alaska, and I thought it might be a film prop or something. It turned out that it was actually an American-made copy of the V1 called the JB-2 Loon, for use against Japan, but was never put into service. 1300 were made, some by the Ford Motor Company.
So far Ben had run perfectly, but just down the road from the museum a light came on on the instrument panel. From the handbook I discovered that it was the "engine malfunction" light, the meaning of which was uncertain. After checking the oil and peering at the black boxes under the bonnet I went into Willow library to see if there was a pay phone, and a kind man lent me his mobile to ring GoNorth. They said it was probably just to do with emissions, and I should carry on, as I only had one more day anyway.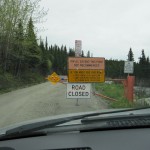 From Willow there is a road across the mountains to Palmer called Hatcher Pass which sounded interesting. After driving for several miles along a twisty gravel road alongside a white water river I came to a partial barrier across the road and a sign stating ROAD CLOSED. Other signs said
                  TRAVEL BEYOND THIS POINT NOT RECOMMENDED
                  Expect extreme cold/heavy snow
                                                       Carry Cold Weather Survival Gear
                                                       Tell someone where you are going
I saw this as a challenge to my spirit of adventure, and decided to carry on anyway. The outdoor lifestyle is very big in Alaska and over the next few miles I was to see it in action. Every few hundred yards there were big motorhomes parked amongst the trees, with family members enjoying themselves playing with boats, ATVs and other toys. None of them looked as if they were on the brink of hypothermia..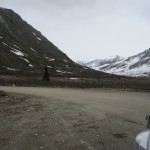 The road climbed for a long way, until it levelled out above the tree line and there was snow around, but no more people. It stretched away into the distance, and I decided to wait for a while to see if any vehicles came from the other way. Nothing did, so I had a rare attack of common sense and decided to turn back.
After a few minutes I met a 4X4 coming the other way, and asked the lady driver whether she thought I could get through to Palmer. She said "Where are you from". I said "England" and she replied "I'm from Wales!", She thought we could get through, but another lady came down the hill on an ATV and confirmed that the road was still blocked by snow and would remain so until July. So it was back to the shopping malls of Wasilla and Big Bear. On the way I went into a huge sports shop, sports in this case meaning huntin', shootin' and fishin' with an astonishing range of equipment, including guns of all sorts, something you would never find in a shop like that in England. Many things were expensive compared to elsewhere in the USA.
The next day was to be spent looking around Anchorage and preparing Ben for return to his owners. It was a condition of the rental that the truck must be taken back in the same condition as it was when it was collected, with a penalty of up to $85 for cleaning if the owners were not satisfied.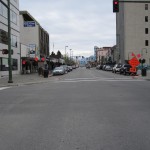 In the morning I drove down to Anchorage, booked in at the Golden Nugget campground and put Ben through the high-tech car wash opposite. Next stop was downtown Anchorage, which turned out to be quite European in character, with few high rise buildings. As usual I was in need of a public toilet, and the people in the tourist office sent me to a government building opposite, where I was put through a full airport-style security check before being allowed to use the lavatories. I saw quite a lot of Anchorage, and it came across as a pleasant place with none of the run down areas that characterise so many American cities.
Back at the campground I spent several hours finalising Ben's clean-up, inside and out, with furniture polish, window cleaner and a large amount of paper towel. It is one thing for GoNorth to prepare the vehicle with their workshop facilities, but quite another to get the same standard when you are out and about.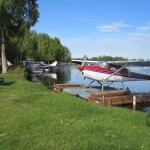 When I took Ben in the next morning all was well, and the only extra charge was for the 800 miles that I had done above the 1000 included in the rental. At the airport I had several hours wait for my flight and took the opportunity to visit the Aviation Museum in the airport complex. Light aviation has always been a big part of life in Alaska, and many people seem to use planes on an everyday basis like cars. You see small planes parked around all over the place, and every little town has its airstrip or lake grandly described as an 'airport'. Float planes are very common, and the floats are replaced with skids in the winter. In the museum it was interesting to see that there were 'friendship flights' from Anchorage to towns in north-eastern Russia some years before the collapse of the Soviet Union.
The journey home was pretty grim. I left Anchorage at 9pm on a Monday and arrived at Heathrow at mid-day on Wednesday, which might lead you to think I was travelling in a balloon, but actually I got 8 hours sleep on the Tuesday in a hotel in Minneapolis.