CLICK ON PICTURES TO ENLARGE
Belarus 2019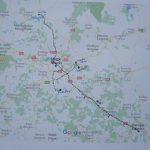 Not many British people go to Belarus.  There are no cheap air fares and it is not noted for beautiful scenery, good climate or any other particular attractions.  It was part of the Soviet Union until 1991, and is considered to have retained many of the trappings of its Communist past.  Essentially a single-party state, it has had the same leader since 1994 and is often regarded as Europe's last dictatorship.  The lack of democratic process and retention of the death penalty are frowned upon by the EU.
Until recently visitors from the Western world were deterred by the requirement for a visa which involved the same convoluted procedure as for Russia, but since 2018 it has become easier and at the time of my visit citizens of the EU and many other countries could stay for 30 days without a visa as long as they entered and departed via Minsk Airport.  It was still necessary to register with the authorities within five days of arrival, but that would normally be done by your hotel, if you were staying in one.  The entry requirements appear to be getting easier all the time.
There were various sources of information about Belarus on the internet, but only one proper dedicated guide book in English, published by Bradt, a company which specialises in guides to less popular destinations.  The one for Belarus is really excellent, written by a British man with a long-standing association with the country.
The British Foreign Office provides quite a lot of advice for visitors, including:
Medical insurance is essential, because medical services are of a lower standard than in Britain.
There is little crime, but you should be vigilant against pickpockets etc.
Don't take photographs of government buildings, military installations or officials in uniform.
Don't drink tap water without boiling first. Bottled water is advised.
Avoid consuming local produce in the area close to Chernobyl in Ukraine.
Main roads are generally in reasonable condition, but side roads are often very poor.  Police check points on roads are common.
Jaywalking is regarded as a serious matter.
As always, my intention was to hire a car and drive around, finding hotels as I went apart from the first three nights, which were booked on the internet in advance.  As I have driven in Russia and about 45 other countries I was not expecting the driving to be a problem, excepting possibly for the language.
Languages and finding the way
The official languages are Russian and Belarusian, which have equal status in law, although everyone can speak Russian whereas Belarusian is less widely spoken but gaining in popularity.  The two languages are similar in many respects, both using the Cyrillic character set with slight differences, and they sound the same to most foreigners.   English is taught in schools as a second language, but in practice, as I quickly discovered, few people can actually speak it and it almost never appears on road signs.  There is generally little English or Latin script around other than for the names of businesses and products, such as McDonalds, Burger King, Skoda and BMW.
Before going I spent some time brushing up on my knowledge of the Cyrillic characters so that I could at least recognise place names on signs, because that is really essential if you are driving.
For route planning and navigation I had a paper map 1:750000 (approx.. 10 miles to 1 inch) with  place names in English, HERE maps and MapsMe in my tablet, plus HERE maps in my phone.  I also had my own TomTom into which I had put a map of Eastern Europe including Belarus, but that proved to be a problem, because it completely failed to recognise the place names as they were shown on the paper map.  The only way round this was to scroll around the base map in the TomTom (which is possible on recent ones) until I found the place I wanted, write down the spelling and enter that on the TomTom keyboard.
Just to give an example of the situation as it applied to the name of one town.
Paper map: ASIPOVICY
HERE maps in tablet and phone: ASIPOVITSKI
TomTom: OSIPOVICHI
Roadside signs: АCІПОВІЧЫ
Obviously the roadside signs are the most important and that is why it is essential to learn the Cyrillic characters. You could say that a similar situation applies in countries like Japan, Taiwan, Greece, Georgia, Israel and Morocco, but at least in those countries main roads are often signposted in English as well as the local language, whereas in Belarus they are not.
Unexpected perfection
In view of the foregoing I had very little idea what to expect when I arrived in Minsk. The flight was three hours from Gatwick with Belavia, the Belarusian national airline, in a Brazilian-built Embraer 195 which looked as if had just left the factory.  The food was not entirely to my taste, but otherwise everything was very good and few of the 100 or so seats were unoccupied.
At immigration I was asked for proof of medical insurance, although I am fairly sure that the officer could not read the documents, and she wanted to know where I was staying. The next thing was to get some Belarusian roubles, because as the rouble is a closed currency it cannot be bought or sold outside the country.  Of the three bank counters  at the airport, only one was open when I arrived, but I was quickly able to get some cash in exchange for GBP.
The first night was to be at the Green Park Hotel about 5 miles from the airport, and the driver of the hotel minibus, which looked as if it had just left the factory, was waiting for me in the arrivals hall. Ideally I would have picked up my hire car straight away, but all the hire car desks closed at 7pm and the plane came in at 7.15.
The hotel was modern and had extremely few guests, but was able to produce a meal for me,which was fortunate because there was nowhere else for miles around.  The next morning the minibus took me back to the airport to get the car, a Skoda Rapid (Hockey Model!), which was perfect with 2000km on the clock and looked as if it had just left the factory.
All this perfection was a considerable surprise, because I had expected Belarus to be rather run down.  At the airport I had my first and only contact with the police when they came alongside and told me to move on while I was setting up my satnav.  They were less aggressive than the ones in Georgia.
Slightly off the beaten track
As always, I was hoping to find some classic car museums, and had the details of one in a folk museum in a place called Dudutki that I could get to on the way to Minsk, which is about 25 miles from the airport.  
Everything went well to start with. The TomTom took me on well-surfaced main roads with little traffic for a long way and then a few miles on a motorway with astonishingly heavy traffic, apparently coming out of Minsk on the Saturday morning.  After a while it directed me to take another single carriageway and then told me to turn left on to a wide gravel road through a village.  This went on for two or three miles, and just as I was beginning to wonder whether it was right it turned back into tarmac for some distance until it came to junction of three gravel roads. It told me to take the one straight ahead, which was clearly in a very bad state and not passable with an ordinary car.
I looked at the map in the tablet and saw that I was on the edge of a fine network of roads which were obviously a settlement of some sort and it was only about a mile to the main road that went past Dudutki.  If I turned right it appeared that I could get through the network to that road.
The roads in the network were actually narrow grass tracks running between plots of land with dachas (detached houses, usually made of wood) on them.  In Russia it has long been the custom for city dwellers to have such houses in the countryside to which they can retreat in the summer and it seemed that I had stumbled across a large complex of similar properties in Belarus.  For some distance I carried on along the track, which was very bumpy and only about ten feet wide until it turned right again, still running past houses with no one in sight to ask for directions.
At last, signs of life. On the left hand side of the track a man was shovelling straw.  When I pulled alongside him he looked at me, smiled with his two or three teeth, and it was immediately clear that there was no possibility of meaningful conversation.  I continued lurching slowly along  past several overgrown junctions for a while, and then saw that the road was dwindling away to nothing not far ahead.
I just sat there wondering how on earth, within an hour of leaving the airport, I had finished up in this predicament.  On the map in my tablet I could see where I was, but it was impossible to know which of the vast network of narrow rough tracks made up a viable route to the outside world. 
The only immediate course of action was to reverse about 300 yards until I came to a junction with a track that appeared to be clear for some distance.  It was difficult even to get into it, but just as I did a sane-looking man appeared from a garden. When I asked him if he spoke English he shook his head and said "Deutsch"?  I changed to German, but his knowledge of that language was no better than his English.  He went into his garden and came back with a young man of about 20, presumably his son, pointed to him and said "English".  The lad said "Little" and it quickly
became apparent that that was indeed the case.  However, I showed them the map on my tablet and where I wanted to go. The older man said "Google maps?"  Now we were getting somewhere.  They took the tablet and were obviously familiar with such things.  The lad pointed along the track, said "Forest" and  indicated that I should turn right at the forest. He then showed me which roads to take on the map, and I eventually got through to the main road and Dudutki with the car unscathed, rather surprisingly.
The folk museum was firmly aimed at family entertainment as well as education, with several coaches and a good number of cars in the car park. There were lots of animals and birds with workshops and displays of traditional country crafts.  The classic vehicle section was small, involving mainly cars from the Soviet era as I expected, and not really worth the foregoing trauma.
Minsk
It was time to push on into Minsk, a city of 2 million people, which the TomTom managed to find without too much trouble.  From what I had read I was under the impression that the streets of Minsk had little traffic, but that was certainly not the case.  It was late Saturday afternoon and quite busy, although there were no real traffic jams.  The standard of driving was very much better than I expected and certainly better than in most west European capital cities.
Unusually, I had booked one of the better hotels in town with the inspiring name of Belarus Hotel, a 23-storey skyscraper on high ground, which made it very easy to find.  It had an excellent guarded car park into which I was allowed without question, contrary to my experience in Russia.
Luckily I just managed to beat a coach party to the reception desk, and was given a good room on the 7th floor with a wide open view that could
best be described as surreal.   The hotel was effectively in a park with a river running through it, and along one side were white-painted buildings in what might be seen as a Flemish style.  On the other side of the park were mostly modern buildings, including a couple with big bright screens on them showing advertisements.  This was not at all what I had expected in Belarus.
Once sorted I walked down to the city centre to get something to eat.  It was a lively Saturday evening scene, with many young people enjoying themselves seemingly oblivious to the dictatorship or the death penalty.  Apart from the ones who had moved me on at the airport I don't think I had seen any police.  Nevertheless, I was careful to stand in line with everyone else at the pedestrian crossings until the green man came on, and absolutely no one jaywalked. Perhaps that is where the death penalty comes in.
After a wander round and a meal at a well-known American fast food place (shocking!) I returned to the Belarus Hotel and took the opportunity to climb to the higher floors and take in the expansive view across the city in all directions.
Some of the most prominent buildings within easy walking distance of the hotel were the Great Patriotic War Museum and the nearby Triumphant Arch in Victory Park, both listed as top sights for visitors, so that is where I aimed for after breakfast the next morning.  Belarus suffered dreadfully from the advance of the Germans into Russia and their subsequent forced retreat in World War II, known locally as the Great Patriotic War, with appalling atrocities resulting in the death of one third of the population. Every town and village has its war memorial, often in the form of abandoned tanks or field guns, and there are said to be over 9000 monuments dedicated to the tragic events.
On the way across the park I was astonished to find three "dockless" electric scooters of the type that have been in the news for causing problems in recent times in Los Angeles, Paris and many other cities around the world.  They are illegal in Britain at the time of writing and I had never seen them before.  They were standing with practically no one in sight, just waiting for someone to come along and hire them using a smartphone.  I fiddled about trying to make them go, with no success, and resolved to find someone who could explain how the use them if the opportunity arose.
I took some photos of the Arch and went on to the museum, where a lot of soldiers were waiting outside, presumably intending to visit. Bearing in mind that Belarus (as Bylorrussia) was part of the USSR at the time it is not surprising that the majority of the tanks, weapons, planes and other exhibits were Russian, and everything was labelled in that language.  There are several halls with a vast number of exhibits, including recreations of battle scenes to help to bring home the horrors of the event and also sections containing records and documentation.  Adjoining the
museum building is the spectacular Minsk Hero City sculpture consisting of a 45m high stainless steel obelisk surrounded by eleven sparkling 'rays' to represent the 1100 days of occupation during the war.     
On leaving the museum I discovered  a surprising concession to tourism in the form of a row of 'fun vehicles' on a large paved area.  Among them were the aforementioned electric scooters, some strange fat-tyred scooters, Segways and quad bikes, all electric and made in China.  All these manifestations of the Devil would be totally illegal on public land in Britain, but in Minsk they could be hired by anyone over a certain age.  Needless to say I could
not resist trying one of the fat-tyred machines at about £2 for five minutes.  The man in charge did not ask my age and there were no checks for sanity. During my demonstration ride I was watched by about 30 soldiers who amazingly did not jeer, but perhaps there was an officer present.
As I set off to walk into the town the soldiers went past in a long line, so I tacked onto the end while they were waiting to cross the road, just to get a feel for being in the Belarusian army.  
On the way into town I was just passing a multi-storey shopping mall that would have been considered smart by any standards when two men and a woman all aged about 30 came sweeping up on the little electric scooters and stopped in front of me.  I heard one of the men speak, and I said "Oh, do you speak English".  He said "Yeah mate, we're Australian".  I said "Well, perhaps you could show me how to use these things".  "Yeah mate, they're great, we use 'em everywhere".   They explained how to register by pointing your smartphone at a QR code on the handlebars and putting in your bank details, which enables you to unlock the scooter. However, as I have only very limited data in my phone and was not very happy about putting in my bank details in the street in the middle of Minsk I decided to give it a miss for the moment.
In the shopping mall a friendly German who lived in Minsk helped me to buy a coffee and a strawberry cake, after which I continued exploring the city.  Minsk was virtually totally destroyed during the war and the central area was rebuilt to a high standard with good quality buildings.  There is a recommended walking route that takes in most of the sights, starting at the very modern railway station which you are not supposed to take photographs of, but I did.  I managed to get a tourist map and covered as much ground as my knee would allow.
The city is very much better than I expected.  I thought it would be a gloomy, lifeless place, a relic of the Soviet Union, instead of which it seems to be thriving with most of the attractions and distractions of a West European city.  The traffic density is probably about one third of that in Britain, reflecting the lower level of car ownership, so speeds are often higher, but not to an extent that I would regard as dangerous.  Most of the vehicles are modern and in good condition (though that is not so once you get out into the countryside).
Running through the middle of the city is the river Svislach, the one I could see from the Belarus Hotel, with areas of parkland along its banks.  It varies greatly in width but is generally not wide or deep enough to carry large vessels.
The route took me past many distinctive buildings including the Red Church, the Greek-style Trade Union Cultural Centre and the KGB headquarters, which you are also not supposed to photograph.  There are plenty of pictures on Google Images and similar.  Whereas in Russia the KGB has been replaced by the somewhat less formidable FSB, in Belarus it is still the KGB.
From the imposing State Circus building I turned westwards into the "old town", a reconstructed area with a pedestrianised main street lined with cafes and restaurants forming the centre of night life in the city.
One thing about Belarus that is noticeable to anyone coming from twenty-first century Britain is the almost total lack of diversity.  During a whole day in Minsk I saw only a few people of a different racial type from myself ("white Caucasian").  Like western Russians, Belarusians are generally quite large and I noticed a surprising number of tall women.    
In the course of my advance planning for the trip I had found references to five vehicle museums  including the one at Dudutski.  Three of the remaining four were in Minsk, at the tractor factory, the motorcycle factory, and a small collection at the Ministry of Internal Affairs Museum. The largest collection in the country was supposed be at a village called Slipki about 50 miles north of the capital and the description on automuseums.info included a map showing the exact position of the museum in the village.
A day of wild goose chases
The next morning I set off for Slipki on the P58 main road to the north.  Once clear of Minsk the traffic was light and the road well surfaced, running through pleasant but not exceptional countryside.  The TomTom took me through a place called Illya (or Ilya) where I stopped to look at the market and bought a T-shirt with thin blue and white horizontal stripes like the ones Russian soldiers wear under their uniforms.  The man on the stall looked me over to assess my size and selected one that ultimately turned out to be about four sizes too large, but at least I could say "Been there, done that and bought the T-shirt".
Some distance after Illya I noticed a village on the left with its main street running parallel to the P58, and turned off to look at it.  It was exactly like some I came across in Russia, with a dirt surface and no signs of life apart from a small dog standing in the middle of the road.  It reluctantly moved out of the way as I approached.  The houses were typical wooden dachas, some in good condition but others in a total state of dilapidation.  I drove the whole way through the village and back without seeing any living creatures apart from the dog.  There was nothing to show that many of the properties were occupied.
A short distance after I rejoined the P58  the road crossed a lake via a long causeway and bridge. The lake was shown on my map as Viliejskaje Vdsch, which defeats Google Translate, but appears to mean Lake Viliejka, after the adjacent city of that name.  This is the only lake I saw in Belarus and they are few and far between.  A few mile further on the satnav indicated that I should turn left on to a rough road for about three miles to Slipki, where I stopped to get my bearings.  The layout of the narrow streets seemed to correspond to those on the map with the museum information, so I followed the route through the village to the point where the map showed a turning off to the right to the museum.  There was a junction there, but it was an extremely rough track, impassable for a car like mine without risking some damage.     
I went back into Slipki to see if I could find someone who might be able to help, and saw a well-worn car pull into the garden of a dacha.  A couple got out and I approached them with the map and picture. They were both about 40 and were willing to help but needless to say did not speak any English. They did not appear to have any knowledge of the museum but the man indicated that he would come with me in my car to try to find it.  We retraced my drive through the village until we came to the junction with the rough track and the man agreed that it was the place shown on the map. All this was done somehow without a word of English.
He then took out an unbelievably battered smartphone with an almost opaque screen, dialled someone, spoke to them and handed the phone to me. The lady the other end spoke good English, and I told her what I was looking for .  She said there was no museum in Slipki but there was one in another village about 40 miles away and she would explain to my friend how to find it.  He took the phone and had a discussion with her.  He then took my tablet with the map of the area and put a marker on the place the lady had mentioned.  Like the man I met near Dudutki he seemed to be quite familiar with the device, actually more so than I am.  I took him back to his house, thanked him, and decided to return to Minsk, as I did not want to do another 80 miles when there was no certainty that the museum would even have any vehicles.
It is quite interesting to consider this situation, because we were in an obscure village 50 miles from Minsk in a country that until very recently has received few foreigners apart from Russians, and yet this man seemed quite comfortable dealing with me.  Most Belarusian men do national service which would bring them into contact with a wide range of people, but probably not foreigners.  I regretted afterwards not trying to find out more about him, but the language was a problem.  What did he do for a living?  They had a large garden, but I doubt whether it was big enough for them to live from and there did not appear to be any industry in the area. When I met him it was in the middle of a weekday, when you might have expected him to be at work. Maybe he worked from home with his digital skills. From the state of his car and phone he cannot have been very prosperous.
In Ilia the market had gone, and I got some sandwiches from a shop to keep me going before driving on to Minsk and the hotel.  It was still only about 4pm, so I walked to the Ministry of Internal Affairs museum in the city centre, which was open.  I had a picture showing a number of old vehicles in the car park, but there was just one old police jeep.       
I went into the building through the heavy glass door and was met by a man in uniform with a hat with a big round flat top.  The diameter of the top of the hat of officials in this part of the world is an indication of the status of the wearer, and I would say that this one was actually medium on the scale of such things.  By our standards they are slightly ridiculous and it is difficult  (but essential) not to laugh. The man noted down my name from my passport and then followed me closely as I walked around pretending to be interested in lots of things. Predictably everything in the museum was in Russian and there was only one vehicle, a BMW police motorcycle.  Eventually I departed without a word having been spoken.
It had not been a staggering successful day, but I had met a couple of characters that most people would not meet.
Factories
After a snack breakfast  in the hotel café as opposed to the expensive and crowded restaurant in the morning I set off for the Minsk Tractor Works.  There are not many products that Belarus is famous for but tractors is one of them and certainly one of the country's best exports. For many years they have been sold throughout the world, including Britain, under the trade name Belarus.  They are not considered to be on a par with John Deere or Massey Ferguson, but are considerably cheaper.
The tractor factory is in an imposing Soviet-style building alongside a
main road about three miles from the city centre.  It has an area of well-kept parkland in front of it giving it a 'garden city' sort of look. A few tractors were dotted around among trees and hedges.  The firm was founded in 1946, and the first edition of the company newspaper was said to be a true chronicle of analytically verified plans and programs, glorious patriotic achievements and the spiritually rich life of Belarusian tractor builders.  They must have done something right, because by 2005 there were almost 20,000 workers.
The museum entrance was directly on the front of the building, and after paying 1.70 roubles for a nice ticket with pictures of old tractors on it I was sent through to another door where I was met by a serious-looking man who spoke no English.  There were several areas containing pictures and many tractor-related items, but no actual tractors.  All the documentation was in Russian. The man followed me round and on the way out I pointed to a closed door, which he promptly opened, revealing the boardroom. 
I walked along to the main factory entrance doors which led into a hall with about twenty turnstiles, each with two cameras, one at waist height and one at face level, so it appears that they have an advanced security system which can link the wearer's face to their pass barcode or photo. The other side of the turnstiles I could see lots of tractors, so I attempted to blag my way through with no success.  The best response I got was "Perhaps tomorrow", which appeared to be the sum total of the English of the staff present, but then, that is more than my Russian and it is difficult to blag if you have no common language with the other person.  Some time afterwards I discovered that with one day's notice I could have gone on a factory tour, but no one told me at the time. Bad planning on my part.
Having failed at the tractor works I decided to inflict myself on the motorcycle factory down the road.  MINSK (now M1NSK) motorcycles commenced production as a state-owned business in 1951 and for many years managed to sell all over the world in the face of competition from the west and Japan.  By 2007 they were struggling and passed into private ownership, their main markets now being Belarus and Vietnam.  In addition to motorcycles up to 500cc they make bicycles, scooters, ATVs and snowmobiles.
Their main address and showroom is in a small building like a shop alongside the Soviet-style factory.  The motorcycles are quite modern in some ways (styling, LED lighting), but a bit behind the times in others, and would probably not comply with current EU regulations.  There was also  a fully electric model and they are starting to sell some Chinese bikes.  I had seen some pictures on the internet of some old machines that were supposed to be on display at the showroom, but no one in the shop could speak English or recognise the word 'museum'.
The entrance to the assembly plant along the road was like something out of the 1950s, unlike the tractor factory, and there was clearly  no chance of getting past the gatehouse.  It had been another not very successful day, and I spent the evening with a meal and walkabout in the old town.
Moving on to Babruysk
By this time I had had a good look at Minsk and some of the surrounding country areas but I wanted to see another town.  Originally I planned to go to Brest, which has a number of tourist attractions, but it is a border city and I felt that it was not really very typical of Belarus. After studying the map I decided that Babruysk, a town of about 215,000 inhabitants100 miles from Minsk would be a good place to go the next day.  It only appeared to have two hotels and was clearly not tourist orientated. 
The morning traffic on the motorway leading south east towards Babruysk was surprisingly heavy for  about 15 miles until it split at a junction, after which it became quite a pleasant drive, bypassing the towns of Marjina Horka and Asipovicy (map spelling).  The two hotels I had listed in Babruysk were the Yubieynaya on the approach to the town and the Hotel Tourist in the centre.
From the map it appeared that the Yubieynaya would be easier to find, have better parking and probably be cheaper than the Tourist.  It was
extremely easy to find, as it was just off the main road leading from the motorway into the town, and had parking on a layby right in front of the entrance.  The door led straight into a large wood-panelled hall with an unmanned reception desk with no papers or anything in sight. I waited for two or three minutes, and then someone walked past me and pointed out that the receptionist was sitting behind a small hatch at the far end of the room.
This was a far cry from the Belarus Hotel.  A room was available on the third floor for about a third of the price that I had paid at the Belarus.  The hotel was actually quite large, with nine floors and around 150 rooms, served by two tiny creaky lifts.  On the way to my room I passed a couple of other people, but generally there did not seem to be much going on.  The room itself was clean and quite well furnished, though perhaps a bit dated, the only shortcoming being that it was almost entirely pink.  The view consisted of a large open area with roads running through it, carrying little traffic at that time of the day.
It was lunchtime, so I went down to the restaurant, which was empty. A lady came over and gave me a menu in Russian.  It seemed that no other menu was available and no one spoke English, but somehow we decided that I should have soup and meat with rice.  At this moment more guests appeared en masse in the form of a football team of boys in their early teens, together with four men who were apparently their trainers, teachers, etc.
Looking around at the pictures on the wall, it dawned upon me that this was a football themed hotel, used largely by visiting teams.  Football is taken very seriously in Belarus and Belshina Bobruysk has had some championship success in the past.  The boys were well-behaved and seemed to enjoy their meal rather more than I did, but I suppose it depends on what you are used to. Food is not one of the main subjects of my reports, and I am certainly not going to make an exception in the case of Belarus.
After the meal I went into the town centre by car and found a parking space with no difficulty.  Far from being the run-down industrial town that I expected, it consisted of pleasant tree-lined avenues, all very clean, a little bit like Cheltenham.  In the very centre was a park with the obligatory war memorial in the form of a T34 tank adjacent to a large paved area on which children were driving around in hired electric miniature cars (illegal in Britain).  The surrounding streets were mostly pedestrianised, with small shops.
The larger civic buildings and churches, etc. had diverse architecture,ranging from the beautiful minarets of St.Nicholas Cathedral to ultra-modern styles, some of which were, to my mind, very good.  Like Minsk, most of the town was rebuilt after the war, during which the population was reduced from 84,000 to 28,000.   
In the evening I went to the single-storey shopping mall near the hotel for a meal in the food hall.  Apple juice, soup and rice pilaf came to approximately £3.00, and the prices generally were far cheaper than in Minsk.
Two ordinary towns
After an awful breakfast in the hotel (what could I expect for the equivalent of £1.20?) I set off for Minsk, intending to look at the two towns, Asipovicy and Marjina Horka, that I had passed on the way to Babruysk.  On the M5 motorway the TomTom eventually told me to turn left to Asipovicy, on to a very wide roughly surfaced road.  The surface was so bad that I doubted whether it was correct and turned back towards the motorway.  To my amusement the TomTom agreed with me and told me to turn left back on to the M5 for a few miles before turning left again on to a tarmac road.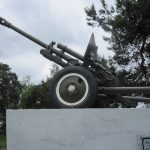 Near Asipovicy is a large army training ground and there were a fair number of military vehicles around.  At one junction of dusty roads on the way into the town was a large field gun mounted on a plinth as a memorial to past events.  In the centre was a reasonable selection of shops and a café occupied by some soldiers accompanied by a strong smell of petrol, but I did not let that put me off my coffee and crisps.  Rather like being at home, actually.  Otherwise as far as I could see there was nothing very notable about Asipovicy;  it was just clean and orderly like almost everywhere else I went in Belarus. The main streets were tarmacked, but like most small towns and villages the side roads were rough and dusty, presumably turning to mud in the winter.
The next town was Marjina Horka, a smaller and perhaps slightly smarter town than Asipovicy with a well-defined centre around the railway station, including a couple of supermarkets and the usual memorial, this time in the form of an SU100 tank destroyer.  The railway station seemed to be quite busy.
As I had to take the car back and be at the airport fairly early the next morning I stayed overnight again at the Green Park Hotel. 
The hotel was five miles from the airport, but because it was in the middle of a motorway junction I had to drive eleven miles to get there, and was then faced with a monstrous challenge in finding where to take the car.  After driving around for about 30 minutes I gave up, put it in the public car park and walked to the terminal.  The man in the Sixt office agreed that the arrangements were not very good.
It is hard to compare Belarus with the major western European nations, because it has a much lower  population density, less than one fifth of that in Britain. There is a big difference between Minsk and most other parts of the country that I went to, and that probably applies to the quality of life. I did not see any obvious poverty.  Politically everything seems calm on the surface, but there are undercurrents of discontent about the lack of democracy.  It does not come across as a police state, and I did not encounter any road checks in travelling around. Things are changing fast, with modern technology well established.  The Chinese are building a huge industrial estate close to Minsk airport which will include a car factory and electronics companies.
Russian negativity
During my trip to Russia nine years earlier I had found myself battling against Russian negativity on many occasions.  Whenever I attempted to do anything the response from the other party would start with "Niet".  I had not encountered this in Belarus until I tried to change my remaining roubles at the airport before leaving.  There were about £250 worth left, and as mentioned at the start, it would not be possible to change them outside the country.
After handing the car in it was still quite early and only one of the three banks was open.  There was a queue which seemed be taking for ever, and I thought I might miss my flight before reaching the counter.  I suddenly saw that the Russian Sberbank had opened and joined the much shorter queue there. When I got to the counter I asked the lady if I could change my roubles for pounds. She shook her head "No pounds".  Bearing in mind the forecast imminent collapse of the entire British financial system due to Brexit I was not surprised, and said "Dollars?  She shook her head and said "No dollars".  As a last desperate resort I said "Euros?".  She shook her head and said "No euros".
Any further communication with her was impossible, but by now the third bank had opened and the lady at the counter spoke very good English. I asked her to change my roubles, but she said they didn't do foreign exchange (this was an airport bank!).  She told me to go to Sberbank. I told her the lady there didn't have any pounds, dollars or euros, and she said "She does, I know she does. Come with me."
We walked round to Sberbank, and my helper spoke to the lady behind the counter, who looked at me very sheepishly, took my roubles and gave me the equivalent in euros.  It was just a case that it was easier to do nothing than do something.
Plus ça change, or perhaps it should be plus ça exchange.