My first trip to the Baltic States was Andy McNab's fault. A friend had lent me a book entitled FIREWALL, in which most of the action was in the Helsinki area and northern Estonia, and somehow it caught my interest.
 Also, I had always wanted to go to Riga in Latvia, although I don't quite know why. A more recent reason for going there was to visit the Riga Motor Museum, which had a collection of Iron Curtain vehicles as well as one of the few surviving pre-war Silver Arrow racing cars. It seemed to be quite viable to fly to Tallinn in Estonia and to drive to Riga and back in a weekend.
 The trip was planned for the end of June, when the days would be long and the weather would hopefully be good. The flight on the Thursday was with Estonian Air, a small but efficient airline, from Gatwick, arriving in Tallinn early afternoon. Everything went to plan, and I collected the pre-booked car, a Toyota Corolla, from National Car Rental at the airport and by some miracle found the way to the Hotel Stroomi. It was in the suburbs, about two miles from the centre, and I had only a very basic map, printed out from the hotel's website. Although not quite a match for the Ritz, The Stroomi was perfectly alright and had a good secure car park with a massive electrically operated steel gate. The need for this was reinforced by the fact that there was a large 24-hour guarded car park in an adjacent square for the residents of the flats in the area, and it is well-known that you cannot safely leave cars in the street in most East European towns.
 Because of my fear of foreign public transport systems I decided to walk into town, which in any case gave me a chance to have a good look at the area. Most of the buildings were flats, and it was clear that they were survivors from the Communist era, but in many cases had been subtly changed and painted up to give them a less austere appearance. As I approached the old town area and the railway station there were some very old wooden and stone buildings around, a few of which had been restored, but many appeared to be awaiting demolition, which was a great shame.
 From the graphic descriptions in his book Andy McNab must have visited Tallinn in the winter in about 1998, and it was clear that the place had changed a great deal in the intervening few years. The railway station had been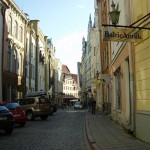 completely rebuilt, and I went in to look at the trains, which had definitely not been rebuilt. There was a self-service restaurant which had sample meals under the glass-topped counter, and I ordered something called plov, like rice with bits of meat in it, and which I later found was rice pilaf.
 The next stop was the Old Town, a UNESCO World Heritage Site and the reason why some people go to Tallinn. Others, usually from Britain, go to get drunk at stag parties. As Old Towns go, this one is quite large, with a maze of narrow cobbled streets lined with quaint buildings, many of them beautifully decorated and with interesting architectural features. It is said to be dangerous to wander about on your own at night in that area, but during my visit there was no night to speak of.
 In the centre of the Old Town is a cobbled square with beautiful buildings on all sides, and from there a steep side street leads to a view point from which you can see the whole of the Old Town and harbour beyond. In this area there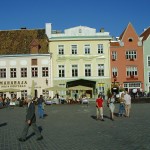 are also shops selling amber, which is found locally.
 On the way back to the Stroomi I was walking past a service station when my attention was drawn to a small yellow car standing on the forecourt. Oh, joy! A Zaporoghets! As I walked round it, gazing in wonder, a man on the pavement said something to me in Estonian. I said "English", and he replied "So am I". It turned out that he had Estonian parents who had moved to England when he was young, and he was staying with relatives for three weeks in Tallinn. They probably lived in a flat, and the impression I got was that he was so bored that he took to wandering the streets every evening for something to do. Even finding a Zaporoghets couldn't make up for that.
 The next morning I got up early and set off for Riga, about 180 miles to the south. This road is actually E67, the main route leading from Poland to Scandinavia (via ferries) and supposedly a motorway, though much of it was little more than a British single-carriageway country road. It had the usual East European one lane each way, with 6ft wide strips at the side for vehicles to move over on to periodically to make a space in between for overtaking. The countryside was flat and not particularly attractive, which left me to concentrate on joining the locals in dicing with death between lorries travelling in opposite directions. There were notices stating that the road had been upgraded using EU money, and I wondered what it must have been like before.
 At the Latvian border a lady waved me through after checking my passport and the car documents, and I found out what the road was like before. The EU money was still being spent in a big way, and in the 98km (60 miles) from the border to Riga there were 15 sets of road works with single line working, most of them about a mile long. The hold-ups were massive, and I would estimate that I queued for a total of about 1½ hours.
 The first thing I did on entering Riga was to stop and buy a street plan of the city. This turned out to be a wise move, because the city was also full of building works. The motor museum was in the suburbs nearby and not too difficult to find. It had an good restaurant and many exhibits that would not be found in museums in Western Europe.
 Finding the Hotel Best, on the opposite side of the town, was a real challenge. I must have stopped to consult the map twenty times, and there were massive traffic jams due to the building works. At least it took me on a tour of the city and I had plenty of time to look round while I was stationary. It was late afternoon when I finally got to the Best and the name was a slight exaggeration, but it was ok considering the reasonable price.
 I set off to walk into the city centre, but it was a very warm evening, and after about a mile I realised that I was not going to make it. As I turned to walk back I glimpsed a railway station about 100 yards down a side road, and it turned out that it was one stop from the main station in the city centre. As I was waiting I thought the set up in the station looked rather strange, and then realised that the tracks were Russian wide gauge and the platforms were almost at track level. To get into the carriages you had to climb a near vertical flight of 4 or 5 steps, not exactly ideal for very elderly or disabled people. The seats were hard and the train travelled at about 20mph, but for a fare of 20p I could hardly complain.
 The main station was in the modern part of the town, and after having a meal and walking through to river it was time to think about going back to the hotel. Riga is not far from the Baltic and the river Daugava is up to 500m wide, so the views of it are quite spectacular.
 From the map I saw that there was another station, called Atgăzene much closer to my hotel than Tornakalns, where I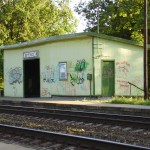 had caught the train coming in. When I asked for a ticket to Atgazene, which sounded like some sort of floor polish, the lady in the ticket office explained that it was pronounced At-ga-zenny.
 Atgăzene station was wonderful, worth a visit in itself. The sole building was an open concrete shelter, once white but now completely covered in graffiti. From there it was only about 200 yards to the Best Hotel.
 The next morning I got up early again and after breakfast drove into the city centre before the traffic had time to build up. There was no problem in finding in finding a proper guarded car park, and I set off on a sight-seeing tour of the Old Town. The buildings are more Germanic in style than those of Tallinn, and it is also UNESCO World Heritage Site, though a fair bit of it was rebuilt after the war. There is a cobbled main square with beautiful buildings and nearby is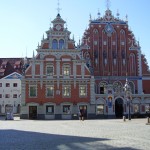 the Occupation Museum, which is a memorial to the period of German and then Russian occupation after 1940, during which many people in Latvia, Estonia and Lithuania were very badly treated. All three countries were under Russian control until 1991.
 Before the war Riga was known as the Paris of the North, and when you look around you can understand why. There are many fine buildings, monuments, and squares, and the wide river, with its bridges, is very like the Seine in Paris. In the background, looking across the river, are some modern buildings with interesting architecture.
 When I left the car park I finished up paying 2 Lats for 4 hours, although the board at the entrance said it was 0.3 Lat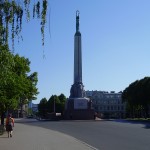 per hour. Strange mathematics, but the man looked pretty hard and I did not think it was worth arguing. The Latvian Lat, incidentally, is one of the few currencies that is worth more than £1, though there will probably soon be plenty of others.
 I was defeated again by the labyrinth of one-way streets and road works, and eventually had to go straight on at a compulsory left turn to escape from the city. After the fiasco on the E67 on the way down I decided to take a country route to the border, which was much more pleasant and probably faster.
 The countryside was very sparsely populated, with mainly arable farms, and as far as I could see the working standards were up to date, although I am no expert. There was little traffic, and eventually I rejoined the main road just south of the border.
 Approximately half way between Riga and Tallinn is the seaside town of Pärnu, which I skirted on the way down. It is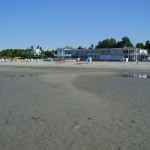 to Tallinn what Brighton is to London, but with everything on a much reduced scale. It seemed an ideal place to spend the night, but when I arrived it was a madhouse, and I found myself struggling through the narrow streets against a mass of cars and people going in the opposite direction. When I eventually managed to get through to the sea front I discovered that there had been a 2-day Nordic festival which was just coming to a close.
 Despite the chaos the town had the feeling of having largely been by-passed by the communist era, with large detached villas dating from the 1920s and 30s, and few Soviet-style buildings. After finding a parking space I went on foot in search of accommodation. One of the first places I came to was the Spa-Sanitorium Estonia, a vast, rather barrack-like building, with ladies in the reception area dressed in white uniforms like nurses. It was not quite clear what services were on offer, and the impression was created that it was likely to be expensive, but in fact I got a sixth floor room with a good view for £25 B&B.
 After getting sorted I walked to the beach area. The Nordic Festival was still going, and there were stalls selling all kinds of Scadinavian products, from food to clothes and decorative items. The beach was quite undeveloped, with a large area reserved for ladies.
 Pärnu is only about 80 miles from Tallinn, and I had plenty of time to get to the airport the next morning, so I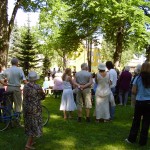 avoided the 'motorway' and took a cross-country route via a village called Türi. In the middle of Türi was a crowd of people watching something which turned out to be a folk-dancing group, a sort of Estonian equivalent of Morris dancers.
 At the airport the car rental counter was unattended and I left the car in the reserved place in the car park and the keys and documents at the information counter. Not a very satisfactory arrangement, because if the car got damaged after I left it there would be no way of proving that it was not my fault, but this system is not unusual in Eastern Europe.
 A very high proportion of the populations of Estonia and Latvia are Russian-speaking, and Russian newspapers and books are sold everywhere. The Estonian and Latvian languages are entirely different, Estonian being closely related to Finnish, but it is usually quite easy to find someone who can speak English. Originally I wanted to visit the area in north-eastern Estonia, around Narva, where 95% of the people are of Russian origin, and where much of Andy McNab's action took place, but that would have to wait for another time.