USA – The Deep South 2011-12
Where is the Deep South?  There are differing opinions on which States it applies to, depending upon whether geographical, political or historical criteria are considered, but it seems that Alabama, Louisiana, Mississippi, Arkansas and Tennessee are always included.  It is sometimes extended to cover Georgia, South Carolina, northern Florida and even Texas. On previous trips I had driven through the first three of these last four regions, although I had not explored them in any detail apart from the coastal strip.  Somehow I had expected Georgia and Alabama to be all swamps and jungle, but in fact most of the countryside I saw was forest with sandy tracks, like that not far from where I live in England, but on a larger scale.
This time I decided to fly to Atlanta and drive round in a circle taking in Nashville, Memphis, and New Orleans, Atlanta being chosen for the starting point because there are direct flights from Gatwick with Delta Air Lines.  Without going to Stamford's Map Shop I could not find a guide book dedicated to the area I was visiting, but a colleague at work gave me the Mobil Guide to the South, which was ideal. Most people who extol the wonders of the places they have travelled to don't mention the bit about getting up at 3.30am in December to drive 40 miles to the airport at the start, but on this occasion the weather was perfect and everything went very smoothly right through to Atlanta.
Atlanta
According to official statistics Atlanta is the busiest airport in the world, and with five runways, two terminals and six 'concourses' that is not hard to believe.  It does, however, have a totally crackpot system whereby international arrivals have to recheck their bags and go through security again after immigration and customs before travelling by train to the exit terminal.  My case, and those of some other people on my flight, disappeared for over an hour during this process.
After another journey on something called the SkyTrain I reached the Rental Car Area and in due course was offered a bewildering choice of 'compact' cars, ranging from a Fiat 500 to a Chevrolet HHR.  The latter is very American in style, being inspired by the pre-war gangster cars, with their thick window frames behind which the occupants could shelter from the occasional hail of bullets.  It was very tempting to take it, but hopefully I would not encounter a hail of bullets, and I eventually chose a Nissan Versa saloon with much better driving visibility.
If possible I always avoid driving far after a long flight, and the vast Motel 6 Atlanta Airport North, at 2 miles from the Alamo depot, was easy to find, if somewhat mundane.  As airline food goes the Delta meals were ok but I was still hungry.  The area was solid with hotels and eating places, mainly fast food chains, but I chose a rather shady bar-restaurant which was frequented by locals rather than travellers.  The first thing I noticed on leaving the airport, incidentally, was how cold it was, actually colder than in England, but at least it was dry.
Atlanta is a thriving city with a number of well known names having their headquarters there, including CocaCola, CNN, Delta Air Lines and UPS.  There is plenty of scenery and food in the USA, but the main reason why I go to the States is for the American experience, and where better to find that on a visit to CocaCola World.  This was after having a breakfast consisting of two enormous pancakes with syrup, two eggs, two big sausages and two strips of bacon which was the 'special', cheapest, offering, and if I lived in the States I would probably soon finish up more than slightly overweight like a good proportion of the local population.
CocaCola World is in downtown Atlanta and I was forced to park in an expensive multi-storey car park.  The tour started with a lecture on the history and culture of the company, with a massive display of advertising art and artefacts produced by the firm since 1886.  This was followed by a cartoon-style film about the 'Happiness Factory', to cheer everyone up, then an extremely impressive 4-D fantasy film, the main character in which was a crazy English scientist.  Three of the four dimensions were achieved in the usual way with polarised glasses, and the fourth one was done by means of seats than jolted violently as we were all moved through space and time.  Anyone who was pregnant or had back trouble would have been well advised to heed the advice and avoid this dimension.  The tour then became self-guided and included lots more history and art as well as a chance to see The Vault in which the secret formula for the drink is kept, but I missed that out because of the queue. In the next room unlimited quantities of Coke and its associated drinks were available for consumption on the spot, and every visitor was presented with a free bottle of Coke "specially for you" straight off the production line. The exit was, of course, through a shop with a massive range of clothing and other ColaCola labelled merchandise.
At $14 concessionary entry fee plus $10 to park I did not think it was particularly good value, and a lot of people were grumbling about the cost of parking, although the parking also covered the nearby Aquarium which I did not have time to visit.
Chattanooga
The next stop was Chattanooga, which is situated on the Tennessee River and surrounded by tree-covered hills.  Once one of the dirtiest cities in the USA, it has re-invented itself as a recreational area and is a reasonably pleasant place, although not beautiful.  The Chattanooga Choo-Choo (a nineteenth century train which gave its name to the dance) lives on as a hotel and conference centre based on the well preserved former railway station.
Just as I arrived a large number of people all about 50 years younger than me were arriving for a conference.  Two young men appeared to be checking tickets or passes at the entrance, but when I drove up one of them looked at me and said "OK Sir" and waved me through.  I wandered about taking photographs, secure in the cloak of invisibility that comes with being over 70.  Perhaps I should apply for a job in the secret service.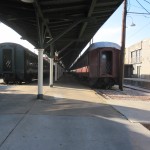 There were a couple of ancient locomotives and several long trains of carriages that appeared to be parked permanently at the platforms, but from the condition of the rails it looked as if some of the rolling stock was still operational.
Nashville is about 120 miles north west of Chattanooga, and the interstate highway was quite scenic, at one stage climbing through endless long curves between high sheer rock faces, one of which had recently collapsed onto the road.  Surprisingly there was no sign at the top indicating the 'elevation', which is a bit of an obsession in the USA.
Nashville
My night stop was at America's Best Value Inn on the outskirts of Nashville about 120 miles north of Chattenooga, and by the time I got there I had driven over 270 miles in the day, which was really too far so early in the holiday.  At the Tennessee state border was a sign saying that Central Standard Time now applied, one hour earlier than in Georgia, which would only compound any jet lag that I might be suffering from.
Whether America's Best Value Inn was actually that I cannot say, but it was ok, and again surrounded by eating places.  I set off on foot, hoping to find a decent family restaurant like Denny's or Perkins, but as on the previous evening they were mostly fast food joints, and I finished up in Hooters, a branch of a chain that described itself as a restaurant.  It was a quite rowdy place 'manned' by a large number of young ladies wearing bright orange hot pants and tight white vests with HOOTERS on the front and DELIGHTFULLY TACKY, YET UNREFINED on the back.  One of the young ladies introduced herself and asked me what I would like to drink.  I said "car-fee" (if you say coffee they often don't understand), and she said it would take a while because she would have to make it.  When she came back to take my food order I asked her if I was a nuisance asking for coffee and she said I was.  This was obviously a pretty up front place in more ways than one.  On the CzechWrecks rally a couple of years earlier I had been into a Hooters in the ultra-conservative resort of Interlaken in Switzerland.  It had similar décor but was much less rowdy.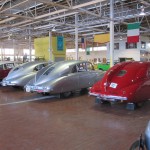 After a do-it-yourself continental breakfast in the motel the next morning I set off for the Lane Motor Museum, one of the reasons for my trip to the USA.  It is a remarkable collection of rare and interesting cars, built up by a man named Geoff Lane, who tracked down many of the exhibits in Europe.
My night stop was to be in Paducah, Kentucky, a place I had never heard of until I planned this journey, but it meant that I had about 160 miles to do after leaving the museum, so I was unable to spend any more time in Nashville.  As I set off on the freeway I was rather surprised that I could not find any music worth listening to on the car radio.  In Nashville!  It would have been unreasonable to expect to find fairground organ music or German folk songs, but elsewhere in the States I have always been able to find country music or something to my taste.
Paducah
The freeway was busy, with a lot of trucks, and not very scenic until the Kentucky Lakes region shortly before reaching Paducah.  One thing I did notice was the large number of pieces of truck tyre tread on the road, a lot more than in Europe.  In one place there was an entire tread in the middle of the inside lane, and if you hit that at 70mph in a Nissan Versa you would know about it.  Fortunately in the bright sunlight it was visible at ¼ mile and everybody swerved round it, but at night it would be another matter.  They can find clever ways of detecting low pressure, but it seems that they cannot let the drivers know when the tyres are falling to pieces.
The motel in Paducah was in the middle of a vast shopping area, and I could walk, with difficulty, to Walmart and across the road to a shopping mall and restaurant.  America is simply not designed for people to walk between business sites, and when you try to do it you find yourself trudging through mud, clambering across ditches and trying to find the way round fences.  There are often no pavements and crossing an urban highway is like walking across the main runway at Heathrow.  You are supposed to get in your car even if you only want to cross the road.  The one problem with going to the States at this time of the year is that the days are short and you cannot just wander about in the evening as you might in most of Britain or Europe.  To be safe you have to spend the evenings in enclaves such as restaurants, shopping malls or entertainment centres.
The next morning I risked my life again to get across to Cracker Barrel for breakfast.  Cracker Barrel restaurants are brilliant concept, being based on the idea of a traditional country store, with the entrance in a veranda full of wooden furniture, including rocking chairs that you can buy.  Access to the restaurant is via a shop stocked with the kind of things that you might find in Hawkins Bazaar in England – "The Things That You Thought Had Gone For Ever", but with an emphasis on the country lifestyle.  The restaurant itself is like a museum, with traditional American food and judging by the number of people there in the evening it has filled a gap in the market.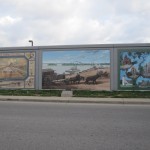 At 9.30am on Friday 30th December Historic Downtown Paducah was like France on a Sunday – CLOSED, but nevertheless proved to be well worth a visit.  Historic Downtowns are sometimes decidedly suspect, but this one does have real history, including the small matter of beating the British.
The most impressive thing is the Mural Wall, which is actually quite recent, but related to the past.  The town is on the Tennessee River, which runs into the Mississippi not far away, and the wall is part of an extensive flood defence scheme.  It is concrete, about 10ft high, and potentially very unsightly, but the saving grace is the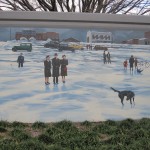 existence of about 50 beautifully produced murals depicting scenes from the town's history.  At a guess each mural is about 8 ft high by 12 ft wide, with a plaque on the ground in front of it explaining the meaning of the picture.
Illinois, Missouri, Arkansas
Like many Americans, I collect States, and could not miss the opportunity to pop into Illinois, Missouri and Arkansas while I was in the area.  So far on the trip I had spent much too much time on freeways, which are not a good way to experience the country, so today I decided to stick to ordinary state roads at least part of the time.  Illinois is across the river from Paducah, and to get there I drove over the Brookport Bridge, which is a notable structure in that it has a steel mesh road surface.  There is a 25mph speed limit, and notices at both ends, with good reason, advising motorcyclists to take care.  It was difficult believe that I was now in the same state as Chicago.
The freeway took me to Vienna, a bit smaller than its Austrian namesake, and from there across to Ware was a pleasant switchback road through farming country.  This was 4-way stop land, a means of traffic control as far as I know unique to the United States.  At many cross roads, even in open countryside, there is a STOP sign with '4-way' or 'all ways' underneath on each road.  It works on the basis that everyone stops, and then the vehicles go in the order of priority in which they have stopped.  If two or more vehicles arrive at the same time the ones coming from the right have priory, but I have never found out what happens if four arrive at the same time.  The system usually works well, but if there is a queue from all directions, which there was at one junction on my route, it seems to come down to mutual agreement or whether you are driving a truck.
At East Cape Girardeau I crossed the Mississippi River into Missouri.  Cape Girardeau has a Historic Downtown, and guess what, a newly built flood wall with murals.  Different in style from the ones in Paducah, a bit more arty, but in my view not as good.
For the first 90 miles south from Cape Girardeau to Arkansas I took the boring freeway and then changed to US61, a traffic-free single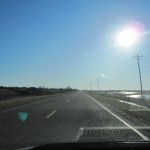 carriageway road running through flat, bare agricultural landscape with occasional small towns and villages.  It was an aspect of rural America that I had not seen before, and a bit depressing, with many farms and agricultural plants in a state of dilapidation, giving the impression that times have been better.  One notable town was Osceola, which seemed to consist largely of vehicle and farm machinery repair shops in which nothing was ever thrown away.  It looked as if anything that was past repair had been just pushed to one side and left, a perfect reflection of my own lifestyle.
Memphis
For the last 30 miles into Memphis I resorted to the freeway again and was expecting to find my accommodation with little difficulty, but I should have known that there is no such thing as little difficulty.  I only had a tiny map of Memphis, and an even tinier map on the motel reservation form showing its location, but I knew that it was immediately on the right of the freeway after crossing the river.
There was heavy traffic on the bridge, and the turning on the right immediately afterwards, which most people took, seemed to be another freeway so I just pressed ahead.  This took me into a 'business' area in which little business was being done, in fact it was totally deserted.  I came to a cross road with highway numbers on it, and turned right.  Within a short time I realised that this was a BAD area. While the main drag would be safe the side roads would not, so I decided to turn round and head for the skyscrapers in downtown Memphis, where I could hopefully buy a map.  You might wonder why I did not ask someone the way, but in areas like that you don't stop and get involved with anyone unnecessarily, and from my experience most people won't be willing or able to assist you anyway.
In downtown Memphis I am sure a lot of things could be bought, but a map was not one of them.  Most shops seemed to be closed and parking was impossible without going into a multi storey or paying a $10 flat rate.  Following a tour of the main streets I glimpsed the river and drove down to the riverside road, with the intention of working my way back to the place where the motel was supposed to be.
After about a mile a filling station appeared on the left, and I asked if they had a map or knew where West Illinois Street was.  They didn't have a map or know the way to anywhere, but a customer, a big, loud, bloke with a massive shock of hair and beard said he had a GPS.   He also said "What you come from England to Memphis for anyway?  Memphis is a terrible place and there are a lot of terrible people here".  I was inclined to agree with him.  The GPS failed to recognise West Illinois Street, but knew of West Illinois Avenue (in the event it turned out that Super 8 didn't know the address of their own hotel, it said Street on my reservation form but it was actually Avenue). Anyway, the man said he knew of a Super 8 downtown and would lead me there in his car, a silver 'Darge' similar to the ones I had been offered.  We finished up taking the same route round the central area as I had previously taken, and it was clear that the Super 8 was not where he thought.  After some time in the traffic we got stuck behind a security van parked in the middle of the road, and when we eventually got going it was apparent from my friend's driving style that he was losing his temper, something he probably did quite often. I imagined him to be saying "Why didn't that goddam (or something much stronger) old Limey stay at home in England?".  He roared away from the lights, down to the riverside road where I had been before, and I hoped that he was now trusting his GPS.  As soon as we got clear of some roadworks he put his foot down and tore past all the traffic on the inside lane, with me trying to keep up.  It was nearly dark, and he was my only hope.  Now I knew what it was like for Steve McQueen in Bullitt, or would have been like if he had been driving a Nissan Versa instead of a Mustang.  We streaked past the garage that we had started from and the angry man suddenly braked hard and gesticulated violently towards the right hand side.  There, on top of very long pole rising up from somewhere down below, was a massive sign with SUPER 8 $39.95 on it.  The only problem was that I had just driven past a slip road that possibly led to it, so as my friend roared away into the night I reversed along the hard shoulder (probably another $100 fine on top of the ones for speeding and reckless driving) and turned off. This was actually the slip road to Interstate 55 North, and I thought I was about to enter another nightmare when I noticed EXIT 12C HERE on top of the SUPER 8 sign. Sure enough, exit 12C was about 100 yards along the road, and took me straight down to the motel.
At some point on most of my 'holidays' I am a shattered wreck, and that was certainly the case now.  The area around the motel was not safe to walk about in the dark, and I had no intention of going out in the car again until the next morning, so I had to make do with snacks bought from the vending machines.  Of course, if my parents had made me join the Boy Scouts I would have been prepared, with decent maps and directions noted down.
By the next morning I had calmed down and the police weren't waiting outside the motel for me, so I set off for Graceland, which is compulsory viewing if you are in Memphis.  The closest involvement I have actually had with Elvis was a barber I used to go to in Portsmouth, who was an Elvis impersonator and traded under the name King Kutz.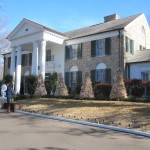 A very large proportion of Americans have visited Graceland at some time, and I imagined that it would be an attraction on the scale of the Disney parks, but when I arrived at 9.30am on New Year's Eve there were fewer cars and people than would usually be found at my local Sunday market.
There were "Three Great Options" for touring the site.  I bought the Platinum one, which entitled me to see the house, the car museum and aeroplanes, as well as some soppy things I was not interested in like "Sincerely Elvis".  The first thing that struck me, and some Americans thought the same, was how small the house was.  I expected a huge mansion, but it is really just a fairly big house, although undeniably very attractive and it is easy to understand why Elvis became so attached it.  The audio guided tour just covers the ground floor, some outbuildings and the garden.  It culminates at the burial site of Elvis and his immediate family, where some people were on the verge of tears.
The car museum contains about 30 vehicles, including some motorcycles and oddities like a snowmobile converted to run on the Graceland lawns because there isn't much snow in Memphis.  There are two aircraft, a 4-engined Convair 880 jet liner converted to provide luxurious accommodation for Elvis, his friends and family, and a much smaller twin-engined jet.
From Graceland I went to downtown Memphis where preparations were being made for a New Year's Eve party in Beale Street, the entertainment centre.  As on the previous afternoon there was not much going on in the city centre, and even Beale Street, which is supposed to be famous for its round the clock street entertainers and musicians, did not seem very exciting, though it probably was later in the evening.  The most interesting thing to me was A.Schwab & Co., a dry goods store in the same family since 1886 and still selling many of the same things.  Upstairs they have a marvellous museum of everyday household items and clothing.
Shock!  Horror!  As I had plenty of time to kill I decided to risk a proper cultural experience, and visited the Belz Museum of Asian and Judaic Art, just round the corner from Beale Street.  In a country where most people have the attention span of a gnat it was such a contrast to find single works of art that had taken an individual years to create.  The museum was in a tree-lined pedestrianised street in which almost everything else was closed, and I was clearly not seeing downtown Memphis at its best, but in any case it did not seem to have much going for it apart from Beale Steet.  The journey back to the motel was a great deal less stressful than on the previous afternoon.
Mississippi
The next destinations on the list were Baton Rouge and New Orleans, both in Louisiana.  Baton Rouge is about 400 miles from Memphis and I did not expect to do it in a day, as I was using Route 61 for most of the distance rather than the Interstate 55 freeway.  A lot of books have been written about Route 66 but I don't think there are any about Route 61, and if there are they are not likely to be very thick.  It runs parallel to the Mississippi river through flat agricultural land for over 200 miles, and by the time I got to Vicksburg I never wanted to see another ploughed field again.  The traffic density was low and I made much better progress than I expected, cruising a lot of the time at around 60mph.  There were churches every couple of miles and many farms, some with dilapidated housing for workers, but the one thing that took my attention was a sign to Downtown Rolling Fork.  Life in Rolling Fork on New Year's Day was centered around a filling station with a shop and café, and in England it would not have qualified as a town at all, though it was actually quite a pleasant little place.  There was a linguistic problem when I bought a cup of coffee in the café and I got the impression that they don't get many foreigners in Rolling Fork.  The young black lady behind the counter couldn't understand my English "accent" and I couldn't understand her.  It was easier to buy a cup of coffee in Russia or Japan.
Vicksburg has a Historic Downtown with, wait for it, a flood wall with magnificent murals just like the ones in Paducah. The countryside after Vicksburg was totally different, with rolling hills, more heavily wooded and much greener, and south of a town called Natchez it started to turn into the swamps and jungle that I had previously expected to find in Alabama.  Originally I had considered staying in Natchez, but I had made such good time that I thought I would push on and find a motel in Baton Rouge in Louisiana, which the event did not prove too difficult.  By the time I got there I had driven 414 miles in the day, including the entire length of Mississippi from north to south, with very little use of the freeway.
Baton Rouge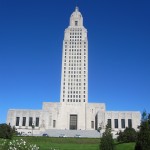 The next morning I went into downtown Baton Rouge, which was a revelation. It is the state capital of Louisiana and has old and new Capitol buildings, both of which are very impressive.  The new Capitol is set in parkland, and I think I could safely say that the worst bits of Baton Rouge that I saw were almost like the best bits of Memphis, though many people would no doubt argue that Memphis has made a much greater contribution to human culture than Baton Rouge.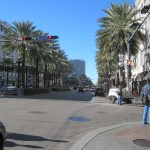 New Orleans
New Orleans is about an hour's drive from Baton Rouge and as I had done my homework this time I found the pre-booked Super 8 motel very easily.  Following directions to the French Quarter I called at the Welcome Centre which is in an old railway building, and the lady gave me a map and told me where to park.  She didn't tell me it would be $25 (£16) for 4 hours in a car park and I thought I was being massively conned but later found that that is the going rate in the afternoon at holiday time.  Street parking is much cheaper if you can find a space, but the area outside the recognised boundary of the French Quarter is considered to be dangerous.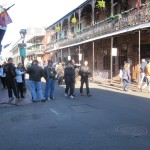 The French Quarter is similar in character to what I expected, but very much larger than I had imagined it to be.  To someone who has not been before there is no sign of the effects of Hurricane Katrina.  The buildings, with the wrought iron verandas and balconies are fantastic and the area seems to be regarded by many Americans as the best preserved historic site in the country.
Bourbon Street, which runs the length of the Quarter would amply meet most people's craving for food, music, sex and voodoo culture, and in the bright sunlight it was like walking past a series of dark caverns from which music boomed out.  There were closed doors beneath neon signs such as BIG DADDY'S WORLD FAMOUS LOVE ACTS – MEN AND WOMEN, and this seemed to be a place where the normal American conservative and often slightly prudish attitude went by the board.  One young man twice tried to persuade me to enter a place of ill repute, but the man in front of the one next door just asked me how I was, perhaps because I looked pale with shock. There were jazz bands here and there in the streets and a large number of policemen standing around in groups, some smoking fat cigars.
The French Quarter is bordered on the southern side by the Mississippi river with a promenade, and on the west side by a wide tree lined thoroughfare with modern hotels and tourist attractions.  The area that I drove through to the east and north after my visit was a good deal less pleasant.
In one way or another New Orleans is surrounded by water on all sides and it is easy to see why the consequences of Hurricane Katrina were so disastrous.  New flood defences have already been built in many places.
The Gulf Coast, Mississippi, Alabama, Florida
Before the long drive back to Atlanta I decided to have an easy day and stay overnight at Biloxi in Mississippi, which I imagined would be a nice place on the Gulf Coast where I could go for a long walk on the beach.  From New Orleans I took Highway 90 rather than the Interstate route, because it runs closer to the coast and looked more interesting.  Along the way there were still signs of damage to property and areas of woodland devastated by Katrina, including clearings in the forest in which everything was totally dead, caused I believe by large quantities of sea water carried inland by the wind and dumped down miles from the coast.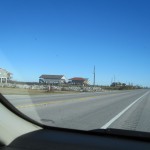 This was an area of lakes, creeks and bayous, with wooden houses on stilts and men with big American pick-ups fishing and messing about with boats.  In this part of the world the crew-cab pick-up is king, and it seems that every man has to have one, to the extent that in some places they outnumber the cars.  It was an insight into a whole lifestyle.
At one point I followed a sign to "Scenic Route to Space", which after several miles of narrow tree-lined road led to a woodland cemetery and then finished up at a clearing on the bank of the Pearl River.  Rather mysterious, but the "Space" apparently referred to a NASA test site nearby.
Eventually Highway 90 came through to the coast and for the last 30 miles to Biloxi ran alongside a pristine white sandy beach, and it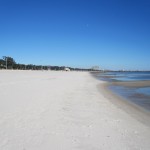 was easy to understand why the people in that area were so angry about the BP oil spill.  The land on the other side of the road was lined with expensive properties, ranging from large houses to magnificent mansions.
Biloxi did not disappoint, and after booking in at the new Motel 6 on Beach Boulevard I went for my walk along the beach, 2 miles each way, in cool but otherwise perfect weather.  It was not until I went out for breakfast the next morning that I realised the situation in Biloxi.  About 300yrds from the motel was a big WAFFLE HOUSE sign at the side of the road and I walked down to it looking for the restaurant.  I asked an elderly couple coming the other way if there was a Waffle House and they said there used to be, but it was blown away by the hurricane and had not been rebuilt, just leaving the old sign.  I then realised that all along the road were vacant plots of land where you could see that there had been buildings, and in some cases the access roads and car parking spaces were still there on the ground.  This was 6 years after Katrina.  Some new buildings, like my Motel 6, have been put up and others are being built, but I suppose a lot of people are reluctant to make the investment or had no insurance.  A few months after Hurricane Andrew in 1992 I had seen similar things in the Miami area, including a whole shopping mall that had completely gone, but the difference was that with Andrew there was no large-scale flooding, and everything was quite quickly rebuilt.  Along the Gulf Coast it was surprising how many mature trees there were in full leaf that had survived and recovered from Katrina in places where the buildings had gone.
From Biloxi I set off eastwards on highway 90 for what I thought would be another easy day's drive to Pensacola in Florida. At a place called Pascagoula I turned off towards the beach into what became a very upmarket neighbourhood, and suddenly found myself driving towards two enormous off-shore oil rigs on land, towering above the houses.  Following the road round brought me close to a vast
marine engineering maintenance site where the rigs were apparently being worked on.  The nearest one was called the Sovereign Explorer, made in England.  This was obviously an important part of the Gulf oil industry, and there were associated businesses for several miles.
A few miles further on, now in Alabama, I followed more signs to an Alabama Scenic Byway and Coastal Connection.  This turned out to be a 30-mile route on minor roads leading to a toll ferry which would take me to Pensacola without going to Mobile. Along the way was a notice stating that the ferry ran every 90 minutes, but gave no indication of the toll charge.  Looking at my map the crossing was about 4 miles, and I just hoped it would be cheaper than getting to the Isle of Wight.  When I got to the ferry it was 12.20, just in time for the 12.30 sailing, excepting that it seemed that the ferry wasn't going anywhere.  There were three men working on the bridge (of the ferry) and I walked past the cones on the slipway and asked them if the ferry was out of service.  One them said "Yes, we're broke down".  As he was holding a large spanner I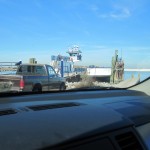 didn't think this was the time and place for a discussion about the finer points of grammar, and when I walked away he wished me a nice day.  It had been until then.  Anyway, I probably avoided two things, one being the $16 (approx. £11) toll charge and the other death by drowning, judging by the general condition of the ferry.
By the time I reached Mobile I had driven at least 30 miles further than the direct route and continued on highway 90 to Pensacola in Florida, where I found a rather scruffy traditional style motel with doors opening straight into the rooms from the parking lot.  Before dark I thought I would pop down and look at Pensacola Beach, without realising that it was 16 miles each way, including a causeway so long that drivers were advised to check their fuel before driving on to it.  The beach area was very typical of Florida, a long strip of land with the sea on one side and the Intracoastal Waterway on the other.  A wide expanse of almost white sand like Biloxi, with nobody on it apart from me, but at least I was treated to a superb Florida sunset as I drove back over the causeway.
The next day was really just a long slog mainly in Alabama to Opelika, which would leave me with about 120 miles to Atlanta on the last morning.  On the way I stopped for petrol in a small run-down town called Greenville where half the pumps were broken in the only filling station I could find that was open.  During the last few days I had spent a lot of time travelling through quite poor rural areas, and although there were pockets of wealth the overall impression was not one of prosperity.  The whole area covered on this journey was part of what is known as the Bible Belt, and I cannot imagine how many churches I had passed along the way.  A fair proportion of them were Baptist, but there were many others, a lot with names that were not familiar to me.  Some were quite remotely situated, and it is hard to see how they had congregations large enough to sustain them.
Approaching Opelika I saw a sign advertising StayLodge at $39.99 per night.  It was a rather strange establishment, quite large, offering long stay accommodation and most of the other people there seemed to be contractors or students from the nearby Auburn University. The rooms had self-catering facilities.
Big surprise the next morning, when I went out to the car and found the windows covered with ice, although the air did not actually feel very cold.  Improbable though it might seem, amongst the things in my case I found a small plastic ice scraper, so no one can accuse me of not being prepared this time.
When I finally handed the car back it had covered 2002 miles in my hands in 10 days and was no more blemished than when I collected it.  My original estimate for the distance was about 1600 miles, but distances in the USA are very large and you always finish up doing more than you expect, such as the extra for the broken down ferry and the 16 miles each way to the beach in Pensacola.  In the end I felt that I had spent far too much time driving, and should have spent more time on the Gulf Coast.  The weather had been remarkable. With the exception of one cloudy day in the area around Paducah there were clear blue skies and sunshine every day, and no rain at all, although it was cool, with temperatures mostly in the 40 to 50 degree range.