CLICK ON PICTURES TO ENLARGE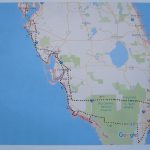 It was only 15 months since my last visit to the USA, but nine years since I was in southern Florida, that trip having been written up at length elsewhere on this site. It was also my first opportunity to experience a transatlantic flight with a low-cost airline (Norwegian) in a Boeing 787 Dreamliner, from Gatwick to Fort Lauderdale. American immigration procedures seem to change all the time, with some parts of the process now automated, but it appeared to have more stages than before and took just as long.
At the Alamo car rental depot I was sent through to the garage to choose "any car from the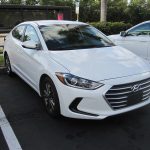 medium lot", which consisted of a row of about 12 cars of various makes and colours. For Florida you need a white car, because however good the air-conditioning is, a darker colour will be unbearably hot inside after it has been parked for some time in the sun. There were only two white cars, and the end I chose a Hyundai Elantra, which is what I had actually asked for.
Getting from the airport to accommodation at night in a strange car after a long flight is probably the most hazardous part of the whole trip, but I managed to reach the rock-bottom Motel 6 Dania Beach without incident, in time for a full night's sleep.
I had originally planned to take this holiday in November, but had to postpone it until March for various reasons. When I rebooked the accommodation I realised that prices were much higher and availability more limited, as early March is the peak season for Florida, and coincides with the students' Spring Break. Fort Lauderdale was the traditional home for the Spring Break before they moved to Daytona, but it seems to have regained its popularity to some extent.
Florida weather is not totally predictable in March, and when I went out the next morning it was about 55⁰F, which is cooler than I would have liked, although characteristically it warmed up quite quickly into the lower 70s.
In bygone days I always went out for a full American breakfast consisting of a stack of pancakes and syrup together with eggs, bacon, other fried items, and possibly fruit all on the same plate. Sadly my insides will not stand this every morning nowadays, but I did indulge on the first day at Joe's Café, a popular eating place at Harbordale, about 2 miles away.
In peak season it is difficult and extremely expensive (several dollars an hour) to park in many of the beach areas of southern Florida, and it occurred to me some time before I went that a folding bicycle that I could take in the car would be useful. I had recently seen one in a boot sale in England for £25, and something like that would be perfect. The place to find one would be one of my old haunts, the vast Fort Lauderdale Swap Shop a few miles away on the western side of the town, so that is where I made for after breakfast. The Swap Shop is a huge indoor and outdoor market and boot sale, which turns into a 14-screen drive-in movie theatre in the evening.
The whole establishment belongs to Mr.P.Henn who is a car enthusiast and collects cars mainly with a top speed of about 200mph. He has a museum at the site, and the collection has grown from about 12 on my previous visit to around 30 now.
There were a number of bicycles on offer, but no proper compact folding ones, and I think this is because cycling in America is mainly for people who are too young to drive a car or the lycra brigade, who ride around with the same expression of grim determination on their faces that Americans put into all their leisure activities.
On the way back to the motel I called at three bicycle shops, but all they had in folders were new German Dahon ones made in Taiwan, the same as the one I have at home, so I abandoned the idea. I also went into a Walgreen pharmacy (owner of Boots in the UK) for a couple of things, and was amazed at how expensive a lot of things were. The pound has actually gone up against the dollar since my California trip, and I am sure there has been inflation of the dollar prices in recent times.
The route back to Motel 6 took me along Fort Lauderdale Beach and Las Olas Beach, which were absolutely packed with people and no hope of parking.
The evening meal was something of a surprise. Shortly before going to the States I read a novel by a south Florida author and professor named James W. Hall, involving the creation of a new species of fish called red tilapia, which would be worth a fortune. I had never heard of tilapia, and thought it existed only in the realms of fiction until I looked at the menu in the International House of Pancakes and saw a meal called Tilapia Florentine with baked tilapia as the main ingredient. There are in fact many species of tilapia, though possibly not red ones, and certain aspects of tilapia farming and consumption are controversial. Anyway, it was delicious and there have been no after effects at the time of writing.
No Parking in Little Moscow
The plan now was to spend the next day looking at the east coast beaches down to North Miami, and then drive across to Naples on the west coast in the afternoon In the morning I started out early, but not as early as I thought, because I discovered that the clock had changed by one hour in the night.  Motel 6 is actually on route A1A which runs close to the coast right down to Miami via Hollywood, Hallendale and North Miami Beach, this Hollywood being a very far cry from its namesake in California. The whole area is a heavily built-up coastal strip with limited and very expensive parking. I was hoping to get breakfast in a place called Sunny Isles where I spent some time in the late 1980s, and where there are several strip malls (precincts of small shops with time-limited parking). On one these I found a bakery/café with a very pleasant waitress who had worked for a while in London, and after chatting her up a bit she offered to let me leave the car on their private car park for a couple of hours while I went on the beach.
Between the road and the beach are three identical 45-storey skyscraper 'condo' blocks and three smaller ones, comprising the Trump International Beach Resort, all built in the last 10 years. At least a third of them are occupied by Russians and the area, including Hollywood, is known as Little Moscow. When I first went there 30 years ago a lot of the residents were elderly German-speaking Jews and, during the holiday season, French Canadian 'snowbirds', but most of the holiday accommodation has now gone and the Russians have taken over in a big way.
It was not perfect beach weather, slightly cool and with a strong swell, but ideal for walking down to the wooden fishing pier. In both directions there were enormous buildings as far the eye could see, with a few of the original shabby 2-storey motel blocks tucked in between. Sadly the art deco reception buildings facing the road have long since disappeared. I walked back along the road to the café for another apple pocket (turnover) and coffee before driving along to Hollywood. With some reluctance I put the car in a multi-storey car park at 4 dollars an hour and went through to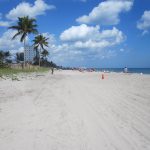 the beach. Hollywood has a classical American 'boardwalk' (actually tarmacked) on the beach lined with palm trees, a hive of activity, with walkers, skateboarders, cyclists and pedal-powered contraptions carrying up to four people. At the side was also an ingenious continuous wave on which people were practising surfing. This is where the bicycle that I didn't have would have been perfect. Hollywood seemed to have been spared large-scale development, and most of the single storey motels that I remembered from 30 years ago were still there, albeit somewhat smarter.
Moving on West
Time to drive on to Naples, over 100 miles away on the west coast, via the Interstate I-75 toll road. The toll was $1.50, laughable by European standards, and with the light traffic it took well under two hours to reach the Spinnaker Inn motel.  As flat as a pancake and mostly dead straight, the highway runs right through the Everglades. More about that later.  The Spinnaker Inn is a traditional motel, where you can park in front of your room, which I like, although the British Foreign Office travel advice is to avoid such places because they are easily accessible to strangers. There were two or three restaurants adjacent to the site.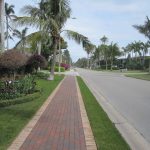 After surviving the night without getting mugged or shot I drove into central Naples which is a stylish upmarket area with mostly free parking. Presumably this Naples is a one-time descendant of the one in Italy where you would probably be far more likely to get mugged or shot. The open restaurants were very expensive so I went back to the main road and found Another Broken Egg Café for breakfast. As I was a new customer I got two items free!
On to the beach via the vast smart residential area that stretches for miles along the coast. No problem in finding free parking near the wooden fishing pier, which was barred off half way along due to damage from the recent hurricane Irma. Some of the big houses with enormous gardens set back from the beach were also being repaired. After a long walk on the wide sandy beach I went through to Old Naples for a coffee in the Bad Ass Café, the clientele of which did not seem at all appropriate for the name and more like the sort of people you would expect to find in the adjacent smart shops.
Naples to Venice and beyond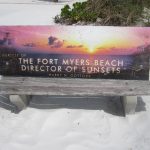 Next stop was Fort Myers Beach via Bonita beach. Development has been rife here, with limited beach access and expensive parking in places where it used to be free. As I walked along the beach I came across a bench facing the sea with a big sign stating Courtesy of THE FORT MYERS BEACH DIRECTOR OF SUNSETS Harry N Gottleib, over a picture of a gorgeous sunset. Back in the car it took an hour to drive the three miles to the centre of Fort Myers Beach due to the whole place being taken over by Spring Break students wandering all over the road.
Probably the most famous thing about Fort Myers is that it was the winter home of Thomas Edison, Henry Ford and Harvey Firestone, among other wealthy northern industrialists. My route took me along the tree-lined MacGregor Boulevard past their homes and the Edison Museum, which I visited years ago. It was slow going all the way to the Tropical Palm Motel, which was considerably less exotic than it sounded.
In the motel I picked up a leaflet about Rick Treworgy's Muscle Car City, which was on the main road at Punta Gorda, about 20 miles north, and resolved to visit it in the morning. When I got there the sign was in place in front of a large concrete building which was in the process of being
gutted for conversion to another use. I assumed that the museum had finished, and was annoyed to discover later that it had moved to another site about a mile away. A slight consolation was the discovery of a marvellous place called Destination Powersports with a range of fantastic recreational vehicles, the likes of some of which I had never seen before. Called UTVs, which apparently means Utility Task Vehicle, they have a skeletal frame, massive ribbed tyres and a high ground clearance.
From Punta Gorda I cut across to the weird town of Rotunda, a large "deed restricted" retirement community, consisting of bungalows built within a circle of narrow waterways, divided into eight segments, one of which has been left to nature. The circle is about 5 miles in diameter, and most of the shops and services are situated outside it to the north. The whole place was very quiet, almost like a ghost town, and maybe the residents were in the doctors' surgeries or playing on some of the five golf courses.
From Rotonda I went to somewhere I had never been before, namely Placida, a tiny fishing village on the edge of the Gulf of Mexico. As the name suggests, it was an absolute haven of tranquility on the edge of the ocean, even quieter than Rotonda.
Next stop was Caspersen Beach, a relatively undeveloped place with plenty of free parking in a wooded area within a short distance of the shore just south of Venice fishing pier. Close to the pier is a park with a lake which according to the notices is home to alligators, although I didn't see any. Certainly not the sort of thing you find in Bognor Regis.
Venice is another smart town, with an Esplanade, fairly similar in character to Naples. After a stretch on US41 again I turned off to Siesta Key and Siesta Village, pleasant not too over-developed places with good
beach access. A group of people on Siesta Key beach turned out to be a yoga class that was apparently open to anyone, although I did not take part. On to Sarasota, another city with a European-style main street, and across a long causeway to St Armands Circle and Lido Key. St.Armands Circle is a large roundabout with a little park in the centre and up-market shops and restaurants around the outside. From here you can walk to Lido Key Beach where there is plenty of free parking.
For 15 miles from St. Armonds Circle to Bradenton Beach the road runs along Gulf of Mexico Drive, a narrow strip of land between the Gulf and Sarasota Bay with spectacular views on both sides in places. Leaving the beach behind I drove on through Bradenton to my night's stop at the Day's Inn.
St Petersburg
The plan from here was to drive up to St.Petersburg via the Sunshine Skyway, an 11-mile long causeway with a 4-mile long bridge in the middle of it. It rises to a height of 430 feet and provides superb views across Tampa Bay. The toll for crossing this engineering masterpiece is a mere $1.50. Two long fishing piers beneath it are the remains of a previous bridge that collapsed after being hit by a ship in 1980, resulting in the deaths of a large number of people.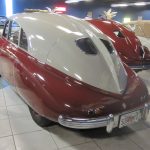 The first target in St.Petersburg was the Tampa Bay Automobile Museum, of which I had been aware for some time, but had imagined that it would not be particularly interesting. In fact, it was really excellent, with a lot of quite rare and technically unusual cars, mainly of European origin. It is always amazing that in America there are European cars that would be hard to find or may not even exist closer to home.
One of the top attractions in St.Petersberg for many years has been its pier, which extends from the centre of the city into Tampa Bay, and has been famous for the building at the far end, in the form of an inverted pyramid. I followed the signs from the freeway to 'The Pier', but was very puzzled when I got to the place where I remembered it to be, because the road was closed with barriers, and there was no sign of the unique and iconic building. At first I thought I must be in the wrong place, but eventually realised that the building had indeed gone, this being confirmed by signs showing pictures of the old one and artist's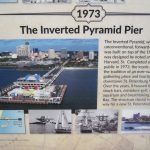 impressions of the new one that was being built. It seems that they just got bored with the inverted pyramid and decided to replace it with a new building of entirely different construction. It is impossible to imagine that happening in Europe, but Americans are much more ready to accept change than people this side of the Atlantic.
Anyway, somebody gave me his 3-hour parking ticket that still had 2 hours left on it, so I went for a look around the centre of the city, with its tidy streets lined with palm trees and generally upmarket atmosphere. It was then time to go back to the Days Inn Bradenton and spend the evening shopping.
Shopping blues
Not far away was the De Soto Square Mall, which was an example of the parlous state of the American retail scene, and perhaps a warning of the way we are heading in Britain. The shopping malls usually consist of two or more 'anchors', big stores such as Sears, Macy's, Bloomingdales, etc, connected by covered arcades of smaller shops and a food hall. In this case the anchors were Sears and J.C.Penny, which were not exactly booming, and at least half of the other businesses were closed. In the food hall only two places out of about six were trading, and it was altogether a very sorry scene. Efforts are being made to revive it by bringing in entertainment centres and other attractions, but its future obviously very much hangs in the balance. The situation has been described as a 'retail apocalypse' which will result in a high proportion of American shopping malls closing in the next few years.
Back to Naples
The next morning I set off to retrace my steps back to the Spinnaker Inn in Naples, but calling at a couple of places on the way, namely Ideal Classic Cars, a museum in Venice, and Fisherman's Village, a quaint but touristy shopping and entertainment centre on the bank of the Peace River in Punta Gorda.
The museum was really a classic car sales business, but had some interesting, mainly American vehicles on show. Entry was free by registering as a supporter, presumably as they hope to see you as a customer one day. Unlikely in my case.
Fisherman's Village was very busy, and I had to walk some distance from the car, something Americans do not usually do. It consists of shops and restaurants in a large covered arcade between old wooden buildings. There are actually moorings for fishing boats and a walkway alongside the harbour with pelicans and other marine life around.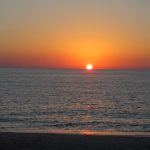 Naples is famed for its sunsets, and as it was a particularly fine, clear, evening I made straight for the beach to see it. Harry N.Gottlieb, the Fort Myers Director of Sunsets, does not have a monopoly, and I think the Naples ones are more famous. If it looks like being a good one a large number of people turn out to watch, including the residents of retirement homes on the beach. When I got through to the beach there were already a lot of people there, many sitting on chairs that they brought with them. I have seen Naples sunsets before and clouds often appear on the horizon at the last minute but this one really was exceptional with a clear sky right through to the end. When the sun finally disappeared the spectators clapped, a very American thing to do (they clap when planes touch down safely).
The next morning, before setting off for Miami I decided to have a look at the beach, but found that it was impossible to park anywhere near. There were many people and families dressed in green outfits flocking to the city centre, and I realised that it was March 15th, St.Patrick's Day. I have encountered this before in the USA, and it is astonishing that are there so many people who claim to be of Irish descent. The streets around the city centre were all closed to cars with barriers, so I pushed on out of town on US41 towards Miami.
The Everglades
After a few miles I turned off right to Marco Island, which was new territory to me. It is a true island, joined to the mainland by two road bridges, and is mainly residential with limited access to beaches unless you are staying in beach front property. All quite upmarket and undoubtedly expensive.
Returning to US41, within a few miles the road enters the Everglades (though not the National Park) and comes to the turn-off south to Everglades City. I stopped here for a snack at Subway, and while I was in the car park I heard 50 Harley Davidsons approaching at full bore. In fact, there were no Harleys, just a very big airboat packed with people on the river behind the restaurant. Unfortunately I did not have my camera.  These machines are considered to be environmentally unfriendly (even more so than Harleys) and are not liked by a lot of people. They are, however, an easy way of getting right into the Everglades and tours are available in various places all the way to Miami, often operated by members of the local Indian population.
Highway 29 leads south from here to Everglades City, which I had not visited for many years, but it was just as I remembered it, with the white City Hall and other buildings spaced out amid palm trees, presenting a very serene image. A few months ago it had been anything but serene, as it was right in the path of hurricane Irma and suffered a considerable amount of damage and floods.
Continuing on the road from Everglades City brought me to Chokoloskee Island via a bridge and causeway. This place is a bit of a shanty town, best known for the Smallwood Store, a wonderful general store dating from 1906 and preserved with all its contents as a museum including a life size figure of Ted Smallwood, its founder, relaxing in a chair.
Retracing my steps back to the junction with US41 (no alternative), I turned right for about 17 miles to Monroe Station, and then turned off again on to the unpaved Loop Road which goes south for several miles deep into the Everglades before turning east and eventually joining up again with US41. It is generally against the rules to take a rental car on unpaved roads but as the Loop Road has a number and is a recognised tourist route I think it is an exception. The surface could best be described as fine white shale, which billows up into a cloud of dust behind every vehicle that passes under dry conditions, but the traffic density is usually quite low so it is not too much of a problem. The large potholes that existed when I first drove it 30 years ago have now mostly disappeared.
The trees and vegetation extend right up to the edge of the road, but periodically there are clearings where the true nature of the Everglades can be seen close up. Essentially it is partially-flooded grassland which supports a unique range of flora and fauna much of which is not immediately apparent. It is quite flat, and while there are trees in abundance, mostly they do not grow very high, so it easy to drive through it and see it as just another forest. The water on which it depends is actually a slow-moving river 60 miles wide and 100 miles long, stretching from just below Orlando to where it enters the sea at Florida Bay.
It is an area of immense ecological importance, and despite its National Park status it is constantly under threat from surrounding human activity. To the average tourist it does not have the same stunning impact as, for example, Niagara Falls or the Grand Canyon, but it is no less important in the world of nature.
The human inhabitants of the Everglades are mainly native Americans in the form of Seminole and Miccosukee Indians whose forebears were driven south as the white settlers advanced from the north. In addition some war veterans and other people who wish to live away from the mainstream have property tucked away among the trees and swamps. It is considered very inadvisable to approach such premises. Back on the main road to the east I passed the Miccosukee Indian Village which is a major tourist attraction, but was too late to go in.
On the way back to the airport the next day I was planning to have a look at the fantastic art deco area of South Miami Beach which I had not seen for many years, but the hotels in any part of Miami are wildly expensive, and I decided to stay in Homestead, a rather ordinary town a few miles away. Homestead is in fact not rather ordinary, but very ordinary, its only saving grace
being a short stretch of main street with antique shops and cafés
Art Deco Saved
Parking in central Miami on a Sunday in peak season seemed to be from $20, so I went straight through to South Miami and quickly found Collins Avenue and Ocean Drive, the heart of the art deco district. When I first went there in the 1980s the movement to save these wonderful buildings from demolition was only just getting under way, and many were in a bad state. It was considered dangerous to walk off the main thoroughfares at night, or even during the day in some places. The restoration of the buildings combined with general smartening up and better street lighting has transformed the whole place. The area is thriving, with traffic on Ocean Drive proceeding at a snail's pace, which suited me, as it afforded a better opportunity study the stunning architecture. Unfortunately my camera battery packed up and I am never very successful at getting pictures with my mobile phone.
It is also astonishing how the art deco buildings continue as you drive northwards on A1A, the coast road. Years ago I knew this stretch of road quite well, and the buildings must have been there all the time, but were so shabby that they were not really noticeable. Presumably heightened interest and increasing values have been a driving force for their renovation.
As mentioned earlier, this trip would have been better had it not been at the height of the tourist season, but at least the weather was perfect for walking about, mild with, unusually, no rain.
CLICK ON PICTURES TO ENLARGE
Albania, Macedonia, Greece 2017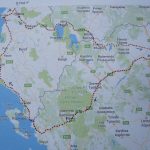 This would be my second visit to Albania, the first having been eight years earlier, when I went to the north of the country for a few days. An account of that trip can be found elsewhere on this site, and ideally should be read before reading this one. The plan now was to fly to Tirana, hire a car and drive to Thessaloniki in Greece via southern Macedonia, then across northern Greece to the Adriatic and up the west coast of Albania back to Tirana, basically a circular tour.
The only flights to Albania were, as before, by BA from Gatwick, but as I stood in the queue for the plane I realized that the make up of the passengers was quite different. Instead of being predominantly male there were now a fair number of women and children. On arrival in Tirana there was still the mystery over the division into ALBANIAN CITIZENS and OTHER NATIONALITIES, most of the latter not being British, so what were they?
Because of the late evening arrival I had booked a room at the Jurgen Hotel directly opposite to the terminal, thereby avoiding the taxi touts. This was a smart hotel for £35, although I had to go to the Best Western next door for a meal. Breakfast at the Jurgen was slightly odd, consisting among other things of scrambled egg and prunes, but it was quite adequate.
Several of the well-known rental car companies operate in Albania, but at the planning stage I had to dig deeply to find one that would enable me to take the car into Macedonia and Greece. Bearing in mind that Albania used to be regarded as second only to India for bad driving one would have thought that most firms would have been pleased for someone to take the car out of the country, but the only one that provided that facility was Sixt, who had a desk at the airport.
The man from Sixt turned up at the desk more or less at on time and took me to their depot round the corner, where I was introduced to my Hyundai Accent Diesel. Considering that it was Albania there was remarkably little body damage to note down, and I was soon on the way to Tirana.
Within a short time I noticed two differences from my trip eight years earlier, namely that the traffic was much calmer and that there was far less rubbish around everywhere. It seemed that there were now properly organized refuse collections, with bins at the roadside in many places. The predominance of old Mercedes cars was less striking, with more people driving typical modern small cars as elsewhere in Europe.
My route took me right through the middle of Tirana, past Mr.Hoxha's famous pyramid, which contrary to my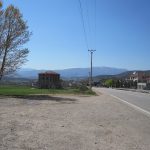 expectation did not appear to have been renovated and was in much the same dilapidated condition as when I last saw it. My initial target was a town called Elbasan some distance the other side of Tirana, and I was struggling fairly successfully through the awful city centre traffic until I came to a massive roadworks with no direction signs of any sort. With the help of the map in my tablet I eventually got on the road to Elbasan after driving through barriers on a stretch of closed road which was a building site, and it was very slow going for about 30 miles with endless roadworks and diversions. This area has typical Albanian semi-urban landscape, with an inexplicably large number of filling stations and part-finished buildings.
Macedonia
The 40 miles from Elbasan to the Macedonian border was much more pleasant driving with less traffic and good scenery. I had no idea what to expect at the border, but was pleased to find only very few vehicles going my way. The people at Sixt told me that I must buy a car insurance green card for Macedonia and Greece from a kiosk at the customs post, and that proved to be extremely easy for a fee of 40 euros. Neither Albania nor Macedonia use the euro but they seem to expect foreigners to do so. My passport and the car papers were checked at the customs on both sides of the border, with a few questions on the Albanian side, but I was through quite quickly.
Such was my poor planning for this trip that it was not until I was in the country that I discovered that the Macedonian language uses the Cyrillic character set, like Russia and Bulgaria. The language is closely related to Bulgarian and entirely different from Albanian and Greek, the other two countries on my itinerary. The Cyrillic languages are actually quite easy to cope with if you do a bit of brushing up in advance (which I hadn't this time), whereas Albanian is impossible and Greek, well, it's all Greek to me.
There are complications concerning the name of the country, because the Republic of Macedonia, as it calls itself, covers about one third of the geographical region known as Macedonia which extends into neighboring countries including a large part of northern Greece. As a result the Republic of Macedonia is known by the UN, EU, and NATO as FYROM (Former Yugoslavian Republic Of Macedonia), and that name appears on some road signs.
From the border the road follows round the shore of Lake Ohrid, passing through a small town called Struga, with its pleasant lakeside promenade. The next town, Ohrid, was described in my guide book as a jewel in the crown of Macedonia and had a spa-like atmosphere in its lakefront region.
My night stop was to be in Bitola, the second city of Macedonia (the capital is Skopje), about 40 miles from Ohrid. By now I had the impression that the pace of life in Macedonia was considerably slower than in Albania, with an economy based more upon agriculture. Once clear of Ohrid I seemed to be making good progress on a smooth road through heavily wooded countryside, until encountering a diversion where the road in the direction I was going was being rebuilt. As well as slowing me down this took me back in time to something I had not seen since Belgium in the 1960s, namely the type of road surface called pavé, small rough stone blocks which would set the car vibrating from end to end and shake the fillings out of your teeth. This went on for several miles in the form of a narrow hilly lane with one-way traffic through a forest before rejoining the original route.
Perhaps the best description of Bitola is simply 'old-fashioned'. It is a very old city, dating from about 4BC and has a chequered history but most of the buildings today are from the Ottoman era or later. At one time it was known as the 'City of Consuls' because many countries, including Britain, had consulates there, but it now seems to be of less political significance.
The Hotel Bastion lived up to its name, being a substantial three-storey detached building with one rather serious man in charge and apparently no other guests apart from myself. He said they sometimes had English guests in the summer, although I would imagine that they
were few and far between. The hotel did not do food, and the man recommended a restaurant in the main street which was only about 100 yards away. I had no Macedonian currency, but fortunately the restaurant took Euros. Looking round the town afterwards I got the impression that it was not one of the most prosperous places in Europe. At breakfast time I wandered back to the main street which was still largely asleep and eventually found a hotel that served non-residents.
Into Greece
The drive to the border crossing into Greece was quick and easy, again with just a few vehicles in front at the customs posts and brief document checks. At Niki, shortly after the frontier post the road turned into a superb newly-built motorway for about 12 miles, with not another vehicle going in my direction and few the other way. If more British people could see their money being spent in this way by the visionaries and dreamers of the EU they would have no reservations about our decision to leave. It will be very many years before there is sufficient traffic travelling from Greece through Macedonia and beyond to justify this expense, especially considering the economic state of Greece.
On the map the main road to Thessaloniki from near Florina via Edessa and Giannitsa looks interesting, with potential for good scenery, but in the event it was a disappointing drive. As mentioned above, the Greeks refer to this area as Macedonia (or Makedonia) and many place names are given in Cyrillic and Greek characters but not Latin (English) ones. On the approach to Giannitsa I saw the first signs of the Greek economic disaster. For some distance there were factories either closed or showing little sign of activity, with just a few cars outside and maybe one truck.
Thessaloniki
Approaching Thessaloniki, Greece's second largest city it was the same story. My hotel, the Rotunda, was near the centre, facing the main railway terminus and at the start of a massive construction project to build a metro. After checking in I walked around the streets behind the hotel and the consequences of the recession were all too clear, with boarded up shops and dilapidated empty buildings. Just to bring home the misery I was chased by an angry dog and bitten in the back of the leg. Fortunately my jeans prevented any serious injury.
To see the sights of Thessaloniki I had only the next morning, so I left the car in a very expensive city centre car park and went on foot from there. A young man involved with the car park spoke exceptionally good English and when I complimented him he said he had lived in Uxbridge for some
time as a student at Brunel University. Brunel is a technical university and it seemed odd that he chose to return to the poor employment prospects in Thessaloniki unless, of course, he was the car park operator, in which case he was probably making more money than he could make as an engineer anywhere. Following his advice I quickly found the old town area with its ruins, which just went on and on as I climbed up the hill towards the back of the city.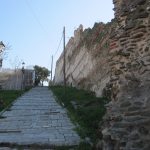 The route took me up a long fairly steep path alongside the ancient walls, and I had another encounter with an angry dog whose owner apparently lived in a sort of hole in the wall. He made no attempt to control the dog as it ran round me growling and snarling. If the intention was to deter strangers from going close to his property it was successful, and I sought a different way back. I did not manage to get to the top of the hill, but was high enough to see across the whole city to the harbour and sea beyond.
Straight down the hill brought me back to the ferry terminal and smart promenade which is bisected by a beautiful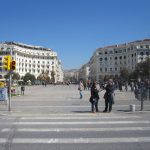 paved square with classical buildings. At the far end of the promenade is the White Tower, a famous monument and museum which I unfortunately did not have time to visit.
Back to the car and on the way to my night stop, a town called Ioannina, about 160 miles south east of Thessaloniki via a motorway passing through beautiful mountainous countryside. The extraordinary thing about this road was the number of tunnels. I lost count en route, but checked on the map afterwards, and there were 38, ranging in length from 50 yards to about 2 miles. It was a toll road with 4 or 5 payment stages along the way, the charges actually being remarkably low, a fraction of those in France.
Ioanninia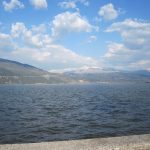 Ioanninia is a town of 80,000 inhabitants with a fair amount of industry and an area of historic buildings alongside a large lake. It had the atmosphere of a Swiss lake resort, even down to a Hotel du Lac which was well outside my price range. There were a fair number of hotels, none of which seemed to have any vacancies, rather to my surprise considering that it was a Thursday evening in April. Eventually I found a room in a small old-fashioned hotel more or less fronting on to the lake, and set off for a look round the town, starting with the old part. The first thing I noticed was that all the eating and drinking places were crowded with young people, and later discovered that the town is home to 20,000 students. It gave the impression of being a thriving place, very different from Thessaloniki, with shops open until late in the evening, including many with windows full of expensive watches like those to be found in Interlaken.
Then came the big mistake.   As I had eaten well earlier in the day I decided to have just a large ice cream in a restaurant specialising in such things, and before I got back to the hotel I realised that it was lying heavily upon my stomach. That was not to be for too long, because before going to bed it came up in five stages, with two more the following morning. I cannot remember what happened at breakfast time, but I don't think it was very much. In fact, not much happened with regard to eating for the next three days.
The most direct route from Ioannina to Albania goes north west to Gjirokaster, some distance from the coast, but I wanted to follow the coast road from the border to Saranda, a resort facing the Greek island of Corfu. This meant rejoining the motorway for about 50 miles to the port of
Igoumenitsa and driving up to the border crossing at Konispol from there. The road network on the Greek side in this area is vague to say the least, and signposting almost completely absent. Albania did not seem to exist and the customs post was remotely situated on top of a mountain like something out of a film set. The man on the Albanian side studied my passport for about five minutes while I sat there with the engine running, presumably because he had nothing else to do.
Saranda, Albania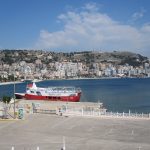 Saranda is a well-developed resort built around a bay, and undoubtedly gets a considerable boost to its tourist trade through day-trippers on the ferry from Corfu. My maps showed a concentration of hotels at the northern end of the coastal strip, and I found a balcony room overlooking the beach in one called the Apollon. It gave the impression of being recently built, and when I asked the young lady in reception how old it was she said it was started in 1999 and finished in 2007. This rate of construction seems to be par for the course in Albania, and judging by the number of part-finished buildings everywhere I think many take much longer than that to complete.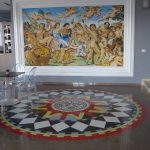 Striking features of the hotel were a large mural in with a circular mosaic several yards in diameter in front of it in the entrance hall. The mural depicted a scene of debauchery and was presumably a copy of an established work of art, and the mosaic reminded me of the black magic circle in Dennis Wheatley's "The Devil Rides Out". At least the guests will have somewhere to stand if the Angel of Death turns up on his horse.
The general standard of public safety is still lower in Albania than most of western Europe. The outside concrete staircase leading down to the hotel car park had a top step which was twice as high as all the others, and as I walked into town I encountered large unprotected holes in the pavement. For a stretch of about 20 yards there was a sheer drop of 10ft down to some waste land on the side of the pavement away
from the road. At one point a thin concrete ledge stuck out over the pavement at eye level, and wherever you are you have to pay attention to your immediate surroundings. Not ideal for those who walk along staring at their mobile phones.
Apart from this Saranda is a pleasant resort town, with a promenade around the centre of a horseshoe-shaped bay.
Adriatic coast road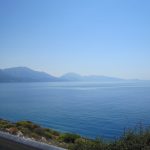 The plan for the next day was to drive 77 miles north to Vlora, the next main town on the coast. From the map I was expecting it to be a spectacular drive, and it was, by any standards. For much of the time the road ran close to the shore with endless bends and a zig-zag climb to over 3000ft, leading to a viewpoint. The main road was well-surfaced, but a couple of times I turned on to side roads that appeared to lead to places of interest and as usual in Albania they just turned into rough tracks or fizzled out altogether.
The traffic was light and on one occasion I came round a bend in a village to a find the roadblocked by a lorry with crane unloading building materials. There was no alternative route, so I and the few vehicles that came up behind me just had to wait about 20 minutes until the job was done.
Vlora
For about 12 miles before Vlora the road ran through a number of attractive little beach resorts with hotels and restaurants before turning into a dual carriageway under construction, leading to the town centre. It was very much a case of work in progress and will undoubtedly be an impressive promenade once it is finished, but it was a mess and impossible to stop and look for a hotel until I reached the end of it. The only hotel that was easily accessible was Hotel Partner, a large modern building in the town centre, so that is where I finished up.
The central area was modern, with many quite impressive buildings, but an incongruous
feature was the number of large diesel generators everywhere. I did not remember seeing any in Saranda, although Albania is notorious for its inadequate power supplies and it seems that the situation had not improved in some areas in the 8 years since my last visit. There was not more mains electricity, just more generators, which are very inefficient and bad for the environment.
Driving in Albania is always full of surprises, and in the course of driving around Vlora I came across a stretch of road about 400 yards long surfaced with a layer of wet tar that had just been applied by a machine that was disappearing into the distance. There were no signs or barriers of any sort, causing chaos for the drivers who suddenly encountered it. Many of the other side roads in
the town were in a bad state, some completely impassable due to obstructions of one sort or another. Vlora is actually on the side of a large bay, with the beach front facing the heavily wooded hills of a nature park on a promentary, and one day, if and when the construction work is finished, it will be an attractive seaside resort.
Vlore to Durrës
During the 75-mile journey from Vlora to the next coastal town, Durrës, the whole character of the surroundings changed. The road was largely dual carriageway situated some distance from the coast, with roughly-surfaced stretches running through run down areas.. The standard of driving deteriorated, with cars swerving all over the road to avoid the pothole as in India, and the scenery became more industrial. Durrës is the seaside town for Tirana, the capital, and it was a return to the concentration of half-finished buildings and filling stations that dominated the start of my journey.
The main road into Durrës was in much the same state as the one into Vlora – just a massive construction site. It was Sunday afternoon and the place was heaving with people, including a couple of wedding parties driving through the town with much horn-blowing and general commotion as is customary in those parts. At the far end of the road I parked and went through to the beach, which was a wide stretch of heavy sand, quite clean but almost deserted.
There were a lot of hotels on the side of the road backing on to the beach but with the roadworks it was hard to get to any of them or park and after trying three or four which were full I decided to go back to the coastal strip at Shkallnur that I had passed on the way in.
After struggling through the narrow back streets of Shkallnur I found a hotel with the strange name of Ylli I Detit and
acquired a room with a balcony overlooking the beach. The hotel did meals but I was still a bit under the weather from the ice cream poisoning and all I could manage was soup. It was time for a long walk on the beach, which like the one in Durrës, was quite pleasant and almost deserted.
When I came down for breakfast in the morning I was somewhat surprised to find that there appeared to be no one else in the building. It was the hotel equivalent of the Marie Celeste – everything in place but just no people. Eventually I found a very young lady in staff uniform who spoke no English whatsoever. It was clear that breakfast was not likely to be forthcoming, so as I had already paid for the room I walked past the unmanned reception and departed.
A short distance along the main road to Durrës was a petrol station with an excellent café, after which I went through into Durrës centre, which was much larger than I expected and unlike a lot of places had properly surfaced streets. Some accounts describe Durrës as a dismal place, but it seemed to me to be bustling with activity, much more than I would have expected for a Monday morning. The afternoon was spent taking the car back (undamaged, amazingly) and dealing with the flight home.
Albania is a conundrum. It is supposed to be a poor country and yet everywhere you go there seems to be a lot of activity, with quite large public projects underway, especially in the cities. There is said to be corruption at high level and a general belief outside the country that there are many people engaged in criminal activity such as people-trafficking and money laundering, but Albanians will tell you that the bad people have left the country and are carrying on their evil deeds elsewhere. This may well be true.
CLICK ON PICTURES TO ENLARGE
JAPAN 2015
This was to be essentially a holiday combined with a brief visit to a Japanese company with which I have had a business relationship for many years. It would be my second trip to the country, with a similar itinerary to the one I had made eight years previously, travelling around by self-drive hire car.   When I originally suggested that idea the advice I was given by people who knew anything about Japan ranged from 'inadvisable' to 'impossible', but in the event it was very successful. Starting from Osaka the route covered about 1000 miles, taking in coastal areas, mountains, beautiful countryside and several major cities. Car museums as well, of course.
Despite my experience, in planning this new 11-day trip I made a major blunder.  After booking the flights with Emirates I discovered that it was difficult to make any hotel reservations for the first five days that I was going to be in Japan because the three week days were public holidays.  The Monday was Respect for the Elderly Day, which I rather liked, the Wednesday was Equinox Day, and Tuesday was a holiday because the other two were. The Japanese are inveterate travellers, and when they decide to move around they do so in a big way, putting a lot of pressure on accommodation and transport.  There were still 8 weeks to go, and with great difficulty I managed to book hotels for the whole route, mainly using Booking.com,  but it reduced my flexibility and would create big problems if I lost a day anywhere.  Also I had to alter my business visit, and the roads were likely to be even more congested than usual.
Hello, Japan.  Dancing chairs and bottled sweat.
About 25 hours after leaving home I went into the station at Kansai Airport to get the Haruka Limited Express train to Shin-Osaka, and was immediately left in no doubt that I was in Japan.  The train pulled in exactly on time, and I was just entering the carriage to take my numbered seat when a man stopped me and told me to wait behind a line on the platform.  He wheeled a trolley full of cleaning stuff into the carriage, and then something happened straight out of Alice in Wonderland.  All the seats, which were in lines of 2 or 3, started spinning round on their bases individually.  It was just like some sort of crazy Mad Hatter's dance, and appeared to be part of the cleaning procedure, but was actually a way of turning the seats round to face the direction of travel for the return journey as the train was at the end of the line.
It was too dark to see anything much outside, so I took the opportunity to check my navigation arrangements.  Finding the way in Japan can be very difficult and locating specific addresses is a big problem even for the locals because in most places buildings are not numbered in sequence along a road or street, but are identified by three numbers referring to the district, block and the number within the block.  This last number may be determined by the order in which the buildings were erected, which is not very obvious to a foreigner.  If a street has a name it will almost always only be in Japanese unless it is a major route.
To find a particular building you really have to know exactly where it is on a map, and there is something rather peculiar about the Japanese and maps.  The maps you find in leaflets and public places are strangely presented and usually do not have north at the top.  If you buy a local map it will be entirely in Japanese. Of course, you can always ask somebody, but almost nobody speaks English, which means that they will go off in search of someone who does. As a point of honour they will not let you go until they are satisfied that they have met your needs, which can take a very long time.  Businesses often have outline maps on which they will mark the place you are looking for, but they usually get it wrong.  It is no good showing someone an address in English because they won't be able to read it, and if you have the address in Japanese you won't be able to read it!
Rental cars usually come with satnav, but it will be all Japanese apart from the road numbers. This means that you need GPS in a phone or tablet, and there is still a problem, because for some strange reason to do with copyright the usual map providers (Google, Bing, HERE) do not have offline maps of Japan.  However, after much research I found a modified version of Bing Maps for my Windows phone, and MapsMe for my Android tablet.
Back to the train, and this was the opportunity to see whether the GPS worked with the maps, because I couldn't do it England.  To my great relief the little arrows moved along the maps and showed the position of the train, so that I could judge exactly when it was going to get to Shin-Osaka station, although there were clear indicators in the carriages anyway.  I chose Shin-Osaka as my base because I knew the area from my previous visit. It has lots of hotels, was convenient for car rental and not too far from my business associates' headquarters.
Shin-Osaka might have lots of hotels, but I had only been able to find one with a vacancy for the day of my arrival, and in my estimation it was at least twice the price that it should have been.  It was very close to the station in a road alongside the railway lines, and I must admit that I did wonder whether it offered services over and above those required for a normal night's sleep, but there was nothing untoward in the reviews.   The name LiveMax also seemed a bit strange, but in fact it is part of a large Japanese hotel and real estate group, and was perfectly respectable.
In the last thirty hours I had had a succession of airline meals, so I was still a bit hungry, and after checking in I went along the street to get something from a convenience store.   On the way I passed several of the refrigerated drinks dispensing machines found everywhere in Japanese towns, and containing among many other things bottles of Pocari Sweat and Calpis energy drinks, always a source of amusement to native English speakers.  They taste as bad as their names suggest, although Pocari is not actually bottled sweat, but just intended for sweat replacement.
These are just two examples of the very widespread use of English names for products and businesses, which seems very odd in a country in which so few people speak the language.  Most hotels have English names, and the two most popular convenience stores are Lawson and Family Mart.  Almost every door for public use in Japan has PUSH and PULL on it, a point that I raised with my business associates in a general discussion until I realized that it was dangerous ground and changed the subject.
Mountains and mad motorcyclists.
The next morning I checked out and went to pick up my car from Times Car Rental, a short walk from the hotel.   Shin-Osaka, like most urban areas in Japan, is totally safe but visually unattractive, a consequence of the headlong rush for development in the 1960s and 70s.  The main street, if you could call it that, is literally overshadowed by a multi-lane elevated highway running for its entire length (and far beyond), with two high level railway stations.
The staff in the car rental office did not speak much English, but after examining my credit card and International Driving Permit they handed me some forms in English to read and sign where indicated.  A man took me outside to introduce me to my silver Mazda Demio (Mazda 2 in England) and then left me to get sorted out.  Driving in Japan is on the left hand side of the road, with the steering wheel on the right, as at home, but there was one confusing thing, in that Japanese cars in Japan have the lever for the indicators on the right and one for the windscreen wipers on the left.   It took me several days to get used to that, and for a time I kept switching the wipers on when I wanted to turn.
Seventy-two percent of the area of Japan is mountainous, which means that a large proportion of the remaining land is built up, with vast, seemingly endless, conurbations along the coasts.  My next overnight stay was to be in a small town called Obama on a relatively undeveloped stretch of coast about 50 miles north of Shin-Osaka.  It was the other side of a range of mountains, and there were basically three ways of getting there, one being made up of comparatively minor roads across the mountains, and the other two being expressways (expensive toll motorways) on lower lying land to the east or west of the mountains.   These last two were each about 100 miles long, and the more direct route was actually about 90 miles, because it squiggled about so much.
There was an element of risk in the last route, as Japanese mountain roads are subject to closures during periods of bad weather, including heavy rain, of which there had been plenty prior to my visit.  On the other hand at holiday time there could be problems on the expressways, as on British motorways, and my inclination was to take the mountain route. The traffic north of Osaka on the Sunday morning was horrific and I spent about two hours going nowhere, mainly because of people queuing to get into shopping malls.  However, once I got out of that area the traffic cleared and I made quite good progress.
The road ran mainly between tree-covered hills, with villages and a couple of small towns along the way.  For some distance it was close to an expressway on which signs at the intersections warned of queueing traffic, so I think I made the right decision to avoid using the supposed high-speed route. For the last forty miles to Obama there were few other vehicles apart from lunatic motorcyclists flying round the endless hairpin bends with their knees scraping the road.  The scenery was not as spectacular as might be expected from the map, because of several tunnels through the highest mountains, including one about a mile long.
Obama festival chaos
At  4.30 I arrived in Obama, to find the streets leading to my hotel closed off by people with batons standing in the road.  In Japan there are lots of people with batons controlling the traffic, some obviously police, but others employed by businesses or for special events.  Nowadays they have batons with lights in them like the light sabres in Star Wars, but shorter and the lights are red.  In the distance I could see people marching in traditional costume and there was obviously a festival of some sort in progress.
Eventually I managed to get to the hotel, which was at the centre of the action, and once sorted I went for a walk around.  It seemed that there were several groups marching about, two or three of them with marvelous tall medieval carriages packed with people, pulled by strong men with ropes.  The carriages were made of wood, including the wheels, and were draped with elaborately-patterned cloths.
The main street was lined with stalls selling the usual tourist fare and all sorts of unrecognizable items of food, none of which appealed to me.  At one end of the street was a large shrine, with a kind of altar in front of it and brightly coloured  ropes hanging down with enormous tassles.   People would come and bow for a while before shaking the tassles, causing bells to ring, presumably as a form of prayer.  After a good and cheap rice meal in a restaurant I walked around the town and through to the promenade which overlooked a bay on the Sea of Japan.  Obama was an attractive place and I felt pleased with my choice of night stop.
Breakfast in the hotel the next morning was not available to me because I had not booked it in advance.  The streets of the town, with colonnades, were deserted, and the shops mostly closed but I resorted to breakfast in a convenience store before exploring the town a bit more.  Eventually I found a fair part of the population in a food and fish market near the harbour, where a vast variety of freshly-caught fish were beautifully displayed on slabs.
Heavenly views, tunnels and eating with the locals
The plan for day was to follow the coast northwards for about 80 miles and then turn inland to a city called Fukui.  Soon after leaving Obama I followed
a sign to the Angel Scenic Drive which led me on to a cul-de-sac mountain road to the top of Mount Kusuyagadake, on a peninsular.  It lived very well up to its name with superb views across the bay and ocean on both sides.  At the top was a massive car park with about three cars in it, although the inevitable group of motorcyclists turned up after a few minutes.  A very nice well-travelled couple from Kobe came over and talked to me for a while.  They were astonished that I was driving around on my own, because few Japanese people have ever driven in a foreign country and they find it hard to imagine doing it.
By now I was completely used to the ridiculously low speed limits on Japanese roads.  For almost the entire distance since I left Shin-Osaka the speed limit had been 40kph (25mph) or 50kph (31mph), even on open country roads.  These limits are normally exceeded by a margin of about 50%, i.e. people do 60kph in the 40 limit and 75kph in the 50 limit. Motorcycles go as fast as they can.  Police cars are few and far between as are cameras, and little effort is put into enforcement.
The main road wended its way along the coast past tiny fishing ports, from time to time passing through tunnels where the mountains came down to the sea.  I counted nine tunnels in about thirty miles to the town of Tsuruga.  Continuing to follow the coast line I stopped for a walk in a couple of small places right alongside the ocean and was surprised to find that there was lots of free parking and not many people about.  It is always said that you cannot find anywhere to park in Japanese towns and cities, which is not actually true.  It is usually easy to find somewhere, but just very expensive, although no more so now than in cities like London, Brighton or Oxford.  In some places the main road (Rt.305) was uncomfortably narrow, which might explain the lack of buses, and therefore people.
Eventually I turned inland to Fukui, an industrial city which has a population of 267,000, and managed to find the Route-Inn Court Hotel, in the middle of a big commercial development.  For my main meal of the day I went into a nearby restaurant, sat down and waited to be served, without realizing that it used a system that is widespread in the sort of cheap Japanese places that I frequent but had forgotten about.  A member of staff came over and indicated that I should follow him into the lobby, where there was a big cabinet with dozens of tiny pictures of meals.   Below each picture was a brief description of the meal in Japanese, the price, a button, and a small slot.  The procedure is to decide on a meal that does not look too revolting or poisonous, put an appropriate amount of money into a big slot on one side, and press the relevant button.  A little ticket then pops out through the small slot for you to give to someone in the restaurant and after a few minutes the meal will be put in front of you.  At that point it is no good saying "Oh no, I pressed the wrong button".  You just have to knuckle down and get on with it, chopsticks and all.
Old cars, old houses and scenery
For most people the highlight of a trip to Japan would be a visit to a historical monument or cultural event of some sort.
For me it was the Motorcar Museum of Japan at Komatsu, a name that will be familiar to anyone in the building industry as it is the home of one of the world's largest construction machinery  manufacturers.  The museum is an extraordinary place with an extraordinary history.
An extremely imposing European-style red brick building, it was put up by the man who introduced such bricks to Japan during the massive building boom of the 1960s and '70s.  He had a fleet of lorries that delivered the bricks to sites all over the country, and one of his customers asked him to take some old cars away on the empty lorries after the delivery.  He offered this service to other customers, and eventually finished up with 500 cars in a field, leading to the establishment of the museum .  In front of the building stand two classic British red telephone boxes and a matching red postbox, with a notice in Japanese that presumably states "Do Not Post Letters in This Box".  Apart from the display of cars there is another rather unusual collection 'Urinals From Around the World', twenty seven in total, all in working order and labelled with their country of origin.  Even I couldn't test all of them during my visit.
At mid-day I left the museum with a long cross-country drive in front of me, to the ancient town of Takayama, which is remotely situated in a mountainous area of Central Honshu.  From Komatsu it is possible to cover a large part of the journey on expressways, including an eight-mile long tunnel, but I preferred to use the old roads because it would be more interesting and I am too mean to pay the tolls.
Before leaving Komatsu I stopped to fill up with petrol, which was an unforgettable example of the application of Japanese culture to what would normally be a mundane experience.   Like most filling stations, this one had attended service, with two young men who smiled and bowed as they waved me into position by one of the pumps.   With a slight hint of anxiety one of them looked at me and said "Casha?" when he realized that I was a Westerner, because he was worried that I would offer him a credit card that he could not accept, which would be very embarrassing.  I assured him that it was "casha" and he put the petrol in while the other man ran round the car washing all the windows.  No tip was expected for this service, and my departure was accompanied by a session of bowing and waving to an almost absurd extent.
Once clear of the coastal town of Kanazawa it was back into the mountains, with miles of hairpin bends and a few tunnels, until I suddenly found myself looking down on a group of ancient thatched houses.  This was the Historic Village of Gokayama, a world heritage site and major tourist attraction.  It was not short of visitors, but I was guided into a parking space and set off to look round.
The houses were built of wood with steeply pitched thatched roofs in a chalet style, usually with one or two upper stories and were well spaced out between roads and small rice fields.  The village was essentially traffic-free, although a few cars were tucked in here and there.  Alongside a river and surrounded by wooded hills, it was an idyllic setting but gave the impression of being somewhat over-preserved.
About 15 miles further along the road was another larger and possibly more authentic place called Ogimachi, where I had stayed on my previous trip.   Still with wooden buildings, many thatched, the main street is normally open to traffic, and it has a few shops, traditional guest houses and a petrol station.  When I arrived the street was closed, with traffic being instructed to take the clogged-up bypass which runs through a tunnel.  Vehicles were queueing to get into the other end of the village, apparently for an evening event of some sort, so I had to give it a miss, an unfortunate consequence of the holiday period.
It was still about fifty miles to Takayama through tunnels, past lakes and mountains which meant that it was dark some time before I reached the town.   One thing I do not like about Japan is that they will not have daylight-saving time, so in late September it was dark soon after 6pm, very much earlier than at home.  I had resolved to avoid driving in the dark, because the road markings and street lighting are poor compared with England, but fortunately the road into the town led straight to the station, which was opposite to the inappropriately-named Country Hotel where I was staying.  Even in Japan everybody knows the way to the station.
Takayama is famed for its Old Town with traditional single-storey wooden buildings lining the streets, and the plan for the next day was to have a look round before driving over yet more mountains to Matsumoto.    In a street not far from the hotel was the Hida Kokubunji Temple with its three-level pagoda.  It seems strange to find a building like that in the middle of a densely built-up area, but it is really only the same as coming across a church or chapel in an English town.
Alongside a river running through the old town I found a morning market, extremely well attended not only by Japanese people, but also Westerners who were presumably on organized tours.   It was a few days since I had seen a Westerner, and as I have found before, it came as quite a surprise.  After spending only quite a short time among people of oriental appearance I felt as if I was one of them and the Westerners struck me as being different!
The old town appears to be quite authentic, with people living and working in the wooden buildings as they always did, although nowadays geared largely to tourism.  Many of them are traditional Japanese guest houses in which ancient customs are upheld, such as sleeping on the floor and communal bathing.  Had it not been for the pressures of the holiday period I am sure I could have stayed in one, as I did in Ogimachi on my previous trip, but I doubt whether I could have got in this time without pre-booking, which was virtually impossible from England.
More tunnels, a mountain pass, and a castle challenge
It was the last day of the five day holiday period, and I expected that people would be setting off home to the heavily-populated area in the south.  My destination for the day
was Matsumoto, about 70 miles to the east, the other side of some sizeable mountains, and as predicted the road (route 158) was busy but the traffic kept moving quite smartly for about 30 miles.  Some distance after a long tunnel it came to a right turn with a toll booth into another tunnel, and all the traffic in front and behind went that way, leaving me driving straight ahead on my own.  The road dwindled down into something like a country lane and started climbing, ultimately turning into the Abo Toge pass, one of the best drives I have ever done.  When I got to the top it was some time before another car appeared and I began to wonder if the road was actually closed.  The descent had a succession of tight hairpin bends that were beautifully depicted on the car satnav, about the only time it had shown anything useful, and eventually the road rejoined route 158 to go through at least another 12 tunnels before reaching the outskirts of Matsumoto.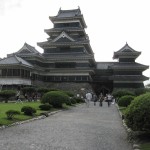 An essential part of any trip to Japan is a visit to a castle.  The ultimate Japanese castle is usually considered to be Himeji, which I had been to previously, but was not on my present itinerary.  The best opportunity this time was Matsumoto and as I entered the town I decided to go straight to the castle and to the hotel afterwards, because of the time. Although it is not as 'good' as Himeji, its appearance fulfils most people's expectation of a Japanese castle in every respect.
Just inside the entrance was a notice stating that the waiting time for entry was 20 minutes, and beyond that was a covered area with about 200 people sitting on wooden benches.  This was obviously the holiday factor in action, but we were actually taken in in batches of about 100 at a time at 10 minute intervals, so the proverbial Japanese punctuality was upheld.  As soon as we got through the door we were required to remove our shoes and given a plastic bag to carry them in. At Himeji visitors were provided with slippers which were a source of some amusement because none of the Western men could get into them. The largest were about English size 7, and I take 9 (EUR 43), so I was left with my socks.  At Matsumoto no slippers were provided, so it was socks or bare feet anyway. This might not have seemed too bad, had the floors and particularly the stairways not been so highly polished.
Progress was painfully slow, as the vast crowd was forced onto a single line that snaked its way up five flights of steep slippery stairs to the top of the building and down again. According to a notice the steepest flight was at an angle of 61 degrees from horizontal with a rise of 41cm between the treads.  In Britain I am sure this would have been banned by the Health and Safety Executive, and I was astonished by the way the Japanese people, many of them elderly, tackled it with great determination.  Going down was more difficult than going up, and surely they can't all have been in the navy?
Various historical items, mainly weapons, were on display as we went round, but the most memorable parts of the tour were the views from the upper floors, which were superb.  From the castle it was only a short distance to the centre of the city, which comes across as quite European in character.  The one major difference from most Japanese city centres is the absence of the incredibly ugly overhead cables that ruin almost every photograph that you try to take anywhere else.
It was time to find the Route-Inn Court Hotel, and I was pleased to discover that it was actually shown on the map in my phone.  In the reception I gave the booking form to the young lady, who took it into the office, emerging shortly afterwards to explain with some difficulty that I was in the wrong hotel.  I pointed out that the hotel pictured on the booking form was the one we were in, and she agreed in a vague sort of way, but still insisted that it was the wrong one.  She started to draw a sketch, explaining that the hotel  I wanted was another Route-Inn Court just off route 19 about three kilometers away.  By now it was dark and I realized that I was going to have a monumental task in finding this other hotel from the information she had given, when I suddenly thought that if one Route-Inn Court was shown on my phone the other one probably would be.  It was, and when I got there it turned out to be a building absolutely identical to the first one, so it seems that Route-Inn buy their hotels from a catalogue.
The hotels I had stayed in so far were 'business' hotels', which, as the term suggests, cater for the vast number of Japanese business travellers, but are not very well set up for foreigners, often having no one who can speak more than a few words of English.  The breakfasts, where they were provided, offered a fair selection of items, some hard to identify and labelled only in Japanese, so it was a bit hit and miss for me but I managed to find enough to fend off starvation.  As a last resort there were always the Lawson and Family Mart stores, which had coffee and Western style food at cheap prices.
A feature found in most en-suite rooms in Japanese hotels is the high tech lavatory.  When I first heard about such things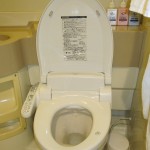 some years ago I thought it was a joke, but they are deadly serious about it.  Alongside the seat is an arm with a selection of controls to enable the toilet to perform a range of washing and flushing actions, including a bidet function and sometimes music to drown out any unwanted sounds.  The lengthy instructions are provided in Japanese and in some cases also English,  the more upmarket versions having a detachable panel to facilitate remote operation from anywhere in the room, although it is hard to see why anyone would want to do that.
A weird museum, bad weather and a Fuji non-event
On the Thursday morning I set off in a southerly direction towards Mount Fuji and the Pacific Ocean.  After a few miles a roadside notice advised of a stretch of heated road ahead, presumably relevant only to winter conditions.  The first stop was, of course, the Prince/Skyline car museum situated in parkland just off route 20 near Okaya.  Toriidairayamabiko Park was a strange place, with various educational, sporting and cultural institutions dotted about, some signs being in English.  The signs to the museum consisted of a few A4 sized pictures of a mundane car at irregular intervals until they ceased altogether.  I went back to the last sign, found a big empty car park and asked a man working on a building site (by pointing at the sign).  He indicated that the museum was at the top of a long flight of steps leading up a hill, and 189 steps later I found myself in front of the museum entrance.
The company that made the Prince Skyline cars of the 1950s and 60s was taken over by Nissan, who continued to use the Skyline name for their high-performance models on and off until the present day, and you would have to be a real anorak for these cars to appreciate this collection.  It was not quite my cup of tea, but just another one to tick off my list.
Route 20 was heavily built-up for a long way past Suwa and Chino and then ran through a valley with a mountain backdrop to Kofu, at which point the weather started to deteriorate. So far it had been good most of the time since I arrived in Japan, but on the approach to Mount Fuji it turned to mist and rain.  By the time I got as close as I could to the base of the mountain on the western side (about two miles away) it was barely possible to see it at all, and I abandoned plans to go to the nearby Shirato Falls.  This was a great disappointment, but the rain had obviously settled in for the day, so I continued south to my night stop in Mishima via a town called Gotemba.
The Shinkansen and Tokyo under an umbrella
The reason for choosing Mishima was that it is a main stop on the Shinkansen (Bullet Train) line to Tokyo, which I planned to visit the next day.  It would have been ridiculous to contemplate driving the 75 miles into Tokyo, and in any case I wanted to experience the Shinkansen, which is one of the most iconic features of Japan.
I had chosen the Massimo Hotel in Mishima because it was very close to the station, and it really was only about 100 yards away, which meant that it was easy to find.  A bonus was that it had a reserved area in the station car park.  Mishima is definitely not a very exciting place to spend a wet evening, especially if you go into a restaurant and choose a meal that is not to your liking.  With considerable fortitude I struggled through it, although I don't know what it was and I am not sure that I want to.
When I walked to the station the next morning it was still pouring with rain and I was the only person in sight without an umbrella.  At the Shinkansen counter I asked for a return ticket to Tokyo, which was 4000 yen (£22.50) for an unreserved seat on the 8.29 train.  The Shinkansen operates as a completely separate system from the other trains, with dedicated platforms and lines and I thought that was a good price for the distance.  About half the train has reserved seats, corresponding to numbers on the platform, and I was not sure where to stand with no reservation, but the other passengers guided me when I showed them my ticket.
Some stations have fixed barriers on the platform with gates that open automatically level with the carriage doors when the train stops.  Mishima didn't, but when the train came into the station, dead on time of course, it was an astonishing sight.  It was like an immensely long silver tube, stretching as far as the eye could see in both directions.  It was not crowded, and I got a window seat, the last remaining one in the carriage.
This route is part of the Tokaido Shinkansen, which runs from Shin-Osaka to Tokyo and is said to be by far the most heavily-used stretch of high-speed railway in the world.  There are different classes of Shinkansen, with varying numbers of stops, and mine, with four stops between Mishima and Tokyo, was the slowest.  Nevertheless, according to my phone, which knows these things, when it really got up to speed it was travelling very smoothly and quietly at 171mph.  For most of the distance it ran through a 1960s and 70s urban landscape, with glimpses of the Pacific Ocean in one area. Contrary to what I had heard, the station stops were quite long, so the overall journey time was 55 minutes for 75 miles.
Some people were not so lucky. On the other side of a station near Tokyo during one of the stops the scene was like the sort of thing you see in films of India, with a massive crowd of people waiting for an ordinary train, and I am sure the 'pushers' were ready to force the people into the carriage to make room for the doors to close.
At the barrier in Tokyo Station my return ticket disappeared into the machine and I explained to the man in the smart uniform nearby that the machine had eaten it, though not in exactly those words.  He took the side off the machine, extracted the ticket, and pointed out that it was not a return ticket in the first place, so I would have to buy another one to go back to Mishima.  This meant that the return fare was not £22.50 but a more realistic £45.
Tokyo Station is an absolute nightmare.  It is like all the main London Stations lumped together in one place, with 14 railway operators plus the metro.  Tokyo and its adjoining metropolitan areas have a total population of around 36 million, making it the largest city in the world by a considerable margin.  Like all transport hubs nowadays, the whole station is dominated by shopping malls, restaurants and other interests, making it very difficult to use for its primary purpose for anyone who is not there regularly.  The maps are good for little more than decoration, and information is hard to come by without walking enormous distances.  There is an even larger station on the western side of the city.
Eventually I managed to get my bearings and set off on foot northwards to the Transportation Museum and the Akibara Electronics district.  It was still raining fairly hard and the city streets presented a depressing sight.  By the time I got to Akibara I was pretty well soaked, so I thought it was time to get an umbrella like everyone else.  The shops in Akibara are dealing with foreigners all the time, and when I found an umbrella at the right price (approximately £3) I was rather amused to be offered the chance to reclaim the tax on it.  My friends will be surprised to learn that I didn't bother.
As might be expected, the electronics shops are enormous and stocked with all the latest gear, but the prices did not seem significantly lower than at home and there are the obvious disadvantages of not being able to return things if a problem
arises.  Back into the rain, and I trudged through the back streets for ages looking for the Transportation Museum, only to discover that the site had been redeveloped into something more profitable but less interesting.
It was not too far to the Imperial Palace, which turned out to be closed, and the guard standing in the rain on the pretty bridge over the moat looked as wretched as I felt.  Very little of the palace was visible without entering the grounds.
Next stop was Ginza, the shopping and entertainment district some distance the other side of the station.  The main street was lined with the famous names found in the Champs d'Elysee in Paris or the Konigsallee in Dusseldorf, but had a rather less opulent air about it.  As far as I am concerned such places are for walking down, imagining but not spending.  The vast expanse of neon does not seem entirely compatible with the clientele that might be expected to frequent these monuments to excess, but I was glad that I waited until dark to see the display at its best.
Rather surprisingly I managed to find the platform for the Shinkansen back to Mishima and was duly catapulted through the darkness at 179mph.  My day in Tokyo had not been a great success, due partly to the weather, partly to lack of planning, and partly because as far as I could see Tokyo is not a very attractive place anyway.
To Toyota in a Mazda, with a view of the Pacific
The targets for the next day were the Yamaha Plaza at Iwata and the Toyota museum near Nagoya, Japan's fourth largest city.  The day would be spent entirely driving through the massive industrial area in southern Honshu, so I decided to use the expressways and hang the expense.    For some distance road ran alongside the Pacific Ocean, and at Iwata I turned off and checked the details of the Yamaha Plaza, only to find that it was closed on Saturday.  Another piece of bad planning and my ownership of two Yamaha motorcycles would be unlikely to carry sufficient weight for them to open specially for me.
The Toyota Museum is situated between Nagoya and the city of Toyota, which was named after the company rather than the other way round.  The museum is not dedicated to the company's products but a very well presented and unbiased display of the history of the motorcar worldwide, including many rare and exotic exhibits.  Started by the Toyoda family as a textile machinery company, the firm was actually quite late on the car scene, its first models not appearing until the 1930s.
For my night stop I had chosen the Green Hotel in the little-known town of Okazaki and it proved to be best so far, as well as the cheapest, at about £29.  It was more like a traditional guest house, tucked away in the steep back streets not far from the centre.  The walls were adorned with pictures, mostly in heavy gilt frames, and the corridors were full of antiques, including large wooden carvings of lions, dragons and other animals.  The main street of Okazaki on a wet Saturday evening (yes, it was still raining) was thriving, with lots of restaurants and bars, and I managed to find adequate sustenance of some sort.  It was difficult to see what would attract visitors to the town, although the hotel was actually fully booked.
 Grand Prix chaos, rice fields, a Giant Buddha and dragon boats
The intention for the next day was to drive round Ise Bay to a town called Tsu and then cut across the mountains to Nara, the ancient capital of Japan before Kyoto and Tokyo. From Okazaki the Isewangen Expressway crossed the top of Ise Bay via three very spectacular bridges with fantastic views of the docks and shipyards south of Nagoya.  This is the kind of marine industrial landscape that hardly exists in Europe today, and certainly not in Britain.
Driving down the side of the bay I came to Suzuka and after a look at the waterfront I decided to have a quick glance at the Formula 1 circuit a few miles inland, before going on to Tsu.  This was a disastrous mistake.  Within a short time I met a lot of empty buses going the other way, and then came to an area of closed roads and diversions.  The truth slowly dawned that I had come to Suzuka to look at the circuit on the day of the Japanese Grand Prix!
It was clearly not going to be possible to get to Tsu without going many miles out of the way, so I had to find another cross-country route to Nara.  This was 'old Route 25', a more rural version of the main Route 25, passing through old villages and between rice fields.  Rice growing is hard to understand, because in towns people grow rice on tiny plots of land the size of a domestic lawn, and even in the countryside the fields are smaller than you would think to be economically viable.
Before going to Japan I always imagined that Kyoto was a small quaint town like Rye or Stow on the Wold, crammed full of ancient monuments.  In fact it is an industrial city with a population of 1.4 million, and the historical sites are spaced out over a large area.  Nara is smaller (368,000) and the sights are mostly concentrated within Nara Park, making it more like how I imagined Kyoto would be.  It is nevertheless an important industrial centre, being the headquarters of the Sharp Corporation, among others.
The strangely-named Hotel Cube was perfectly situated, right on the edge of Nara Park and within easy walking distance of the city centre.  It was difficult to get to, but had undercover parking, to my surprise.  Just across the road from the hotel was the temple of Kofuku-ji and its  five-storey pagoda, with the main entrance to the park not far away.  The really important thing to see is the Todai-ji Temple, in which the Great Buddha Hall houses the world's largest bronze figure of the deity, cast in 752.  Due to fires and earthquakes the head has been replaced several times, the present one being from 1692.  The current Hall dates from 1709, and until 1998 it was the world's largest wooden building. The Great Buddha is accompanied by a number of smaller statues, some them apparently covered with gold leaf.  Not far from the Great Hall is the wonderful Isui-en Garden, exactly as you would
imagine a Japanese garden to be, with lanterns, ponds, a stream and a teahouse.
Also in the park is the Kasuga Taisha Shrine, originally built in 768 but since demolished and rebuilt over 60 times, in accordance with Shinto beliefs.  The approach path is lined with around 3000 stone or bronze lanterns, some with flames alight.  Over 1200 small tame deer roam around the park and adjoining streets, with cartoon like signs warning that they can bite, butt, kick and push. They are regarded as 'messengers of the gods', but as soon as you sit down on a bench they will come to you hoping to get something to eat, which suggests that they are actually fairly mortal.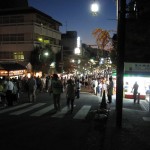 At dusk I walked past a lake on the way into the city centre for a meal, and saw that preparations were being made for a festival of some sort.  Dozens of big coloured lanterns like balloons with lights inside were placed around the shore of the lake, with a bandstand and lots of food stalls.  The main street was also full of stalls and all the shops were open.
When I came back an hour or so later the place was heaving with people, and two highly decorated dragon boats were making their way round the lake, accompanied by music from the bandstand.  It was not quite clear to me what it was all about, but everyone seemed to be enjoying it.
Down to business and a glimpse of vice
The next day I had an appointment at 11am with my business associates in Minoo, about six miles north of Shin-Osaka.   The most direct route, using expressways, was about 30 miles, and bearing in mind the time of day and reputation of Japanese traffic I allowed over 3 hours, including stopping for breakfast and petrol. It was slow going round Osaka, but I reached Minoo in 2¼  hours.
The first thing I had to do on entering the nine-story office block was to remove my shoes and put on some ridiculous floppy slippers that I could only get half way into. Mr.Seto commented that their Australian visitors had the same problem. At lunchtime we went out for a meal that was very much to my liking in a nearby restaurant.  I suspect that they remembered the last time they took me for a meal which was extremely difficult to eat with chopsticks, and when I had finished it looked as if a dog had been at the table.
At 4pm I took the car in to Times Car Rental, still unscathed after about 1000 miles in my hands, and walked down the road with my wheelie case to the Sunny Stone Hotel.  Apparently, when they choose English names they do it on the basis of whether it sounds nice to them, without much consideration of the meaning.  The Sunny Stone was a much better hotel than the LiveMax, where I had stayed the first night, and was about half the price, but, of course, the public holidays were now over.
Not far from the hotel was a slightly seedy nightlife area, with bars, restaurants and a Pachinko and Slot parlour. These are strange Japanese gambling dens in which rows of people, mainly men, sit for hours on end tightly packed in front of very elaborate slot machines that are a cross between a vertical pinball table and a fruit machine with lots of electronics.  In big cities these places can extend to several floors.  I had never been in one before, but I decided to have a look inside, and the first thing that hit me was the tremendous noise. Unlike the great casinos of Las Vegas, this was clearly not a public place, so I departed before getting too involved.
Gambling directly for money is not allowed, so the proceeds, if there are any, are converted into cash by some convoluted process.  On the bright Sunday morning when I walked through Shin-Osaka at 9am to pick up the car I passed people queuing round the block waiting for a Pachinko parlour to open, and it is undoubtedly addictive.  Anyone stressed out by the Pachinko can go round the corner to the Kintaro Relaxation Club, where they can relax in the company of other people who are relaxing.
Osaka shopping, a panorama, and a walk to the Red Baron
My flight home the next day was not until late evening, so I could spend the day in Osaka. As the weather looked fine I presented the umbrella to the young lady in reception, checked out and caught the Metro to Osaka Station.  Together with the adjoining Umeda Station this rivals Tokyo Station for size and confusion, but eventually I managed to deposit my wheelie case in the left luggage area and set off for the equally vast shops.  Someone at home had asked me to get something for them, and it turned out to be on the 11th floor of the 12-storey Hankyu department store. The lifts were under some pressure, and it took at least ten minutes to get back to the ground floor.  Surprisingly, I didn't have to take my shoes off.
One of the attractions of Osaka is the Umeda Sky Building, consisting of two 40-storey office blocks, bridged across at the
top by the 'Floating Garden Observatory', a structure containing a restaurant, garden, and observation platform.  A wide river runs through the city below, and the view is spectacular in all directions.  The last stage of access to the top is via a long covered escalator which is said to induce vertigo in some people, but it didn't bother me, which is unusual.
The view includes several bridges over the river, and from my map I knew that there was a Red Baron motorcycle shop at the far end of the third one along, so I decided to walk to it.  Red Baron must be the largest chain of motorcycle shops in the world, and is named after the World War 1 flying ace, although I don't think he had much to do with motorcycles or Japan. It was, by my standards, a very long walk, but there was plenty to look at along the way, including the view from the bridge.  Back at the station I retrieved my case, found the bus to the airport and eventually arrived home after being awake for more than forty hours.
Despite the obvious language problems Japan is actually a user-friendly country, in the sense that most of the time you can do what you want to do when you want to do it.  The people are as friendly and helpful as they can be given the difficulties of communication.  It is often said to be expensive and, like anywhere else, if you choose to buy your way through, staying in international hotels and eating in fancy restaurants, it will be.  However, if you operate at an all-Japanese level it is much more fun and far cheaper.
I found the driving easy, largely because other drivers are less aggressive than in Europe, and the traffic was no worse than in South-eastern England (which is not saying a lot).
.
.
CLICK ON PICTURES TO ENLARGE
United Arab Emirates and Oman  2015
The Emirates
The United Arab Emirates (UAE) actually consists of seven states or Emirates that were formerly, along with other parts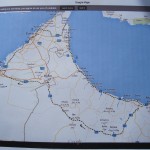 of the Middle East, under British rule.  After the British pulled out in 1971 they combined to form one country but still retained the internal divisions under control of the old ruling families, each headed by a Sheikh.  They are strict Muslim societies with no democracy as it is understood in the West.
The two largest Emirates, well-known to most British people, are Abu Dhabi and Dubai, the  others being Ajman, Fujairah, Ras al Khaimah, Sharjah, and Umm al Qalwain. Abu Dhabi is actually the capital of the UAE and by far the wealthiest Emirate, because it has most of the oil.  It is largely thanks to the generosity of the ruling Sheikh of Abu Dhabi in sharing his wealth at the time when the UAE was formed that the whole country has remained stable and prospered.
My plan was to fly with Emirates Air Line from Gatwick to Dubai International Airport, hire a car, drive across to the east coast, down to Muscat in Oman and back through the desert.   This would mean driving about a thousand miles in eight days, so I would be fairly busy.
For a change I was looking forward to the flight because it was on an A380, the world's largest passenger aircraft, with over 500 seats as operated by Emirates.  It was an overnight flight, arriving in Dubai at about 7.00am, by which time I had had no significant amount of sleep for about 19 hours.  Dubai Airport is one of the largest and busiest in the world, and getting from the plane to the terminal exit involves a long walk, a long train ride, and a long wait for the baggage to come through.  Eventually I got to the car rental office and picked up my Toyota Yaris, possibly not the most prestigious car in which to tour one of the wealthiest countries on the planet.
The earliest time I could check-in at the Ramada Beach Hotel Ajman, about 18 miles from the airport, was 2.00pm so I decided to take a small diversion to visit the Sharjah Classic Car Museum and spend the rest of the time on the beach until my room was available. Within a short time of leaving the airport I realized that this was a country of BIG roads, BIG roadworks, fast and furious driving, and a high rate of development in all respects. At home I had downloaded excellent offline maps of the UAE and Oman into my phone and tablet computer, both of which have GPS, so at least I could always find out where I was, but I would always be fighting against the very complex local traffic systems.
On the way to the museum I had a foretaste of what was to come when I was diverted by massive roadworks and finished up on what was clearly quite an old and run down industrial estate doing mostly metal fabrication.  Most of the people around (mainly men) appeared to be from the Indian sub-continent, and that applies to all aspects of the labour market in the UAE, especially where tourism is concerned.  Less than 20% of the population of the UAE are actual Emirati (Emirates citizens), and over 90% of the employees of private companies are ex-pats.
Ajman
After the museum I drove through Sharjah to the coast and turned northwards into Ajman, until I came to the hotel.  It had quite good reviews, but some people commented on the lengthy check-in procedure, which did seem complicated.  My room was not ready, so I was given a ticket for the private beach across the road with "Waiting for Room" written on it.  At the entrance to the beach the man would not let me in because there was no room number on the ticket.   He rang the hotel reception, who told him they now had a room number for me, but he would still not let me in until I went back to the reception and got the number written on the ticket.  After completing the check-in procedure, which took some time, I went back to the beach and found the man locked in combat with about six young ladies who were attempting to get through the gate.  This was the first of many "jobsworths" I was to encounter in the course of my trip, and eventually I gave up and walked along to the public beach next door.  This stretch of coast faces west onto the Arabian Gulf.
By early evening the lack of sleep was taking over and I retired for about 14 hours to catch up, being disturbed only by the periodic call to prayer from the loudspeakers on the mosque next to the hotel. They were indeed very loud, but for a visiting foreigner from a non-Islamic country it is an essential experience.
Although I had the maps in the electronic gadgets I wanted a paper map of the UAE to get an overview of the route I was taking around the country.  I had tried unsuccessfully to get one in England, so before setting off for the east coast the next morning I had a look round the shopping streets near the hotel.  The area is fairly European in character, but has the preponderance of barbers and tailors found everywhere in that part of the world.  Eventually I found a big LuLu hypermarket with the map I wanted tucked away in the middle of it.  Ajman, incidentally, has no public transport at all apart from taxis, in common with many other parts of the UAE.
To the East coast
From the hotel I had to drive eastwards through a large conurbation and had gone some way before I realized that I needed to get petrol before venturing into more remote areas.  I could not remember seeing a filling station anywhere, so I managed to find somewhere to pull off the rat-race multi-lane urban highway to consult the map in my tablet.  It showed only one petrol station within several miles, and that was awkward to get to, but there was really no choice.  I started to take a short cut and found that many of the side streets had a rough dirt surface, and just at that moment a strong wind came out of nowhere and caused a small sandstorm.
When I finally came to the filling station it had two pump islands with attended service and long queues, so it seemed that this really was the only source of petrol in the area.  The service was painfully slow and for some people complicated, with the process of filling the van in front of me involving several pieces of paper and signatures.  For a country with the world's third largest reserves of oil it was proving surprisingly difficult to get some into my tank, but at least it was cheap at approximately £0.32 per litre, less than one third of the price in Britain.
After a fast and boring drive on the Sheikh Zayed Bin Sultan Al Nahyan Road I reached the oasis town of Al Dhaid, where I risked a burger and chips in a café run by three shady looking characters and felt sure I would regret it later.  Al Dhaid is clearly a centre for desert-based leisure activities with a number of shops renting or selling off-road motor cycles and quads.
From Al Dhaid eastwards the scenery was more interesting, with camels in roadside pens and little goats wandering about in the desert scrub.  Shortly before the town of Masafi was the Friday Market (actually open every day), a long string of shops selling carpets, household goods, fruit and vegetables and the usual souvenirs for tourists.  The economics of this are a mystery to me.  As in other countries, like Morocco, the people selling the carpets expect tourists to buy them, but I cannot imagine how you would get a twenty foot square carpet from Masafi to a house on the south coast of England. It is also hard to understand what happens to the fruit and vegetables.  There were several large stalls piled up with them and from the relatively light traffic I could not see how there were anything like enough customers to buy more than a small proportion of the stock. The carpets and souvenirs could be dusted down for sale the next day, but surely most of the food would finish up being thrown away.
Soon after Masafi the road ran between slag heaps and I wondered what sort of mining operation had given rise to them.
As I drove on they got larger and larger, and it turned out that this was the start of the Hajar mountains, which in that area look like huge piles of earth, the most unattractive mountains I have ever seen.  The road went straight on to the coastal town of Fujairah, but I turned north towards Dibba and drove alongside the mountains for about 25 miles.  At Dibba the road runs through to a stretch of coast on the Gulf of Oman, with good sandy beaches and smart hotels.  According to the guide books this is a good area for a beach holiday away from the crowds.
A large part of the peninsular north of Dibba actually belongs to Oman, and there is also a little bit of Oman like a land-locked island in the mountains between Dibba and Fujairah.
My plan was to stay the night in Fujairah, about forty miles south of Dibba.  The road runs past coastal resorts with occasional sea views for most of the way until it comes to the hectic Fujairah port, which is the world's third largest oil refuelling port after Rotterdam and Singapore.  Fujairah is definitely a town here to come, with a massive area of development at the western end of the main street, including an international airport and several tower block hotels.  It is like a little bit of the USA on the east coast of the UAE and after booking in at the recently-built IBIS I went for a walk to soak up the lack of Arabian culture.  A few weeks before my visit, incidentally, two British men were arrested for plane spotting at Fujairah airport and were still being held on suspicion of spying.
Oman border to Muscat
My aim the next day was to drive down the coast road to Muscat, the capital city of Oman, a distance of about 180 miles from Fujairah.  The UAE/Oman border post is about 12 miles south of Fujairah, and I was deluded enough to think that as the two countries are friendly the border crossing would be quick and easy.  When I collected the car in Dubai I had to pay £60 extra insurance for use in Oman, and I was told that if "anything happened", a phrase that I have heard before on my travels, it was my responsibility to get the car back into the UAE.  I asked how I could do that, and they said there was an emergency number.  I could not imagine whom it would be connected to, but if you worry about such things you would not do anything.
At the frontier post I pulled alongside the kiosk and a man standing nearby indicated that I should move the car to one side and take my passport into the officer in the kiosk.  The officer took my passport and stared intently at the front cover for some time, before flicking through it and examining the contents in great detail.  He was obviously looking for my UAE entry stamp, which I pointed out to him, but he was not satisfied with that.  While this was going on he kept interrupting the process by dealing lorry drivers as soon as they arrived, and I thought I was going to be there all day.  He did not speak any English, but eventually another officer arrived who said something I did not understand, and a lorry driver behind me said "He wants 50 dirhams" (about £10).  Apparently it was tax and as soon as I paid it I was sent on my way, thinking I was in Oman.
But no.   About 300 yards along the road was another kiosk containing an officer who looked at my passport and sent me over to a building at the side, in which two men in uniform were sitting behind windows.  The first one looked at my passport and sent me to the second one. He looked at the insurance documents for the car and asked for the registration document. I  could not see anything like a registration document in the envelope with the car papers, so I said "I don't think I've got it". He replied "You've got to have it".  I went out to the car and to my amazement found it in the form of a laminated card in the glove box.  When I gave it to the man in the office he said "Card, please".  I said "That's it", and a lorry driver behind me said "No, he wants a bank card".  When I gave him my Barclaycard he charged 5 reals to it (about £10) and I asked what it was for.  He replied "Tax". So I had paid £10 exit tax to the UAE and £10 entry tax to Oman.
It wasn't all over yet.  The next kiosk contained a lady who asked for the small piece of paper.  I said I hadn't got a small piece of paper, but she said I must have, and after a frantic search among the papers on the passenger's seat I found it.  She stamped it, and 100 yards further along the road a man in uniform stopped me and took it from me.  At last I really was in Oman, and drove away wondering what would happen to the Austrian couple who couldn't find their insurance documents in the No Man's Land between the two countries.
From here the road was a wide, well surfaced dual carriageway with a two-way service road on either side the whole way to Muscat.  The eastern side, nearest to the ocean, was lined with businesses of one sort or another, ranging from rows of workshops to small farms, with some residential areas   We are talking here of a distance of over 150 miles.  Every few miles there was a junction with a roundabout and road humps, forcing the traffic down to walking pace momentarily, before resuming its manic speed.   Around the coastal town of Liwa, with its international container terminal, the lorry traffic was heavy, and I thought the general standard of driving was worse than in the UAE.  Speed cameras were fairly frequent, but ignored, and I think there is a belief that most of them are not working.
Muscat area
My guidebook suggested that a town called As Seeb, a few miles before Muscat, was a great place to experience everyday Omani life, and I decided to spend the night there.  On the way I went through a town called Barka, which had a wonderful fort like a children's sandcastle.  The guidebook and the map in my tablet both listed a hotel called Dream Resort near the beach as a reasonably-priced place to stay.  It had a strange sort of slightly upmarket holiday camp atmosphere, with massive opaque glass doors between the bedroom and the en-suite facilities, and other supposedly stylish features.  A letter of welcome on the table was signed Raj Shetty – Chairman and Managing Worker.
The town centre was within walking distance, and by the time I got there it was dusk, but it was still a hive of activity, with all the shops still open and very brightly lit.  The tailors, mostly from Pakistan or Bangladesh I think, were beavering away at their sewing machines and the barbers all seemed to be fully occupied.  There were lots of shops selling electrical, electronic and household goods as well as a wide choice of restaurants, and the whole place was booming.  The guide book was right.
After a long walk round and a really good meal in a restaurant with a menu that showed pictures of the food it was about 9pm and the tailors were still tailoring and the barbers still barbering with no sign of slackening off.
The next day I was intending to look around the Muscat area and then drive about 75 miles inland to a desert town called Nizwa.  From As Seeb I followed the coastline as closely as possible to a resort called Mutrah which faced on to a bay and harbour for container ships.  The place was a madhouse, with people fighting for parking spaces in the centre, but I found somewhere to stop to take a few photographs.  From here it was just a short distance to Old Muscat, which I expected would be full of tourists and impossible to park in.  In fact, there were few people there and it was easy to park with no charge, but I found it rather disappointing.   Apart from the Royal Palace, which is quite impressive, and two forts high up on the sides of the harbour, there is not a lot to see.  Like almost everywhere else, the place was full of barriers to do with roadworks.
The road from Old Muscat led round to Ruwi, which is the commercial hub and business district of the capital city.  The main street is a wide thoroughfare lined with banks and other modern office buildings comparable with anything to be found in Europe, leading to a square with a clock tower.   Nearby is a small bus station, but I did not see any buses, and public transport appeared to be minimal, as is usual in that part of the world.
Considering that it was mid-afternoon on a Tuesday the main highway through the Muscat area was amazingly busy, and looking at the map it is hard to see where all the traffic was coming from.   To get on to the road to Nizwa I had to go most of the way back to
AsSeeb and then turn off inland skirting the mountains.  This was still more or less a motorway, with long winding bends and hills, the inside lane being full of lorries travelling at about 40 mph and the outside lane packed with cars nose to tail at 75 to 80 mph.
This was absolutely not what I had expected Oman to be like.  I thought it would be a calm, quiet place, with a slow pace of life.  Apparently it was like that until about 1970, when the present Sultan came to power, and he has transformed it into an advanced industrial nation with signs of the emergence of a democracy.
Nizwa
The rat race gradually subsided as the traffic disappeared into settlements along the way, and by the time I reached the outskirts of Nizwa it became fairly civilized.  As I entered the town I turned off looking for a hotel called the Majan that I had noted down.  At that moment there was a clap of thunder and the heavens opened, producing within seconds the sort of flash flood that is common in the area.  To make matters worse I had taken a wrong turning and entered a village called Farq (or Firq), which is a maze of incredibly narrow winding lanes, at that time all completely covered with water so that it was not possible to see the edges of the road.  However, I could see that it was a wonderfully picturesque place, full of palm trees and ancient buildings, including many abandoned sandstone houses that had been left to erode away.  After blundering about for a while I got back to the main road and discovered the Majan Hotel in the middle of a long stretch of roadworks, but it could only be reached by following an awkward diversion.
It was actually on a sort of layby that had been part of the main road, and was now the other side of a large and possibly deep pool of water.  I left the car and walked along to the hotel, climbing over various obstructions to avoid the water.  As I approached the door the manager came out and appeared to be keen to do business, which I suspect was not terribly good under the circumstances.  We had a quick negotiation about the price and I asked him how to get to the car park.  He said "I will show you" and walked back to the water with me and said "Through there and behind the little house".  The "little house" was a concrete building like a domestic garage standing in a different pool of water.  I was rather doubtful about it, but at that moment a car similar to mine drove through and the water came just up to the bottom of the doors, so I decided to risk it.
Once sorted I went for a walk through Farq, which was immediately behind the hotel.  By now it was dusk, and I had to take care to memorize the route even though I had a map in my phone, because it really was like a maze of tiny lanes and junctions.  The buildings were a mixture of ancient and modern, with a fort and several mosques.  The sandstone buildings were fascinating,  because once they reach a certain state of deterioration due to erosion it is impossible to repair them and they are simply abandoned.  There was also a tiny general store, a tailor making women's clothing, and what appeared to be a communal washroom.
After about half a mile I turned back, and it started to pour with rain.  The air was warm but the rain was not, and I was resigned to getting soaked when a very stylish Toyota 4 x 4 pulled up alongside me, and the driver, a young Arab man in white robes, asked in very good English if he could take me somewhere.  I said I was on the way to the Majan Hotel, and he said he would take me there. As I thanked him and got into the car he said "It is my duty". When we got to the water I said I would walk from there, but he insisted on taking me right to the door of the hotel.
The desert and Al Ain
The plan for the next day was to drive to a town called Al Ain just inside the Emirate of Abu Dhabi .  Al Ain is actually joined to another town in Oman called Al Buraymi, and the area has a long history of border disputes up until quite recently.  Before leaving Farq I checked with the hotel manager that it was possible to get through the border at Al Ain, because otherwise it would have meant returning to As Seeb and driving up the coast, a round trip of about 400 miles.  There are more direct routes across the mountains, but my understanding was that they might not be passable without a 4 x 4, especially if the weather turned nasty.
The route through the desert from Nizwa to Al Ain is about 150 miles, and my maps showed about 60 miles of it as a twisty single carriageway road leading to a town called Ibri, at about the half way stage.    All the books say you should take a supply of water before venturing into the desert, so I followed that advice by taking a litre bottle of mineral water.  A large part of the way to Ibri was road works with heavy traffic where the single carriageway was being upgraded to motorway standard and in the event of a breakdown you would be more likely to die by being hit in the back by a fast-moving vehicle than from thirst or starvation.
From Ibri to the border the scene was entirely different, with a recently-built almost straight dual carriageway and little traffic.  To discourage speeding there were cameras facing both ways every kilometer although I doubt whether many were working.   So far the desert had been mainly scrub with a mountain backdrop, but it gradually changed to proper Sahara-style dunes closer to the border.
The actual border crossing was in the desert some distance before Al Ain, and when I went through the exit post on the Oman side there appeared to be no one there so I drove on to the first UAE checkpoint.  The lady there said I should have got an exit stamp from Oman, and sent me back, but before I could turn round I had to go right through the UAE security check and customs.  When I eventually returned with the Oman stamp the same lady sent me into a building labelled Arrivals Lounge.  The scene there was horrific.  There was a desk with two people processing passports and vehicle documents and rows of chairs with at least forty people waiting.  I was told to sit at the end of a row and my turn would come, which, judging by the rate of progress, would be in about three days time.  However, a man suddenly appeared holding about forty passports, and most of the people went back to their coach with him, so I was actually through in about half an hour.  Of course, I was subjected to all the security and customs checks again.
Al Ain was a pleasant surprise.  I was expecting a dusty desert town like Al Dhaid, but it proved to be a smart place with the character of a European spa, and even the traffic was calmer and more orderly than I had seen elsewhere on this trip.  The town has an abundance of hotels, all quite expensive by my standards, and I eventually settled for the Almassa, some distance from the centre.
The next morning I visited a place mentioned in all the guide books, namely Jebel Hafit, a mountain that rises up to height of 1350m (approx. 4400ft) from the plain on the outskirts of Al Ain.  A long, winding, well-made road leads to a massive car park at the top, with various view points on the way.   The views are spectacular, especially over The Empty Quarter, a vast area of desert stretching away into Saudi Arabia.  Close to the edge near the top is the circular Mercure Grand Hotel, the sort of place where James Bond would finish up hanging from the roof by his finger tips.
Abu Dhabi
It was time to move on in the direction of the west coast, towards Abu Dhabi.  It appeared that there were two parallel roads, one being the main motorway E22, and the other, maybe less busy, the E30.  The latter was easy to find and almost empty, although it was signposted Truck Road.  It was like that for about 50 miles and I was congratulating myself on finding such a good route, when it went down to single carriageway and for some mysterious reason filled up with slow-moving trucks in both directions.  After dicing with death for a while I cut through to the motorway until it reached the coast road near Abu Dhabi and then turned south to the Emirates National Auto Museum.
This museum is easy to find because it is housed in an enormous metal pyramid in the desert, visible from some distance away.  The centerpiece is a gigantic 1990s Dodge pick-up, so large that several normal pick-ups were parked underneath it, and hanging from the ceiling above is a portrait of the sheikh who founded and owns the museum.  The exhibits are many and varied from all over the world, with an emphasis on off-road vehicles suitable for use in the desert.
Back to Abu Dhabi city, a journey which consisted of a construction site for almost the entire 25 miles, followed by a search for a reasonably-priced hotel.  Such a thing does not exist in Abu Dhabi, and I finished up at the uninspiring and still quite expensive Airport Premier Inn.
The first port of call the next day was the Sheikh Zayed Grand Mosque, which one of the very few in the UAE open to non-Muslims.  Normally it is open for a while early every morning, but it was just my luck that it is closed on Fridays, the day I was there.  It is a truly vast and magnificent building, only just finished.
Next was the Emirates Palace Hotel, another recent construction, with over 400 rooms and 114 domes.  At the gatehouse I told the man in the smart uniform that I heard that it was possible to go in and look round.  He said "Yes, Sir, but not with shorts.  If you go away and come back with trousers you will be most welcome."  I turned round, found a building site (not very difficult) where I could change into trousers in the car, and went back.  The man sent me through to the visitors' car park without hesitation.  When I entered the main hall of the hotel I immediately saw several men in shorts, and I think double standards applied, i.e. Toyota Yaris plus shorts – No,  Bugatti Veyron plus shorts – Yes.
The hotel was vast and the décor opulent with, among the marble and gold, 1002 Swarovski chandeliers.  Personally I would have gone for something a bit more flamboyant, but I was attracted by the world's first Gold Vending Machine.  It is very easy to use.  You just decide whether you want 18- or 24-carat, select the brand (refining company), and pay with your credit card.  The gold bar then drops out like a can of Coke, albeit somewhat smaller.
From the Emirates Palace the road runs along the ocean front with the main part of the city on the right hand side, and at the end I turned off into the shopping and business area. It was Friday, which is more or less equivalent to Sunday in Europe, so parking at the road- side was free and easy to find.  Most of the shops and restaurants were open and after lunch I spent a couple of hours looking around the city.
Abu Dhabi city is actually on an island surrounded by other islands off the west coast of the UAE, and the motorway to the north crosses Yas Island, which is the site of the Formula One circuit.   Close by is a new mall with 350 shops, intended to rival those in Dubai, although it is nothing like as big, but I did glimpse IKEA, Debenhams and M&S.
Dubai, the mall and the World's Tallest Building
On the last day of the trip I had arranged to visit the Burj Kalifa in Dubai, the world's tallest building, at 11am, so I booked the cheapest hotel I could find within reasonable driving distance, this being the easyHotel in Jebel Ali port, south of Dubai city.  It is actually just outside the vast free port area, but I thought it was inside and finished up blagging my way through the customs post, but in the end it did not really matter.  This was my first experience of an easyHotel and there was nothing, absolutely nothing, subtle about it, with a big orange sign on the door of every room along the corridors stating easyHotel.  This was about as far from the Emirates Palace as you could get and there were definitely no gold vending machines.
Access to the Burj Kalifa is inside the Dubai Mall, the world's largest shopping mall by total area, with over 1200 shops, and as it was less than an hour's drive from the hotel I had time to look round before going to the tower.  The three car parks have a combined capacity of over 14,000 spaces, and if you forget to note where you left your car you can put the registration number into a machine and the car park cameras will scan all the number plates and tell you where it is. Just about every large retailer in the world has a branch in the mall, and I saw British, American, and German ones that are not normally found outside their home countries.   Fortnum and Mason have a big free-standing store in the area overlooking the lake next to the main complex.
The Burj Kalifa towers over everything around it in this city of skyscrapers.  It is not just the tallest man-made structure in the world, at 828m (over half a mile) it is by far the tallest, its nearest rival being the Shanghai Tower at 632m.  The Burj Kalifa has 163 floors, and poor people such as myself can go to the Observation Deck on the 124th.  Successful criminals and other wealthy people can pay a lot extra to go to the 148th.
After a small amount of queueing and a surprisingly unexciting lift journey the doors opened on to the Observation Deck, which has a circular walkway with windows facing in all directions.  I have a poor head for heights and am not usually comfortable in high towers, but this one felt totally stable, just like being on the ground.  It goes without saying that the view was fantastic, with a long stretch of coastline, including the Palm Jumeirah and other artificial islands.  The sail-shaped Burj Al Arab Hotel could be clearly seen in the distance, but in some respects the most impressive sight was looking down on to the tops of the 40- and 50-storey buildings far below.
From the Dubai Mall I drove across to the coast and northwards to the Jumeirah Mosque, which is another of the few open to non-Muslims.  Unfortunately I missed out again, because it is only open before 10.00am.
My flight home the next day was very early, so I took the car back in the evening and stayed at the Dubai Airport Premier Inn, with its purple décor contrasting nicely in my mind with the orange of the easyHotel.  The car had travelled over 1100 miles in my hands, which I think was rather more than the rental company had expected, and the man who came out to check it went over it with a fine tooth comb.  In the end we were scrutinizing tiny specks of dirt on the windscreen, but he ultimately had to sign the form stating that everything was in order.
A few notes
It was rather amusing to discover that my website (yes, the one you are reading) is banned in the UAE on grounds of "unsuitable content".  The most likely reason is that it contains an account of a visit to Israel.  Until recently anyone with an Israeli stamp in their passport would not be admitted to the UAE.  The Israelis got round the problem by putting the stamp on a separate piece of paper that had to be kept with the passport while the holder was in their country.
After eight days and 1100 miles I had still not seen any oil wells.  Most of them are deep in the desert in Abu Dhabi or offshore.
As mentioned earlier, most of the people I met were not Emerati or Omani nationals, and by the end of the trip I felt more as if I had been to India than Arabia.  Almost everyone spoke good English.
British influence is quite significant.  The UK style 3-pin mains socket is almost universal, rather than the technically inferior 2-pin Schuko type that has been foisted on most of Europe by the Germans.
Supercars are surprisingly thin on the ground, and you would see more in a day in the West End of London than I saw on this trip.  Apart from lorries most vehicles come from the Far East, with Mercedes, BMW, and Audi having a smaller market share than they have in Britain.
The cost of accommodation and food were on a par with Western Europe, but fuel and car rental were very cheap.
The rate of development is mind-boggling, and it is difficult to say where it is leading. I have a feeling that the end result will be more like Hell than Utopia, but I suppose it depends on how much you like shopping.
CLICK ON PICTURES TO ENLARGE
The Great Lakes – USA and Canada  2014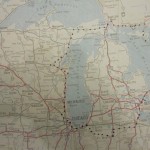 There are five great lakes, Ontario, Erie, Huron, Michigan, and Superior.  Lake Michigan is entirely within the USA, the others have shorelines shared with Canada. The only one I had seen close up was Lake Ontario, during a brief visit to Toronto years ago, but I had flown over the area a number of times on the way to other parts of the USA.  The striking thing was always the length of time it took for a plane travelling at nearly 600mph to cross any of the lakes, and the enormous extent of the shorelines, which looked more like those of oceans than lakes.
The plan was to fly to Chicago, rent a car and drive northwards more or less alongside Lake Michigan up to Lake Superior and then eastwards into Canada, skirting the north side of Lake Huron.  The preferred route would then be to take a ferry from Manitoulin Island across Lake Huron to Tobermory and drive down to Detroit, which I particularly wanted to see as it is about as close to a post-apocalyptic city as it is possible to get.  From there I would drive past Lake Erie and across to Chicago.  Needless to say there was an ulterior motive in this, as the area has traditionally been the home of the US motor industry and there were several car museums along the way that I wanted to visit
On arrival at Chicago I was given the usual hard sell at the car rental desk and finished up with a far larger car than I had ordered, although for only a small extra charge by European standards.  It was an almost new Dodge Durango 4x4 loaded with all the latest electronics including a keyless locking system which threw me into confusion when I tried to lock the car at the motel.  After spending a while with the handbook I managed to master that particular aspect of the vehicle operation, but with 74 pages of the book devoted to electronics I eventually concluded that the only people who would be able to exploit the features to their fullest extent would not  be old enough to drive the car.
Chicago
This was my first visit to Chicago, and I decided to dedicate a day to looking round the city.  Before leaving home I booked a 3-hour Segway tour for the afternoon, something I had wanted to do for a long time.  For readers who are still stuck in the 20th century I should explain that a Segway is a very high tech means of transportation consisting of an electrically powered platform on which the rider stands between two side wheels, the seemingly impossible balancing act being achieved by gyroscopes and computers.
The motel was near the airport, about 16 miles from the city centre.  Parking in the centre costs an arm and a leg, and as I would need both for the Segway I decided after some research to leave the car at a park & ride place at Rosemont, two miles from the motel, and go in on the 'L' or 'El' rapid transit system.  The name is derived from the original elevated  rectangular section of the network in the city centre, built in the late 1800s and called the Loop, a designation that is now applied to the general central area.  The Blue Line is the main public transport from the airport to the city, and I was quite surprised to find that it was almost empty on the Saturday morning. There were never more than about six people in the carriage, and most of the time only three, one of whom spent the whole journey slumped across his seat in a drink- or drugs-induced stupor.
In 2013 Chicago had more murders than any other American city, thereby earning the title of Murder Capital of the USA, although in terms of murder rate (number of murders per 100,000 inhabitants) it comes some way down the list.  The winner on that score is Detroit, which I was to have the pleasure of visiting later in the trip.  As I sat in the train and looked at some of the other passengers I did not feel entirely comfortable, but the vast majority of murders are drugs and or gang related, and the risk to tourists is not great.  The train travelled above ground for much of the time, and the suburbs were actually less densely built up than the older parts of London, with three- or four-storey wooden buildings amongst trees in many places.
On reaching the Loop I got off at a station called Clark and emerged into a typical American big city street, excepting that the 'L' ran high up along the middle of it on a massive and hideously ugly steel framework which was obviously much easier and cheaper to build than going underground.  As the system was extended much of it was put underground anyway.
It was mid-morning on a Saturday, a time when a European city would have been a hive of activity, but as I walked beneath the towering skyscrapers (and trains) there were few people or vehicles around.  I worked my way eastwards to Millennium Park and the enormous open lakeside area which fortunately has been protected from development by legal covenants put in place early in the 20th century.  The area is divided up into gardens, fountains, concert pavilions and numerous examples of public art, the only significant permanent building on it being the Art Institute of Chicago.
Alongside the park area is South Michigan Avenue, lined on the western side with imposing high buildings which make an impressive sight when viewed from the park.  At one point it is possible to look along East Adams Street to the Willis Tower (formerly the Sears Tower), the tallest building in the city, and once the tallest in the USA.  A sign in this street indicates that it is the start of the famous Route 66 which runs 2200 miles to Los Angeles, or at any rate, it once did, and quite a bit of it still exists.
Lake Michigan is 22,300 square miles in area (England is 50,300) so the lake shore is like a coast line and to some extent it generates its own micro-climate, with substantial waves under the right conditions, although during my visit it was dead calm.  Chicago is known as the Windy City but there was no sign of it while I was there.
The Segway Tour
About 20 people turned up at 2.00pm at the meeting place just off South Michigan Avenue, and we were divided into three groups.  Apart from me all the participants were American, and seemed to be quite normal, sensible people, with equal numbers of men and women aged between about 20 and 50 (again apart from me).  We were given bicycle helmets, shown a safety video and then pushed our Segways across the road to the park for a short practice session before being let loose amongst the unsuspecting public.  Our lady guide had restricted the machines to 6mph which seemed quite enough as we wound our way precariously through the pedestrians and vehicles at a busy road crossing and although by now the public must have been suspecting I thought they were amazingly tolerant of our near misses.  On the face of it riding a Segway is a quite unnatural activity, and I was surprised how quickly everyone seemed to get the hang of it.
Obviously you expect to fall over forwards or backwards when you get on it and there is a slight knack to getting started, but as long as you keep your weight over the centre of the platform it is not difficult.  To go forwards you lean forwards slightly and to slow down, stop or reverse you lean backwards slightly. Turning is achieved by moving the 'handlebars' sideways in the direction you want go, but they cannot be turned.
We seemed to going quite well when there was a loud crash and a lady member of the group was sprawled face down on the ground after hitting some ridges in the paving, but she was fairly unfazed and that was the only incident.  The youngest member of the group, a lad named Tyler, was by this time performing as if he had been born on a Segway. There is always somebody like that.
Once we got further into the park, away from the people, our guide raised the speed of the machines to a heady 10mph, which actually made them easier to control.  In the next couple of hours we covered quite a lot of ground in the lakefront area, including the Soldier Field (war memorial and stadium), Planetarium, Millennium Fountain and various other sights, with explanations by our guide.  She also pointed out the most expensive hotel suite in Chicago, overlooking the lake, at $10,000 per night, which made me feel that my room in the Travelodge Elk Grove Village was quite good value at $65.
The tour ended at an example of public art that might have been designed for examination by people on Segways.  Called 'Agora' and created by a Polish sculptor, it consists of 106 pairs of 9ft tall cast iron headless torsos, standing rusting in a group alongside Michigan Avenue.  Manoeuvring through the narrow spaces between the huge feet and legs of these weird structures provided an ideal opportunity for us to test our newly acquired skills. The designers of the Segway hoped that it would become a widely used means of transport, and although that aim was not achieved I felt that it was remarkable how easy we all found it to use after such a short time.
Another walk through the city streets and I was back on the Blue Line train to Rosemont, still as sparsely occupied and with the same congenial atmosphere as on the inward journey.
Moving on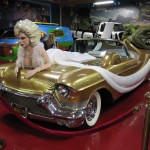 The next morning I set off northwards roughly parallel to the shore of Lake Michigan, but diverting inland to the town of Volo to visit Volo Cars.  This is a massive classic car dealership which also operates as a museum, with five large halls set in parkland, many vehicles also being displayed in the open if the weather is good.   Most exhibits are for sale, but some are permanently on show as one-off former show business props or connected with famous people like James Dean and Marylyn Monroe.   The cars were almost all in beautiful condition and the business is clearly very well run by dedicated people.
Next was a cross-country drive to Milwaukee, back on the lake.  The countryside in this part of the world is actually quite like parts of Sussex in England, with gentle rolling hills, well-wooded, and large areas of arable farming.  Although I am far from an expert in such matters, I got the impression that the farms here were considerably more prosperous than those I had seen in the southern USA a couple of years earlier.
In a report in 2014 Milwaukee was deemed to be the second most miserable city in the States. Within a few minutes of my arrival I was certainly miserable, because vast areas of the road system were dug up due to a massive public works project of some sort, with poorly signposted diversions.  It is likely that a high proportion of visitors to the city would, like me, be aiming for the Harley Davidson factory and museum, and
that proved to be surprisingly hard to find, even with the satnav and GPS phone.  Entry to the museum was via enormously high, heavy doors, which set the theme for the rest of the establishment, namely, heavy metal.  The interior was lavishly fitted out with stainless steel everywhere creating the impression of solidity and robustness that characterizes the company's products.  Dozens of bikes were on display, and spread over the walls were engines and fuel tanks covering every model ever produced.  One particularly striking exhibit was the bike that was washed up on the shores of Canada after spending 18 months crossing the Pacific Ocean following the Japanese tsunami in 2009.
It was time to take Interstate 43 north to my night stop at the Lakeview Motel in Two Rivers, near Manitowoc, a lakeside town that I had never heard of.  Between Manitowoc and Two Rivers was a large derelict covered shopping mall, including J.C.Penney, that finally closed in 2011 after over 40 years. According to the people in the motel it was a victim of the recession, along with other businesses in the area.  The Lakeview was a somewhat run down traditional motel with rooms overlooking the lake, or at least they would have been had there not been a thick mist when I arrived. A depressing end to the day.
To Lake Superior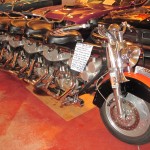 The next stage would take me to the northernmost point of the tour, on the shores of Lake Superior, a distance of about 200 miles.  As I set off from Two Rivers it was raining hard and still depressing, although now possible to see Lake Michigan.  A good breakfast at a remotely situated roadside place remarkably like an English pub (it didn't claim to be) cheered me up a bit, and I pressed on through Green Bay to Doc's Classic Car and Cycle Museum in a place called Bonduel.  This was a very good small museum attached to a Harley Davidson dealership with a stock of "about 100 machines" according to the man in charge, which was surprising considering that it was in the middle of nowhere.  I suppose people will travel a long way to buy a Harley.
The satnav managed to take me on a cross-country route to Marinette, on the shore of Green Bay, which is anoffshoot of Lake Michigan, and I then followed Highway 35 alongside the water up to Escanaba and Rapid River.  This should have been a fast drive but wasn't, due to multiple roadworks and somewhere along the line I lost an hour due to the change from Central Time to Eastern Time.  My map actually described this area as The Upper Penisular of Michigan, because it has a long border with Wisconsin, but is joined to the main part of Michigan only by a bridge.     
From Rapid River the road ran through the Hiawatha National Forest to Munising, on the southern shore of Lake Superior, where I quickly booked in at a motel and went for a wander round the town.  Small American towns are often worth a look and Munising was no exception, although there was nothing particularly attractive about it apart from a waterside area with a good view over Lake Superior.  At 49,300 square miles this lake is the largest fresh water lake in the world by area (about the size of England) and the third largest by volume.
The motel owner had given me a map marked with restaurants, and one caught my eye, namely the Bookshop Café, in the form of a large, deep shop with walls lined with secondhand books.  On one side was the food service area and the center (when in Rome) was occupied by a variety of country style wooden chairs and tables, including a rocking chair.  At one end of the room were two people playing the violin and as I sat on the rocking chair waiting for my meal I thought what a pity it is that the Americans export their McDonalds and Starbucks all over the world, but nobody knows about the really good places like the Bookshop Café.  A few people were looking at the books, and there were little tables with notices stating "After browsing please leave the books here and the staff will replace them on the shelves".  While I was there two or three teenagers came in on their own and looked at a few books before disappearing again, and surely anybody who can get teenagers into a bookshop deserves a medal.   Before leaving I had a look round and bought a book published in 1948 called "Sportsmanlike Driving" with illustrations of driving techniques, many of which would be frowned upon today.
To Canada
Breakfast at Hardees, then a quick look at Munising Falls and the lake view at Sandy Point before the rain started.  And when it came, it came.  My point of entry to Canada was to be a town about 130 miles away called Sault St.Marie, partly in Michigan but mainly in Ontario, and as I battled my way towards the frontier through the rain and roadworks in the seemingly endless forest I began to wonder whether my plan to one day drive thousands of miles through Russia to Japan was such a good idea after all.  Eventually I came to the short stretch of Interstate 75 leading to the bridge over St.Mary's River and the Canadian customs post where the lady officer said she supposed I would like a stamp in my passport.  It seems that it is optional nowadays, but I said I would and she sent me into a nearby building where a number of people in uniform were sitting doing nothing while I waited about 15 minutes for my stamp.
According to my guide book life in Sault St.Marie (apparently usually just referred to as "Soo") is great, although it didn't seem to me to have much going for it, but most places don't when they are dripping with water.  The road leading eastwards from here runs alongside  the St.Joseph Channel and North Channel which are connected to Lake Huron.  It rejoices in the ambitious name of The Trans-Canada Highway, something I would never have guessed had I not read it somewhere as it is mainly an ordinary single carriageway road with slow going and yet more roadworks.
At Blind River I found the Old Mill Motel on the main road, with grounds leading down to the lakeside.  It was only as I sat in the restaurant opposite that I realised that as well as the very busy road there was also a railway line running right across the entrance to the motel, literally 50 yards from my room.  The trains were enormous, mostly with two diesel locomotives and a vast number of freight wagons, travelling at about 20mph like American trains.  Apart from one train that came right through my room at 3am it was surprisingly quiet in the night.
It is possible to take a long overland route from Blind River to Detroit via Toronto, but my preferred course of action was to drive eastwards on the Trans-Canada Highway for some distance, and then turn south on to Manitoulin Island.   From South Baymouth on the southern tip of the island a car ferry runs to Tobermory on the Bruce Peninsular between Lake Huron and Georgian Bay.  The route would then follow the eastern shoreline of Lake Huron for about 200 miles, most of the way to Detroit.
Everything I had read about the ferry said that it needed to be booked in advance, but I decided to get up early and risk going without a reservation.  At 6.30am I emerged from my room to find that a big truck with some sort of track maintenance equipment was standing on the railway line across the motel entrance.  Extra axles with train wheels were lowered on to the track at the front and rear of the truck as I watched, and the whole thing was raised up, lifting the road wheels off the ground.  It then trundled off along the railway line.
To the turn off for Manitoulin Island was about 90 miles along the Trans-Canada Highway, still with lots of roadworks and trucks.  The latter are like American ones but even bigger, with more axles, and many have equally large trailers attached.  Eventually I reached Route 6 and the bridge over to the island.
If anyone ever asks you if you know anything they don't know, you can tell them that Manitoulin Island is the largest fresh water island in the world.  I am not sure how it would be measured because it consists to a great extent of lakes and inlets, but is scenically beautiful, with winding, hilly roads, certainly the best that I had seen so far on this trip.
Lake Huron
There was no problem in getting a ticket for the ferry at South Baymouth and as there were fewer sailings than I thought I finished up with a four hour wait.  South Baymouth is part of a township with a total population of 406, and after looking round the museum, old schoolhouse and coffee shop I still had three hours to spare.
The long wait was accounted for by the fact that there is only one vessel serving the route, a handsome white ship with the strange name of Chi-Cheemaun, which means 'big canoe' in a local indigenous language.  It is about the same size as an Isle of Wight car ferry, but the thing I noticed about it immediately was the lack of rust, as it operates only in fresh water.  The 25-mile crossing took two hours, and there was a decent restaurant on board serving proper English-style fish and chips, which are widely available in Canada but not in the USA.
Lake Huron has an area of 23,000 square miles, and is the second largest of the five Great Lakes.
The road leading south from Tobermory on the Bruce Peninsular was as boring as my guide book said it would be, and I decided to stay for the night in Southampton, the first town I came to.  It was very different from its English namesake, being somewhat smaller with a population of just over 3000 as opposed to 253,000.  At first sight the most notable feature of the town is an extremely large Canadian flag on a high pole near the beach at the end of the main street.  Close by is the mouth of the Saugeen River.
In a recent survey to find the country where British ex-pats were happiest Canada came out on top and as I went around I asked myself whether I would like to live there.  If you are planning to emigrate to a country you obviously have to consider factors such as taxation, healthcare, job prospects, property prices, schooling etc. that are irrelevant to tourists. It is easy to imagine living in places with dramatic scenery like the Rockies or Yukon Territory, but you would be far more likely to end up somewhere such as Southampton, Ontario.  It is a very pleasant town, with a main street lined with shops and restaurants, and as I walked around a few people spoke to me, but I just could not envisage living there.  A few miles south is a larger place called Port Elgin with shopping malls and industry, but apart from the area near the lake there seemed to be little of interest.
After I left my motel the next morning I was driving for many miles on a flat road with a view of wind turbines and power cables.  Looking at the map there appeared to be a vast network of straight roads with this sort of landscape stretching all the way to Toronto.
About 60 miles south of Southampton I came to a sign stating GODERICH – THE PRETTIEST TOWN IN CANADA, which intrigued me sufficiently to cause me to take a look. The story goes that a relative of Queen Victoria once stayed there, and upon hearing about the town the monarch said "It sounds like the prettiest town in Canada".  More recently this description was quoted by the present Queen and taken up with some enthusiasm by the authorities in Goderich.
In the centre of the town is a large octagonal roundabout called, rather oddly, "The Square", with a modern white courthouse in the middle of it.  For many years the Square and streets radiating from it were lined with large trees, but these were decimated by a typhoon in 2011 which caused a great of damage to the area.   I would stop short of saying that it is pretty, but, like Southampton, it came across as a pleasant place where people spoke to me as I walked about.
The road followed the lakeside from Goderich all the way to the US border at Port Huron in Michigan.  As at Sault St. Marie, the customs post was at the far end of a bridge, in this case with long lines of queueing traffic.  About 12 booths were open, but some cars were searched and it still took about 30 minutes to get through.
Sarnia and Port Huron are at the southernmost point of Lake Huron, and from here the St.Clair River runs due south to Lake St. Clair, which is only about 25 miles across, far too small to be included as a Great Lake.  As previously mentioned, Detroit does not have a lot going for it nowadays and I decided to stay the night in a small town called Roseville near the lake, where I found a Red Roof Inn surrounded by shops and restaurants.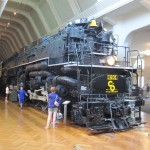 Before going into Detroit the next day I went to look at the lake and then drove across the city on the elevated Interstate 94, from which it was possible to glimpse some of the derelict buildings  for which the city is now famous.  I had set the day aside for the Henry Ford Museum at Dearborn, reputed to be one of the biggest and best car museums in the world.  The museum and factory complex is generally referred to as "The Henry Ford", and covers a vast area.  Set up by the Ford Foundation, the museum is by no means dedicated just to Ford products, but covers all forms of transport and other aspects of 20th and 21st century life around the world.  The only thing that detracted from my enjoyment was the beetroot and peanut butter sandwich that I just about managed to consume in the café.
As I was about to leave I saw a notice advertising tours of the production line at the nearby  Ford Rouge factory, where the F150 truck (pick-up) is made.  The F150 is one of Ford's best-selling and most profitable products, and the factory is a modern state of the art unit built as part of the company's recovery programme following the near collapse of the American motor industry a few years ago.  The driving force behind it was Bill Ford, the current boss, and it is on the site of Henry Ford's original factory.  The tour started with a bus ride of several miles, during which Bill Ford appeared on a screen, giving a brief talk about the company and the factory.  On arrival we were ushered into a movie theatre and shown a film about the history of the firm, followed by a weird and noisy symbolic representation of the production of a truck, which I thought was a waste of time.  We were then taken to the start of a gangway  that ran above the production line for most of its length, and told we could just wander along, taking as long as we liked.  Along the way were people and screens providing information about what was going on below.
Ford could certainly not be accused of lack of diversity in its work force, with people old and young, male and female, black and white on the line.  Maybe it was because it was Friday afternoon, but I did not get the impression that the workers were under very much pressure.  The F150 is a complicated vehicle, with a vast number of options in its specification, and it seems miraculous how all the parts arrive in the right places at the right time.
The tour finished high on an open terrace from which the whole of the Ford empire could be viewed.   At one time virtually every part of the car was produced by the firm on the site, which stretches as far as the eye can see, but nowadays manufacture of many items is carried out by other companies on a sub-contract basis within the original works complex.
Detroit
My motel was in a reasonably pleasant area midway between The Henry Ford and central Detroit, and after getting sorted I went along Michigan Avenue to get something to eat.   Rather to my surprise I realised that it was a Muslim district, with many of the shop signs in Arabic.  In a nearby snack bar I got into conversation with some well-travelled Americans, one of whom worked for the city council, and he warned me to be careful in the city centre, especially at night.  From what I had read about it, I had no intention of going there at night.
Not long after leaving the motel the next morning I started to come to derelict buildings, including the enormous and once prestigious Roosevelt Hotel.  It was Saturday, and as I had found in Chicago, the streets were almost deserted, with little traffic or pedestrians apart from a few down and outs.  Near the centre it turned into a reasonably smart business district, with wide streets and skyscrapers but still little activity, although two cars had somehow managed to collide, which seemed on a par with a mid-air collision between two aircraft.
I turned northwards and within a very short distance found myself once again amongst derelict buildings with open spaces where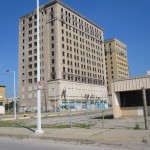 demolition had already been carried out.  To see  it for yourself find the junction of Park Avenue and Sproat Street on the Google map of Detroit, and then select Street View.  This will enable you to drive around the area with no fear of being mugged or anything, although as there was practically no one in sight I got out of the car and wandered about taking photographs.
It seems that as the motor and music industries declined the inner suburbs of the city completely died, leaving around 40,000 derelict buildings, a situation that is incomprehensible to most Europeans.  It is possible to go on privately organised tours of some of the more important buildings, often involving illegal entry and some degree of danger.
After this rather depressing scenario I did not need much encouragement to push on southwards towards Lake Erie and Ohio.
Lake Erie
The fourth largest of the Great Lakes, Lake Erie has a surface area of almost 10,000 square miles.  On its shores are large residential and industrial areas including Toledo, Cleveland (Ohio), Erie and Buffalo, giving rise to significant environmental concerns, especially over-fishing and pollution.  At the eastern end it is connected to Lake Ontario via Niagara Falls.
Interstate 75 between Detroit and Toledo runs close to the western end of the lake, and the main town on the route is Monroe, where I turned off and drove through a smart residential area to the shore.   The view across the water was serene and beautiful, with no hint of the problems mentioned above.
Back on the Interstate the road entered Ohio and traversed Toledo at rooftop level on the way to my next port of call, a car museum near a little town called Bowling Green with a really attractive main street.  Snook's Dream Cars turned out to be a well preserved former service station out in the countryside, the forecourt being graced with a superb 1950s Chevrolet convertible.  A notice on the entrance stated 'Open Monday to Friday and Weekends if you are Lucky'  It was Saturday, so I opened the door and shouted "Am I lucky?"   A voice from somewhere said "Come through", so I went through and discovered Mr.Snook, son of the late founder of the business, cleaning a car.  We had a long talk and I then wandered round looking at his father's excellent collection of cars and automobilia,  including those in two big buildings at the back that are not normally open to the public.  For a change I was lucky.
A cross-country drive on ordinary roads then took me to the town of Auburn in Indiana.  Classic car enthusiasts will recognise Auburn as the name of a famous car of the 1920s and 30s, and town is actually a petrolhead's paradise, with three museums.   After booking in at the Super 8 motel I made my way to the Auburn Cord Duesenberg Museum, which is in the former factory where the cars were actually made.   These were big high performance luxury cars, and the museum is of a size and standard commensurate with the quality of the products.
This left two other museums in Auburn for me to visit the next day, as well as the Studebaker Museum at South Bend, but my plans were disrupted when I got in the car the next morning and found a picture on the instrument display showing a tyre plan with one tyre at half pressure.  The National Automotive and Truck Museum was not far away, and I thought there would be someone there who might give some advice about where I could get the tyre sorted out, especially as it was Sunday.
They were very friendly people and inflated the tyre to its proper pressure, but discovered a screw embedded in it close to the side wall.  They let me call Alamo Car Rental on their phone, and Alamo said I should take the car to Firestone at Fort Wayne, about 20 miles away.  When I got there Firestone said the tyre was not safe to drive on, and as they didn't have a replacement they put the restricted-use spare on, which was only good for 50 miles at 50mph.  They arranged for me to go to Michel Tires Plus at Columbia City, 15 miles away. Michel's had a tyre, but Alamo refused to pay for it, because Michel's were not their accredited agent!  By now this had been going on for six hours, and I had to get the matter resolved, because I needed to be at Chicago airport by midday Monday, and that was 150 miles away.  In the end I paid for a new tyre, about $200, and hoped I could eventually get the money back from Alamo.   At least I was on the road again, and pushed on to Michigan City, which is actually in Indiana, and is a great deal less imposing than the name suggests.
When I took the car into Alamo the next morning I was expecting an argument about the tyre, and was astonished when, after a short wait, the manager presented me with the full cost of it in cash.  I had always thought car rental companies didn't know what cash was!  Alamo sometimes come in for criticism, but in this instance they were quite fair.
The trip was rounded off with a spectacular thunderstorm at Chicago that later made the BBC News in England, and the plane was inching forward on the ground for 4 hours 30 minutes before finally taking off.
The scenery on this trip was not as spectacular as the title might suggest, mainly because the route I took around the lakes did not rise to any great elevation, but it gave me an insight into a part of the States I had not seen before, and two of its most iconic cities.
CLICK ON PHOTOS TO ENLARGE
Iceland 2013
As the plane approached Reykjavik I was expecting a magnificent view of mountains, glaciers, smouldering volcanoes and waterfalls, all the things I had read about.  Instead of that, once we broke through the heavy cloud cover all that was visible was a flat, barren, treeless landscape with an assortment of buildings that looked like a large military airfield.  Not surprising, because that is what it was, built by the British when we invaded neutral Iceland during World War II, to prevent the Germans from doing the same thing.  I don't remember being told about that in school.
In the arrivals area a man from Sixt Car Rental was waiting for me, and took me to their depot, where I was introduced to my car, a blue Chevrolet Spark.  The Spark is not detectably related to any American car of that make, but a tiny, substantially blinged-up descendent of the Korean-built Daewoo Matiz.
Reykjavik International Airport is not actually near Reykjavik, but in Keflavik, a much smaller town about 30 miles away, right on the tip of the Reykjanes Peninsular in the extreme south west of the island.  The dual carriageway from the airport to Reykjavik has been described as the best road in Iceland in terms of a transport link, and that is probably true, but it runs for miles through the above-mentioned featureless landscape before entering the city.
Iceland is four-fifths of the area of England, with a population only slightly greater than that of Coventry (330,000), and two-thirds of those live in the south-western corner of the country, so it could hardly be described as densely populated.
Reykjavik
Reyjavik comes across as a thriving city, with an excellent road network running through extensive suburbs including a fair amount of industry.  My hotel was easy to get to, about a mile from the centre, just off a main thoroughfare called Borgetan lined with large modern commercial buildings.
The temperature was about 6 degrees, and it started to rain as I walked to the centre under the heavy grey sky.  This was just how I had imagined Iceland would be.  The daylight hours near the autumn equinox were similar to those at home, which gave me about three hours to look round before dark.   It was approaching the end of the holiday season, with some attractions and services already closed, but there were still plenty of tourists around.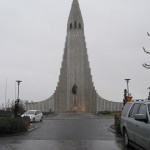 For a capital city Reykjavik has relatively few imposing buildings or 'sights'.  By far the most striking building is the Hallgrimskirkja, an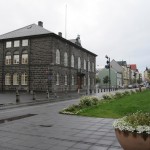 immense concrete church with dramatic architecture, built between 1940 and 1974.  It towers over its surroundings and is featured on every postcard and picture of the city.  Another notable building is the Alþing or parliament house, built of basalt in the 19th century with a modern glass and concrete extension.  The whole complex is no larger than most English town halls.  The main street starts quite downmarket, lined with shops of increasing quality as you go westwards, finishing in a pleasant little tree-lined square, but none of it is terribly impressive.  Tucked away amongst the more modern buildings are some with the traditional wooden construction covered with corrugated iron sheet, as seems to be the norm in all cold places.
However, bars, cafes, restaurants, pubs and clubs are not in short supply, and apparently every Saturday evening there is an almighty pub crawl called the Runtur, which takes over the whole city centre.
Mention of the Alþing brings me to matter of the Icelandic language, which uses the same character set as English, but with a few additional ones.  The most used extra characters are þ and đ, both pronounced 'th' but slightly differently.  Almost everyone I met in Iceland spoke good colloquial English with little accent, and sometimes I got the impression that they speak it amongst themselves.  Lots of signs and notices are in English, sometimes only in English. Place names can be difficult, because many of them are very similar and hard to remember, like those in Wales.
The Golden Circle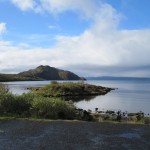 This is the real tourist trail.  Within a region about 40 miles east of Reykjavik is the Þingvellir National Park,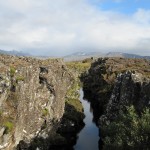 incorporating the largest lake in Iceland, and some of the best known sights in the country.  This area lies on the boundary of the North American and European tectonic  plates, which are slowly moving away from each other, causing spectacular fissures in the landscape where the rocks have literally been torn apart.
A drive round the north end of the lake leads to the hot springs area, with water at 80 to 100 degrees C. emerging from steaming pools of mud next to the road.  Adjacent to these is Geysir, the original geyser that gave its name to others all over the world.  Unfortunately Geysir, which spouted to a height of 80 metres, became blocked years ago by stones thrown into it by tourists, and although it has recovered to some extent following an earthquake the main attraction now is the nearby Strokkur.  Strokkur erupts spectacularly every few minutes, sending water up to 35m into the air.  When I arrived I joined a group of people standing on one side and watched it spout for a couple times.  It seemed
to me that the view would be better on the opposite side and I moved round to there, but realised when the geyser performed why the other people had not done the same.  The water had actually cooled considerably by the time it came down to drench me.
This was the first but far from the last time my camera nearly got soaked, and one thing you definitely need in Iceland is a waterproof camera.  On many occasions I saw people with expensive and complicated cameras (mine is not) standing in precariously wet conditions.
After the geysers the next stop on the tour circuit was Gullfoss, a magnificent waterfall, wide rather than high, like a miniature version of Niagara Falls but on two levels.  Public access is free and well organised, although it does mean quite a bit of scrambling about to get the    best views.
The road Rt. 35 northwards from Gullfoss is one of the few leading into the interior, and the only one apart from the Ring Road that goes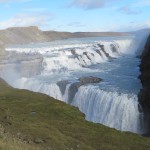 right through to the north of the country without fording any rivers.  In the summer it is used by toughened-up buses and by some locals with ordinary cars, but rented cars are not permitted to use it unless they have four wheel drive.  Apart from Rt.35 virtually all roads leading into the interior from Rt.1 have the prefix F, which means that they do not have a sealed surface and can only legally be used by 4x4s.  Had I realised how restricting this would be I would have rented a 4x4, but I was led to believe by Lonely Planet that an ordinary car would be suitable for most purposes, which is not the case.
From Gullfoss I cut across to Rt.30 leading southwards and even that involved a few miles of loose surface before coming back to tarmac and eventually Rt.1.  For much of the way the most prominent feature of the landscape was Heckla, perhaps Iceland's best known volcano until Eyjafjallajökull erupted in 2010.   That last eruption was not expected at all, and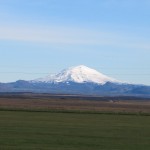 in the normal order of things it should have been Hekla, which had established a pattern of erupting about every 10 years, the last time in 2000.  Viewed from Rt.1 Heckla appears as an almost perfect snow-capped cone, reminiscent of the iconic view of Mount Fuji in Japan, although Fuji is far higher.  To my disappointment Hekla was not smoking, and was  covered in snow at the top, although apparently the crater floor is still hot.  It is possible to climb it, but that can be risky because it takes about four hours to get to the summit, and when it erupts it only gives about two hours warning.
Further to the east just off Rt.1 a few miles from a small town called Selfoss was my second night's accommodation, an isolated farm guesthouse. The Guesthouse Lambastedir had 11 rooms in an almost new building separate from the farmhouse, and was basic but scrupulously clean.  Amongst the guests were an American couple from Colorado who had been there for three weeks and were immensely enthusiastic about it, although they seemed to sit looking out the window at the flat and relatively featureless landscape most of the time.
On the advice of the friendly owner of Lambastadir I went into Selfoss for a meal at the Kaktus restaurant. As far as I know cactus is not on the menu, and I had fish and chips.  The town is described by LP as witlessly ugly, which I thought was a bit over the top, although it is rather like an industrial estate apart from the area around the river.
Back at the Lambastadir I asked the Americans whether they had seen the northern lights, which is something I hoped to do, and they
said they had looked every night but the weather had been overcast most of the time that they had been there.  At 9.00pm I went outside and it was a wonderfully clear sky with an exceptionally strong full moon, but no sign of the aurora borealis.  At 11.00pm I checked again, but still nothing.
However, this heralded a change in the weather which was to last throughout my stay in Iceland and the next morning was cold but bright.  The first port of call was the Urridafoss waterfall, a smaller version of Gullfoss, where I was able to enjoy the view entirely on my own.
By now I realised that foss  meant waterfall, and the next stop just off Rt.1 was Seljalandsfoss, in which the water tumbled over the edge of a high cliff in a comparatively narrow stream.  A rough path led down to the base of the fall and round behind it,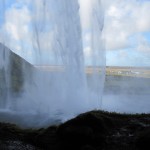 rising again, even rougher, on the other side.  Predictably, the stretch immediately behind the fall was rather wet, but I had to risk a photograph through the curtain of water.
A few miles farther along Rt.1 the road passes close to the infamous Eyjafjallajökull, which is now, like most Icelandic volcanoes, covered with an ice cap.  Right at the foot of the mountain is a farm which was devastated by the eruption but has since recovered to have good harvests and is benefitting from the increased tourism.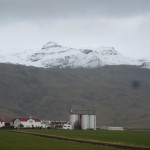 Like me, the pronunciation of Eyjafjallajökull probably defeats your imagination, but in every tourist shop in Iceland tee shirts can be bought emblazoned with a phonetic explanation in English – AY-yah-fyah-lah-YOH-kuul.  During the eruption the efforts of British television newsreaders to pronounce it were a source of great amusement in Iceland.
Following Rt.1, a flat, smooth-surfaced road with the mountains on my left and the coast not far away to the right brought me to Skógar and yet another waterfall, Skókarfoss.  This was like a larger, much wider version of Seljalandsfoss, but it was not possible to get behind it or even very close to it without getting wet.  A long winding flight of steps led up the mountainside to the top but after the first couple of  hundred I decided that it was not worth the effort.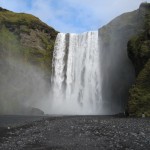 In the village of Skógar is the wonderful Folk Museum which covers all aspects of Icelandic life.  It is an unbelievable collection of old buildings and artefacts gathered over more than 70 years by one man, who is now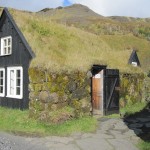 at least 90 years old.  As I looked around he came up to me and introduced himself, speaking good English, and gave me a short personal tour of some of the exhibits.
Amongst the buildings outside is a row of turf-roofed cottages from the 19th century, with the tiny rooms furnished in the original style.  In a separate complex nearby is the Transportation Museum, in which vehicles and communication systems used in Iceland throughout the 20th century are displayed.  This includes examples of cross-country and military vehicles dating back to the 1920s, including a rare Cirtroen Kegresse half-track truck, one of the few vehicles that would have been capable of travelling across the interior in the winter.
This spurred me on to try going off the beaten track again, towards the Mýrdalsjökull glacier, an ice cap covering the volcano Katla, which is also due to erupt before too long.  The road (Rt.222) was ok for a while, but then became increasingly rough until it reached a yellow sign stating IMPASSABLE .  By now stones were banging against the underside of the car and the sign clearly meant what it said.  Foiled again.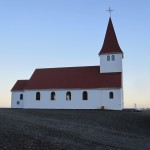 My night stop was to be in Vik, a tiny coastal town acclaimed for its beauty.  The road climbed for a while before Vik and then dropped down into the town, with a pretty little church perched on a hill above it.  The setting was undeniably beautiful, but the town itself was not, consisting of streets in a grid pattern lined with buildings in which function took priority over form in most cases.  There were two or three functional hotels and a functional filling station cum restaurant on the main road.  This afforded a good photo opportunity of my tiny car parked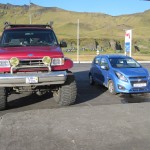 alongside one of the enormous special 4x4 vehicles that are used for journeys into the interior, and confirmed that I did not stand much chance of driving far off the main road.
The hotels were ridiculously expensive for what they were, but adjoining the Hotel Lundi was the Guesthouse Puffin, recommended by LP despite being described, correctly, as having very thin bedroom walls.  They also mentioned a 'possibly haunted lounge'.  Probably haunted by people who had dropped down dead on learning the prices of the hotels in Vik.
Once sorted in my tiny room I drove down to the beach which was covered with coarse black sand typical of volcanic areas.  This was said to be good place to see the puffins that live on the adjacent cliffs, but they were out at the time of my visit, so I climbed up to the church which afforded a good view over the town and sea.
Back to Reykjavik and the WestCoast
One problem with Iceland is that once you leave the south western corner you are confined to places not far from the ring road unless you have a vehicle suitable for going into the interior. The ring road is 832 miles long, which I could hardly complete in the time that I had left (1½ days), so the next day there was no alternative to retracing my steps in the direction of Reykjavik.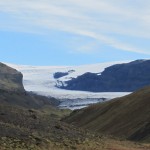 Looking at the map I realised that there was another road, no.221, leading towards the Mýrdalsjökull glacier and while it eventually became too rough I was able to get close enough for a decent photograph.  It was then a straight drive back to the outskirts of Reykjavik and up to Akranes, a small town on a peninsular about 30 miles north of the capital.
Between Reykjavik and  Akranes is Hvalfjörđur, a fjord under which a four mile long toll tunnel has been built to save a detour of about 40 miles.  The fjord did not seem to have a very high scenic value, so I took the tunnel.
Akranes was actually a fairly plain town, with a short promenade and beach, most of the waterfront being taken up by a massive and ugly fish processing factory.  This was offset to small extent by some quite attractive traditional house in various
colours and a nice wooden church, but on the whole Arkanes was not a place where one would really want to spend a lot of time.  I decided to go back to the hotel in Borgetan and have another look at Reyjavik, where, in the evening, there was an absolutely magnificent sunset which everybody was talking about the next morning.
Hafnarfjörđur,  Keflavik and home
Just off the road from Reykjavik to Keflavik is a fishing port called Hafnarfjörđur.  In a café somewhere I had read an article about whaling in an English-language newspaper published by an American living in Iceland.  Whaling was stopped in the country in 1989, but resumed a few years ago to protests from around the world, including from within Iceland itself.  The article I read was anti-whaling, and showed a picture of a partially dismembered whale carcase on the quayside in Hafnarfjörđur.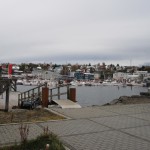 So far I had seen a fair number of towns and villages in Iceland, none of them very attractive, but Hafnarfjörđur was definitely an exception.  The main part of the town is on one side of the harbour, with a promenade, and a short drive round to the north side leads to a large open area with traditional white cottages and other old buildings dotted about on it.
On the far side of the harbour is the very large commercial fish landing and processing complex, with a network of roads running through it.  I drove around but there was no sign of whaling activity, and I have no doubt that it is kept well out of the sight of the prying eyes of Greenpeace and suchlike.  Hafnarfjörđur is also a base for whale watching tours, so they make money out of taking people to enjoy watching the whales and also out of killing them, though presumably not at the same time.
Before taking the car back I had a look at Keflavik, but if I had failed to do so I would not have missed much.
On the plane going home I sat next to a young British couple who had travelled out on the same flight as I did.  They were obviously quite well off and travelled a lot, but it was interesting to compare how they had spent their time in Iceland.  They had been on a whale watching tour, but were not sure whether they had seen any,  They went on a 'northern lights' tour (might have seen the aurora), and did a quad bike excursion which he thoroughly enjoyed and she hated.  Otherwise it was all great hotel and fine dining.
Icelandic oddities
Names
A bit about the strange system of Icelandic names.  After marriage a woman does not take her husband's name, she continues to use her own.  Male offspring have a surname made up of the father's first name with 'son' added to it, and female offspring have a surname consisting of the father's first name with 'dottir' (daughter) added to it.  Putting this in English terms, if John Smith marries Mary Jones they continue to be John Smith and Mary Jones.  If they have a son named Brian, his name will not be Brian Smith, but Brian Johnson (Brian son of John).  If they have a daughter named Emily she will be Emily Johndaughter (Emily daughter of John). Thus all four members of the family have completely different names.  Further offspring will have the surnames Johnson or Johndaughter, according to gender.  People are generally referred to and listed in the telephone directory by their first names.
This arrangement would appear to be a nightmare for genealogists, but genealogy is actual a popular subject in Iceland, and there is a well established system for dealing with it.
Little People
Many Icelanders seriously believe in the existence of elves, gnomes or other little people, and make provision for them in their everyday lives.  It is quite common to see little wooden houses in gardens to provide accommodation for them.  In early 2014 it was reported that the planned route of a new main road had been changed because it was believed that such people were living on the original one.  Still, we do it in England for newts.
 Israel and Palestine 2013
Hardly a day goes by without Israel being in the news, and with its complex political and social issues, as well as its history, I thought it would be an interesting country to visit. There is a perception in Britain that it is a dangerous place, and parts of it are, but if you read up well in advance and keep an eye on developments while you are there the risk is low.
The Foreign Office advises strongly against visiting the Gaza Strip, some areas close to Lebanon, and parts of the West Bank unless you are accompanied by someone with local knowledge.  For basic planning I used a large scale National Geographic map and a recent Lonely Planet Guide (LP), which was unusual in having sections on 'What to do in a rocket attack', 'Minefields' and 'Gas Masks'. The internet also provided a lot of information, some of which proved to be of dubious accuracy.
There were stories about people having big problems in immigration, being held up for hours, strip searched and having their computers shot to pieces.  To some extent this was supported by LP and as a result I did not take my netbook.  In the event the immigration officer asked me if I had relatives or knew anyone in Israel, and when I answered "No" to both questions she just said "Welcome to Israel" and waved me through. Israelis I spoke to in the country dismissed the stories as anti-Israel propaganda. Anyway, I made sure I had clean underpants, just in case.
The plan was to stay one night in Tel Aviv, hire a car and work my way round the country for eight days, going to as many interesting places as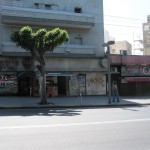 possible.  At the beginning of May the temperature in Tel Aviv was supposed to be in the range 15 to 25°C, which would be quite pleasant after the long cold winter in England.  In the event, when the plane landed at 7.30pm it was 38°C (100°F), the normal figure for July and August. 
Another shock came when the taxi pulled up outside the hotel I had booked on the internet. The address was 42 Allenby Street, one of the main thoroughfares in Tel Aviv, and as we stopped the taxi driver pointed at a boarded up building and said "That is number 42".  Sure enough, amongst the graffiti was a faded plate with 42 on it.  For a moment I thought I had fallen for the scam of booking and paying for accommodation that did not exist, but then we saw a sign a few feet away with 'Sun City Hotel – Entrance round the corner'.  After booking in I went along the road to get something to eat (it was 9pm) and decided that it must be quite a safe area, because there were scantily-dressed young ladies on the nearby roundabout enjoying the warm evening.
Burning up in Tel Aviv
The next morning I went out for breakfast and a stroll through a street market before checking out of the hotel. At 10am it was already 36°, with the sun blazing down, and after a short time on the beach I began to feel unwell.  The heat was just more than I could take after months of cold weather, and I retreated to a nearby McDonalds for coffee and an ice cream. 
Once cooled down I felt better, but the car would not be available for collection until 3pm and I realised that I could not just wander about in the sun.  From the map I saw that there was a large shopping mall not too far away, and decided to take refuge there.  It was certainly not the way I would have chosen to spend my time in Tel Aviv, but it was a question of survival.  At the entrance to the mall was an airport-style security check with a metal detector and a man searching bags.  This is routine procedure at shopping malls, railway and bus stations, post offices and most public buildings.
At 2.30pm I arrived at the car hire office in a state of near-exhaustion after walking through the streets with my heavy wheelie case.  The car was ready, a white Nissan Micra, which seemed appropriate for touring the Holy Land, as my local vicar has one.   His is probably not air-conditioned, but fortunately mine was, and within a short time I was travelling comfortably northwards to my night stop at a tiny coastal resort called Mikhmoret.
Israeli drivers are reputed to be unpredictable and aggressive, but the people who think that have not driven in Albania, Poland or Russia, and I did not find the driving to be too bad.
Mikhmoret turned out to be a village in the sand dunes, and I drove around for miles on sandy tracks before eventually finding my accommodation, which was imaginatively called 'The Resort'.  It was a complex of two-apartment chalets and tents, and the whole atmosphere was very relaxed, with the staff sitting on an open verandah.  The man in charge, a South African back-packer type named Mike, showed me to my en-suite room in a chalet and explained that I would be sharing the kitchen with the occupant of the other room. I could not complain about that, because I was not expecting to have a kitchen at all.  Mike said I could eat at the Banana Beach Café or get some food from the supermarket not far away.  The café was not very inspiring, so I chose the supermarket, and when I got back to the chalet the occupant of the other room was preparing her meal.  She was a fairly mature Dutch lady who had once been married to an Israeli and came back to the country every year to work as a volunteer on an agricultural kibbutz.  She had found out that Mike and his South African assistant were also volunteers working for the trust that owned 'The Resort'.
Voluntary work has always been a big thing on kibbutzim (plural of kibbutz), and apparently still is, but to me it didn't quite seem to fit in with the present day dynamic economy of Israel.
We sat outside to eat, and afterwards Clara made some green tea, consisting of tea bags in glasses of lukewarm water with no milk (or sugar in my case).  This confirmed my longstanding view that the Dutch have no idea how to make tea. I have Dutch friends, or at least did have until the subject of tea was raised.
Haifa, Nazareth, Sea of Galilee.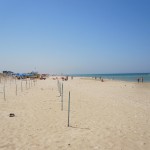 Haifa is only about a 40 minute drive from Mikhmoret and the road enters the town with beaches on the left and modern buildings with the names of high tech companies on the right.  Adjacent to the beach were massive free car parks, and as the weather was within the realms of sanity at last I went for a long walk.  It was Tuesday, but a very large number of people seemed to have found the time to go to the beach.
Back to the car and into the town.  The road started to climb.  And climb, and climb, and climb, until I suddenly realised that I was climbing Mount Carmel.  Near the top I managed to park and look at the view over the harbour and Mediterranean coast to the north.  Finding the road out to Nazareth was not easy, but eventually someone told me to keep going downhill until I came to 'the big road'.  My 2012 map showed a squiggly main road to Nazareth, but such is the rate of development in Israel that most of it had been replaced by new super-highways, and it took only a short time to cover the 30 miles.
When I first examined the map it seemed very strange to see what looked like quite ordinary places bearing names such as Nazareth, Jerusalem,  Bethlehem and Jerico.  Direction signs and place names are usually in Hebrew, Arabic and English, but street names, if they exist, are often only in the local language. Hebrew and Arabic are entirely different but equally impossible to read for anyone with no basic knowledge of the characters.  The situation is further confused by the fact that there are often different ways of spelling place names in Roman letters, for example Bethlehem can be Bayt Lahm, and Ashkelon can be Ashqelon.
Most towns are predominantly Jewish or Arab, and it is immediately possible to tell which from the shop signs and other notices.  Nazareth is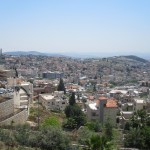 Israel's largest Arab city and was said to have terrible traffic jams, which certainly turned out to be the case. As soon as I reached the first traffic queue I turned off into a side road and parked, opposite to a big district police station high up on a hill above the city.  The LP guide had a tiny map of Nazareth and I set off to find the Old City.  The weather had turned hot again and as I walked down the hill I wondered about getting back.  A policeman sitting in front of a bar directed me down a steep narrow path which eventually led into a main street, but I could still not see the way to the Old City.  I asked another man who insisted in going into a shop and getting me a bottle of water and refused payment for it, before leading me along the road to within sight of my target.
There is no doubt that Jesus and his family did live in Nazareth, but little remains of the fabric of the city of that period.  Most of the present day buildings date from the Ottoman-era or later, but the locations of biblical places and events are known to a fair degree of accuracy, and can be explored by following the Jesus Trail and the Gospel Trail.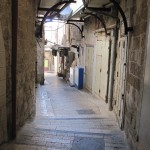 The Old City is an absolute labyrinth of narrow lanes and alleyways, lined with stalls and shops selling everything from food to souvenirs to electronic goods, in short, the things you find in markets everywhere.  Many shops were closed, as I suppose it was not a peak time for tourists.  There were passages leading off in all directions, and within a short time I had completely lost my bearings, which the LP says happens to everyone, and should be enjoyed.  One stall looked as if it might have maps, and the man gave me a free tourist map of the city, and tried to explain the way to the big police station where I had left the car. He said "If you can't find it, come back to me and I will take you there in my car".  Very kind, but unfortunately after another five minutes of twists and turns I realised that I had no hope of finding him or the police station.     
My boyhood reading included stories of people wandering in labyrinths until they died of starvation or being bitten by a poisonous spider.  As I staggered on through passage after passage I was beginning to give up all hope, when I suddenly emerged into a narrow side street to find a police car standing in front of me.   The two officers spoke some English and I explained that I could not find the way back to my car, which was parked by a district police station high on a hill.  It was not their police station, but they knew where I meant and started to tell me how to get there.  After a while I said "I don't think I can walk that far".  They said "All right, we will take you there!"
On the way one of them asked "Are you Jewish?", to which I replied "No".  "Are you a Christian?"  "Yes". Afterwards I wondered what would have happened if I had said I was Jewish.  Then they asked where I was going, and I said "Tiberias".  One of them said "It will be hotter in Tiberias".  Just what I wanted to hear.
It was.  Tiberias is on the Sea of Galilee and at the roadside high above the town was a sign indicating normal sea level, which is about 200m (650ft)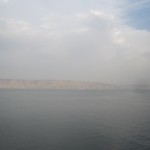 above the Galilee shore. The temperature was 42°C (107.4°F) at about 3pm.  The hotels were well signposted, and I quickly found one, booked in for two nights and set off to walk to the sea front, which was about one kilometre downhill.  By half way I had had enough, and went back to the hotel, intending to try again in the evening, when it might be cooler.
A strange thought occurred to me.  Everyone in Britain knows that you cannot make good tea on the top of a mountain, because the water boils at too low a temperature due to the reduced air pressure.  Conversely, therefore, it should be possible to make exceptionally good tea in Tiberias.  It would have to be made by a British person, because the locals probably use lukewarm water anyway, like Clara.
With this thought in mind I set off for the town again at 7pm, but gave up again half way and went into a very Jewish restaurant where I managed to eat half of the vast quantity of food put in front of me.
Lebanon, the Golan Heights and Syria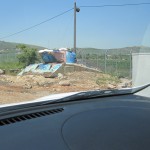 One of the aims of my trip was to visit a car museum at a place called Tel Hai Industrial Park near the Lebanese border, in the extreme north of the country.  The Foreign Office warns against going to some areas close to the Lebanese border, because they are disputed territory.  As I drove north on highway 90 I expected that the traffic would gradually fall off and there would be less general activity, but that was not the case.  Very close to the border is a town called Kiryat Shmona, which seems to be quite a thriving place despite having been the target of rockets from Lebanon from time to time.  The neighbouring part of Lebanon is run by Hezbollah, an anti-Israel Muslim group, and the unguided rockets take only 30 – 40 seconds to cross the border.  At the very end of the road is a village called Metula, which is actually quite old, but has a lot of new building in progress right up to the border. It is possible to drive up to the border fence, and nearby is a half-buried tank, a memento of a battle in the area.  Lebanon looked quite peaceful, without a rocket in sight.
Tel Hai, once a kibbutz I believe, is a very modern industrial estate with massive buildings carrying the names of high tech companies, but the man in the gatehouse informed me that the car museum had been moved to another site a long way away about five years ago.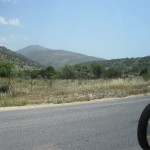 From here I took the road straight across the Golan Heights towards the border with Syria. Within a short time there were wire fences both sides of the road with notices in the usual three languages stating DANGER, MINES.  Despite this, hiking in the Golan Heights is a very popular activity, and is said to be quite safe as long as you stay on the marked tracks.  The Golan Heights were more mountainous than I expected, and the scenery was very good.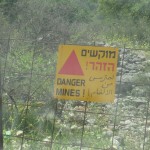 A few miles before the Syrian border I turned north towards Mount Hermon and Israel's only ski resort.  From a distance traces of snow were still visible near the summit, which is actually in Syria.  On the way I came to a busy little town called Majdal Shams, which is the commercial and cultural centre of the Golan Druze community.  The Druze are a minority Arabic language group who practice a version of Islam, and are mainly resident in Lebanon and Syria.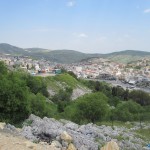 The ski resort is a few miles north of Majdal Shams, and in May is definitely out of season, with just a few people there servicing machinery, although it is a hiking base in the summer. As I walked back to the car after a wander round I noticed that one of the rear tyres appeared to have low pressure, and found a small tyre shop in the main street of Majdal Shams on the way through. No one in the business spoke English, but a man who did was fetched from somewhere nearby and the tyre problem was quickly resolved, with a refusal to accept payment.   I must be one of the few British people who can boast of having been to a Druze tyre shop.
From Majdal Shams the road runs south roughly parallel to the Syrian border, and I knew that at one point it was very close.  A layby with a snack bar suddenly appeared at the roadside and when I stopped for coffee I realised that this was a viewpoint for Syria.  The border fence could be seen running through the valley below, with watchtowers and a cluster of white buildings.  A coach pulled into the layby and disgorged its passengers, who sat in front of their guide as she explained the features of the view in a language that I could not understand.  Another coach came, full of Americans, who started asking their guide questions, some of which I think he did not want to hear.
Further along the layby was a pillar with buttons marked HE and EN.  Pressing the EN button produced a commentary from a lady with an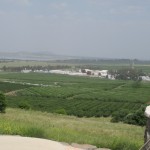 American voice, describing the view and extolling the performance of the Israeli forces in capturing the Golan Heights from Syria in 1967 and defending them in 1973.  The white buildings are the permanent base of the UN Disengagement Observer Force (Undof), and alongside them through my binoculars I could see the ruins of the Syrian town of Quneitra, totally destroyed in 1973 and deliberately not rebuilt by Syria.  As I stood on the layby two Israeli military convoys went past, as well as a few UN vehicles.  
It seemed slightly surprising, but the viewpoint is actually on an extinct volcano, one of two in the area, and just along the road a local kibbutz has produced an educational display in a disused quarry showing the structure and working of the volcanos. 
On the way back to Tiberias I drove round the eastern and southern sides of Gallilee before stopping in the town to have a proper look at it, as I had failed to do the previous day.  LP described it as tacky, but I have been to worse places.  One item of interest was the Water Level Indicator on the promenade with a digital display built into a frame shaped like the lake.  A great deal of importance is attached to the water level, because the lake provides a quarter of Israel's water supply, and if the level is too low the quality is compromised, and if it is too high there is a danger of flooding.
The next morning I set off for Jerusalem, and the most direct route was via highways 90 and 1, which run partly through the West Bank.  My car was not insured for general use in the West Bank, but there is an exception for these two roads, because they are under control of the Israeli military police.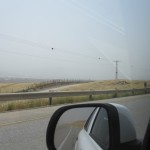 Some distance south of Galilee highway 90 runs past Beit She'an, which has the dubious distinction of holding the record for the highest temperature ever recorded in the whole of Asia, at 53.9°C (129°F).  Luckily I hit it on a cool day – it was only about 38°C.  The road enters the West Bank a few miles past Beit She'an with a military checkpoint and runs for a long way quite close to the Jordan river, with the hills of Jordan clearly visible the other side.
Jerusalem, Bethlehem, Jerico
Shortly before turning westwards towards Jerusalem the road passes within three miles of Jerico, which I particularly wanted to visit, but I had been told not to take any 'small roads', so that would have to wait until later. 
My hotel was in the centre of the modern part of Jerusalem, the other side of the Old City, and I was expecting to have a nightmare drive, especially as I did not have a decent map.  On highway 1 at the entrance to Jerusalem was a toll-booth style military checkpoint but after that I seemed to have an easy run and found a free parking space near the central bus station, where I hoped to get a good map to enable me to find the hotel.
Within a short time of entering the bus station I was caught by a taxi driver, who insisted that he had the map I needed, and to cut a long and miserable story short, I finished up paying the equivalent of £6 for a tatty old map to get rid of him.  However, the map did enable me to get to the hotel without too much trouble.
The modern Jerusalem Gardens Hotel had free undercover parking and a panoramic view from the balcony of my 11th floor room.  The Old City was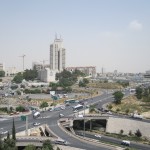 about two miles away, with a direct tram service from close to the hotel.  Like all the non-locals, I had difficulty in getting a ticket from the machine, until a young American and his Canadian girlfriend came to my aid. My ten shekel coin would not work, so he bought a ticket with his money and refused to accept payment.  He was wearing a T-shirt and shorts and a mini-kippa, a tiny skull cap about three inches in diameter favoured by many young Jewish men, and by the time we had gone six stops I knew his whole life story.  His parents had moved to Israel some time ago and he had been studying at the Hebrew University in Jerusalem but was now engaged in religious studies elsewhere.  He was a real all-American boy from Boston and it somehow seemed difficult to imagine where he would fit into the serious religious community in Israel, but I am far from an expert on such matters.     
As mentioned earlier, my car was not insured for use in the West Bank (Palestine), which meant that I could not go to Bethlehem or Jerico in it.  Getting there by public transport is not easy unless you have a lot of time and most guide books suggest going by taxi, which would be very expensive.  The young American had advised me against getting involved with Jerusalem taxi drivers, backing up my own experience, and I decided that it would be cheaper and more convenient to hire a car for a day from an Arab company for use in the West Bank.  A company recommended in the guide books was Green Peace (nothing to do with Greenpeace) in East Jerusalem, just north of the Old City, and I thought I would call in to their office while I was in the area.   The tram stopped on the edge of East Jerusalem and I asked some people in a travel agency for the way to the Green Peace office.  They rang Green Peace, who said they would have a car available for me at 8am the next morning.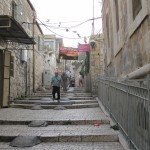 The temperature here was tolerable and I set off to explore the old city, starting at Damascus Gate.  In many respects it was similar to the old city in Nazareth, but larger and with much more activity.  It had the same maze of lanes and alleys, but the main ones were longer and straighter, mostly with names so that I could locate them on my map.  There are many churches, synagogues and other notable buildings but it is difficult to see them from ground level because they are so densely packed in with little space between them.  I particularly wanted to see the Western Wall and the Church of the Holy Sepulchre, but it was getting late in the day so I decided to come back when I had more time.
In central Jerusalem soldiers, male and female, were everywhere, many of them carrying automatic rifles.  At one point, near the bus station, there were so many that I was practically swept along by them and thought for a moment that I had been conscripted into the Israeli Defence Force.
The next morning (Friday) I got up at 6.30am and caught a tram to East Jerusalem, arriving at Green Peace just after 8.00.  As promised a car was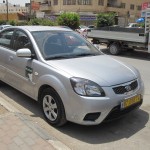 ready, a silver Kia Rio with Israeli yellow number plates as opposed to the green number plates (actually white at the front and green at the back) for cars registered in the West Bank.  The whole issue of driving in the West Bank is very confusing, because if you are in the wrong place with the wrong car at the wrong time you can find yourself being stoned by angry locals.  When I told the Green Peace man what I was proposing to do he said "You can go anywhere in this car".  It had a big label on each side with Jerusalem Car Rental and a picture of a white dove, but whether that carried any weight I do not know.  It just made me feel like somebody from the UN. 
So I set off for Bethlehem.   It is a very short distance, about 6 miles, and well-signposted, but I got confused about the entrance through the Separation Wall, and when I turned round I was accosted by a taxi driver who wanted to be my guide.  After shaking him off I joined the queue for the check point.  The Separation Wall, which has been built along much of the boundary of the West Bank, is enormous and hideous.  It is about 8 metres high (26ft) and brought back memories of the Berlin Wall, but rather than preventing people from going through it is intended to prevent them from bringing weapons into Israel. 
After a brief check I emerged into Bethlehem, to find a man standing in the road in front of me.  He said "I am a guide. You are not in Israel now, you are in Palestine. It is different here. You need a guide."  I insisted that I did not need a guide and drove away. Unfortunately the street in front was no entry, so I had to make a loop through side roads and came back on to the original street about a hundred yards further along, where my friendly guide was standing in front of me again. I drove past him and found myself facing one of the most uninviting streetscapes I have ever seen anywhere.  Welcome to Bethlehem.  My first reaction was to turn round and go straight back, but I persevered and the scene improved to the point where it was only grim.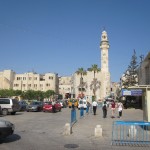 Closer to the city centre it was better and I quickly found a place to park near a police station within about fifty yards of Manger Square, which presented a much more appealing image.  The square is in between the Church of the Nativity and the entrance to the Old City, and is lined with cafés and shops.
It was still early in the day and the queue for the Church of the Nativity was short, so I joined it and went through the security check and the Door of Humility, an arch so low that even I had to crouch down to get through.  Once a much higher opening, it was reduced by the Crusaders to prevent attackers from riding in on horseback.  A service was in progress and I found myself at the back of a large crowd, ushered into an area on one side of the nave.  The area in which the service was being held was extremely beautiful.       
As far as I could tell it was going to be a very long time before there was an opportunity to venture any further into the church, and I was not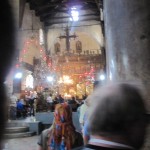 religious enough to wait, so I crawled back through the door and went across the square into the Old City.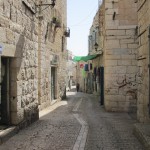 Bethlehem Old City is smaller and more open than those in Nazareth and Jerusalem, with wider cobbled or paved streets used by vehicles, although there are alleyways branching off. On the way back to the car I passed the police station, where some tourists were photographing a policeman standing in the doorway with a rifle.  This was what I regard as a proper rifle, not the stubby automatic weapons that the army and police seemed to have everywhere else.  Normally it is unwise to photograph police or army personnel, but I asked if I could take a photograph and he said I could.              
The route back to the checkpoint was more presentable than the way in, but approached from this direction the Separation Wall was even more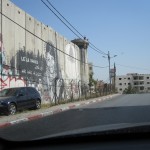 forbidding.  Shortly before the gate was a section of the wall covered with graffiti, some of it by well-known people, including Banksy, expressing support for the Palestinian cause.  There were only two or three vehicles in front of me at the checkpoint, but it took several minutes to get through.  I was asked if there was anything in the boot of the car, to which I said I didn't think so (I hadn't looked), but was then just waved through. 
On to Jerico via Jerusalem.   Jerico is about 25 miles from Jerusalem, via highway 1, and shortly after entering the West Bank I turned off the main road, through another checkpoint and up the hill to get some fuel at a filling station on the outskirts of Ma'ale Adumim, the largest of the notorious settler towns.  Many countries, but not Israel, consider that these towns on captured territory are illegal under international law, but more houses are being built in the West Bank all the time.  They are often occupied by ultra-orthodox Jews and the whole subject is extremely contentious.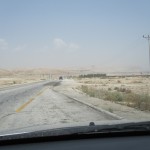 Because of time pressure I went straight back to Highway 1 and on to Jerico, which is very much a desert town.  My map showed all the roads into Jerico as unpaved tracks, and I am sure some still are, but the route signposted was a well surfaced but dusty single carriageway road.  After a short distance was a check point with a big sign at the side of the road in English stating that this was the point of entry to Palestine Area A, and it was illegal and dangerous for Israeli citizens to proceed any further.  I was waved through without stopping.
Another complicated political issue.  The West Bank is divided up into three areas, A, B and C, defining the amount of civil and military power Israelis and Palestinians have in each.  These are not single large areas, but types of area.  Area A is under full Palestine Authority civil and military control, and covers most cities in the West Bank, including Bethlehem and Jerico.   Area B is under Palestinian civil control but Israeli military control, and Area C (including highways 1 and 90 in the West Bank) is under full Israeli control.  As it said on the sign, Israeli citizens are forbidden to enter any part of Area A, but with a British passport I could.  Strange, but true. 
At the boundary of Jerico was a Palestinian military check point, and behind it another big notice stating that the development taking place on the area of land ahead was a gift from the American people to the Palestinian people.  It was a vast site, partly built up, including a new chain hotel.   
At first I seemed to have the only car with Israeli yellow numbers, which made me slightly uncomfortable, but then I did see a few others.  It was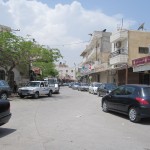 easy to park and when I went for a walk around no one took any notice of me, and I was not hassled in any way.  It struck me as quite a pleasant town, with mainly mid-twentieth century buildings rather than the ancient ones that might be expected.  Maybe it was slightly less prosperous than Israeli Arab towns like Nazareth, but I did not see any great signs of poverty. 
Joshua and his trumpet did a good job, as there was no trace of the old city walls, but in any case they would have fallen down by now due to the incessant horn-blowing by local drivers.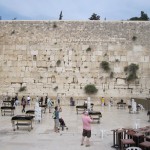 Back in Jerusalem I handed the car to Green Peace unscathed and walked down to the Old City.  It was impossible to get in against the vast tide of people coming out of Damascus Gate, so I went round to New Gate and right through to the Western Wall (Wailing Wall) in the far corner of the City.  At one time, when the City was in Arab hands, the Wall was alongside a narrow alley behind a line of houses, but when the Israelis gained control they demolished the houses and created a large open space in front of it.  Access to this area is via a security check where my backpack was X-rayed.   
Until quite recently only men were allowed to go up to the Wall, but part of it, probably about one third, is now reserved for women.  There is great resentment about this on the part of some ultra-orthodox Jews, and a few days after my visit hard liners started throwing things at the women worshippers, leading to a clash with the police.  There are other examples of segregation, such as the bookshop on one side of the square which has separate entrances for men and women.  Adjacent to the men's area of the wall is a door into a building where large numbers of men, many in orthodox dress, were engaged in prayer, study or earnest discussion.  Male tourists are allowed in, but are expected to be modestly attired and have some form of head covering.   A baseball cap is quite acceptable for non-Jews, but a benevolent-looking man who appeared to be in charge was raising his eyebrows at some people who did not quite meet the expected standards.
It did not mean a great deal to me, but I was aware that to some of the people present touching the Western Wall was the greatest moment of their lives.
The Dome of the Rock and Temple Mount were clearly visible from the walkway above the Western Wall plaza, but unfortunately there is no access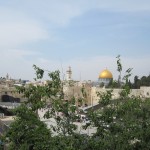 to them on Fridays, which happened to be the day I was there.
Next stop was the Church of the Holy Sepulchre, which is one of the many buildings hidden within the streets of the Old City and only properly visible from above.  It was actually quite difficult to find the entrance, but once inside and through the security check it was obvious that a great many people had found the way in. The church is believed to be the site of Calvary, where Jesus was crucified and rose from the dead.   Inside it are several chapels and the Holy Sepulchre itself, which was at the centre of a large mass of people queuing to get a glimpse of Jesus's tomb.  As might be expected there were many clerics around, but the scene was not enhanced by the considerable number of police officers and soldiers with guns.  In the street outside were people selling nicely made wooden crosses about five feet high, and they were finding plenty of customers.
As mentioned above, it was Friday, and approaching the start of the Jewish Sabbeth, or Shabbat, which officially runs from sundown on Friday to sundown on Saturday.  Almost everything in the Jewish parts of Jerusalem shuts down completely , starting from about 4pm, and I was lucky to get the last tram but one back to the city centre.  The alternative would have been a dreaded taxi, if I could find one, or walking two miles along Jaffa Road, which connects the old and new cities.
By the time the tram reached the city centre the bus station mall and most other shops were closed.  People were rushing to get home, many of them quite excited, and the atmosphere was rather like 6pm on a working Christmas Eve in England, but here it happens every Friday.  A man in Orthodox dress pushing a pram with a baby in it turned to me as he passed and said "Are you Jewish?"  I replied "No", and he said "Well, Happy Shabbat anyway!".
Happy Shabbat?  For me it looked more like Hungry Shabbat, because all the restaurants were closed, and I was not sure whether the hotel would be doing meals.  There were still a couple of small shops open selling comfort foods, and I bought a survival pack of biscuits, crisps and nuts, etc., just in case.  In fact, the hotel restaurant was in operation so I finished up with a really good meal and a lot of stuff to put in the car.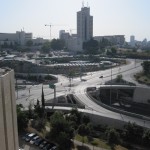 The view from my balcony on Saturday was unbelievable. In place of the frantic activity on Friday morning there was almost nothing moving.  No trams, few cars, few people, no buses running but dozens lined up in neat rows in the car parks below.  It was time for me to check out and set off for the Dead Sea, the Negev Desert, and Eilat on the Red Sea.
The Dead Sea, the Red Sea and Eilat
The way out of Jerusalem was the way I had come in, which I had memorized carefully, and with the minimal traffic on Shabbat I expected it to be easy.  But as I found on my travels many times before, nothing is easy.  The route from the city centre ran along a main road called Bar Ilan Street, which was easy to find, but closed with barriers on Shabbat because it was an Orthodox Jewish neighbourhood.  There is strong feeling about people driving through such areas on Shabbat, so I had to find an alternative route that would take me well clear of the closed road, which took some time.
Eventually I passed through the checkpoint on to Highway 1, the route I had taken the previous day to Jerico.  This time I turned south on to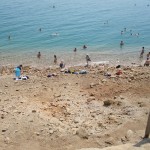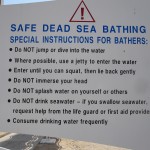 highway 90, through another checkpoint and within a short time the Dead Sea appeared on the left with the hills of Jordan on the opposite bank a few miles away.  After about twenty miles the West Bank finished (yet another checkpoint) and the Dead Sea resort of Ein Gedi came into view.  Ein Gedi has a public beach with free parking, a lifeguard station, toilets and few other facilities.  At the entrance was a big notice telling people what they should and should not do on the sea shore. 
Amongst the things you should not do are jump into the water, swim, swallow the water, get it on your face or in your eyes.  The procedure for entering the water is to do so by gently lowering yourself backwards into it, until you are floating on your back, as many people were doing.  If you do swallow the water or get it in your eyes you have to seek immediate medical attention from the lifeguard station.  I put my hand in the water and tasted it, and it was incredibly saline.  It actually has a mineral content of about 33%, mainly salt, but also magnesium, iodine and bromine.  Within a short time my lips began to sting and I had to wash them with fresh water that I had in the car.   
Some people were covering themselves with black mud, which is supposed to be good for the skin.  I would have thought that this would intensify the effect of the sun's radiation, leading to burning, but in fact the sun's strength is reduced due to the dense atmosphere. The Dead Sea shore is the lowest point on earth, at about 425m (1380ft) below normal sea level, so the tea there should be fantastic if properly made.  According to the digital indicator on the lifeguard station the temperature was 40°C (104°F).
Just off the main road few miles south of Ein Gedi is a string of expensive spa hotels right on the beach, designed to enable people to get the maximum health benefit from the water.  More beaches and hotels are to be found on the separate, smaller part of the Dead Sea to the south, and at the very end is the Dead Sea Works, a massive, rusting industrial complex built in1930 to extract minerals, particularly potash, salt and magnesium.
From this point to Eilat and the Red Sea was a straight, boring drive of about 100 miles along the edge of the Negev desert, with the hills of Jordan still clearly in sight on the left. All the books said petrol stations were few and far between in the desert, but on highway 90 they were every 30 – 40 miles.
At 3.00pm I arrived in Eilat and quickly found a hotel, the Aviv B + B.   Eilat is a popular holiday destination for Europeans, and most visitors arrive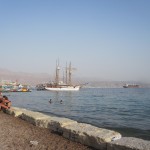 by air.  The airport is unusual in that the runway extends right into the middle of the town and the main entrance is directly off the pavement near a roundabout in the town centre.  By standing on a grass bank on the roundabout it is possible to get a pilot's view of the runway.
It was still Shabbat and I was still hungry.  The restaurants in the town were closed, but I thought perhaps there would be some places open on the beach, and there were.  The temperature was in the upper 30s, but I was beginning to get used to it, and after the meal I managed to walk the whole length of the promenade by the Red Sea.  The sea is not actually red, but is noted for its clear water and the luxuriant plant life on the sea bed.  Glass-bottomed boat trips are a big attraction, and the area is popular with scuba divers.  
The main item on the BBC World Service the next morning was that Israel had bombed Damascus in a fairly big way.   I went down to the reception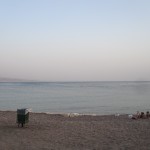 and asked the way to the breakfast room, only to be told "There isn't one. We only do breakfast in the winter".  So although the sign with Aviv B + B could be read from almost all over the town it was really just the Aviv B.  They recommended a nearby bakery for breakfast, where I paid a small fortune for coffee and a bagel.  Some idea of the usual clientele of Eilat can be obtained from the fact that round the corner from the Aviv B was a place called the Fawlty Towers Hostel, with pictures of Basil, Sybil, Polly and Manuel on the sign. 
Unless you go through into Jordan or Egypt the choice of roads from Eilat is limited to two, as the town is, in effect,  on a land-locked peninsular.  This meant either retracing my route for some distance or driving along the Egyptian border, a road that was closed at the time of publication of my LP guide (July 2012) due to terrorist incursions leading to the deaths of a number of civilians.  The English lady who owned the Aviv B said the road was open again, but it squiggled about in the mountains and was "even more boring than the other one".
The Egyptian Border, Negev Desert, and Be'er Sheva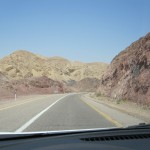 The Egyptian border road, Route 12, was far more scenic and interesting than the "other one", and I realised that the lady's measure of boring was related to the number of places where food and drink were available (none the way I was going).  The only other vehicles on the road were taxis going the other way, although I don't know where they were coming from, because it was a long way from anywhere. 
After a few miles the road came to the border fence with Egypt and a proper Israeli army checkpoint, with camouflage and a big gun on the road pointing towards Egypt.  There seemed to be two young men and two young women soldiers, and when I held up my passport one of the men asked me where I was from.   I said "England" and he replied "Have a good day".     
The border fence was new and quite impressive, consisting of a double wire fence with a gap in between, and was slightly reminiscent of the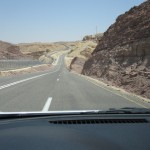 pictures of the Great Wall of China as it stretched away into the distance, following the contours of the land.   
Eventually another check point came into view, near the point where Highway 12 branched away from the border, to leave Highway 10 continuing about 120 miles to the coast and Gaza Strip.  The soldier in charge just waved me through with a broad grin, and I had a feeling that he knew I was coming.  If you broke down on that road I don't think there would be any need to fetch Green Flag, the Israeli Defence Force would coming looking for you.
At the junction with Highway 40, the route used by normal people travelling north from Eilat, is a proper oasis, with a small shop and restaurant surrounded by trees.  In the middle the actual spring had been made into a small water feature.   About a dozen cars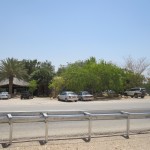 were parked there, most if not all, travelling on Highway 40.
My night stop was to be Be'er Sheva (Beersheba), a drive of about another 100 miles across the desert, which was very barren but with some good mountain backdrops and occasional signs warning of camels on the road, although I did not see any.  Army exercises were taking place here and there on both sides of the road.
Shortly before a small town called Mitspe Ramon the scenery became quite spectacular as the road crossed a vast crater called Makhtesh Ramon, which the LP likens to the Grand Canyon, although I would say that is a bit of an exaggeration.  It is nevertheless an extraordinary landscape, with multi-coloured rock formations, and could be on another planet.  The crater is 8km wide and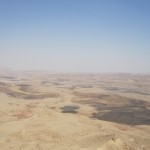 40km long, Mitspe Ramon being perched high on a cliff above it with a lookout built out over a sheer drop to enable visitors to make the most of the view.
At the roadside on the approach to Be'er Sheva were a number of Bedouin encampments in which people appeared to be living in appalling conditions, in what looked like makeshift tents, huts and old vehicles.  Some Israelis told me that what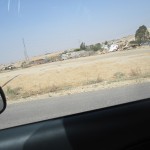 can be seen from main road is just a drop in the ocean compared with the amount that is out of sight.  Some Bedouin still live the nomadic lifestyle in tents, moving around in the desert and others have become fully urbanised. 
Not far from Be'er Sheva is a Bedouin city called Rabat with a population of 40,000 and a reputation for being crippled by poverty and crime.  LP said a visit was not to be recommended.
According to LP accommodation in Be'er Sheva was limited to a choice between an expensive hotel and rooms in a college residential building used mainly by students and visiting professors.  As well as being cheaper I thought the college would be more interesting. It proved to be very Jewish, with absolutely everything in Hebrew, although most of the staff spoke English.  The accommodation was basic, but far better than the hall of residence I lived in as a student in London in the late1950s, and the room was more comfortable for reading or studying than any hotel room I have experienced.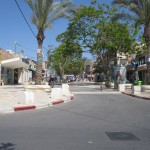 Be'er Sheva is quite a pleasant town, actually very old, but without much ancient fabric as far as I could see.  The so-called Old City does not have a lot of character and is supplemented by a fair-sized modern shopping mall, but one thing I wanted to see was the Bedouin Market, which I thought might provide an insight into their lifestyle and culture.
At breakfast the next morning I was told off for sitting in the wrong place in the vast and almost empty restaurant, and the lady in charge treated the 'guests' as if they were 19-year-old students who were clearly up to no good and needed to be put in their place.  I quite enjoyed the experience.
The Bedouin Market was a great disappointment.  After stretching my walking ability to its limit it turned out that the people and the things they were selling were just like those in my local market at home.  Most of the stall holders were shouting in the usual manner, but a couple had small loudspeakers playing a recorded message listing the items on offer.  So much for tradition.
Ashkelon and Ashdod
From Be'er Sheva I was aiming for the Mediterranean coast for the last night before returning home.  On the coast just north of the Gaza Strip are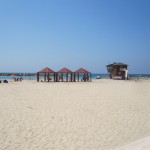 two towns called Ashkelon and Ashdod, both of which escaped a mention in the LP guide, although Ashdod is the fifth largest city in Israel.   Looking at the map I somehow got the impression that they were run down places, but in Be'er Sheva I asked a lady who by chance came from that area and she said they were both nice towns.
The road from Be'er Sheva to Ashkelon runs within a mile of the Gaza Strip and about five miles from Gaza City itself.  The Foreign Office warns against getting too close to the Gaza Strip because of rocket attacks, but it was not until I got home that I discovered that in 2012 over 2000 rockets were fired from Gaza into Israel, resulting in some deaths.  Due to negotiations with Hamas, the group that controls Gaza, the number so far in 2013 was greatly reduced.  Ashkelon and Ashdod were both well within range of the rockets.
At the point nearest to Gaza it appeared that a new educational establishment had been built, and on the bright, clear day that I was there it was hard to believe that there were hostile forces so close.  Approaching Ashkelon from the south I came to a massive industrial estate, with enormous trucks running around loaded with materials rather than the ladies-underpants-from-China sort of industry that we have in England nowadays.
Ashkelon itself was a hive of activity with new building going on everywhere, reminding me of a typical fast-growing Florida coastal town.  If the people firing the rockets think they are going to intimidate the Israelis they are very much mistaken. 
Ashkelon might have a beach and a marina, but as far as I could see the only hotel was the expensive Holiday Inn, so I pushed on to neighbouring Ashdod, a considerably bigger town.  At the far end of the long promenade was a large new and very smart hotel, with a couple of older ones nearby.  The Hotel Orly had the character of a late 19th century French establish-ment and was the kind of place I was looking for.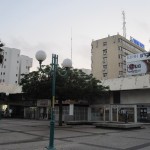 After getting sorted I went into the town, which appeared to be quite European as I strolled along a wide boulevard lined with shops and restaurants, but, as in Ashkelon, virtually everything seemed to be in Hebrew   At a junction I turned down a side turning, went into a shop at the back of a small precinct, and was surprised to find the shopkeeper talking to a customer in Russian.  I did not think much about it then, but a few minutes later as I was sitting in front of a snack bar enjoying a glass of freshly squeezed orange juice I looked around and realised. This was Russia!  It was all there, the austere blocks of flats, concrete buildings with the aerials on top, and shabby little precincts.  You could have picked the whole lot up and dumped it down in the suburbs of Moscow and no one there would have noticed.  In general, however, the lady in Be'er Sheva was right, Ashkelon and Ashdod are nice seaside towns, but they are not likely to be in the European package holiday brochures while there is still the occasional rocket attack.
Although I had seen a lot during my visit to Israel, there was still much that I had not seen, especially in the West Bank.  It is generally considered inadvisable to go to towns such as Nablus, Jenin, and Hebron, where there is serious poverty and massive refugee camps unless you are accompanied by someone who knows the ropes and has local contacts.  I only saw a little bit of the separation wall, in Bethlehem, and afterwards I felt that I could have been more adventurous while I had the Green Peace car. 
Israel is a country of enormous contrasts.  It is impossible not to be impressed by the rate of development in terms of building and infrastructure, at a level far beyond the imagination of the British government, and many people must be working very hard to make it happen.
At the same time, the country is on a semi-war footing, with a huge military presence and in some areas machine guns are a common sight.  The political and religious differences inside and outside the borders are immense, with, as far as I could see, no resolution in sight.   
In almost anything you read about Romania two names crop up again and again.  The first is Vlad Ţepeş (1431 - 1476), also known as the Vlad the Impaler and the figure on which Bram Stoker's Dracula was based.  There is no doubt that Vlad was a very unpleasant person,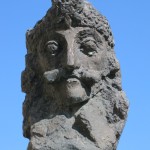 who enjoyed torturing people, but no evidence that he was actually a vampire.
 The second notable character is Nicolae Ceauşescu, who together with his wife Elena, ruled Romania as a dictator from 1965 to 1989.  He established a Communist regime and instituted many unpopular reforms, leading eventually to a violent revolution in which the couple were both executed by a firing squad.
 Like most dictators, Ceauşescu lived in fear of being invaded by foreign forces, and as part of his defence strategy he built a road over the Fărăgaş Mountains, some distance north of Bucharest, so that he could move his troops quickly in that direction if necessary.  It took the army 4½ years to build the road, at a cost of 38 soldiers' lives and it was finally opened in 1974.  In recent times it has become well known amongst motoring enthusiasts as a driving challenge, especially since it was featured in 2010 on the BBC Top Gear programme, when Jeremy Clarkson described it as "the best driving road in the world".
 It was my desire to drive this spectacular route, now known as the Transfăgărăşan Highway, that caused me to go to Romania.  As it is normally closed from October to May, and occasionally during bad weather in the remaining months, I decided to go in August when it was most likely to be open.   The plan was to fly from Heathrow to Bucharest and stay in a hotel near the airport for two nights, to spend one day looking round the capital and then hire a car on the second morning and set off northwards to the mountains and Transylvania. For information I was using the Lonely Planet Guide to Romania, hereafter referred to as LP.
 The evening before my flight a friend who travels a lot told me on the phone that I was bound to forget to pack something.  I assured him that I had a perfect system, with check lists, and I never forget anything.  It was rather annoying, therefore, when I realised on the way to the railway station that I had not shaved, and furthermore I had forgotten to pack my shaver.  Fortunately I had just enough time to rush to Wilkinson's before getting on the train and buy a Braun Mobile shaver, something that I should have done long ago.
 Otherwise the journey went well until I arrived at Bucharest airport at 10.00pm, and as the hotel was about a mile from the airport I had to get a taxi.  There were taxis lined up in front of the terminal, but they did not want to take me, apparently because they were waiting for people who wanted to go the 10 miles into the city.  A man standing nearby said "They won't take you, you need to get one of the taxis over there", pointing to the other side of the car park.  I discovered later that this was also the advice given by LP.  When I got to the other side of the car park a taxi stopped in front of me and I told the driver where I wanted to go and asked him how much it would be.  He didn't tell me, but bundled my luggage in the car, and we raced off to the hotel, which was nearer than I thought.  He took my luggage out and when I asked him how much he said "200 lei".  £42.50!!  For less than one mile!  I was so angry that I refused to pay, and it developed into a stand-up argument in front of the hotel, during which I noticed that on the side of the taxi was painted '1.39 lei/km'. When I pointed that out he said "That's just in town".  Eventually I gave him 100 lei, which was still far too much, and he jumped in the taxi, shouted "F*** You" and raced off.  A good introduction to Romania.
 Bucharest
The Hotel RIN Airport 3 was better than I had expected, with a decent room and good breakfast the next morning.  As usual in such places, all advice was not to drive in Bucharest, which was why I decided to go into the city using public transport and pick up the car the next day at the airport.  It was about 9 miles to the city centre, and there was a bus stop near the hotel, but you had to have an electronic swipe card to use it, and the nearest place to get that was the airport, so I had to go there on the hotel shuttle.  The swipe card cost the equivalent of £2.27, and the lady said it would last for four years, by which I assume that she meant that it could be topped up for four years.  I hardly think I could get four years' bus travel for £2.27.
My first impressions of Romania were very different from what I had expected.  The road from the airport to the city was like an American urban highway, 3 lanes each way, lined with businesses and with lots of new cars tearing along (much faster than in the USA), including Mercedes, BMWs, Audis etc. Next to the hotel was a Ferrari dealership, and on the way into town we passed Lotus, BMW, Mercedes, Land Rover and many other ultra-modern car showrooms.  Overall the traffic was not heavy, and there were only brief hold-ups, again contrary to what I had expected.  It was a Tuesday, but perhaps there is an August effect, with people on holiday, which itself would suggest a measure of prosperity.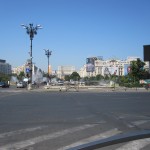 The weather was very hot, around 35ºC (95ºF), not ideal for wandering around a capital city, and I soon found myself consuming drinks and ice cream at a great rate.  The bus went to a vast square at the boundary between the old and 'new' areas of the city.  As part of his reforms Ceauşescu demolished about one sixth of the old city and built an enormous palace with an avenue leading to it to rival the Champs d'Elysee in Paris.  The palace is the second or third largest building in the world, and the avenue is lined with what are supposed to be imposing buildings and hundreds of fountains. There are very mixed opinions about the architecture, which incorporates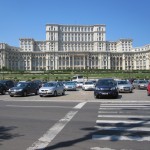 traditional Romanian features but has a somewhat sterile look about it, like the pastiche Disney or Las Vegas structures.  Like all dictators, Ceauşescu liked balconies, and he had several thousand to chose from when he wished to address his adoring subjects. Whatever you think about the architecture it cannot be denied that it was an amazing feat of construction.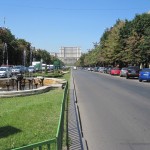 Many of Bucharest's original fine buildings were destroyed by a combination of the Second World War and a major earthquake, and the city is not noted for its sights.  The older part was, however, bustling with activity and there was a lot of building work in progress everywhere.  There are still some interesting old buildings mixed up with new ones in a way that to my mind is not entirely successful, but I am not considered to know anything about town planning.  I followed the walking tour recommended in the LP Guide, and although it referred to some crumbling and derelict areas I did not think it was too bad and there were few signs of real poverty.  At least it was possible to walk around and sit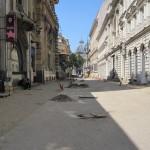 down to enjoy an ice cream without constantly being pestered by beggars, unlike some places I have been to.
There were a lot of English language signs and adverts around, and I found that most young people could speak English without hesitation.  Everywhere you look there are well-known German and American business names and the whole place seems to be quite westernised.
Eventually I couldn't walk any further and took a City Tour on an open-topped double-deck bus, which took a long route to the north of the city and back.  Due to the strong sun and the wind I had to wear my baseball cap with the peak at the back to prevent it from blowing off, so with my sunglasses I sat there looking like a Mexican teenager.  The most outstanding building that I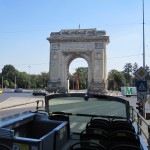 had not already seen was the Triumphal Arch, a copy of the one in Paris and built in 1935, so it saved Ceauşescu the trouble of building one.  Of course, City Tours always go to the nice bits.  Perhaps I should get a bus and start running tours of the hideous blocks of flats, the derelict factories and the orphanages.
The overall impression that I got was that the city is thriving.  From the large number of recent cars, many of them expensive German ones, it is clear that money is somehow finding its way into people's pockets.  There were also a significant number of high-powered sports motor-cycles which indicates that some younger people (or their parents) have high disposable incomes.   Others are not so well off.  At one point I went into a KFC for a snack (don't usually, but it was easy) and left a few chips and part of my "sandwich".  As I got up to go a tidy-looking young man at the next table looked across and said "Ah, chips", and moved into my place to finish what I had left.
 In the evening I had a meal in the hotel restaurant and was slightly puzzled by an item on the menu described in English as "Outlawry Chump (for two persons)".  As I was only one person I did not have the opportunity to sample it.
On the road
The next morning I got the shuttle bus to the airport to collect my car.  When the man from Budget Car Rental took me to it I laughed.  It was a bright yellow Chevrolet Spark, a reincarnation of the 3- cylinder Daewoo Matiz and I don't think it was quite what Jeremy Clarkson would have in mind for storming the Transfăgărăşan Highway.
According to all reports it would take several hours to drive over the mountains, so I decided to stay for the night at a town called Pitesti near the southern end of the road.  There was a fast road to Pitesti, but as I had plenty of time I thought it would be more interesting to go via several other towns on what might be quieter routes.  The first of these was a place called Ploiesti, the centre of Romania's oil industry. Until then I did not even know Romania had an oil industry, but apparently the country supplied a substantial part of Germany's oil needs during World War II.  The road to Ploesti was lined with buildings for the entire 40 miles, and this was where I discovered that on main roads between towns Romanians drive as fast as they can, regardless of the many speed limits.  The road seemed to be full of German cars and white vans all desperate to get past my little yellow Chevrolet.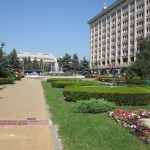 Ploiesti was quite a pleasant town, apparently thriving like Bucharest, and had an unusual attraction in the form of an oil museum, which I wanted to visit but it was closed.  It was too hot for walking very much, so I went across country to the next town, Targoviste.  The car had air conditioning, but that was struggling to cope with the high temperature.  The road was less hectic than earlier, with more open countryside, although I was disappointed not to see any oil wells.
There was not much to see in Targoviste so I went on to Pitesti and parked near the centre while I looked round for a hotel.  When I asked a man how to use the parking machine he not only showed me, but insisted on giving me the money (about 11p) to put in it!  Eventually I found a hotel recommended by LP called the Hotel Muntenia, and got a room overlooking the main square.  Pitesti is the home of Romania's only car factory, called Dacia (owned by Renault), which is very successful, and again it seemed to be a prosperous place. About half the cars on the road are Dacias, and they are sold all over Europe excepting in Britain.
LP said Pitesti had 'energy and a lively atmosphere', and was a good place to stay the night.  The square was packed with people sitting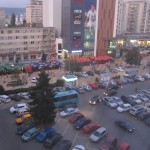 outside eating and drinking until late, and then I was kept awake until 2.30am by yobs messing about with car alarms and upsetting the dogs (see later).  I suppose this could be described as 'energy and a lively atmosphere', but perhaps someone should remind LP that they are travel guide writers, not estate agents.  The buffet breakfast was dreadful, a particularly bad version of the meat, cheese and hard dry bread that seems to be the norm in Europe nowadays.
Transfăgărăşan Highway
The mountain route actually starts at the southern end from a spa town called Curtea de Argeş, about 25 miles north of Pitesti.  At 10.00am on a Thursday morning Curtea was a complete madhouse, and although I would like to have stopped to look round, it was impossible to park anywhere near the centre.
For some distance after leaving the town the road was built up on both sides, but then started to climb through open countryside and into the mountains.  The surface deteriorated into large potholes which cars were steering round, and the pace came down to about 10mph through a seemingly endless succession of uphill hairpin bends.  This section of the highway, with its bad surface for miles, demanded so much concentration that it was difficult to look at the scenery.  Eventually the road crossed a dam, part of a hydro-electric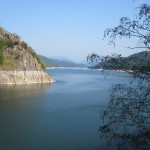 scheme and ran along the side of the picturesque Lake Vidraru, still in tight bends for a long distance before dropping down and straightening out.  The surface then improved greatly and the road began to climb steeply through many more bends, forcing my inappropriately named Spark down to second gear at times. Fortunately there was little traffic on the road, so I did not get wiped out by Jeremy Clarksons with their several hundred brake horse power.
Shortly before reaching the top of the pass the road entered an 887m (approx half mile) long straight tunnel through the solid rock of the mountain, leading to what can only be described as a recreation area, with a large car park, souvenir stalls, a burger bar, a restaurant, and a lot of people.  Bearing in mind how little traffic there was on the road it was hard to see how they all got there.  The cable car from the valley below did not seem to be in operation and there is no public transport.
 Above the car park, to the right, was the amazing Lake Bâlea, described by LP as hovering like a mirror among the rocks.
From there the road zigzagged downhill with sheer drops on one side for much of the way, but fortunately I could not see them because I was on the side against the rock face.  In several places there were viewpoints from which the road could be seen snaking down into the valley with a mind-boggling number of hairpin bends.  The scenery in the valley was beautiful, with some waterfalls tumbling down the rock faces not far from the road.
In its entirety the route is like two mountain passes in succession, the northernmost one being higher and better surfaced.  In some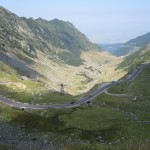 respects it is not as spectacular as many of the Alpine passes, because the adjacent mountains, at about 2500m (8000ft) are nothing like as high as the Alps, and the main pass itself is only just over 2000m (6500ft), which is lower than almost all the well-known Alpine passes.  However, at about 50 miles the overall length is much longer than any Alpine pass, and the number of bends is far greater, which makes for a better driving experience.
Transylvania - Saxon Land
Transylvania, which some people think is not a real place, occupies a large area of central Romania, and the part north of the mountains I had just crossed is known as Saxon Land, because it was colonised by Saxons from the 12th century.  They put their stamp on the towns and villages, which have a distinctive German character and are very attractive.  Few Germans live there today, but many visit to experience Germany as it used to be.
The nearest town after the mountain pass was Sibiu, reached via a main road with frantic traffic, an unpleasant drive compared to most of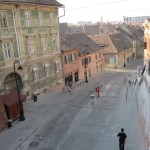 the day so far.  On the outskirts of Sibui I found a motel called the American Inn, which was like a prop from a Disney film set.  The Americans have no idea of inns (think of Holiday Inn) and the Romanians have no idea of American inns.  Anyway, it was cheap and clean, though the room was small.
Opposite to the motel was a huge retail park, somehow not the sort of thing I expected to find in Transylvania or anywhere else in Romania.  I walked into the town, about 2 kilometers, along a busy road lined with uninspiring buildings until I came to the centre, which was a revelation.  In 2007 Sibiu was the European Capital of Culture, and was given a makeover at great expense.  Normally I avoid such places, because usually they are an excuse for local dignitaries to spend other peoples' money ruining the place for a few moments of glory, but although the main street has been somewhat sanitised the rest of the central area is unspoilt with rough cobbles and genuinely ancient buildings.
The next day, after an awful breakfast, I set off across country on minor roads for Sighisoara, another noted Saxon town to the east, and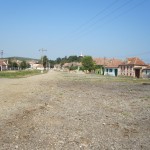 the birthplace of Vlad Tepeş/Dracula.  After a few miles the road ran through a wonderful village called Altina, which was exactly how I imagined a Romanian village would be.  The main street was lined with old detached house, painted in pastel colours, and I stopped and went for a walk though the back lanes.  These were all unpaved, with a surface of grass, earth or gravel, probably turning to deep mud in the winter.  Seen close up, many of the houses had dates on them, and were not as old as they looked, having been built in the 1950s. There were not many people or cars around, but a few tractors and horse drawn vehicles piled high with the produce of the harvest.  It is tragic to think that dozens of villages like this were destroyed by Ceauşescu in the course of his rural reform programme.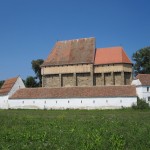 Saxon Land is noted for its wonderful fortified churches, found in towns and villages throughout the area.  The churches were surrounded by high walls in the 15th and 16th centuries to defend them from attack by Turkish forces, a measure that was obviously successful because they are still there today.
 Sighisoara, Dracula's birthplace, has everything.  A river, a citadel, cobbled squares on different levels and is packed with ancient buildings.  It is, however very touristy, even on a weekday.  From the citadel a wooden covered stairway with over 200 steps leads up to a church on a hill above the town, but the effort is not very rewarding because there is only a limited view through the trees at the top. Tucked away behind another church is a stone bust of Vlad Tepeş with an expression suggesting that he is looking for someone to impale (picture at start of story).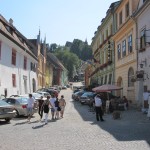 Having seen a few nice places I thought it was time to move back into the real world, and decided to go on to an industrial town called Mediaş to stay for the night.  After booking in at the excellent Edelweiss Hotel (112 lei = £24) I went for a walk and was surprised to find a well-preserved old-town area in the centre, and strangely, a vast vegetable market that was closing down at 7pm.  It consisted of a massive indoor hall surrounded by outdoor stalls, and it is difficult to understand how the town could support such a large market unless people travelled long distances to it.  There was a lot of unsold produce which would surely be wasted unless the market was open every day.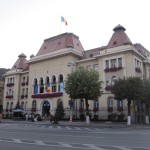 At breakfast time the next morning I found myself sitting at a table with two elderly German couples who were driving home after going to Turkey.  We compared notes and agreed that there were many things that were hard to explain in Romania, one being the reason why we had been seated as far as possible from the buffet when there was a similar table close to it.  My theory was that it was so that every time you wanted to top up you would have to walk the length of the room in front of the staff who were standing around doing nothing, which might deter you from taking too much food.  It would take a lot more than that to deter me when there was free food in the offing.
The Germans commented on the aggressive driving, and were rather upset because they had been fined for speeding in a place where all the local drivers were overtaking them.  They were also using the LP guide, but I don't know whether it was in English or German (LP is a branch of the BBC).
From Medias I went a few miles down the road to Copsa Mica, described by LP as Romania's ugliest town.  It seemed to consist mainly of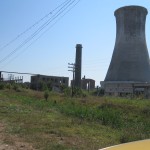 the blackened shells of derelict factories, and as always in such cases, you have to wonder what the people do now.  There was little sign of any new industry, although LP said some of the old factories were still working after being fitted with Euro-standard filters.  Blaj, the next town, while far from beautiful, had a quite a lot of cleaner working factories, and was a tidy place.  It has a relatively high Roma (Gypsy) population and within a couple of minutes of getting out of the car I was approached by someone apparently begging, the only time this happened in Romania.  Perhaps I am jumping to conclusions, but the Roma are said to be treated as an underclass in Transylvania and subjected to racist abuse.  Not long afterwards I had trouble with two young children who started opening the car doors while I was waiting at a level crossing out in the countryside, and one of them spat on the car windows when I refused to give them anything.  Nice.
It was now Saturday, and it was part of my plan to visit a gorge and a salt mine near a town with the attractive name of Turda.  There was a festival on in the town, and when I eventually got to the salt mine there were so many people that I decided to give it a miss.  One of the problems of going in August.  To make matters worse the gorge defied all my attempts to find it, so I set off on a cross-country route to Targu Mures.
Roads
This is where I really found out about Romanian roads.  Before the trip I had bought a new Michelin map of the country with a scale of 1:750,000 (12 miles to the inch), which should have been adequate for what I was doing, but I had long since discovered that the representation of a road on the map bore little relationship to what was on the ground.  Many roads, major or minor, are well-surfaced but the condition of any road, at any time, can suddenly deteriorate into a mass of potholes or a rough track, and all level crossings have to be taken at a crawl.  A fair proportion of minor roads between villages are unpaved, and the map was supposed to indicate these with dotted lines, but very few were shown as such.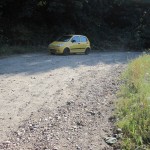 The route to Targu Mureş started with a stretch of main road and then tarmac country lanes, through several villages exactly as shown on the map.  After about 10 miles the tarmac suddenly stopped at the top of a hill, leaving a rough, fairly wide track through woodland.  I knew I was not far from a village called Papiu Ilarian (don't ask) and decided to carry on down the hill, in the hope that the tarmac would restart in the village.  It did, so I thought it would be tarmac for the remaining 20 miles to Targu Mureş.  What happened?  Just as I got to the far end of the village the tarmac stopped in a line across the road, and I found myself facing a choice of two gravel tracks with no signs.  Looking at the map it was obvious that this situation could recur over and over again, so the only thing to do was to go back to the main road.  Cuba all over again.
The next day I had a similar experience on another cross-country route, when a wide tarmac road with a white line along the centre suddenly turned into a narrow rough track on top of a hill in the middle of nowhere.  It was hard to understand how at sometime a tarmac machine had been up the hill, followed by a white lining machine, and then it all came to nothing.  The rough track seemed to go on indefinitely, so I turned back and found another way.  There was little traffic on any of these minor roads, with horses and carts being the staple transport for many people.
Szekely Land
To the north-east of Saxon Land, still in Transylvania, is a region occupied largely by people of Hungarian origin, known as Szekely Land. Romania is bordered on its western side by Hungary, but Szekely Land is like an island in the middle of the country.  Ethnic Hungarians are in the majority in some of the towns and the Hungarian language is widely used.  As with the Germans and Saxon Land, many Hungarians come to Szekely Land to experience Hungary as it used to be.
On the hectic main road into Targu Mureş there was an advert for a hotel at about £11 a night, which would be the lowest I have paid for a long time, but when I found it there was a wedding reception on and it was impossible to get near the place.  Whether it was the time of year, or whether it is always the same I do not know, but there seemed to be weddings on everywhere, with long lines of cars driving around towns blowing their horns in celebration.  Apart from weddings, there were also parties and carnivals going on all over the place.  The Romanians appear to know how to enjoy themselves.
Shortly afterwards another hotel came into sight, the Hotel Concrete.  Thousands of people have stayed in the Ritz and the Savoy, but how many people can boast of having stayed in the Concrete?  Well, I can.  It turned out to be the head office of the pre-stressed concrete company that built it, and was quite good, presumably because they use it to demonstrate their product.
The population of Targu Mureş has a roughly equal split between Romanians and Hungarians and the town has been the scene of serious racial tension in the not too distant past, but it was calm enough while I was there.  The outskirts were industrial, but like most other Romanian towns the central area was quite pleasant.  Driving down a hill on the way out the next morning there was a view of the most astonishing vast estate of grim Soviet style flats that I have ever seen, but unfortunately I could not stop for a photograph.
After one of the challenging cross-country journeys described above I came to Sovata, a really thriving spa town with what is said to be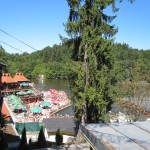 Europe's biggest heliothermic lake in the centre.  The weather was still hot with unrelenting sunshine, so the lake was working well, with hundreds of people on its shore.
Having failed to get to the salt mine at Turda I was hoping to visit the one at Praid, not far from Sovata, but it was the same story again.  It was Sunday, about midday, and I was not prepared to dedicate most of the rest of the day to getting into the mine, so I drove on to Odorheiu Secuiesc and Miercurea Ciuc, two very Hungarian towns with names that the people who live in them can pronounce without difficulty.  Odorheiu Secuiesc was a pleasant place, but did not have the sort of character of the Saxon towns, and Miercurea Ciuc seemed to have only just emerged from the Soviet era, having been given the Ceauşescu treatment.  The countryside in this region is very attractive, with rolling hills, woodland, and pretty villages.   The next day would be my last in Romania, and I particularly wanted to see Brasov, so I took the main road southwards from Miercurea, which was extremely slow going due to heavy traffic combined with roadworks with long hold-ups, not helped by the usual mad drivers.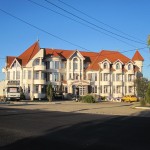 On entering Sfântu Gheorghe, a town some distance before Brasov I came across the quite imposing Hotel Castel, with slightly over-the-top gothic/baroque architecture combined with a purple and white colour scheme which I felt should help to keep the price down.  It was certainly moderately priced and by my standards good, with a restaurant in a separate, matching single storey building.  On the breakfast menu here was another mystery item, described in English as "Brown File", so perhaps they were expecting Monsieur Mangetout, the Frenchman who eats everything.  In the middle of the night I was woken by an extremely violent dog fight in front of the hotel, the canine equivalent of the cat fights at home, but with more and larger participants.
 Dogs
This brings me to a subject that I would rather avoid, but it is so much part of Romania that I cannot do so.  In the 1980s when Ceauşescu was carrying out his reforms large numbers of people, both in towns and countryside, were evicted from their homes at short notice and rehoused in the lovely new blocks of flats that were being built.  They could not keep their dogs, and most were simply turned loose to fend for themselves.  Their descendents are now living wild all over the country, and there are said to be over 100,000 in Bucharest alone.  There are stray dogs everywhere, and many are killed on the roads.  I saw at least 6 dead ones on one day, which is very distressing, but the consolation is that they are not people's pets.  You cannot risk getting involved with these dogs, because rabies is endemic in Romania.
 The Romanians seem to accept them as part of the scene and in towns I think some people feed them.  Animal rights organisations want the government to instigate a neutering programme, but the government favours just putting them down.  There is no easy or kind answer to this problem.  Of course, many people still keep dogs as pets in the normal way.
 Brasov
A few miles south of Sfântu Gheorghe, Brasov is the second largest city in Transylvania and justifiably renowned for its beauty and fine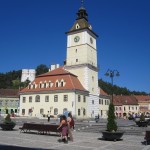 buildings.  Car ownership is still low enough for it to be easy to find a space near the centre at 11am, although you have to pay, and the first thing I noticed on getting out of the car was the word BRASOV high up in the trees on Mount Tâmpa, just like the famous HOLLYWOOD sign.
A large part of the central area is surrounded by an ancient wall and has been restored to a high standard.  The main square has a grim history with the last witch burning in Europe and plenty of tortures in the tower but it all seemed very peaceful when I was there.
About 20 miles from Brasov is the village of Bran, with the incorrectly named "Dracula's Castle".  As long as you are aware that the connection with Dracula (and Vlad Tepeş) is totally fictitious it is quite good fun, with its turrets, galleries, and winding staircases, but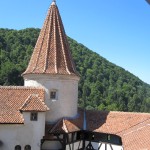 the guide book didn't mention the giggling teenagers everywhere.  It did mention the souvenir stalls and car parks that occupy most of the rest of Bran, but there is also a more serious attraction in the form of a village made up of genuine ancient buildings that have been saved from destruction elsewhere.  It was then time for the hectic drive back to Bucharest and the Hotel RIN Airport 3, ready for my flight home the next morning.
Romania was not what I had anticipated.  There are, inevitably, 'haves' and 'have nots', with a big difference in lifestyle between town and country, but the proportion of 'haves' was much higher than I expected.  According to EU officials in Brussels there is a high level of corruption, and they should know because they are experts at it, but it is not obvious to a visitor.  There is a lot of foreign investment, especially from Germany, and many of the banks, food stores and DIY shops carry well-known German names.  People seem to work quite hard, but from the number of new cars and motorcycles on the road, including expensive ones, it is producing results.
Some of the notorious  orphanages for abandoned or handicapped children, a legacy of the Ceausescu period, still exist but they are said to be fewer in number, with improved conditions.
Away from the 'international traveller' environment around the airport most things, including food and hotels, were much cheaper than at home.  Petrol comes out at about £1.15 per litre.
Foreign tourists are quite thin on the ground, although it is no doubt a different matter on the Black Sea coast.  During the whole trip I saw only one British registered car and came across no other British people.
Although cars are driven very fast and apparently recklesslyI did not see a single accident in 850 miles, and the general standard of discipline is better than in Albania or Russia, for example.  In southern Spain almost every car is scratched or dented, whereas in Romania most cars are in good condition, apart from old Dacias.  In many former east European states car crime is a serious problem and cars cannot be safely left in the street.  Hotels have guarded car parks, often with big steel gates, but in Romania such precautions do not seem to be necessary. 
At this stage the country is not on my 'must go again' list, but I came away feeling quite optimistic about it.
Skiing by Elva Courier - December 1963
 This is a story of travelling hopefully and, somewhat against the odds, arriving.
 In the Autumn of 1963 I mentioned to my friend Jeff Ward that I was thinking of going skiing. He had been a couple of times before, whereas I was a complete beginner, and he suggested that we should go together on a package holiday to Austria. He duly made arrangements for us to go in February with a firm called Ski Plan to Oberau, a small village in the Tirol, flying to Innsbruck and on by coach.
 Towards the end of 1963 I had some holiday left and thought it might be a good idea to try to fit in a week's skiing before Christmas, which would mean that I would not be a complete beginner on the holiday. I contacted Ski Plan, and they said they did not have any organised holidays before the New Year, but they had a training week for their reps in December in St.Anton (Tirol) and they could provide me with accommodation, ski school and equipment there. However, I would have to make my own travel arrangements.
 There were no cheap flights in those days, and I did not want to go by train, which I saw as complicated, so I decided to drive down. At that time it was quite unusual to drive to the Alps in the winter, and people who did it wrote articles for magazines about the experience. I had driven to the Alps a couple of times in the summer, but had never been abroad at all in the winter, and had absolutely no idea of winter conditions in the mountains.
 I had three cars, an Austin 750 racing special, a hand-painted 1953 Austin Somerset Convertible, and a 1960 Elva Courier sports car. The 750 special was like a smaller, more primitive Lotus 7, which most people would find hard to imagine, and the Somerset, my everyday car on the days that it would go, was worn out and unreliable. The only car that had even the remotest chance of making it to St.Anton in December was the Elva.
For those unfortunate readers who are not members of the classic car cognoscenti I should explain that the Elva Courier was a lightweight, glass-fibre bodied sports car made in small numbers in the late 1950s and 1960s in England. Mine was a Mark II, with the 1600cc MGA engine. For weather protection the car had a basic hood and detachable side screens with Perspex windows, which left a hole about 3/4in square at the top corner of the windscreen on each side when everything was in place. There was a recirculating air heater, which just heated up the air already inside the car, but there was never any shortage of fresh air in a Courier from the numerous gaps around the scuttle and other areas of the bodywork.
 The ground clearance was a few inches, and the tyres were as you would expect to find on a car of that type, suitable for driving in what residents of alpine regions would describe as "summer" conditions. The idea of getting tyre chains did not occur to me, and anyway I doubt whether there was enough space under the wheel arches to fit them.
 At the time I was living in a flat in Bromley and kept the car in a garage but had little in the way of workshop facilities (no electricity) and I am sure that I did not do much preparation for the journey, beyond checking the oil, anti-freeze and tyres.
 The plan was to do the journey in two days, via France and Switzerland. On the first day I would drive to Lydd in Kent, cross the channel to Le Touquet with the Silver City air ferry, and stay the night in a hotel in Reims. From there I was hoping to reach St.Anton on the second day.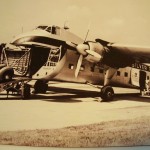 The Silver City air ferries were the fastest-ever way of taking a car across the channel and are still thought of with great affection by most people who used them. In 1963 they consisted of Bristol Freighters, converted to carry three cars and about 20 passengers. The cars were driven up a ramp at the front of the plane by airport staff, while the passengers waited in little groups in the terminal. Once the cars were loaded the passengers were called by tannoy e.g. "Mr.Smith and party", and took their seats in a cabin behind the car compartment. The planes had two engines, which started with a great commotion, belching out smoke and flames in full view of the passengers, accompanied by much noise and vibration. But it was fun. The plane flew at about 1500 feet and took 20 minutes from Lydd to Le Touquet.
 The journey through France was to be entirely on routes nationale, as there were no autoroutes in those days anywhere near where I was going. At the time I was attending French evening classes in Beckenham, and I told the lecturer what I was proposing to do. He knew nothing about cars but was supposed to know quite a bit about France, and when he came out to the car park he looked at the Elva and said "Well, you won't get over the Vosges Mountains in December in that!" I had never even heard of the Vosges Mountains.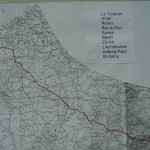 Possibly I did not think about it at the time, but the day I set off was Friday 13th December 1963. The 220 mile drive from Bromley to Reims, with the channel crossing, was uneventful, and I arrived at the Hotel Foch in the evening. The hotel was booked through a travel agent, and it still exists, but only as a restaurant now.
 At 7.30 the next morning I was rather perturbed to find that the streets of Reims were largely covered with ice, which meant a slow start to the long day's drive, but it cleared during the course of the morning. French road gradings have changed considerably since that time, and the most obvious route to take then was through Bar-le-Duc to join the N66 right down to Basel. I had some food in the car and stopped briefly a couple of times for snacks and fuel, but pushed on as far and fast as I could. There were few if any by-passes, which meant that I had to drive right through all the towns, including one called Remiremont, which still had a main street with a dirt and mud surface. This was actually the place in which, on a subsequent trip with a more sensible car, I caused confusion by going into a café and asking for a café blanche. After an impromptu staff meeting it was decided that I wanted a café au lait. It seemed that the French lessons hadn't had much impact on me.
 A few miles after Remiremont was the Col de Bussang, the crossing point over the dreaded Vosges Mountains. At 731m (approx 2400ft) this was little more than a bump in the landscape compared with most alpine passes and was no problem at all.
 I had calculated that it would take around 7½ hours to reach Basel, and that was about right. From there the route went through the entire length of northern Switzerland, including the centres of Basel and Zürich, and again there were no autobahns, just ordinary main roads. It was fairly flat, as it ran some distance north of the mountains, but was nevertheless slow going, and to the Austrian border near Feldkirch took about 4½ hours.
 St.Anton lies at the foot of the Arlberg Pass on the eastern side, which meant that it could only by reached via the pass, because the tunnel was still years away. At 1793m (5883ft) the Arlberg is not one of the highest alpine passes, but from experience on subsequent trips I know that it is a very cold area, and temperatures of -20ºC (-4ºF) are not unusual in the winter. At about 8.30pm I reached the start of the pass, by which time it was, of course, pitch dark, and with some trepidation decided to attempt to reach my accommodation in St.Anton. There was snow around, but the road itself was clear and dry and the indications were that it would stay that way. Although the road leads to the high villages of Lech, Zürs and St.Christoph there was no other traffic at all. So I had a whole mountain pass to myself in an Elva Courier, and with the exhaust note echoing off the rock faces this should have been paradise, but as I plunged ahead into the darkness after a long day it felt as if I was driving to the end of the world.
 Eventually I reached the summit and the lights of St.Christoph, from which it was quite literally downhill all the way to St.Anton. The main road ran straight into the centre of the town (no by-pass then) and without too much trouble I found Haus Kössler in a back road. The distance from Reims was 424 miles.
 The next morning, before my first skiing lesson, I went out to look at the car and tried to start it. The engine turned over slowly, with a strange noise, and when I looked into the header tank the anti-freeze had turned to sludge. As mentioned earlier, before leaving home I had checked the anti-freeze, and it was all right. All right for Bromley that is, but not for -15º in St.Anton. This was also the moment when I discovered that you cannot freeze bananas, or at any rate, you can't eat them afterwards. Behind the passenger's seat was a bag containing half a dozen totally black bananas.
 After a traumatic first day's skiing I came back to the car, which had been standing in the sun, and the anti-freeze had thawed out. The engine started immediately, so I drove to a garage in the town and got some anti-freeze to strengthen the mixture.
 During the week the weather was very cold but dry, and the roads were clear, so I took a bit of time off skiing to drive up the pass to St. Christoph, Lech and Zürs, all high ski resorts. The car seemed none the worse for its experiences so far, and I could now really enjoy the drive, with fantastic views. Much of the road was protected by concrete snow shelters, like open-sided tunnels to keep it clear at times of heavy snowfall, although it was still frequently closed for quite long periods in the winter.
 By the end of the week, with sore feet, aching muscles and many bruises it was time go home, so at 7.30 on the Saturday morning I set off to retrace my route to Reims. Conditions were much the same as before, but it was easier now, because I knew what lay ahead. After spending another night at the Hotel Foch, and surviving another flight with Silver City I arrived home on the Sunday evening.
 Over the next 40 years I was to drive to the alps in more sensible cars very many times for skiing, often over the same route as in 1963, and I realise now how lucky I was on that trip. Some journeys were trouble free as far as the weather was concerned, but often I would run into problems with snow and ice for at least part of the time, and occasionally I would have a real hell journey, battling through falling or drifting snow over long distances.
 It is actually not true to say that I travelled hopefully in the Elva, because I really had no idea of the conditions that I might face, and was quite confident that I would get there and back without trouble. Such was my optimism that I had no breakdown cover, and I cannot imagine what would have happened if I had broken down that night on the Arlberg Pass.
 Unfortunately I was not into photography in those days, and have no pictures of that holiday at all. The ones above were taken elsewhere and are of poor quality.
 The car - where is it now?
The survival rate of Elva Couriers has been quite high, because they were always a bit special and had well-made glass-fibre bodies that did not rust, so it is quite likely that my car still exists.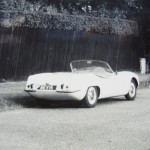 I bought it secondhand in August 1963 from Gold Seal Sports Cars, in south-east London, and it had the rather inappropriate registration number 6777VW. This was immediately changed for my own number BEV15, which stayed on it throughout my ownership. The car was eventually sold in about April or May 1965 by my father in Northampton, because I was working in Germany at the time. My registration number was put on retention, and I think the Elva reverted to 6777VW, but I am not sure about that. Unfortunately I did not keep a  record anywhere of the chassis or engine numbers.
 The Elva company still exists and Roger Dunbar, the present owner of the firm, has an archive but has no record of a Courier with either of the above registration numbers.   Since this article was first published Roger has advised me that the chassis number of my car was 200/25/R, and in the early 1980s it was registered in Kenley, Surrey, England, with the number TVV801.
In January 2011 Roger contacted me again to say that the car was advertised for sale on the Pistonheads web site.  It was still in Surrey, and I rang the owner, Craige Amos, and arranged to go and look at it.  On 8th January 2011, over 43 years since I had last seen the car, I sat in it again.  Craige, who used to be in the motor trade,  had rebuilt it completely with an MGB 1800cc engine, many other new parts, and sprayed the body red.  It was an excellent restoration, but I found it difficult to identify with the car, and could not really imagine driving to Austria in it.  I was surprised at how difficult it was to get in, something that I don't remember being a problem when I was 25, but that goes for a lot of other things.  It may be because Craige has fitted new racing-style seats which are ok for him but too low for me.
Anyway, it was good to see that the car has survived and is now in better condition that when I owned it.