Some of the car museums visited by Bevis on his travels.  Dates are year of last visit.
BELARUS
Dudutki Folk Museum. Dudutki 2019
An ethographical museum with a small collection of mainly Soviet vehicles, including some obscure ones.  http://www.dudutki.by
BELGIUM
Autoworld, Brussels 2011
Effectively the Belgian national motor museum. In government museum complex on the east side of Brussels. Most of the exhibits came from the Ghislain Mahy collection (see Mahymobiles). About 200 vehicles. Very good selection. www.autoworld.be
Mahymobiles. Leuze 2007
The main part of the collection of Ghislain Mahy, the owner of a large taxi company after the second world war. New cars were in short supply, and Mr.Mahy bought anything he could get, new or secondhand, and kept them all when they were no longer suitable for his business. Several hundred cars in this museum, and there are said to be many more in store. About 1000 including the ones in Autoworld. www.mahymobiles.be
Oldtimer Museum "Bossaert". Lo Reninge 2011
Excellent privately owned museum attached to a large general store. 95 vehicles, cars, motorcycles and military. Web site in Dutch, but understandable. www.oldtimermuseum.be
Spa-Francorchamps Racetrack Museum. 2010
A small museum attached to the Abbaye de Stavelot, with a collection of competition cars associated with the circuit and a considerable number of classic motorcycles.  Also general information about the history of the circuit.  www.abbayedestavelot.be
CHINA
Beijing Auto Museum,  Beijing  2013
A recently opened state-run museum housed in a spectacular building vaguely reminiscent of the Mercedes Museum in Stuttgart.   A fair number of Chinese and other classic cars, but largely devoted to educational displays and very popular with families.   Website hard to find and only in Chinese.  Just put Beijing Auto Museum into Google.
Beijing Classic Car Museum, Huairou, Beijing District.  2013
A really good museum of Chinese vehicles started many years ago by Mr. Luo Wen You, a former taxi driver.  Lots of weird and interesting things, but all descriptions are in Chinese only.  Mr. Luo Wen You will be pleased to see you but doesn't speak any English. http://www.laoyeche.org (Chinese).
CUBA
Museo del Autovil, Havana.  2011
The streets of  Havana are full of classic vehicles, almost all post 1945, but this small museum has a number of older American cars and a 'barn-find' 1920s Rolls-Royce open tourer.  Also some fairly obscure cars and motorcycles of the 1960s and 70s, including MG and Maserati replicas.
CYPRUS
Cyprus Classic Motorcycle Museum, Nicosia  2019
This museum is owned by Andreas Nicolaou, a proper biker, who has a large collection of classic vehicles.  About 100 motorcycles are in the museum, many of them British.  A really good place for oily rag enthusiasts.   http://agrino.org/motormuseum
Cyprus Historic and Classic Motor Museum, Limassol   2019
Founded by Dimi Mavropoulos, a local rally-driving legend, this museum has over 150 exhibits, including a few commercial vehicles and automobilia, all well displayed.  Highly recommended. www.cyprusmotormuseum.com.cy
Near East University Classic Car Museum, North Nicosia  2019
A very smart museum on the NEU campus about 5 km north of Nicosia, the collection is divided into two sections:  modern sports cars, including supercars, and traditional classic cars plus some motorcycles.  Many of these vehicles  are British. A good collection, clean and well-displayed but the entry fee is a bit over the top at 20 euros.  www.cypruscarmuseum.com
CZECH REPUBLIC
Skoda Auto Museum 2010
An excellent museum attached to the Skoda factory at Mlada Boleslav about 35 miles from Prague.  Skoda is one of the oldest car manufacturers in the world, and the museum covers the whole of the 20th century including  the Soviet period.      http://new.skoda-auto.com
ESTONIA
Automuseum Halingal .   E67 Loomse 2019
A recently built museum with a good display of about 50 mainly iron-curtain cars, some unusual.  The whole place is immaculate, including most of the cars.   Car descriptions in English.   http://www.automuuseum.ee
Jarva-Janni Classic Car Park.  Jarva-Jaani  2019
A wonderful open-air collection of East European vehicles, originally fire-engines but now including cars, lorries,  buses, motorcycles, and many other strange machines. There is no cash desk, you put the entry charge in a box under the bonnet of an ancient Zaporozhets. An indoor museum is now being built with EU support, but hopefully most of the outdoor exhibits will remain.  Unmissable.   http://www.varjupaik.jjts.ee
FRANCE
Cité de l'Automobile - Musée National - Collection Schlumpf Mulhouse 2008
Originally a collection of over 120 Bugattis built up in secret by the Schumpf brothers who owned a textile business, many more cars were added and it is now the French national motor museum. A vast collection, beautifully displayed, and without a doubt one of the best motor museums in the world. www.collection-schlumpf.com
Musée Automobile Reims Champagne. Reims 1994
An excellent collection with many important one-off designs, mainly French. Cars, lorries and motorcycles. www.musee-automobile-reims-champagne.com
Conservatoire National des Arts et Métiers. Paris 2005
The French equivalent of our Science Museum. A few vehicles, but by far the most interesting is Cugnot's Steam Wagon of 1769, claimed to be the world's first motor vehicle. www.arts-et-metiers.net
There are very many more unvisited museums in France.
FINLAND
Espoo Car Museum, Espoo near Helsinki 2019
An exceptionally good museum, run by enthusiasts for enthusiasts.  A vast collection of cars and motorcycles, including microcars, mopeds and scooters from both sides of the iron curtain. Highly recommended. Descriptions mostly in Finnish, but website in English. www.espoonautomuseo.com
Helsinki Car Museum. Helsinki 2008
A small museum, about 20 vehicles, but a collection of 5000 models of Mercedes Benz vehicles of all sorts. www.automuseo.fi (in Finnish)  This museum may now have closed.
Lahti Motorcycle Museum.  Lahti   2019
An excellent museum, owned by a Finnish man who has close connections to Britain and the Ace Cafe in London. Many interesting bikes in a widely varying state of preservation and a London bus for bringing people from Lahti in the summer. Definitely worth a visit.  www.moottoripyoramuseo.fi
Mobilia Museum. Kangasala   2019
An extremely smart museum in which you could eat off the floor.  A moderate number of exhibits but well-displayed with a large rally car section. Family orientated and educational.  Also has time-limited themed displays and trade shows.  www.mobilia.fi
Uudenkaupungin Car Museum.  Uusikaupunki  2019
Adjacent to the Valmet car development and assembly plant, this museum is divided into 3 sections: a good general display of cars and motorcycles, a SAAB hall, and other vehicles made by Valmet.  The SAAB hall has about 40 cars, ranging from the 92 to the final GM based models. Obscurely situated but worth visiting.    www.visituusikaupunki.fi/fi/automuseo
Vehoniemen Car Museum.  Kangasala  2019
A good selection of cars and motorcycles with a shop selling models and a cafe. Rather strangely they have an immaculate engine from a British Trojan car.  www.automuseo.com
GERMAN
Audi Museummobile. Ingolstadt 2009
A large museum, attached to the Audi factory. Covers all makes historically associated with Audi, e.g. Auto Union, DKW, Wanderer, Horch, NSU. Cars and motorcycles. Very well displayed.   www.audi.de/foren
Auto & Technik Museum Sinsheim. Sinsheim 2010
Considered by many people to be the best technical museum in the world, there are 300 cars, 200 motorcycles, and many aircraft including Concord and Tupolev 144. Also military and marine exhibits. Fantastic.                    www.technik-museum.de
Automobile-Museum Dortmund. Dortmund 2012
About 80 vehicles, cars and motorcycles, with a slight emphasis on Jaguars. Well displayed www.oldiemuseum.de
Automuseum Melle. Melle 2012
A large and varied collection, cars and motorcycles, well displayed. www.automuseummelle.de
Automuseum Rosso Bianco. Aschaffenburg. 2003
A wonderful collection of 200 sports cars, many of exceptional interest.  Sadly now closed.  Some cars were sold privately, but others went to the Louwman Collection in Holland see below)
Autovision. Mannheim 2010
A private museum with the theme of alternative power, particularly electricity and Wankel engines. Very high technical interest. Collection of cars, motorcycles, engines, and NSU section. www.autovision-tradition.de
BMW Museum am Olympiaturm. Munich 2007
This was a temporary display in an inflatable building, with selected cars and motorcycles from the original museum, which was being rebuilt. Now closed.
BMW Museum. Munich 2009
A new museum, adjoining the BMW factory. Car and motorcycles and some aviation. In some respects disappointing, with a complicated layout and little natural lighting. www.bmw-museum.com
Classic Remise.  Dusseldorf  2012, 2014
Strictly speaking this is not a museum, but a classic car centre incorporating a small museum section.  Formerly known as Meilenwerk it comprises storage facilities for classic vehicles with shops selling vehicles, clothing and accessories, a large car sales area and cafe all under one roof in a former locomotive building.  Altogether there are about 200 vehicles, including many exotic ones, and entry is free during normal working hours.   An unmissable experience for classic vehicle enthusiasts.  www.remise.de
Classic Remise.  Berlin 2012
This is a sister classic car centre to the Dusseldorf one above, but may be slightly smaller, with more workshops and fewer sales outlets. Still a very good selection of cars and well worth visiting.  www.remise.de
Deutsches Museum Verkehrszentrum. Munich 2009
This is the transport section of the Deutsches Museum, a technical museum similar to our Science Museum. Cars, motorcycles, lorries, trains, bicycles. Has the only original 1885 Benz Patent Motorwagen in existence (though it may have been built later than 1885). Also an Auto-Union Silver Arrow. Superb collection. www.deutsches-museum.de
Deutsches Technikmuseum Mensch in Fahrt.  Berlin 2012
A permanent display of vehicles, including about 30 cars, associated with the adjacent German Technical Museum.  Relatively small, but quite good.   www.sdtb.de
Deutsches Zweirad-Museum and NSU Museum. Neckarsulm 2010
The German national motorcycle museum. On several floors in a quaint old building in the centre of Neckarsulm, the home town of NSU. Separate section devoted to NSU products. Excellent. www.zweirad-museum.de
Eisenach Automobile Welt. Eisenach 1994
This is the museum of the former Wartburg factory, which was owned by BMW before the war and has many exhibits dating from that period. At the time of visit it was in a separate building, but has since been moved to the site of the former factory. Worth visiting. www.ame.eisenachonline.de
1. Berliner DDR Motorrad-Museum.  Berlin 2012
A marvellous collection of over 140 motorcycles made in East Germany (DDR) during the Communist post-war period.  Mostly well-restored and well-displayed.   Mainly MZ and Simson, but a number of other little-known makes.  www.erstesberliner-ddr-motorradmuseum.de
Hockenheimring Motor Sport Museum. Hockenheim 2010
Some racing and motor sport orientated cars on the ground floor, but this museum is now mainly dedicated to motorcycles.  In the gallery are many British classic machines, loaned or donated to the museum by a German collector.   Website is confusing and museum information is only in German. www.hockenheimring.net
Mercedes-Benz Museum. Stuttgart 2008
A huge display of Mercedes vehicles in an ultra-modern building, opened in 2008. Very popular, and can have long waiting times at peak periods, such as Saturday morning. Adjoining factory complex, with showroom, restaurant etc. www.mercedes-benz.com/museum
Motorradmuseum Ibbenbeuren. Ibbenbeuren 2008
An excellent private motorcycle museum. www.ibbenbeuren.de
Porsche Museum. Stuttgart 2010
An excellent museum in an impressive new building adjacent to the Porsche factory, opened in 2009.  A large number of cars very well displayed.   www.porsche.com
Rosengart-Museum, Beburg-Rath, nr. Cologne.   2011
A small but excellent museum dedicated to the life and work of Lucien Rosengart, a Frenchman who made Rosengart cars from the 1920s until 1953.  About 30 cars are displayed, including many licence-built versions of the Austin 7 and some larger front wheel drive models based to some extent on Audi and Citroen engineering.   The museum is a popular meeting place for classic car enthusiasts and has an large outdoor restaurant.  www.rosengart-museum.de
Technik Museum Speyer. Speyer 1996
Difficult though it is to believe, but this museum is an extension of the one at Sinsheim. 50 cars, plus aircraft and marine items, including a U-boat and a Russian space shuttle.  www.technik-museum.de
Unimog Museum. Rastatt. 2008
Although Unimog is a Mercedes product, it has this small independently-run museum of its own with an adjacent test track, on which you can be taken for a demonstration run over obstacles. www.unimog-museum.de
There are very many more car museums in Germany. See www.deutsche-museumsstrasse.de
HOLLAND
Autotron.   's Hertogenbosch 2003
This was a large and very good museum, sadly now closed. Many of the exhibits went to the Louwman Collection.
Louwman Collection. Raamdonksveer 2003
A fantastic collection, now the Dutch National Motor Museum. It was built up by the Louwman family, who imported cars into Holland, and has many outstanding and rare exhibits. It closed in 2009, pending a move to the Hague (see below)
DAF Museum.  Eindhoven 2012
About 40 trucks and a similar number of cars are displayed in this old building, which was the original home of the Van Doorne company.  There are many prototypes and competition vehicles, with an emphasis on the Variomatic belt drive transmission for cars, which was the company's speciality.   www.daf-museum.nl
Louwman Collection. Den Haag (The Hague)  2011
A world class museum, in impressive new purpose-built premises.  Many rare or unique cars, extremely well displayed, together with an automotive art gallery.   www.louwmanmuseum.nl
ICELAND
Skogar Transportation Museum, Skogar   2013
Associated with the excellent Skogar Folk Museum, this is a display of vehicles and communication equipment used in Iceland in the 19th and 20th centuries,  including about 15 vehicles.  These are mostly special-purpose tracked or 4x4 vehicles, including a Citroen Kegresse half-track used for crossing the interior in the 1920s.  www.skogasafn.is/en/museum-of-transport
ITALY
Museo Alfa Romeo.  Milan  2016
Based at the Alfa Romeo headquarters, this museum is as prestigious as might be expected, although a little cramped in some parts.  Includes a documentation centre, bookshop, showroom, virtual reality area, and perhaps best avoided, a 4-D cinema.   http://www.museoalfaromeo.com
Museo Enzo Ferrari.  Modena  2016
On the site of Enzo Ferrari's house in the centre of Modena, this museum actually has little about the man himself, but does have an excellent display of engines and cars, in some ways better laid out than the factory museum, with which it is associated.    http://www.museomodena.ferrari.com
Museo Ferrari.  Maranello   2016
The main Ferrari factory museum, it is very popular with the public and can be a bit crowded.  Examples of most Ferrari road and racing cars and engines.  http://www.museomaranello.ferrari.com
Museo Lamborghini.  Sant'Agata   2016
Attached to the main Lamborghini office block, this museum has examples of every model produced by the company. Expensive, considering its size, but Lamborghini is Lamborghini. http://www.lamborghini.com
Museo Mille Miglia.  Brescia  2016
A really excellent museum, housed in a former monastery, displaying cars, customs and curiosities (their description) from the Mille Miglia races between 1927 ando 1957.  Includes many 'etceterini' low-volume sports cars from the 1940s and 50s. http://www.museomillemiglia.it
Museo Nazionale dell'Automobile di Torino.  Turin  2016
The Italian Nation Automobile Museum has a about 200 cars from around the world, but as might be expected, with an emphasis on Italian makes.  Well-displayed apart from rather poor lighting.  http://www.museoauto.it
Museo Tazio Nuvolari.  Mantova  2016
Not strictly speaking a car museum, but dedicated to Tazio Nuvolari (1892 - 1953), one of the world's most famous racing drivers. Run by enthusiasts and very atmospheric, it is housed in an old building in the back streets of Mantova.  http://www.tazionuvolari.it
JAPAN
Motor Car Museum of Japan. Komatsu 2007,  2015
Housed in a British-style red brick building, this huge collection was built up by the man who introduced that building method to Japan in the 1970s and made a fortune. After delivering the bricks he collected dumped cars from his customers and put them in a field, until there were so many that he decided to start a museum. 500 cars and motorcycles. Brilliant. Also a collection of urinals from around the world. This could only be Japan.    http://www.mmj-car.com
Prince & Skyline Museum, Okaya  2015
In a smart modern building perched on the top of a hill in a park, this museum is strictly for fans of the long-defunct Prince marque, and its successors, the Datsun/Nissan high-performance Skyline models.  Not worth the time and high entry cost unless you are a total anorak for these cars.  Website totally Japanese.
Toyota Automobile Museum. Nagoya 2007, 2015
A very large and varied collection of cars from all over the world, beautifully displayed, with no pro-Toyota bias. Examples of the licence-built Austin, Hillman, and Renault cars of the 1950s. www.toyota.co.jp/Museum
LATVIA
Riga Motor Museum. Riga 2006
Cars and motorcycles, with an Iron Curtain bias. The prize exhibit is an Auto Union Silver Arrow that was rescued from being broken up in Russia, although the one on display may be a C & G replica.    www.motormuzejs.lv
PORTUGAL
Automobile Museum, Vila Nova de Familicao. 2017
An excellent museum, mainly intended for educational purposes, with a some unusual microcars and other rare models, mostly European.  Also motorcycles.   museoautomovelfamalicao@gmail.com
Caramulo Museum, Caramulo 2017
Situated in a remote area about 70 miles from Porto this museum has some exotic cars including Ferraris, Bugattis and a Pegaso.  All well displayed and worth the effort to get there.  http://www.museo-caramulo.net
Museum of Transport and Communications. Porto 2017
The car section of this museum is dedicated entirely to vehicles used by dictators and presidents of Portugal.  It makes a point of demonstrating the move away from top-of-the-range Rolls-Royce and Mercedes to BMW and Audi as the country has become more democratic. Only about 15 cars, but easy to get to.  http://www.amtc.pt   (Portugese)
RUSSIA
Autoville. Moscow  2010
When visited this museum was acually closed for a private party, and appears to be aimed at the corporate hospitality business.  Very smart, about 30 cars, mainly formerly owned by notable people, including Mr.Putin.  Website in Russian. www.autoville.ru
Lomakov Museum of Antique Cars and Motorcycles.  Moscow  2010
The Lomakov family started collecting cars in 1964 and this is a sizeable collection, with a large proportion of non-Russian manufacture. Some interesting vehicles, but many in poor condition.   Many interesting cars outside, but these are not normally accessible to visitors. www.lomakovka.ru
Retro-Auto Museum. Moscow  2010
This is the one to visit if you are interested in vehicles of the Soviet era.  Most of the former Moskvitch museum is here, including many prototypes.  Commercial vehicles as well.  Excellent.  www.auto-retro-museum.ru
There are also some cars in the Polytechnic museum in central Moscow.
SLOVENIA
Technical Museum. Ljubljana 2005
This museum has two fairly large vehicle sections, one for cars and motorcycles, with a local bias, and the other for the cars of Marshall Tito. These are more varied than might be expected, because most of them were given to him by governments trying to influence him. www.tms.si
SOUTH KOREA
Samsung Transportation Museum. Jongin  2013
A good collection of classic cars from around the world, with a rather strange outdoor display of American car shells entirely painted silver for artistic effect.  Some early Korean cars (1970s and 80s) and a real oddity, one of the Docker Daimler show cars from the 1950s.   No Samsung cars, although they are still in production, now made in Korea by Renault.  Also trains and aircraft. www.stm.or.kr/english/index.html
THAILAND
Jesada Technik Museum, Nakhon Phathom 73120   2018
An astonishing collection of vehicles, mainly cars and motorcycles from Europe.  Many rare and unusual types including microcars.  Racks of pedal cars and a large reserve collection of motorcycles.  It is a private museum and entry is free.  In the countryside about 25 miles west of Bangkok.  http://www.jesadatechikmuseum.com
TURKEY
Mehmet Arsay Classic Car Museum.  Istanbul  2016
A collection of about 80 cars from around the world, many American and all in superb condition.  A lot of iconic models from the 1920s and 30s.  Beautifully displayed in a warehouse on an industrial estate, and believed to be the property of one man.  The curator was very pleasant and enthusiastic, but did not speak English.  Free entry.   http://www.klasikotomobilmuzesi.org  (in Turkish)
Rahmi M Koc Museum.  Istanbul  2016
A good collection of cars in an excellent museum covering all forms of transport.  A number of Anadol and other Turkish cars not found elsewhere.  Also rally cars, boats, trains and aircraft.   http://www.rmk-museum.org.tr
Ural Ataman Classic Car Museum.  Istanbul  2016
Another excellent privately-owned museum containing many high value cars, all in perfect condition.  Presented in the style of a classic American diner, with petrol pumps and dozens of working neon signs.  Obscured situated in the back streets of a northern suberb of Istanbul.  Everything perfect.   http://www.atamanmuseum.com
USA
Auburn Cord Duesenberg Museum.  Auburn, Indiana  2014
A high-quality museum in the former headquarters of the manufacturer.  An excellent display of superb cars, much larger than might be expected bearing in mind the relatively small size of the company.  Highly recommended.  http://www.automobilemuseum.org
Auto Collections at LINQ Casino.  Las Vegas, Nevada 2017
Formerly the Imperial Palace Auto Collection, this is now an upmarket dealership, and most of the outstanding exhibits have been replaced by cars with more public appeal but less technical interest. http://www.autocollections.com
Autoklassix Corvette Museum. Daytona, Florida 1995
Strictly for Corvette cognoscenti. An example of every model for every year of production.  Finished and became Klassix (see below).
Automobile Driving Museum. El Segundo, California  2017
A good private collection of about 130 mainly American cars, well-presented and run by friendly people. http://www.automobiledrivingmuseum.com
Bellms Cars and Music. Sarasota, Florida 1997
When first visited in 1989 this museum had a superb collection of cars and antique musical instruments. It declined over the years and eventually, in reduced form, without the music, became Sarasota Classic Car Museum (see below).
Blackhawk Automotive Museum. Danville, California 2008, 2017
At the time of the 2008 visit this was a fabulous museum with the 3 Alfa Romeo BAT cars, one of the only two Buchiali TAV12s, a Pierce Arrow Silver Arrow and Bugatti Royale. By 2017 the BAT cars were still there but many of the best ones had gone. Still worth visiting. Display spoilt by poor lighting (spot lights). www.blackhawkmuseum.org
Collier Collection. Naples, Florida 1992
A fabulous private collection, mainly sports and racing cars, in an industrial building on the outskirts of Naples. No longer open to the public, but occasionally to invited groups. The owner, Miles Collier, is still adding to the collection from time to time.
Doc's Classic Car & Cycle Museum.  Bonduel, Wisconsin  2014
A collection of vehicles and automobilia attached to a large Harley Davidson dealership.   Some really oddball things, especially motorcycles.  http://www.docshd.com
Don Garlitt's Ford Museum. Ocala, Florida 1998
At the time of visit there were two museums on this site, one for dragsters and the other for Fords. The Ford museum was quite large but very American and probably of limited interest to many people. It now appears to have been enlarged and become a general classic car museum, though still predominantly American. www.garlits.com
Elliott Museum. Stuart, Florida 1993
Sterling Elliott was an inventor and this museum in his house is dedicated to his memory. There are about 10 cars, ranging from 1903 to 1954. Stanley Steamer, Bugatti and Briggs. Also, at the time of visit, a Morris Minor. Museum has moved into new premises since visited.   www.elliottmuseumfl.org
Elvis Presley's Automobile Museum, Memphis, Tennessee  2011
Part of the Graceland complex, this museum has about 33 vehicles owned by Elvis Presley, including exotic cars, motorcycles, a tractor and a snowmobile modified for driving on the Graceland lawns.   Rolls-Royces, Cadillacs, a Ferrari, Stutz Blackhawk, Harleys, everything you might have expected Elvis to own.  Elvis.com 
Harley-Davidson Museum.  Milwaukee, Wisconsin  2014
The company's official museum, adjacent to the factory.  Examples of every model ever made, with displays of engines, fuel tanks and lots of information about the history of H-D.   The whole set-up has an appropriate heavy metal style.  http://www.h-dmuseumcom
Harrah's Automobile Collection. Reno, Nevada 1983
In 1983 there is little doubt that this was the best car museum in the world. 1200 cars, many awaiting restoration in open sheds outside. 2 Bugatti Royales (out of 6 made) and a lot of other unique or very rare cars like the Dymaxion and the Stout Scarab. Built up by William Harrah of Harrah's Casino, and when he died a large proportion of the exhibits were sold, a core of about two hundred becoming the National Automobile Museum (see below). Many of the best cars went to what is now the Blackhawk Museum and the Imperial Palace Museum in Las Vegas. (see below).
Henn's T-Bird Swap Shop Museum. Fort Lauderdale, Florida 2010, 2018 
A collection about 12 very high performance cars, mainly Ferraris and mostly with a top speed of over 200mph. Recent addition is a Bugatti Veyron. Displayed at Henn's T-Bird Swap Shop, a vast market and drive-in cinema complex.  By 2018 the collection had been expanded to about 30 cars.  Website has video tour.  www.floridaswapshop.com
The Henry Ford Museum.  Dearborn, Michigan  2014
Considered to be one of the best car museums, it also covers other forms of transport and many aspects of  life in the 20th century. Has one of the six Type 41 Bugatti Royales and the car in which President Kennedy was assassinated. http://www.TheHenryFord.org
Imperial Palace Auto Collections. Las Vegas, Nevada 2008
Perhaps not quite as exotic as Blackhawk, but not far short and the cars are better displayed. Many coachbuilt Rolls-Royces and other luxury cars of the 1920s, 30s and 40s. Most are for sale but don't expect to get anything for less than $200,000.  Now renamed the Auto Collections at LINQ Casino. (see above)
Klassix. Daytona, Florida 2003
In the same building as Autoklassix, but a more general collection with motorcycles and a lot of automobilia. Vastly overpriced. Closed 2003.
Lane Motor Museum.  Nashville, Tennessee  2011
An excellent privately owned collection of rare and interesting vehicles, many from Europe.   A considerable number of unique prototype cars, plus microcars, motorcycles, military vehicles and a display of Tatras.  A friendly museum, in which photography is welcomed.  Very well worth visiting.   www.LaneMuseum.org
Larz Anderson Museum. Boston, Massachusetts 2006
A unique museum. Larz Anderson was a wealthy man with an estate in Boston at the start of the 20th century. He bought cars, mostly expensive ones, used them for a couple of years, and then put them in his outbuildings. Eventually he had a new Motor House built in the style of a French chateau, and that is where they are today, still exactly as when he last used them.  He had 14 cars, but some others were added later. www.larzanderson.org
Marconi Automotive Museum.  Tustin, California   2016
A good collection of mainly high-performance cars and motorcycles, owned by Dick Marconi.  Some rare and exotic machines.   Entry charge is a donation to a children's charity.  http://www.marconimuseum.org
Museum of Alaska Transportation and Industry.  Wasilla, Alaska   2012
A museum covering all aspects of transportation, with a number of cars, including some equipped to travel along railroad tracks for maintenance purposes.   Most of the exhibits are exposed to the elements and deteriorating, which seems to be common practice in Alaskan museums.  www.museumofalaska.org
National Automobile Museum. Reno, Nevada 1999
About 220 cars from the original Harrah collection, well displayed. The Dymaxion is still there, and there are many good cars, but for exotica it cannot match Blackhawk or the Imperial Palace. www.automuseum.org
National Automotive & Truck Museum.  Auburn, Indiana   2014
A really good collection of cars and commercial vehicles adjacent to the Auburn Cord Duesenberg Museum.  Run by enthusiastic friendly people.  http://www.natmus.org
Petersen Automotive Museum. Los Angeles, California 2005, 2017
Another high-class museum, with many rare and unusual cars. Has temporary exhibitions lasting a few months with different themes.   High standard maintained in 2017.   www.petersen.org
San Diego Automotive Museum. San Diego, California 2005
A large collection of cars, motorcycles and automobilia with a considerable European content. www.sdautomuseum.info
Sarasota Classic Car Museum. Sarasota, Florida 2004
A slimmed down descendent of Bellms Cars and Music, with about 100 cars. Average interest, although at the time of the last visit there was an Invicta Black Prince Convertible, which seemed rather improbable and no one could explain how it got there. www.sarasotacarmuseum.org
Shelby Museum. Las Vegas, Nevada 2008
A small museum (enlarged since 2008) attached to the Shelby factory where Shelby Cobras are still built, as well the Shelby Mustangs. As might be expected, most of the cars are Cobras and Mustangs in one form or another. Free factory tour on weekday mornings. www.carollshelby.com    There is an unconnected Shelby American Museum at Boulder, not far away.
Snook's Dream Cars.  Bowling Green, Ohio  2014
An excellent private collection of vehicles and automobilia in buildings fronted by a classical 1950s-style service station and workshop. http://www.snooksdreamcars.com
Volo Auto Museum.  Volo, Illinois   2014
This is mainly a classic car dealership with five enormous showrooms containing hundreds of cars, mostly in outstanding condition. Most of the cars are for sale, but some permanent exhibits are connected with famous people such as James Dean, Marilyn Monroe and James Bond.  Also a military section.  The business seems to be run by dedicated people and the prices are reasonable by European standards. Worth a visit if you are looking for an American classic car. http://www.volocars.com
There are very many more museums in the USA.
UNITED ARAB EMIRATES
Emirates National Auto Museum.  Abu Dhabi  2015
A private collection of about 200 vehicles, the property of Sheikh Hamid Bin Hamdan Al Nahyan.  Housed in a pyramid-like building in the desert, it covers a wide range of cars and commercial vehicles, with special emphasis on ones suitable for the local conditions.  The centerpiece is a huge 1980s-style American pick-up with several normal pick-ups parked underneath it.  http://www.enam.ae
Sharjah Classic Cars Museum. Sharjah   2015
A state-run museum operated in conjunction with the Sharjah Old Car Club.  About 100 cars and motorcycles from around the world, covering most of the 20th century.   http://www.sharjahmuseums.ae
For over 1100 car museums world wide see http://www.automuseums.info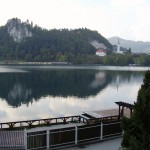 The reason for my visit to Slovenia was probably fairly unusual - it was to attend a Japanese conference. The Japanese company with which I have been involved for many years has a European agents conference every two years, hosted by one of the agents, and at a previous meeting someone asked where the next one would be held. "Slovenia", we were told. This met with blank faces. No one, including me, had any idea where it was.
 In fact, it is the northernmost state of the former Yugoslavia, situated between Austria, Italy, Croatia and Hungary. It became independent in 1991, after a very brief struggle, and while some of the other parts of the former Yugoslavia devoted their energy to things like ethnic cleansing, the Slovenians concentrated on building up a decent economy. They had an advantage in that the area was already more industrialised than the states to the south.
 The conference was held in Maribor only on a Friday, so I decided to fly out on the Thursday and return on Sunday, which would give me a chance to have a look round. Maribor is a mountain and ski resort in the north east of the country, quite close to the Austrian border.
 The only international airport is at Ljubljana, the capital, and I flew from Gatwick with Adria Airways, a small Slovenia airline, arriving at 12.45. After picking up a Citroen C3 Diesel from National Car Rental I set off for Bled, in the north west of the country. Bled is a noted tourist resort, with a lake, mountains and a castle.
 My first stop was a town a few miles from the airport called Kranj (pronounced something like Kran-ya) the main feature of which was at first sight a massive communist era factory making resistors, but the town centre was actually quite picturesque. From there, as I had plenty of time I took a real country route to Bled, via a place called Kropa. After quite a long distance there were cones and signs indicating that the road was closed. I had met several big lorries carrying aggregates, so I thought it must be possible to get through, and it was a very long way to go back, so I decided to carry on. It did go through, but when I told some local people about it the next day they said "Didn't you see the red flags? When the road is closed it means that they are blasting at the quarry". Oh, well.
 In Bled I found a guest house quite quickly, and went for a look round. It was really beautiful, quite like Switzerland. On the lake there were superbly varnished wooden launches, with big paddles at the stern, and they are rowed along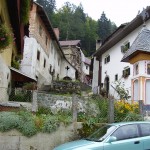 by old men who are themselves a feature of the place, but, not surprisingly, it is proving to be difficult to find youngsters to take on the task. There were plenty of restaurants still open in the evening in September.
 The next morning it was pouring with rain and I set off for Maribor, The country has a good network of motorways, but there is a toll, and I am too mean to pay. Also, the free map I had from the tourist office said 'Byways are more attractive than Highways'. The only practical route was to go back to the airport (avoiding the closed road) and then take a cross-country route via a town called Velenje. At one point I branched off on to a long cul-de-sac road to a ski and sports resort in the mountains called Kamnisca Bistrica, but when I got there it turned out to be a privately run venture, and was closed. Anyway, the scenery was good.
 It just rained and rained, and I was equipped for a conference, not for wandering about in those conditions, so all I could do was to keep driving. The road ran between mountains of up to 1500m all the way, so it was picturesque, if a bit depressing. Some time after stopping for a snack I came to a place called Oplotnica, and the map, which was about 6 miles to the inch, showed a mountain road from there to Maribor. The route proved to be far more complicated on the ground than it appeared on the map, and not long after entering a forest the road began to deteriorate. It started to go downhill, literally, and turned into a muddy track, with bits of wood all over it. I had serious doubts about whether I could get back up the hill, so I decided to keep my nerve and carry on. The hill got steeper, but eventually, to my immense relief, the road got better and came into a village. This was certainly not the road shown on the map, but it did lead to Maribor and the conference centre.
 The conference the next day was what such conferences always are, people whose English is not very good trying to communicate technical material to other people whose English is not very good.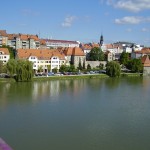 In the evening we were taken by coach into Maribor for a meal. The coach was left in the centre and we walked (about 40 people) half a mile through a park to the restaurant. When we came out at 10.00pm we walked back through the park. In this situation protocol dictates that the Japanese principals must walk in front, which was not ideal, because they were about 5ft5in tall, and in the park were around 200 youngsters in groups of about 5 or 10 with bottles. Fortunately, we had some big German and Scandinavian men in our group who were the sort of people you wouldn't mess with, so the youngsters responded only with loud comments that we couldn't understand.
 The conference centre was a sports hotel at the foot of a mountain with a gondala to the summit, and they had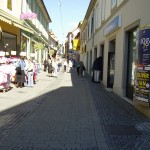 mountain bikes that were free for guests to use. Over the meal a Swede named Roger said he would quite like to ride down the mountain the next morning, so I said I would join him. By morning it had stopped raining at last, and as we were getting ready after breakfast a Swiss bloke named Mario decided to come with us. Out of about 15 bikes there were only two decent ones, one large and one small, which Roger and I had already got, so Mario finished up with one with no back brake, but he said it didn't matter because he had been riding down mountains in Switzerland since he was 10.
 The chairman of the Japanese company was very worried, because he thought he was on the point of losing three agents, but we brushed his concerns aside and went up the mountain. I must admit that on the way down I couldn't keep up with the other two, who were at least 20 years younger than me, but we survived.
 After the bike ride I went into Maribor for a look round. It is the second largest city in Slovenia, and the central area is clean and tidy with many well preserved old buildings. There was a market with stalls offering all kinds of food, and a lady persuaded me to buy a piece of thick bread with a slab of white stuff on it. I asked her what it was, and she said "Fett". Several other people joined in and said "Fett", which I knew to be German for lard in that context. Not the sort of thing to eat too much of, but having bought it I had to eat it.
 I then set off for Croatia, which was only about 30 miles. At the border there was a queue of lorries because it is an EU frontier, but I drove slowly past them on the wrong side of the road, and showed my papers to the person at the check point. On the Croatian side there was a massive amount of civil engineering work, mainly road-building. Shortly after the frontier I turned off into the mountains, and as the road climbed I looked down on to a village or small town below. It was amazingly different from anything I had seen in Slovenia, with Soviet-style concrete blocks of flats, and had the appearance of being very run down.
 The intention was to take a route over the mountains for about 40 miles, and cross back into Slovenia at the second frontier post from where I had come in. In fact, my map was nothing like detailed enough, as I found before, and after about 10 miles I found myself in a tiny village with no way through. To turn round I had to reverse into a steep downhill side road, and had great difficulty in persuading the car to start on the hill. This somehow upset the engine management, and when I got on to the level road at the top it would only do about 10mph. After standing for a while it recovered, to my considerable relief. It would not have been a good place to break down.
 Eventually I found my way over the mountain, and stopped at a restaurant by a river a few miles from the border, and ordered some coffee and cake. While I was waiting I suddenly realised that I had no Croatian money, and had visions of being thrown into a filthy rat-infested jail and left to rot. However, the waiter reluctantly agreed to accept Slovenian money, and I went on my way.
 From there I was heading back towards Ljubljana on a less mountainous route than I had taken the other way, and found a small country hotel with a restaurant for my night stop.
 The next morning I set off for the Technical Museum at Bistra, which has a very good collection of cars, including most of the ones used by General Tito. They are much more varied than might be expected, because many of them were given to him by different governments trying to get him on their side.
 From the museum I went on to Ljubljana, and had plenty of time to look round the city centre before going on to the airport. It was larger and more imposing than I expected, and I was just in time to look round the Sunday morning antique market.
 Overall I was very impressed with Slovenia. It seems to have a sensible government and sensible people, who are prospering as a result. One quite noticeable thing as you go around is that every town or village appears to have a factory or some other source of employment, which is how it used to be in Britain.
One of the original aims of my previous trip to Estonia was to visit Narva, in the north-east of the country, where 96% of the population are Russian, but I did not get there. Until the collapse of the Soviet Union in 1991 there had been freedom of movement between Russia and Estonia for a very long time, and many Russians had settled in Estonia, to work in the heavy industry in the Narva area.
 As the trip to Narva and back from Tallinn would only take two days, it seemed a good opportunity to spend an extra day in Helsinki, using one of the fast ferries across the Baltic. The plan was to fly from Gatwick to Tallinn and stay two nights in a hotel at the port, and then hire a car and drive to Narva for one night.
 The flight was with Estonian Air, as before, and arrived early afternoon. There was a free bus from the airport to the harbour, with standing room only by the time I got on. It appeared to be driven by someone training to be Estonia's first Formula 1 driver, and after 6 stops I was quite happy to get off. The Reval Inn was about 100 yards from the harbour entrance, and after having a snack in a café opposite and checking the ferry times at the Nordic Jet Line office I went for a look round the town.
 On the previous trip I had seen the Old Town, but not the modern one, and this time I was able to do both. The modern town does not have a great deal of character, but good shops and a branch of the famous Stockmann store, from Finland. It was very busy on a Thursday afternoon. On the way back I noticed a strange building next to the hotel that was apparently a concert hall, but looked as if it had been designed by Albert Speer (Hitler's architect), although that is unlikely.
 The next morning I bought a ticket for the 10.15 Nordic Jet to Helsinki, to return at 19.30. The vessel itself was quite
impressive with an equally impressive name, a 60m long car-carrying catamaran called a Kvaerner Fjellstrand 60m JumboCat. The crossing time is about 1¾ hours, and they only operate from May to November because they cannot cope with the ice floating around in the Baltic in the winter. For foot passengers the cheapest fare is about £32 return.
 The harbour is actually very busy, because it is the main crossing point between the Baltic States and Scandinavia. There are several fast ferries and numerous conventional ones. The most frequent services are to Helsinki, but there are others to St.Petersburg, Kiel and Stockholm.
 The weather in Helsinki was very bright, but surprisingly cool for late June, only about 13 - 15ºC. For a capital city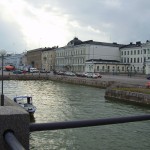 Helsinki is very compact, and you can see all the main sights on foot in a few hours. The harbour area has a line of traditional naval-style buildings along side the quay, and there are many other fine public buildings in the central area, including a huge cathedral. I had a snack in the vast Stockmann store, which was being renovated and most of it was covered with plastic. The railway station was said to be worth a visit, but there were some very peculiar-looking people around there, some like characters from a Nordic saga and others dressed like 19th century explorers. I got the impression that they were not in fancy dress, but just went around like that.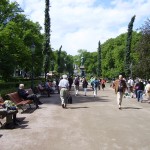 There were a lot of classic cars about, and the city has a motor museum, which I visited. It is in a side street some distance from the centre, and the door was locked when I arrived, but a man saw me trying to get in and unlocked the door. It is a very small museum, with only a few cars, but what is claimed to be the largest collection of models of Mercedes Benz vehicles in the world. There are 5000, so that is probably true.
 In Helsinki everyone can speak English, but signs are not necessarily in English. In one café I could not tell which toilets were which, so I asked some ladies at a nearby table. One of them got up and tapped on the letters of the Finnish word on the door and read them out as if I was a complete idiot not to know that it meant gents. She then sat down and they all had a laugh at my expense.
 Most things in Helsinki are much dearer than in England, sometimes by as much as 50%, and it certainly not a place to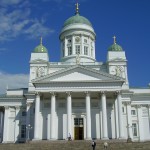 go for a shopping spree. I did manage to find an English paperback for €1 in a second hand bookshop.
 On a bright day at the end of June I think I saw the city at its best, and I can imagine that in the middle of winter, with the short days, long nights and low temperatures it could be quite depressing.
 The next morning I got up early and caught the bus to the airport, where I was picking up the car to go to Narva. It was an Opel Corsa from Budget Car Rental, and I was on the road to Narva by 10.00am. From Tallinn to Narva is about 150 miles. It was a straightforward but unpleasant drive, because most of time I was facing into the sun and the Corsa has appalling reflections of the dashboard in the windscreen, making it difficult to see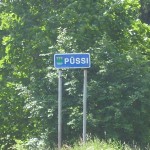 anything in shadow.
 My interest in Estonia was sparked by a book called FIREWALL by Andy McNab, in which much of the action takes place in the Narva area, including a village called Pussi. Needless to say, this gave rise to a comment from McNab, but when I went to look at Pussi there was nothing much to see.
 A few miles before Narva I turned off towards the coast and went up to a seaside resort called Narva-Jõesuu, which is quite old fashioned and undeveloped. It is really like a village, very heavily wooded and with little road access to the beach. On the back roads there was plenty of parking space, but nowhere that I would consider to be safe, and in the areas where it did appear to be safe it was impossible to find a space. There was what looked like a car park with a lady attendant next to a hotel, and when I pulled in she came over to me and I asked her if she spoke English. She had a very broad face, with the widest mouth I have ever seen, displaying about 40 teeth. It seemed that she did not speak English, and when I asked if I could park there she shook her head, and closed her mouth so that her dark red lips formed a thin line about 5in long, as if they were zipped together. It was clear that they were not going to be unzipped again in my presence, so I drove away. That was the most memorable face of 2008.
 About ¼ mile further along the road there was another car park with a man in charge, but I got the same sort of reaction, and gave up. I did manage to briefly walk through to the beach, and it appeared to be quite good, with a wide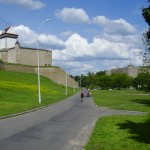 stretch of sand and few people.
 The road from there into Narva runs alongside the river Narva, with Russia on the opposite bank, and on the approach to the town the road surface disappeared completely for several hundred yards. There was work in progress, but it looked as if it had been like that for a very long time.
 The King Hotel, which I had pre-booked on the internet, was easy to find, and perfectly satisfactory. It was an old building, furnished in the traditional style, with a guarded car park at the back. After getting sorted I went for a walk round the town. When Estonia became independent in 1991 the Russia residents were cut off from their homeland and this has led to a lot of problems. 96% of the people in Narva are Russian, and that is the dominant language in the area. Whereas in Tallinn few East European vehicles are to be seen, Narva is still Lada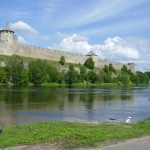 country.
 There are few border crossings from Estonia into Russia, and the bridge at Narva is the most important one. The scene from the river bank above the bridge is quite dramatic, with castles high up on both sides of the river, directly facing one another. The bridge down below is straight out of a Cold War movie, with high wire fences on both sides and a gatehouse with barrier on the Russian side. It was easy to imagine spies being exchanged on a foggy night in the winter.
 In fact, of course, Narva and Ivangorod, the town on the Russian side, were effectively one town for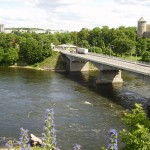 many years until 1991, with freedom of movement between them. The wire fences now extend right back into Narva, with massive customs buildings and holding areas for lorries, with many more waiting along the main road into the town from Tallinn.
 Much though I would have liked to have crossed over that bridge, it was not possible, because I did not have a Russian visa. For a long time I sat watching the events down below, and it was very much in slow motion. Vehicles were allowed into Ivangorod at the rate of two every half hour, and periodically people would go through on foot. The land border crossings into Russia are notorious for long waiting times, especially for vehicles, and this one is certainly no exception. As far as I could see, there was nothing to stop anyone from swimming across, if they were competent to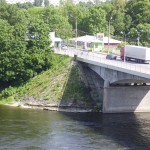 do so.
 After an evening meal in the hotel I went for another walk, and discovered the wonderful old town hall, one of the few pre-war buildings left in Narva. The next morning I set off for Tallinn, but diverted to look at Kohtla-Jarva, a former industrial town which has fallen on hard times. In a strange sort of way it was reminiscent of a wild west town, with buildings spaced out along both sides of the wide main street.
 The journey back to Tallinn and the flight were uneventful, and I felt that I seen all I wanted to see of Estonia.
Frisked, frisked and frisked again
 In November I had the brilliant idea of going to Florida for 10 days after Christmas, to escape from the dreadful English weather. It would be my 19th holiday in the United States and 13th trip to Florida, so I thought it would be a fairly mundane experience, not worth writing a book about.
 The departure date was to be 27th December, and a few weeks earlier I booked the flight, car, insurance and a few hotel nights on the internet. The flight was with US Airways, which I knew was not the world's best airline, but I wanted to go from Gatwick and they had the best combination of flight and schedules.
 The arrangements were threatened by the weather, because in the days before Christmas Gatwick was closed several times due to snow, but that was sorted out by Boxing Day. On Boxing Day evening a friend rang to say that I was going to have a lot of trouble due to new security rules for flights to the USA, following an attempt by a young Nigerian to blow up a jumbo jet on a flight to Detroit.
 With this in mind I arrived at Gatwick four hours before my flight, and was able to check in straight away with no queue. In the normal security area the procedure was as usual and quite quick, again with no queue. I was frisked but that often happens anyway. However, I was told to be at the departure gate two hours before the plane was due to leave instead of the usual 30min. They had set up an extra security check in the departure lounge. Fortunately I got there early, but still had to queue for 30min. They had two lines, with the women and children on the left and the men on the right. There were two women with tables checking the people on the left and two men on the right. We had to empty the contents of our pockets and bags onto the table, remove our shoes, belts, etc and were thoroughly frisked again. All this was in full view of the waiting passengers, and I felt very ashamed when the man, who looked like a chartered accountant, took my camera out of its case and held it up. It is about three times as thick as a modern one and had a large figure 3 on it for 3 megapixels. Obviously people would think I couldn't afford a better one.
 The queue gradually got longer and longer and how they managed to deal with everybody I do not know, but the plane took off on time. About two hours before we arrived in Charlotte there was an announcement "Ladies and gentlemen. A new rule has just come into force. For the last hour of the flight you must remain seated with your hands visible." So we sat there like naughty school children, and about half an hour before we were due to land there was a further announcement. "Ladies and gentlemen. Another new rule has just come into force. As you exit the aircraft you must hold your passport open at the photo page for examination by officers of the Department of Home Security."  Sure enough, just outside the door there were three men dressed in flash uniforms who looked at our passports. 
 The scene in the immigration hall was horrific. Presumably due to the disruption several jumbo jets had arrived close together, and the queues were massive. They had 16 gates open, and the immigration procedure was the same as usual, but it took 75min to get to the desk, simply because of the number of people. At this point it is important to appear calm and well-disposed towards the United States, whatever you might actually be thinking. There was a problem with my fingerprints, which never come out well after years of burning my fingers making thermocouples, and the officer scrutinised one of my thumbs closely. He said he had spent some time in Oxford, which was a great place, and wished me a good holiday.
 After collecting and rechecking my case for the flight to Tampa I had to queue for security again, shoes off, belt and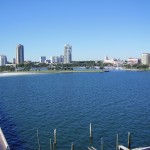 watch off, and was frisked again. Originally I had had 2½ hours for the connection and I finished up running to the gate with my shoelaces undone and got there with 2 min to spare.
After all that I arrived at Tampa on time, picked up my car, a Kia Rio with 6 miles on the clock from new, and drove 300 yards down the road to the pretentiously named La Quinta Inn.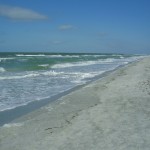 Over the next 2 days I gradually worked my way down the west coast, looking at St.Petersburg, various beaches and other old haunts. This entailed crossing the Sunshine Skyway bridge, which I always find slightly unnerving, but it is better since they removed the remains of the old bridge below on which several people were killed when it was hit by a ship. The weather was cold to start with but it gradually warmed up and went into the 60s during the day.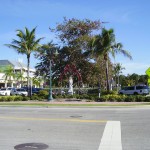 On the 3rd day it was much warmer and rose to well into the 70s. I started off at St. Armand's Circle, an upmarket shopping area where all I could afford was a cup of coffee, and spent the rest of the day on various beaches.
 My next port of call was the strange town of Rotonda, which I had never seen. As the name suggests, it was originally built in a circle, or rather, in the form of a disc about 3 miles in diameter, with eight sectors, seven of which were built up and the remaining one was left to nature. The sectors are separated by canals, and each sector has its own golf course, the idea being that the residents could play on a different course every day of the week. As you enter you are greeted by a sign 'ROTONDA - A Deed-restricted Community'. There are 2 quite narrow single-carriageway ring roads, separated by a canal, and a dual carriageway across the middle east to west. I drove a quarter of the way round the inner ring and then across the middle. The entire town consists of detached bungalows, with no shops, schools, doctors or other public building within the circle, although I passed 2 deserted golf courses. I saw about 6 cars and otherwise no people at all. Apart from age, what sort of deed you would have to have to live in Rotonda I do not know, but two things come to mind - a low golf handicap or a certificate to say that you have totally lost the will to live. The ability to use a compass would also be useful. The town has since been greatly extended outside the original circle, and can be viewed in all its glory by putting Rotonda Florida into Google maps.
 The temperature was still in the 70s, and later in the day it was my intention to go across to Fort Myers beach. However, at holiday time it is impossible to get there unless you go early, and after queuing for some time I gave up and looked for somewhere else to go. I saw signs to Koreshan State Park, Historical Site, and went down to have a look. It turned out to be a nature reserve on the site of a former religious settlement whose members gradually died out and left their property to the state. There were several marked trails including one leading to a river that I decided to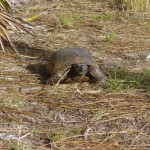 follow. After a few hundred yards, to my amazement, I came up behind a giant tortoise just wandering along the track, which at least proved that I can still walk faster than a tortoise. It was not on a par with the ones on the Galapagos Islands, but was about 12 inches long. Just as I started to take photographs a couple with a dog on a lead came along. I pointed at the tortoise and said "Look! Look!". The man said "Yeah, there's lots of 'em", which rather destroyed my hopes of becoming recognised as a 21st century Darwin. As I photographed it the tortoise came towards me, and when I reached out to it it hissed and pulled its head in. However when I scratched the top of its shell gently the head came out again and it seemed quite happy. The whole idea of wild tortoises seems rather strange to me, and I cannot imagine that they would last long in Britain before being taken as pets.
 On the way back the tortoise had returned to its nest or wherever wild tortoises go when they are fed up with wandering about, but, although I couldn't see anything, I had a feeling that I was gradually being eaten. My fears were confirmed as I drove away when I saw a notice at the roadside advertising NOSEEUM SCREENS. I didn't seeum, but the next day I certainly feltum.
 The following day was spent in Naples, a very upmarket town with a nice beach. The day started warm but overcast, and mid-morning I went through to the beach and walked along to the wooden fishing pier. When I got about as far from the car as I could walk the wind suddenly came up, the rain came down, the temperature dropped and I was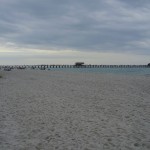 stuck for ages in the entrance of a toilet block until the deluge slackened off. Eventually I struggled back to the car, cold and wet, and went to the Coastland Shopping Mall to warm up. That was the only bad weather I saw in the States, but after that the temperature did not go back above the mid-60s.
 Originally I had not intended to go across to the east coast, but there were a number of places in the North Miami and Fort Lauderdale area that I used to know well and had not seen for years, so I decided to drive straight across through the Everglades on the toll road known as Alligator Alley. It is 84 miles long and the toll is $2.50 (£1.56). Compare that with France.
 My first stop in Fort Lauderdale was Henn's T-Bird Swap Shop, which belongs to the quaintly named Preston Henn (it is ok for me to comment on other people's funny names). It is a vast market and boot sale, open 7 days a week, and in the evening it turns into a 14-screen drive-in movie theatre. Mr. Henn's hobby is motor racing and he has a collection of about 12 cars almost all with a top speed of over 200mph. Mainly Ferraris, but a recent addition is a Bugatti Veyron, made by Volkswagen, with 1001bhp and a claimed top speed of 253mph. Most of the cars are on display in the Swap Shop. Mr.Henn is a reasonably competent driver, but on the whole I think he is better at making the money to buy the cars than driving them. The Veyron is £839,000 in Britain.
 After booking in at my motel I drove down to Hollywood, a seaside town with a very long paved promenade on which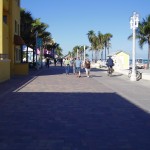 people do nearly everything you could possibly do on a promenade. There are people walking, running, cycling, skating, driving 4-wheeled pedal cars, but skate-boarding is not allowed.
 A few miles south of Hollywood is Sunny Isles, a part of North Miami Beach where I was stuck for four days many years ago because I had forgotten my driving licence and had to have it sent from England. In those days there was a row of 2-storey motels along the beach, built in the 1950s and 60s, many of them with dramatic architecture fronting the road. Sadly these have almost all gone, and been replaced with 40- and 50-storey skyscraper blocks, reputedly built by Donald Trump. The area was always very multi-cultural, with elderly German Jews, Hispanics, French Canadians and British people on holiday. This time I stopped in a shopping mall to have a look round, and saw a bookshop, of which there don't seem to be many left in Florida. I wandered in, and was astonished to find that all the books were in Russian, including many Mills and Boon style novels with pictures on the front just like the English ones. Apparently the area is now known as Little Moscow. When I got back to my motel in Fort Lauderdale I found in my room three telephone directories, the usual Gideon Bible, and a serious-looking hardback book in Russian. From the format it was not a bible, but it did not look like light reading.
 Another victim of the Sunny Isles development was Wolfie Cohen's Rascal House, a Jewish restaurant that had a wide following amongst the general population and every evening there would be a long queue of people in the street outside waiting for seats. It has always amazed me how Americans will queue for an hour to get a seat in a restaurant that they like. As an eat to live person I would rather get something quickly in McDonald's next door and get on with my life, even though it might be a bit shorter as a result.
 The wealth of southern Florida, both east and west, is hard to take in. As you drive northwards from Fort Lauderdale to Palm Beach there are miles of huge waterfront homes, many of them with correspondingly large yachts on the Intracoastal Waterway and marine developments extending inland along canals. There are similar upmarket residential areas on the other coast extending from Sarasota to Naples.
 The area has not been immune to the recession, however. The realtors in Naples have lots of $1- $3million (£700,000 to £2,000,000) properties, but at the same time there are long lists of 'bank owned' (repossessed) condominiums and houses in the range $85,000 to $200,000. Houses are far cheaper than they are here, and for $200,000 (£125,000) you can get a 3- or possibly 4-bedroomed detached house with a double garage.
  All this is not to say that there is no poverty in Florida. Most big towns have areas that are not pleasant or safe 'drive throughs', and I have often strayed into such places by mistake. On one occasion years ago on the way to the airport I took a wrong turn off the freeway in Miami and finished up at 4am in the area known as Liberty City. It was half way towards the Manhatten depicted in the film 'Escape From New York', and was very, very, scary. The advice is to lock the doors and don't stop at the red lights. As you get more experience you know how to avoid such places, but they are still there.
 From Palm Beach I took a very direct cross-country route to Kissimmee, near Orlando, via Okeechobee, Yeehaw Junction, Holopaw and St.Cloud. This was about 150 miles of straight single-carriageway roads, and appeared to have been built by the Romans, although it is unlikely. The first 70 miles were through Everglades type jungle, and then the landscape turned agricultural, with cattle and horse ranches, some of which really did have white ranch fencing. There was nothing much to yeehaw about at Yeehaw Junction, just 2 gas stations and a run-down motel. Even less at Holopaw, one gas station and a closed café. There was very little traffic, and it was a much better drive than the longer way round using the freeway.
 Kissimmee (pronounced Kiss-immee, not Kissy-mee) is the centre of the theme park area, and is just the sort of place people who have never been to Florida imagine the whole state to be. For miles the roads are lined with attractions, shops, bright lights, motels, restaurants, etc. and it is many people's worst nightmare, although I quite like it. The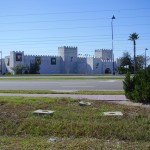 original town of Kissimmee is still there tucked away at the back of the main drag, but seen by few visitors to the area. The motel prices are closely geared to demand, and at the moment they are very low ($25 to $40 per night), because business is slack. It was much colder in Kissimmee than down south.
 The next morning I visited another strange town, Celebration. At one time I used to say that Carmel in California, the town where Clint Eastwood used to be mayor, was the World Centre of Niceness. That was until I discovered Fernandina Beach, in north-eastern Florida, where the traffic in the main street stops if you look as if you might even be thinking of crossing the road, and the public lavatories are called Comfort Stations. It would be a good place for me to live, because I spend quite a lot of time nowadays trying to cross roads to get to Comfort Stations on the other side.
 Anyway, Carmel and Fernandina Beach have evolved into what they are, but Celebration was a carefully planned attempt in 1994 by the mighty Disney Corporation to create an idyllic town where people can live in perfect happiness. The buildings are a mixture of traditional American architectural styles, and are generally of high quality construction. In the centre there are shops, civic buildings, a church, post office and a marvellous slightly over the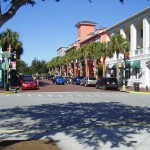 top art deco cinema, along with tree-lined avenues and a lake. It is like a larger American version of Poundbury, and I am sure Prince Charles would love it. To enable the residents to top up their innocence with minimal exposure to the evils of the outside world there is even a direct route into the main Disney complex. Whether they live in perfect happiness I cannot say, but at least they have lives, which is more than can be said for the people of Rotonda.
 The original schedule I had for the return flight left me only an hour for the connection at Charlotte, and in view of the problems I had on the way out I had called in at Sarasota Airport and booked an earlier flight from Tampa which would give me three hours. I was frisked again in security at Tampa, but otherwise things went very smoothly and I had plenty of time. Internal flights in the USA are routine for a lot of people, and on the plane there was a boy with a skateboard and the lady next to me had an 11-week-old unnamed white poodle on her lap in a soft bag with mesh sides. It slept for most of the flight.
 The main hall in the terminal at Charlotte was the best I have seen anywhere. There was a man playing honky-tonk music on a piano, and along the side were white wooden rocking chairs. The whole place was beautifully laid out with plants and large model aircraft hanging from the ceiling, decorated for Christmas. The rocking chairs were in great demand, but I managed to get one for about half an hour and rocked the whole time. There were also brightly coloured bean bags like large dogs' beds, all of which were occupied by bearded young men who looked as if they spent their whole lives travelling around the world.
 In the departure lounge I got talking to a lady named Brenda who lives near Gatwick. Bits of information were coming through about the weather in England. It was supposed to have taken someone 6 hours to get from Uckfield to East Grinstead, and people were said to have been kept on a plane at Gatwick for 5 hours.
 The flight departed on time. On the return flight from the States I can usually get some sleep, but this time all I managed was about 5 minutes before I was hit on the shoulder by a trolley, and a cup of coffee and something called a Danish were put in front of me. Now, Danish is an adjective, and it was not followed by a noun, probably because no one could think of one to apply to the object in question. It was like a slab of warm, soft plastic wrapped in greaseproof paper, and would have put anyone off Denmark for ever. I ate it, of course, because it was free.
 When we were about an hour from Gatwick the captain announced that we were being diverted to Glasgow, where we landed at 7.30am. The captain said we should stay in the plane in the hope that we could go on to Gatwick before too long. There were some people from Glasgow on the plane, but the captain said they could not get off for security reasons, and would have to go to Gatwick and come back.
 After about ½ hour the ground power supply was cut off, which meant that the ventilation stopped. Where I was sitting, near the open door at the front it was ok, actually slightly cold, but where the toilets were half way along it was quite warm, and at the back it must have been stifling. From time to time the captain said he was trying to make arrangements for us to leave the plane and go into a holding area without going through immigration, until we could fly on. After another 2½ hours in the plane some children at the back started to be ill, and paramedics were called. After examining the children they went to see the captain, and soon afterwards we were deplaned, as the Americans say. I believe a baby was taken to hospital.
 Immigration was quite quick, but Brenda and I had to wait a long time for our bags. I had one large heavy bag, and Brenda, of course, had two. We were told to go to the Serviceair desk. By the time we got to the main hall there was a queue like a huge mushroom with 4 people at the Serviceair desk across the bottom of the stalk. With me pushing the trolley and Brenda in charge of operations we got to the desk in 45 minutes, half the time it would have taken me on my own. 
 At the Serviceair desk we were allocated rooms in the Holiday Inn, across the road, with lunch, dinner and breakfast paid for. We were told that there would be a flight to Gatwick the next day. It was now about 12.30, five hours after we had landed.
 At lunchtime I sat with Brenda and two other ladies, and I said that as I had never been to Glasgow before and would probably never come again I would like to get a bus into the city and have a look round. It did not enter my head that I had been up for 25 hours at this point. Brenda said she had always imagined herself walking down Sauchiehall Street, so we went in on the 500 Flyer. In the city centre it was fine but very cold, and there was some ice on the pavements. We had a good look round, and Brenda arranged for us to use the toilets in the offices of an insurance company that we had mistaken for an art gallery. Along the way we spoke to quite a few people, and they were all very pleasant and helpful, though difficult to understand. I had not realised how steep some of the streets in the middle of the city were, with level bits and sudden drops like those in San Francisco.
  At dinner time we were told to be up for breakfast in the morning at 6.15 and in the airport by 7.00. On top of the television I found a card explaining how to use it as an alarm clock, and with the remote control I set it, hopefully, for 5.30am. I actually woke at about 4.00 and shortly before 5.30 I was sitting bolt upright in bed with my eyes glued to the TV to see what would happen. Sure enough, at exactly 5.30 it started buzzing, and then the screen burst into life with a picture of Gordon Brown leaving 10 Downing Street. Not for the last time, unfortunately.
 At 7.00 we were in the airport, and joined a queue to check in for our flight. After ½ hour the queue had hardly moved at all, and I went up to find out what was happening. It turned out that some people did not have documents to prove that they were on the previous day's flight, and the people at the desk did not have a passenger list. They were putting separate calls for each passenger through to US Airways in the States, where it was 2am, to confirm whether the person concerned should be on the flight. A well-spoken young black bloke suggested that perhaps they could get a passenger list faxed from the States, but that idea was dismissed out of hand. After 1¾ hours we finally got our bags checked in. In the course of all this we were told that our flight would be at 12.30.
 The flight information listed on the screens was vague, but there was a suggestion that our flight would depart from gate 33, and that is where everyone eventually congregated. There was a US Airways plane standing at the gate. The gate indicator said Flight 732 London Gatwick. It got to about 12 o'clock and nothing was happening. People were asking the airport staff, who did not know anything, but we were told that someone would come to see us shortly. The desk remained unmanned. From time to time the phone rang and was answered by the waiting passengers, who tried to engage in conversation with the callers. The indicator suddenly changed to Flight 732 Philadephia. A deputation of people went to the airport manager's office to try to get some information. Then a US Airways pilot in full regalia made the great mistake of walking through the middle of the throng. He was waylaid and eventually agreed to make a phone call to find out what was happening. He said someone would come to see us shortly. Some people were now getting quite wound up. Eventually the airport authorities did respond to the complaints - they sent two policemen. Unfortunately it is now easier for people working at airports to send in the police to deal with complaints rather than to do their jobs properly by keeping people informed.
 Soon afterwards the pilot returned, followed by a man from Serviceair, the company contracted to handle the US Airways flight. The pilot said he was taking the plane to Philadelphia, and the Gatwick flight was cancelled. He said planes were only getting into Gatwick at 2 per hour, with preference for BA, and US Airways were getting no slots at all. The Serviceair man said we should collect our bags and go to the Serviceair desk. Brenda disappeared in the throng of people moving towards the main part of the terminal, and I found myself in a group of about 20 people, following a fat lady who led us on a tortuous route through the bowels of the airport. When we got to the baggage hall the fat lady did not sing, so I assumed that there was more misery to come. The bags, about 450 of them, had been taken off the conveyor and were spread all over the floor. I was still looking for Brenda's second case when she turned up from somewhere and identified it. We got another trolley and went to the Serviceair desk, where we were told that coaches would be provided to take us to Gatwick. These would be free and take 9 hours. If we wished to make other arrangements we could, but we would have to pay for them. One man was repeatedly shouting at the top of his voice that he wanted a hire car, with his wife standing behind him telling him to shut up or he would be arrested.
 It was now almost 2.00pm, and I was in favour of going by train, because of the time factor, but after a brief discussion we decided to take the coach because it would avoid humping the luggage about (and also save at least £80).
 By this time we had discovered that that day's incoming flight had also been diverted to Glasgow, so there were about 600 people trying to get to Gatwick. Just outside the terminal was a long line of coaches, with more coming all the time. It appears that airline passengers have more and larger bags than coach passengers, so by the time the luggage compartments were full the seats were only half filled. After a bit of a struggle we got sorted and after over 30 hours in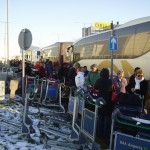 Glasgow we were on the way to Gatwick. The coach stopped twice at motorway services on the way, and the journey was not as bad as I expected. It was quite warm and comfortable, and the air quality was much better than in a plane. Brenda slept a lot of the time, and I went into a state of suspended animation apart from a couple of visits to the toilet while we were hurtling down the motorway at 70mph. Not something I would do from choice.
 We got to Gatwick at 11.20pm. There was more snow there than anywhere on the way down. Fortunately I had left the van in the long stay car park, because the trains, which are subsidised from public funds to the tune of £5,000,000,000 per year, had stopped running at 9.30. The car park buses were still running every 10 minutes, and Brenda waited in the bus shelter with the cases while I sorted the van out. There was about 8in of snow in the car park, and the van, which had been there for 11 days, was joined to the metal barrier at the side by a block of frozen snow.
 The van could not get a grip to climb up the slight incline leading to Brenda's house, and we had to carry her bags for the last 100 yards. After saying goodbye to her I set off for Bognor and arrived home at 1.57am on the Friday morning.
 One of the many wise things that I have often said is that when you travel around in America you must be prepared to take the rough with the smooth. You will meet people you don't like and find yourself in places you don't like. This trip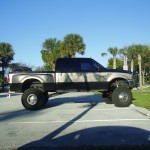 was an exception. Everyone I met was pleasant and although Yeehaw Junction and parts of Tampa were not places I would go out of my way to visit they were not dreadful. The weather was mostly bright, though sometimes cooler than I had hoped, and there was plenty of Americana, which in the end is what it is all about. It was in Britain that things really went wrong.
It was around the middle of 2007 that the residents of Bognor Regis and many other towns started to notice things changing. Polish and Lithuanian registered cars were parked all around the town, strange languages were heard in the shops and markets, and totally unreadable adverts were appearing in the windows of newsagents. People were grumbling about the place being taken over by immigrants who seemed to be above the law when it came to motoring offences and were believed to be receiving favours in the benefit system. It was said that they came here to escape from terrible economic and social conditions at home.
 I decided to make it my business to find out what it was like where they came from, and then I would at least be able to grumble about them with some authority. In 2006 I had spent a long weekend in Estonia and Latvia, but far fewer immigrants came from those countries.
 As usual I made all the arrangements on the internet, and on 17th October I departed from Gatwick Airport on Air Baltic flight BT656 to Vilnius in Lithuania. The airline, which only has about 10 planes, was very efficient and the flight arrived early. The scheduled arrival time was 21.55, which caused me some concern, because I felt that it was rather late to be arriving in a strange city and finding my way to a strange hotel. There were warnings in the guide books about being picked up by pirate taxis waiting at the airport, but in fact all the taxis in front of the terminal were clearly marked, and although the driver did not speak English he took me straight to the hotel in about 10 minutes.
 The hotel was called the Europolis, and, unsurprisingly I suppose, had a slight Greek touch about its architecture. It was small but quite new, and apart from a six inch high step at the threshold of the en-suite bathroom, which caused me to stub my toe every time I went in and almost fall flat on my face every time I came out, there was little to complain about.
 The next morning I set off to look round the city. The pavements were in a dreadful state, and it was almost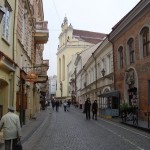 impossible to tow my wheelie case, which I was taking to the main station to put it into the left luggage office until the middle of the afternoon, when I was going to pick up my car. Like most other former East European cities, there was a lot of restoration work going on, with road works and scaffolding everywhere. Some of the old buildings were crumbling in a big way, but in the centre there were many fine civic buildings and a beautiful cathedral. Unfortunately shortly before mid-day it started to pour with rain, but nevertheless after a look round the market I walked up to the Hill of Three Crosses, a notable monument high above the city, from which there is a view of the whole area.
 By about 2.30 my low cultural capacity was saturated with Vilnius, so I went to collect the car. The Europcar depot was a shop in a narrow side street near the city centre. The young lady in charge was very pleasant, and after dealing with the paperwork she took me through to a yard at the back which was crammed full of cars and introduced me to my VW Polo. Getting the car out of the yard and through the maze of narrow alleys to the street was a real challenge,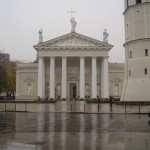 and I was rather relieved that I had been asked to return it to the airport, so I would not have to go through the ordeal again a few days later.
 By some miracle I found the road to my night stop, a town called Marijampolė. The young lady had asked where I was going, and when I said "Marry-jam-pole" she repeated the name with a pronun-ciation totally unlike mine, and it is surprising that she knew what I meant.
 The Sudajiva guest house in Marijampolė turned out to be very nice, almost good enough for most of my friends and far better than the places I usually stay in. It was close to the centre, so I thought I would have a look round before it got dark. At first sight the town appeared to be quite ordinary, but the shopping area was dominated by a large store like a giant Currys, stacked with domestic appliances and multi-media products. Within a short distance I came across five computer shops and goodness knows how many businesses selling parts for European and Japanese cars. There were few shops selling food or clothes. As I wandered around I was pondering about this strange little Lithuanian town, in which the inhabitants spent most of their disposable income on computers and car parts, when I noticed several Russian registered cars, and the penny dropped. It was not the local people who were buying these products, it was Russians coming through from Kaliningrad, about 15 miles along the road. Kalinigrad is a Russian enclave, sandwiched between Lithuania and Poland, with a stretch of coastline on the Baltic.
 The next day the plan was to drive down to a large industrial city called Bialystok in Poland. The Polish border was only a short distance from Marijampolė, but just after entering Poland I diverted for some distance to look at the famous viaducts at Stańczyki, these being all that is left of an abandoned railway line that ran roughly parallel to the border of Kaliningrad. There were few direction signs and no one to ask (perhaps just as well) so after driving around for quite some time I gave up, as there was a lot more that I wanted to do in the day. The countryside was, however, much better than I had expected, heavily wooded with rolling hills, and worth a visit in itself. In the course of looking for the viaducts I drove along a road only 50 meters from the Kaliningrad border, and could clearly see the watchtowers in the forest, although it was not possible to tell if they were manned. There were several tracks leading into the forest with notices and cold war-style striped barriers across them but no one about. There did not seem to be much to stop anyone crossing the frontier in either direction, but I am not sure why anyone would want to.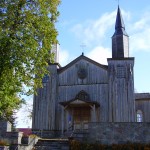 On the way back to the main road leading south I came across a wonderful wooden church in a village. It was the size of a large English parish church, perched high on a mound at the side of the road.
 Poland has a dismal road safety record, and within a short time of rejoining the main road (loosely described as a motorway, but mostly similar to the A259 between Bognor and Littlehampton) I came across the first road accident of the day, a crash involving a coach, 2 vans and a minibus. In a distance of 90 miles there were two more serious accidents, a lorry on its side in a field and an Audi awaiting collection after a head-on crash. At times the driving was very hairy, with vehicles overtaking in the face of oncoming traffic, and if you don't join in the people behind will force their way past, practically pushing you off the road. It reminded me of the many trips I made down the A20 in my Mini Cooper when I was 23.
 The next town on the route was Suwalki, and on the approach there was a vast Soviet style housing estate, with concrete blocks as far as the eye could see. The buildings were, however, bright and clean looking rather than the dismal grey that they had probably once been. Suwalki seemed to be a reasonably pleasant town, although there was a traffic jam in the main street.
 About 30 years ago a friend in England sent me a message on a postcard with a picture of Bialystok on it. He had bought the card in a shop in England and had no idea where Bialystok was. It showed a nondescript building, and he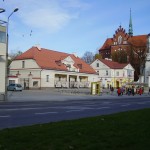 had written "well worth a visit" on it. Whether it would be worth a visit I did not know, but I thought it would be more typical of the real Poland than places like Warsaw or Krakow, which are tarted up show pieces.
 One of the things I had intended to do in Poland was to go to a branch of Lidl if I could find one. Lidl in Bognor is permanently full of Polish people, so I thought it would be an interesting experience to be an English person in Lidl in Poland. Rather to my surprise, at the first major junction in Bialystok there was a sign pointing to the right saying TESCO 200m. I never did find a Lidl.
 The Hotel Trio was on an industrial estate, and despite having been built in 2002 had a distinctly art deco appearance. It also had a very good secure car park, which is vital anywhere in Eastern Europe. I arrived at about 2.00pm, and after getting sorted I decided to walk into town, because I would see more that way.
 Bialystok with a population of about 300,000, is close to the border with Belarus, and was directly on the route taken by the Germans when they invaded Russia. Before the war about 60% of the inhabitants were Jewish, and when the Germans came vast numbers were killed on the spot or sent to concentration camps. Presumably that accounts for what happened when I went into a self-service restaurant to get something to eat. There were various dishes on offer, and I was not sure what some of them were. There was a lady standing behind the counter, and I said slowly "Do you speak English?". She shook her head, so I said, rather more quickly, "Sprechen Sie Deutsch". Her expression changed to what I can only describe as a look of pure hatred. She served me when I pointed to what I wanted, and when I said "Thank you" she curled her lip up and snarled "Bitte schön" contemptuously. She was far too young to remember the war, but it put me off attempting to speak German again in Poland.
 The central area of the city was actually quite clean and pleasant, with a fair number of good buildings, and the overall standard of architecture was better than typical British post-war rebuilding. There were lots of people around, and the place did not give the impression of being run down. As in many other parts of Eastern Europe, most of the heavy industry has finished and there was no obvious air pollution.
 The next morning I got up early, as I was planning to drive a long way, and when I came down into the reception I was surprised to find the whole place in darkness, apart from a dim light behind the receptionist, who was sitting at the desk reading a book. I said "Oh, I thought breakfast was at 7.00". She said "It is, it's 6.20 now". For a moment I stood rooted to the spot, as the truth dawned. The previous day I had driven due south from Lithuania, and had completely forgotten that there was a one hour time difference at the border. I crawled silently back upstairs, and reappeared for breakfast at 7.10.
 The intention was to drive back to Lithuania on a country route, looking at towns and villages on the way, and reaching a place called Grutus Park early in the afternoon. I had a good map of Lithuania, but all I had of Poland was an A4 sized photocopy of the immediate area, and I had gone 12 miles on the wrong road out of Bialystok before I realised my mistake and had to retrace my steps. The guide books made a big issue of a village called Bohoniki, with old wooden houses. It was miles from anywhere, and by the time I got there it was a bit of an anti-climax, not really worth making a detour for. I stopped for a while at a small town called Dabrowa-Bili, and then set off for the Lithuanian border. It was a dead straight, bumpy concrete road through flat open countryside, with farms dotted around and the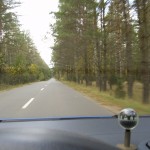 sun shining on the minarets of village churches in the distance. Just how I had imagined Poland to be. After 10 miles I suddenly realised that the sun was in the wrong place, and stopped to look at the map. It turned out that I was going due east instead of north, and was only 2 miles from Belarus. There was no border crossing on that road, which explained the almost total lack of traffic. Another 10 miles back to Dabrowa-Bili, and finally on the right road to Lithuania. I could have saved a lot of time and money by buying a proper map.
 The border crossings are quite quaint, with the Polish and Lithuanian officers sitting in adjacent rooms in a building at the roadside, with an open window between them. You give your passport to the first one, who looks at it, passes it through the window to the other one, who looks at it and you drive forward and collect it from him or her. The ridiculous thing is that there is a time difference of one hour between the rooms.
 Shortly after re-entering Lithuania I discovered why foreigners are advised not to drive after dark. As I rounded a long right-hand bend I saw an extraordinary animal standing on the grass verge facing the road. It looked like something out of a pre-history book, with a massive body covered with long dark brown fur and a large square head low down at the front. At the last minute it decided to cross the road, causing me to brake quite hard. When I got home I looked it up on the internet, and found that it was a bison, the largest animal living in the wild in Europe. They were native to the area, died out, and have been reintroduced in recent times. There is still an original colony living either side of the border between Poland and Belarus, some distance to the south.
 The next stop was a truly amazing theme park, officially called Grutus Parkas, but popularly known as Stalin World. During the years of the Soviet Union, right through into the 1980s, the Russians erected statues of political and military heroes in towns all over Lithuania to remind the local populace of how lucky they were to live under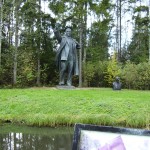 communist rule. When the country became independent in the early 1990s these statues were removed, in some cases literally toppled from their plinths, and mainly finished up on council dumps. Some years ago a former professional wrestler who became a wealthy businessman decided to round up as many of them as he could find and set them up in an area of woodland near a village called Grutus close to the border with Belarus. The 84 statues, of stern-faced individuals or groups, are placed alongside a winding path through the forest, with rousing communist music played through loudspeakers along the route. There is a large library containing the works of Marx, Engels and other father figures of the movement, and tea rooms with a children's playground. Also a train which is supposed to have taken people who did not appreciate what was being done for them to labour camps. The whole project is controversial, with some people saying it is profiting from other people's misery. However, when I was there plenty of people seemed to be enjoying it.
 From Grutas Parkas I diverted slightly from the route to my night stop in Alytus to look at an old spa town called Druskininkai. It had an air of faded gentility, but actually appeared to be thriving.
 Alytus is a medium-sized town (pop. 68,000), and as usual I had booked the hotel on the internet. It was called the Odė, and quite central, but difficult to find. It turned out to be almost new and was perfectly ok, with a bar but no restaurant. By the time I had got sorted it was pitch dark outside, but I went out to find somewhere to eat. It seemed to be quite safe to walk around, and the town appeared to have lots of open spaces and on the face of it was not much different from a town of similar size anywhere in Western Europe. I found a restaurant where I could see the food before ordering, thereby avoiding the risk of getting the Lithuanian equivalent of steak tartar or sheep's eyes.
 In the morning I wanted to leave early, and breakfast was not officially until 9.00. The evening before I asked the young lady in charge if I could eat earlier, at 8.00 if possible, and she said she would arrange it. When I came down to the breakfast room at 8.00 everything was ready, and as I had breakfast she told me she had worked in London for 6 months, which explained her excellent English. She thought the British were great people and could not wait to get back. As I left I gave here a big tip for getting up early, and rather to my surprise, she gave me a big kiss on the cheek.
 The drive to Vilnius was faster than I expected, and it left me sufficient time to divert to Trakai, an old village a few miles to the west of Vilnius, on the edge of a lake. The village is a tourist attraction, as is the castle on an island in the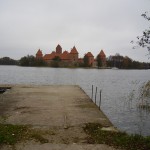 middle of the lake. It was a bright Sunday morning, and quite cold, but preparations were being made for the expected influx of visitors, with people setting up stalls to sell souvenirs and food at the lakeside. I left just as things were starting to get busy.
 When I got to the airport there were spaces marked out for rental cars, but no way of raising the barrier to get to them, so I had to leave the car in a public car park. The Europcar office in the terminal was closed, with a notice instructing customers to put the documents and keys in through a slot. I am never very happy about this arrangement, which I have come across before, but shortly before I went through into the departure lounge a man appeared in the office and said he had moved the car and everything was in order.
 In Britain, the USA, France and Germany I have seen places grimmer than anywhere I went in Lithuania and Poland, and the incentive for young people to come to Britain was undoubtedly mainly financial. Until the recession they could earn two or three times as much here as at home and by sharing accommodation they could make enough to buy a flat in Poland in 2 years.
 Eastern Europeans are not, in general, very warm and friendly, but apart from the lady who thought I was German everybody I met was helpful and enough people spoke English to make it easy to get around. The local languages are impossible to read or speak unless you are prepared to study them properly. Prices were considerably lower than here but not as cheap as I expected.
My first trip to the Baltic States was Andy McNab's fault. A friend had lent me a book entitled FIREWALL, in which most of the action was in the Helsinki area and northern Estonia, and somehow it caught my interest.
 Also, I had always wanted to go to Riga in Latvia, although I don't quite know why. A more recent reason for going there was to visit the Riga Motor Museum, which had a collection of Iron Curtain vehicles as well as one of the few surviving pre-war Silver Arrow racing cars. It seemed to be quite viable to fly to Tallinn in Estonia and to drive to Riga and back in a weekend.
 The trip was planned for the end of June, when the days would be long and the weather would hopefully be good. The flight on the Thursday was with Estonian Air, a small but efficient airline, from Gatwick, arriving in Tallinn early afternoon. Everything went to plan, and I collected the pre-booked car, a Toyota Corolla, from National Car Rental at the airport and by some miracle found the way to the Hotel Stroomi. It was in the suburbs, about two miles from the centre, and I had only a very basic map, printed out from the hotel's website. Although not quite a match for the Ritz, The Stroomi was perfectly alright and had a good secure car park with a massive electrically operated steel gate. The need for this was reinforced by the fact that there was a large 24-hour guarded car park in an adjacent square for the residents of the flats in the area, and it is well-known that you cannot safely leave cars in the street in most East European towns.
 Because of my fear of foreign public transport systems I decided to walk into town, which in any case gave me a chance to have a good look at the area. Most of the buildings were flats, and it was clear that they were survivors from the Communist era, but in many cases had been subtly changed and painted up to give them a less austere appearance. As I approached the old town area and the railway station there were some very old wooden and stone buildings around, a few of which had been restored, but many appeared to be awaiting demolition, which was a great shame.
 From the graphic descriptions in his book Andy McNab must have visited Tallinn in the winter in about 1998, and it was clear that the place had changed a great deal in the intervening few years. The railway station had been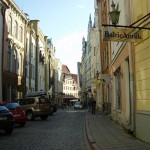 completely rebuilt, and I went in to look at the trains, which had definitely not been rebuilt. There was a self-service restaurant which had sample meals under the glass-topped counter, and I ordered something called plov, like rice with bits of meat in it, and which I later found was rice pilaf.
 The next stop was the Old Town, a UNESCO World Heritage Site and the reason why some people go to Tallinn. Others, usually from Britain, go to get drunk at stag parties. As Old Towns go, this one is quite large, with a maze of narrow cobbled streets lined with quaint buildings, many of them beautifully decorated and with interesting architectural features. It is said to be dangerous to wander about on your own at night in that area, but during my visit there was no night to speak of.
 In the centre of the Old Town is a cobbled square with beautiful buildings on all sides, and from there a steep side street leads to a view point from which you can see the whole of the Old Town and harbour beyond. In this area there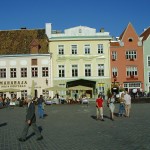 are also shops selling amber, which is found locally.
 On the way back to the Stroomi I was walking past a service station when my attention was drawn to a small yellow car standing on the forecourt. Oh, joy! A Zaporoghets! As I walked round it, gazing in wonder, a man on the pavement said something to me in Estonian. I said "English", and he replied "So am I". It turned out that he had Estonian parents who had moved to England when he was young, and he was staying with relatives for three weeks in Tallinn. They probably lived in a flat, and the impression I got was that he was so bored that he took to wandering the streets every evening for something to do. Even finding a Zaporoghets couldn't make up for that.
 The next morning I got up early and set off for Riga, about 180 miles to the south. This road is actually E67, the main route leading from Poland to Scandinavia (via ferries) and supposedly a motorway, though much of it was little more than a British single-carriageway country road. It had the usual East European one lane each way, with 6ft wide strips at the side for vehicles to move over on to periodically to make a space in between for overtaking. The countryside was flat and not particularly attractive, which left me to concentrate on joining the locals in dicing with death between lorries travelling in opposite directions. There were notices stating that the road had been upgraded using EU money, and I wondered what it must have been like before.
 At the Latvian border a lady waved me through after checking my passport and the car documents, and I found out what the road was like before. The EU money was still being spent in a big way, and in the 98km (60 miles) from the border to Riga there were 15 sets of road works with single line working, most of them about a mile long. The hold-ups were massive, and I would estimate that I queued for a total of about 1½ hours.
 The first thing I did on entering Riga was to stop and buy a street plan of the city. This turned out to be a wise move, because the city was also full of building works. The motor museum was in the suburbs nearby and not too difficult to find. It had an good restaurant and many exhibits that would not be found in museums in Western Europe.
 Finding the Hotel Best, on the opposite side of the town, was a real challenge. I must have stopped to consult the map twenty times, and there were massive traffic jams due to the building works. At least it took me on a tour of the city and I had plenty of time to look round while I was stationary. It was late afternoon when I finally got to the Best and the name was a slight exaggeration, but it was ok considering the reasonable price.
 I set off to walk into the city centre, but it was a very warm evening, and after about a mile I realised that I was not going to make it. As I turned to walk back I glimpsed a railway station about 100 yards down a side road, and it turned out that it was one stop from the main station in the city centre. As I was waiting I thought the set up in the station looked rather strange, and then realised that the tracks were Russian wide gauge and the platforms were almost at track level. To get into the carriages you had to climb a near vertical flight of 4 or 5 steps, not exactly ideal for very elderly or disabled people. The seats were hard and the train travelled at about 20mph, but for a fare of 20p I could hardly complain.
 The main station was in the modern part of the town, and after having a meal and walking through to river it was time to think about going back to the hotel. Riga is not far from the Baltic and the river Daugava is up to 500m wide, so the views of it are quite spectacular.
 From the map I saw that there was another station, called Atgăzene much closer to my hotel than Tornakalns, where I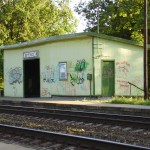 had caught the train coming in. When I asked for a ticket to Atgazene, which sounded like some sort of floor polish, the lady in the ticket office explained that it was pronounced At-ga-zenny.
 Atgăzene station was wonderful, worth a visit in itself. The sole building was an open concrete shelter, once white but now completely covered in graffiti. From there it was only about 200 yards to the Best Hotel.
 The next morning I got up early again and after breakfast drove into the city centre before the traffic had time to build up. There was no problem in finding in finding a proper guarded car park, and I set off on a sight-seeing tour of the Old Town. The buildings are more Germanic in style than those of Tallinn, and it is also UNESCO World Heritage Site, though a fair bit of it was rebuilt after the war. There is a cobbled main square with beautiful buildings and nearby is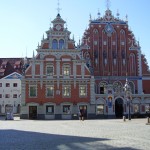 the Occupation Museum, which is a memorial to the period of German and then Russian occupation after 1940, during which many people in Latvia, Estonia and Lithuania were very badly treated. All three countries were under Russian control until 1991.
 Before the war Riga was known as the Paris of the North, and when you look around you can understand why. There are many fine buildings, monuments, and squares, and the wide river, with its bridges, is very like the Seine in Paris. In the background, looking across the river, are some modern buildings with interesting architecture.
 When I left the car park I finished up paying 2 Lats for 4 hours, although the board at the entrance said it was 0.3 Lat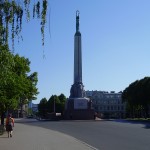 per hour. Strange mathematics, but the man looked pretty hard and I did not think it was worth arguing. The Latvian Lat, incidentally, is one of the few currencies that is worth more than £1, though there will probably soon be plenty of others.
 I was defeated again by the labyrinth of one-way streets and road works, and eventually had to go straight on at a compulsory left turn to escape from the city. After the fiasco on the E67 on the way down I decided to take a country route to the border, which was much more pleasant and probably faster.
 The countryside was very sparsely populated, with mainly arable farms, and as far as I could see the working standards were up to date, although I am no expert. There was little traffic, and eventually I rejoined the main road just south of the border.
 Approximately half way between Riga and Tallinn is the seaside town of Pärnu, which I skirted on the way down. It is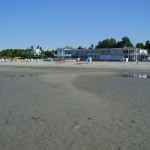 to Tallinn what Brighton is to London, but with everything on a much reduced scale. It seemed an ideal place to spend the night, but when I arrived it was a madhouse, and I found myself struggling through the narrow streets against a mass of cars and people going in the opposite direction. When I eventually managed to get through to the sea front I discovered that there had been a 2-day Nordic festival which was just coming to a close.
 Despite the chaos the town had the feeling of having largely been by-passed by the communist era, with large detached villas dating from the 1920s and 30s, and few Soviet-style buildings. After finding a parking space I went on foot in search of accommodation. One of the first places I came to was the Spa-Sanitorium Estonia, a vast, rather barrack-like building, with ladies in the reception area dressed in white uniforms like nurses. It was not quite clear what services were on offer, and the impression was created that it was likely to be expensive, but in fact I got a sixth floor room with a good view for £25 B&B.
 After getting sorted I walked to the beach area. The Nordic Festival was still going, and there were stalls selling all kinds of Scadinavian products, from food to clothes and decorative items. The beach was quite undeveloped, with a large area reserved for ladies.
 Pärnu is only about 80 miles from Tallinn, and I had plenty of time to get to the airport the next morning, so I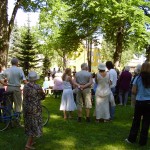 avoided the 'motorway' and took a cross-country route via a village called Türi. In the middle of Türi was a crowd of people watching something which turned out to be a folk-dancing group, a sort of Estonian equivalent of Morris dancers.
 At the airport the car rental counter was unattended and I left the car in the reserved place in the car park and the keys and documents at the information counter. Not a very satisfactory arrangement, because if the car got damaged after I left it there would be no way of proving that it was not my fault, but this system is not unusual in Eastern Europe.
 A very high proportion of the populations of Estonia and Latvia are Russian-speaking, and Russian newspapers and books are sold everywhere. The Estonian and Latvian languages are entirely different, Estonian being closely related to Finnish, but it is usually quite easy to find someone who can speak English. Originally I wanted to visit the area in north-eastern Estonia, around Narva, where 95% of the people are of Russian origin, and where much of Andy McNab's action took place, but that would have to wait for another time.
  The Impossible Achieved - A Drive Round Japan
 For 35 years I had a business connection with a firm in Japan, but I had never been there. At the age of 68 I thought I ought to go before it was too late. The idea was to combine the business visit with a holiday travelling around central Japan to see what the country was like.
 As a motoring enthusiast my preferred format for the trip was to hire a car and drive around, staying at hotels as I went along. When I suggested this to the few people I knew who had spent any time in Japan the response varied from 'inadvisable' to 'impossible', this latter opinion coming from my business associates in Osaka. However, the two best guide books to the country both considered that self-drive car rental was a reasonable way to get around outside the heavily populated areas.
 Although I had driven extensively in Europe and the USA over a period of 50 years I must admit that I had some reservations about the idea, as I had little knowledge of the country and no knowledge of the language at all.
 I tried putting 'Driving in Japan' into YouTube and this produced many videos that people had made in their cars, and it was possible to get an idea of junction layouts, road markings, traffic lights, signs, etc that later proved to be very useful. Further investigation revealed that the Japanese Auto Federation has a book entitled 'Rule of the Road' in six languages, for foreign visitors intending to drive in Japan, but all efforts to obtain a copy in advance or during the trip failed.
 From Google and Flickr on the internet more information about people's experiences was forthcoming, and I gradually built up a picture of the motoring scene.
 The plan was to spend the first two days in Osaka and Kyoto using public transport, to see the sights and study the traffic when the occasion arose. On the third day (Monday) the intention was to collect the hire car and drive to my business associates' head office about 6 miles north of Osaka, and then set off on a week-long trip around central Japan. This would take in countryside, coast, mountains, some old towns and villages, and would be a total distance of about 1000 miles.
My advance planning was based on the Lonely Planet guide and Shobunsha's ROAD ATLAS JAPAN, which is the only large scale road atlas (approx. 4 miles to 1 inch) with place names in English as well as Japanese.
 The Japanese drive on the left, and the general standard of driving appeared to be fairly similar to that in Britain. The main streets in Osaka and Kyoto are quite like those in our cities, but side roads are generally narrower. Road signs,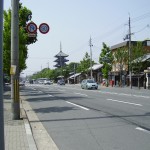 while not conforming to European standards, are mostly easy to understand and directionsigns on main routes have the main place names in English as well as Japanese, together with road numbers. At 'give way' junctions there are signs and Japanese words on the road which I had seen on YouTube, and these were always the same and quite easy to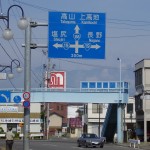 memorise. Major junctions have traffic lights suspended above the road on poles or gantries, and some of them had two amber lights, a system that I never fully understood. One came on after the other and appeared to be a progressive warning that the light was going to change to red, but people just kept going when the first one came on. Roundabouts are practically non-existent.
 Many streets in Japanese towns don't have names and finding specific addresses is a nightmare for the local people let alone foreigners. Addresses are defined by chome (district), block number and building number. Buildings are often numbered in the order in which they were built, which is not very helpful if you have just got off a plane from England.
 On the Monday morning I went to pick up my car, which I had booked with Europcar on the internet. Europcar's agent in Japan is Mazda Rentacar, a subsidiary of Mazda, and I had chosen a Mazda Axela, known here as the Mazda 3. The rental office in Shin Osaka was like a shop, with a Mazda 3 standing on the pavement in front. When I went in everyone smiled, and they indicated that I should sit down, and put a pile of papers in front of me. The top one said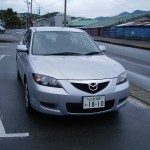 PLEASE READ THE CONDITIONS AND SIGN IF YOU AGREE, and the last sheet said FOLLOW ME. BRING YOUR LUGGAGE. When I was half way through a man who appeared to be the manager looked up, smiled, and said 'Car all Japanese'. Those were the only words of English spoken, and this was the moment that I realised how few people speak English outside the tourist hot spots. In due course a young lady took me out to the car, gave me the key and went back into the office.
 The car was automatic with air-conditioning and had a wonderful sat-nav system, which was really my salvation. It had a 6-inch screen and was an integral part of the car electronics. It was set in 2D (map) mode and all the place names were in Japanese, but the road numbers were very clear and it was easy to compare it with the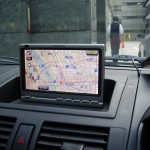 maps in the road atlas. I had no instructions for it, and dare not fiddle with it in case I lost the setting. The sound was turned off, which was just as well.
 After setting up the car to suit my driving position I set off on the highways of Japan. From the car hire office to the industrial estate where my business associates were based was a straightforward journey of about 6 miles on a main road . At home I had studied the route on Google satellite maps, but there were certain things that I could not quite understand. It turned out that this was because it was an elevated road the whole way, with another road underneath, and in the event it was quite easy to find my destination.
 Apparently in the 50 years that the Japanese company had been in existence I was the first foreign visitor to arrive driving a car, and this was a source of great interest and some concern, because a few people in the firm were still convinced that it was impossible. After the meeting and lunch Mr.Kitagawa, the President, and some of his henchmen came out to watch me drive away. They were obviously expecting me to crash before reaching the end of the road, a distance of about 50 yards.
 On the way to my night stop in Kobe I encountered my first experience of unrealistic speed limits, mad motorcyclists and Japanese car parks.
 Speed limits tend to be inconsistent, unrealistically low and are widely exceeded by a considerable margin. In Kobe I came across a stretch of dual carriageway with 3 lanes each way and few junctions. The speed limit? 40kph (25mph). The traffic was travelling at 40 to 45mph, which seemed a sensible safe speed. Town speed limits are generally 30, 40, or 50kph, but you come across long open stretches of road in the suburbs and even countryside with a 40kph limit. It is common for the traffic to be travelling at 50 - 60% higher than the limit, and there seems to be little effort put into enforcement. There are few cameras or traffic police cars. Other stretches of open road have an 80kph limit, and motorways (Expressways) usually 100kph. There is a minimum speed limit of 50kph on Expressways. Again, the actual speed of traffic on the motorway is about the same as in Britain. In April 2009 the Japanese government announced a wide-ranging review of speed limits to make them more realistic.
 Also on the road in Kobe I learnt about mad Japanese motorcyclists. Many people commute by motorcycle on small or medium-sized machines, and they usually ride quite sensibly. The sports bike brigade, however, appear to be a law unto themselves. They fly about at high speed in towns, and you have to be prepared for a bike to come through from behind fast on either side at any time. If they think they can get through they will come through. At the other end of the spectrum are the youngsters who tear around in the evenings on strangely modified small bikes and scooters.
 In Japanese towns of any size there is virtually no free parking, and in most places residents are not allowed to own a car unless they can park it off the road. Nevertheless I found that I could usually park reasonably close to where I wanted to be, but it was very expensive, equivalent to between £1 and £2 per hour at the present rate of exchange.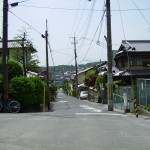 Many car parks have no instructions in English, and I just applied the principle of driving in and sorting out the exit arrangements when the time came. This could be quite challenging, and in one car park when I approached the barrier I was repeatedly shouted at in Japanese by a machine, until a passer-by came to the rescue and explained how the system worked. Many hotels, convenience stores and businesses have car parks for customers.
 On the subject of shouting, in addition to a siren, fire engines have a loudspeaker on the front which shouts a message as they go along. Apparently it means "I am a fire engine, get out of my way".
 As you go around you see a large number of people in uniform controlling traffic. Some are proper police who sometimes stand in the middle of junctions in the traditional manner that was abandoned in Britain years ago. Others are privately employed by businesses and organisations to regulate the traffic around their premises, but they do appear to have the authority to stop and direct vehicles on the road. As a foreigner I found it difficult to tell which were police and which were not, so I treated them all as if they were. On one occasion I was driving along a main road that apparently ran through the middle of a bus station. After giving way to a bus I started off again and heard a loud blast from a whistle. I then realised that there was a man in uniform on the other side of the road holding up the traffic, and I was on the receiving end of a scowl fearsome enough to ensure that I would never make the same mistake again. That was the only clash that I had with authority on the whole trip.
 Once you are well away from population centres the scene changes completely, and as I drove northwards from Kobe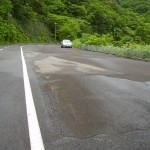 off the main routes there were times when there was no other traffic in sight. Minor roads are narrower than in Britain, and in many villages there are buildings jutting into the road at irregular intervals, so that you have to give way to approaching vehicles. Road works are quite common, usually with traffic lights, but after a couple of days I came across one which demonstrated the extraordinary difference in culture between Japan and the west. As I was driving along a twisty main road I came to sign which showed a short, wide, cartoon-like man wearing a hard hat and holding a flag. Sure enough, round the next bend there was a road works with a short wide man, wearing a hard hat and holding a flag. As I approached he waved the flag up and down. I stopped a few yards from him, and could not believe what happened next. He looked at me and bowed!
 A feature of traffic lights at road works is that they have a display underneath which counts down the time in seconds until the light changes. When the red light is showing it is standard practice for Japanese drivers to wait until it gets down to about 8 seconds and then go. I was dreading being at the front of the queue and having to make the decision to go over the red light, but it didn't happen.
 From the beginning I had resolved not to drive in the dark, but the Japanese will not have daylight-saving time, and it gets dark quite early even in May. I got caught out one evening when I had difficulty in finding a hotel, and finished up in the dark and rain in a town called Sabae City. The street lighting was very poor by our standards, and you need headlights to see where you are going a lot of the time, not just so that other people can see you. To make matters worse the only hotel I could find was a love hotel, but that is another story.
 Very large numbers of people of people are employed in Japan in service jobs that disappeared 30 or 40 years ago here. Small filling stations are everywhere, with attended service, and I only saw one with self-service. To a great extent it is still a cash economy, and when a westerner pulls up at the pumps there are expressions of consternation by the staff, because they expect us to want to pay by credit card, and they cannot usually accept our cards. I found that the best answer to this was to jump out of the car, hold out my wallet showing sufficient cash to pay for the fuel, and shout 'Casha'. This would result in smiles all round and instant good service. Unlike the USA, tips are unknown for this type of service, and when I offered one young lad a tip he couldn't understand what it was for.
 Around 75% of Japan is mountainous, and after a few days I wanted to cross the mountains to visit some old towns and villages. There are few roads through the mountains, and according to the Shobunsha maps, most of those were likely to be closed under adverse weather conditions, which often means heavy rain as well as snow. I found this out the hard way, after visiting the wonderful Motorcar Museum of Japan at Komatsu. There were two possible routes to where I wanted to go, one a toll road more or less straight across the mountains, the other a much longer route via Kanazawa, which was likely to be a less pleasant drive with heavy traffic. I set off towards the toll road, and after about 20 miles there was a huge gantry over the road with a flashing red neon sign in Japanese. After another 25 miles of beautiful scenery I found out what it meant. There was a man in a toll booth in the middle of the road, and I held up my map, pointing at where I wanted to go. He tapped on the map at a point a few miles before the end of the toll road and said "NO! STOP!" I said "You mean I can't get through?". He tapped the map hard again and said "STOP!". It appeared that he did mean that I couldn't get through, and I had to go back about 30 miles and work my way to the longer route via Kanazawa. All in all I had driven about 70 miles out of the way on mountain roads, losing about 3 hours, although the scenery was worth it.
 We think of the Japanese as being good at making small, intricate items like camcorders, but their civil engineering is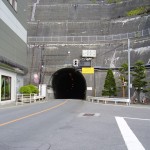 just as impressive. The country is covered with tunnels and bridges, and one day in the mountains I drove through tunnel after tunnel, some of them several miles long. One was particularly memorable. Normally the lights inside the tunnels are visible as you approach, but this one appeared to be a black hole in the mountainside. I was suspicious about this, which was just as well, because the road veered off to the left at 45º just inside the entrance, and what looked like a black hole was in fact a solid wall of rock. There might have been a sign or notice, but I did not see anything.
 On a few occasions I resorted to using motorways (Expressways) to cover a lot of ground quickly. These are very good, but most are expensive, working out at about 25p a mile. Automatic and manual payment systems are used. A few are free.
 There was only one moment of real motoring hell on the trip. Towards the end I was cutting across country to Nara, the ancient capital of Japan before Kyoto. There was no very direct route, and I was driving along a twisty main road in the mountains when I saw a hand-painted wooden sign on the right hand side pointing to the left, with NARA written on it. In retrospect I realised that I should have had more sense, but I turned off and the road went along a typical narrow village street. After the village it began to climb, and eventually turned into a series of hairpin bends. As I approached one right hand bend I saw a people carrier coming quite fast down the hill. It was obvious that we could not pass in the bend, so I stopped and reversed a few yards to where the road was wider. On the left hand side was a stone wall, and there was suddenly a lurch and a sickening crunch. The people carrier squeezed past and disappeared. I leapt out and ran round the back, thinking that I had hit the wall and imagining all the complications that there would be in the non-English speaking car hire office. In fact, I had not hit the wall, but the nearside rear wheel had dropped down into a concrete drainage gulley, designed to take the water away in heavy rain. The underside of the car was actually resting on the road.
 So I was half way up a mountain in Japan, obstructing the road, mobile phone that would not work, unable to speak the language, at least a mile from the nearest habitation. I could see this developing into a major international incident. One way out was to throw myself over the wall and hurtle to my death on the rocks below, but I thought I would try something else first. I started the car, put it in first gear, and tried to pull away. It went, just as if it had been standing on all four wheels! At the top of hill I stopped and looked underneath, and apart from a few scrapings of concrete, there was no sign of damage.
 On the way back to the Mazda Rentacar office I drove right through Osaka, and it was no worse than a similar large British city. The one-way systems demanded a lot of concentration, but with the sat-nav and a street map it was not too difficult. At Mazda there was yet another linguistic impasse over whether the petrol tank should be full or empty. This took about 15 minutes to resolve, and eventually the young lady came with me to a filling station nearby to top up the tank. The total distance I had driven was about 1600km (1000 miles).
 At the earlier business meeting it had been arranged that Mr.Seto, the Head Chief of the Overseas Division, would meet me for dinner on my last evening. During the meal, which was rather more to my liking than the previous one, I realised that this was not just a friendly chat, but an interrogation to find out where I had been and how I got on. He said my trip had been the main talking point in the firm for the whole week, and some people were convinced that I would give up after a short distance.
 Most foreigners who visit Japan do so on guided tours, and I did not see another westerner driving a car, although those who live there obviously do. One guide book I read beforehand said "Whether or not you decide to drive in Japan depends upon your personal adventure level". I would say it is not for the faint-hearted, but I found it a very enjoyable experience, if occasionally stressful.
MORROCO - told like it is
Although it is not like me to have a crazy idea, I had one. I decided to fly to Marrakech in Morocco, hire a car and drive down to the Sahara desert. Some friends had been on guided motorcycle adventure tours in Morocco and raved about the place. How following someone who knows the way, with a 4x4 behind to pick up the pieces and staying in pre-booked quality hotels can be an adventure I am not sure, but that is another matter.
 The itinerary was not difficult. The trip was to take nine days overall, and there are only two routes to the proper Saharan dunes from Marrakech. After talking to one of the above friends and spending many hours studying guide books and the internet it appeared to be possible to cover both routes in the time, although that would mean driving about 1000 miles.
 The flight, car and hotel for the first two nights were booked on the internet. Originally I had planned to book more hotels in advance, but after my friends' experience of being held up for a day in Marrakech due to snow on the pass to the south I decided to just book the first two nights and deal with the rest as I went along. The flight and hotel were booked through easyJet and the car with Europcar.
 Fri 27.2
The flight was 15.40 from Gatwick, and arrived in Marrakech early at 19.00. There is no time difference between Britain and Morocco. After ceremonial stamping of my passport and rescanning of all my luggage I changed €400 into Dirhams and emerged into Africa.
 I decided that it would be pushing my luck, even with experience of driving in 22 countries, to collect a car at the airport and drive in the dark to my hotel in Marrakech, and in any case I did not need the car until Sunday. This meant getting a taxi. Moroccan taxis come in two sorts, petite and grand. A petite taxi is something like a Fiat Uno, whereas a grand taxi would be a Mercedes or people carrier, generally intended for more people or longer distances. Marrakech taxi drivers refuse to use meters (some don't even have them) and the price for the journey is supposed to be agreed at the point of pick up. According to all reports, a fair price for the 6km from the airport to city centre was 50 - 60Dh.
 The only taxis in sight were 1980's Mercedes, and one driver came forward and took me to his cab. I showed the hotel address and asked how much. He said "200". I said "too much". He said "night". There seemed to be little point in asking another driver, because they would all be in league, so it was that or walk. 200Dh is £16.50, more than it would be in Bognor with a better car and better driver. There had just been a heavy downpour, and we splashed our way to the hotel through water across the road most of the way with mopeds overtaking on both sides. I paid the driver with no tip, and he went off to his large detached house in the suburbs and took the next day off to play golf.
 The Corail Hotel was rather more imposing than I had expected, with columns in front and a porter with a red outfit topped with a fez, the only one I saw in Morocco. The Corail was one of the cheapest hotels on the easyJet list, but it has always been my philosophy that if there are no bugs on the wall I am paying too much. There was only one review on TripAdvisor, and that was not very good. I had a nice room, overlooking the yard behind the AUDI/VW dealership, with flats and palm trees in the background. The restaurant was a gloomy, wood-panelled room, with an equally gloomy waiter, and I was the only guest. As I had booked half-board I had the fixed meal - couscous, which I was dreading, because I can't stand semolina. I picked the meat and vegetables out, leaving the semolina. At least it was dry, not like the slimy stuff we had at school.
 Sat 28.2
There were a few more people at breakfast time, and I sat by what looked vaguely like a swimming pool adjacent to the gloomy restaurant. By searching through the trays it was possible to find some spotlessly clean cutlery, and the buffet breakfast was ok.
 At 9.30 I set off into Marrakech. My hotel was in Guilez, the "new" quarter built by the French in the 1920s and 30s, and it was a half-hour walk to the Medina, the old walled town. The traffic was manic. There were cars, buses, lorries, horses and carts, donkey carts, hand carts, things like tuk-tuks and a fantastic number of mopeds and small motorcycles, which are the staple transport for a large proportion of the population. The 2-wheeled vehicles drive at speed on the pavement and pedestrian areas as well as the road.
 Crossing the road is almost impossible. At times I tried to take refuge on the 6inch wide black strip between the yellow lines in the middle of the road, and eventually I found that the best way was to wait until I found a woman with 2 children trying to cross and walk over level with them. The most amazing thing I saw was a pedestrian crossing in front of the railway station. There were traffic lights to stop the cars coming from the right, and when the cars stopped the green man came on. However, there were no lights for the traffic coming from the left, and that just continued to flow past at speed while the green man was on.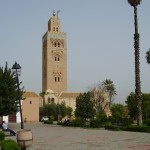 I took some photos of the Koutouba mosque, which is the most important one in Marrakech, but non-muslims are not allowed inside. Then on to Place Djemaa El Fna, which is the main square in the Medina, and the scene of all the action. Snake charmers, dancers, story-tellers, play-actors, shoe cleaners, fortune-tellers, food stalls, accompanied by marvellous sounds, and I regretted not bringing my camcorder. It is difficult to take photographs of people or small groups, because if they see you they expect to be paid, and you can't pay everybody. The only disappointing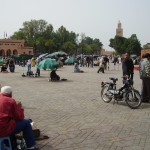 thing was that I could not find the man who pulled teeth, because he would probably have been cheaper than my Swedish dentist, and the outcome would be the same.
 Adjoining the square were endless souks (markets), with alleyways and passages stretching for miles. Apart from food, the stalls were offering mainly either traditional products (carpets, fabrics, jewellery, etc) or the same range of Chinese stuff that you can buy here (electronics, watches etc) Most of the watches carried names like Breitling, Rolex and D&G. I would have advised the West Sussex Trading Standards Officer, but I don't think he goes that far. The only thing I was really looking for was a belt, because the jeans I wore for the journey were tight enough not to need one, and I had forgotten to bring one. My other trousers needed one. On the way to the Royal Palace I came across a man walking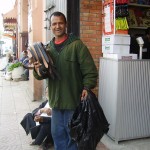 around with a bundle of leather belts. I glanced at them and he said "ten", by which I thought he meant 10Dh. It turned out that he meant €10. I said "No, no, no!" and walked on, with him chasing me, shouting a succession of ever decreasing prices. Eventually he got down to €3.50, which was still probably more than I could have got one for at Ford Market, but we settled for that. I should have asked him for the whereabouts of the man who pulled teeth, because he was obviously a regular client. By this time my knee was giving up so I had ½ chicken and chips in a café and went back to the hotel and read for 2 hours.
 Later in the afternoon I came back to the square with my camcorder, and wandered around holding it surreptitiously, mainly to capture the sound. There was more action now, and at one point 2 dancers in traditional costume performed for me for about 15 seconds and demanded payment. I gave one of them a coin which I thought was worth about £1 but it turned out that it was worth about 10p and they were not pleased. I then found a 10Dh piece, which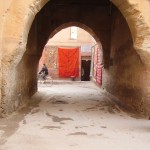 one of them grabbed and demanded the same for his mate. I did not have another, so they demanded paper money. Eventually I found some more coins adding up to about 70p I think, and they went off disgruntled. At dusk the Koutouba mosque sounded the call to prayer, which was very atmospheric in that environment.
 At 7.00 I left the crowded square and went back to the hotel for the evening meal, which was a sort of cutlet and not at all bad. The only other guests in the dining room were three German businessmen discussing, not surprisingly, the state of the euro and whether Germany should bail out the rest of the eurozone.
 Afterwards I went down the road to the Ibis Hotel next to the very imposing new railway station and booked a room at the Ibis Hotel in Ouazazate for the next night.
 Sun 1.3
After breakfast I walked up to the Europcar base in the Boulevard Zerktoni about ¼ mile away. There were 2 cars outside, one of which was a silver Citroen C3 which did not look too bad from a distance. The man in the office spoke good English, and as soon as I went in he said "Ah, you must be Mr.Billingham", which was a good start. He sorted out the papers and told me I was getting an upgrade. We went out to the Citroen, and at close quarters it turned out that there were small dents in all four wings, one door, one windscreen pillar and the rear bumper. There was a hole in the front bumper and part of the badge was missing from the grille. I tried to get him to note down all these defects, but eventually he said "If I write down all the things that are wrong with this car it will look as if I am giving you a bad car". He just wrote "small pumps in all wings and all round, badge broken", which I felt left me some latitude to make some additions if the occasion arose. The car had done 95,000 km, and bearing in mind that 1 km in Morocco is equivalent in wear and tear to 5km in England, it was pretty well used. On the way back to the hotel I was really thrilled about my upgrade.
 Once you are part of it the traffic is not as daunting as it appears to an onlooker, and the main road out of Marrakech to the south was quite easy to find. My target for the evening was a French garrison town called Ouazazate (pronounced Warzazartay) in the desert the other side of the Atlas mountains. There is only one main road (N9) leading south, over the Tizi-n-Tichka pass (2200m), which can be closed by snow any time until the end of April.
 On the way to the pass there is a small town called Zirkten, which the Rough Guide says has a Sunday souk (market), but it did not mention that the market is held in the middle of the main road.
In Zirkten I suddenly found the road blocked with a solid mass of people. There were large vehicles parked both sides, piled up with goods of all sorts and the only way appeared to be through the middle. I started gently pushing my way into the crowd, slipping the clutch (the C3 is ridiculously high geared) and hoping it would not burn out before the end of the market. Then the inevitable happened, and some people moved aside, leaving me face to face about 6ft from another car struggling through from the opposite direction. Anyway, we managed to squeeze past one another and the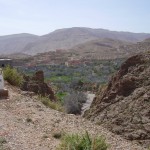 car emerged from the crowd with the clutch intact. There was almost no traffic on the road, and the scenery over the pass was superb.
 The Rough Guide made a big issue of a place called Kasbah Telouet, on a minor road about 21km from the main road, some distance after the pass. It is said to be one of the best ruined kasbahs in Morocco, built by a wealthy family. The turn-off was well-signposted, on to a narrow, winding road. After a few miles a car containing three young men in Arab dress came flying round a bend, half on my side of the road, causing me to stop. They came very close alongside, wound down their windows, hammered on my windows and yelled loudly at me. I did not make any effort to find out what they were saying, but just stuck the car in gear and raced off. Fortunately, at that moment a white 4x4 appeared behind me and that took their attention.
 When I got to Telouet the kasbah was some distance off the road on the right hand side, and there was another young Lawrence of Arabia standing by an area of land with a parking sign on it. He spoke good English, and explained that you had to park here and walk 200m to the kasbah. His name was Mohammed, he was my friend, and he would take me to the kasbah. I could not see what else to do, so I parked, and we walked to the kasbah, about 500m along rough tracks. When we got there Mohammed said he would find the guard to open the door, which was locked. After a couple of minutes he appeared with a scraggy-looking character, holding a key like the one to the Tower of London. Mohammed took me round the kasbah, which had vast areas of mosaic on the floors, walls and ceilings, and was in a fair state of decay. When we came out, Mohammed said "you will have to give the guard 20Dh" (about £1.70), which I did. On the way back to the village Mohammed explained that he worked for a foundation that was associated with UNESCO and raised money to help maintain the kasbah and also for needy women. Their headquarters were in the village. Along the line he also referred to it as his head office.  As we approached the car Mohammed said "Come with me to our office, I will give you their card".
 You've guessed by now. The headquarters of the "foundation" was a carpet and gift shop, and I though the stuff was overpriced and refused to buy anything.  Mohammed looked very embarrassed about the situation. and followed me back to the car, where I gave him a good tip for taking me round the kasbah and departed.
 After I rejoined the main road the scenery changed, and the mountains were like giant slagheaps. It was very much like some of the less attractive parts of the American deserts, and this continued to Ouarzazate. The town is a French Foreign Legion garrison, built in the 1920s, and has an atmosphere strangely similar to Barstow, a famous town in the Californian desert. Neil at work had warned me about getting forcibly enlisted into the Legion (I think he was hoping), but that did not happen. There were plenty of legionnaires around, dressed in fatigues like American soldiers rather than the fancy outfits you see in films. They didn't look all that hard to me, but I didn't care to do anything to find out.
 After a struggle I found the Ibis Hotel and walked back to the main street for a meal and a look round. On the way back I got some toilet paper amongst other things, because many garage or restaurant toilets don't have any.
 Mon 2.3
Today's itinerary was to reach a town called Tineghir (one of several different spellings) passing through the Skoura valley and visiting the Dades and Todra Gorges, which are on side roads into the mountains.  The Skoura valley is noted for its oases, with palm trees a short distance from the road. There are many kasbahs along this route, some ruined, some intact, as there are throughout southern Morocco. Before the Dades Gorge the road passes through El Kelâa des Mgouna, which is a town apparently dedicated to the production of rose water in myriad forms. There are stalls and shops at the roadside with vast quantities of bottles of the stuff, and I stopped and bought a bottle as a present for someone, without having the slightest idea what it really is or how you are supposed to use it. And the bloke in the shop didn't hassle me unduly.
 The road to the Dades Gorge turns off at Boumalne du Dadès, and for cars is a 25-mile long cul-de-sac climbing up into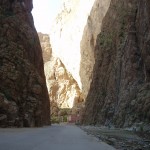 the mountains past palm groves and culminating in a spectacular road with many hairpin bends. On the way back I managed to make a video, made more exciting when the camera fell over on the dashboard, giving the impression that the car tipped over on to its side. After the gorge I went into Tineghir to find a hotel. The Rough Guide had a map showing several hotels in the back streets, so I turned off opposite to the Total petrol station, which was on the map, and instantly entered the third world. Rutted unmade roads, partly muddy, vehicles and people all over the place. The hotels appeared to be in narrow streets that you could hardly get a car down, and this was obviously backpacker country. I made my way through the mess in the town square along a slightly wider street lined with workshops and people doing things at the side of the "road". To my surprise I came upon one of the hotels listed in the RG, a place called the Tomboktu. The guide said it had gone downhill, but remained one of the memorable small hotels of Morocco. Gone downhill?  It looked rough even by my standards. There was no parking as far as I could see, and if I had left the car in the street round there, all that would have remained in the morning would have been the hole in the front bumper. Eventually I managed to find a decent hotel on the hill above the town.
 To complete the day I drove out to the Todra Gorge, which was a much shorter distance off the main road than the Dades, and had entirely different character. It started with beautiful dense palm groves, and then became a high sided gorge rather like Cheddar but with a river alongside the road, flowing over it in some places.
 I took the car back to the hotel and then walked down to the third world below. There was a souk in progress, with the usual dark narrow alleys and archways, just the sort of place the Foreign Office website tells you to be careful of. Needless to say, I quickly encountered a "friend" who knew someone in Plymouth and he insisted on taking me up some stairs to see a lady who did weaving. She had some skeins of stuff hanging up which looked amazingly unattractive, so I declined to make an offer. She did not seem surprised. I was probably the 10,000th foreign visitor who left without buying anything.
 Having survived the dark alleys of the souk I went to look at the road with all the workshops. It was a real hive of industry, with people doing all sorts of metal and woodwork. Making furniture, windows, wrought iron, sheet metal items, and in amongst them was a motorcycle business, the entire stock of which even I would have thrown away. Everybody stared at me, but I did not feel particularly threatened.
 Tue 3.3
This was to be the last stage of my journey to the Sahara. All the way from Marrakech I had encountered people at the roadside trying to sell things to passing tourists, of which there were actually very few. During the past two days I had seen the same three vehicles over and over again, two French camper vans and a couple in a Hyundai Atoz. There were a fair number of groups of 5 or 6 white 4x4s and minibuses taking people for "adventure tours" in the desert, but the roadside sellers know they are not going to get anywhere with those people. After Tineghir it got beyond a joke. I appreciate that the people are having a hard time with so few tourists, but I could not be a meal ticket for every poor person in south east Morocco. Several times I was forced to a standstill by a man standing in the road. All I could do was stop and wait under he came round the side and then accelerate away with him hanging on to the door handle or mirror, yelling at the top of his voice. The images of their contorted, angry faces level with the waistline of the car will be with me for ever.
 The scenery on this stretch was, in general, rather boring, relieved by occasional items of interest such as camels, strange black long-haired goats, and the only road accident I saw in Morocco. A car upside down about 30 yards from the road, with a policeman standing by it. About 11 o'clock things took a turn for the worse, when I got an unpleasant feeling in my stomach. Not here, no, not here, I thought. I had a good stock of tablets for dealing with this subject, but they take time to act. Originally I was intending to go to the dunes at Merzouga, my ultimate target, and then come back to a town called Rissani and stay the night there. As it was I decided to book in at Rissani before going on to Merzouga, to sort myself out. In Rissani I quickly found a very Moroccan old hotel called the Sijilmassa recommended by the RG and booked in. The two men running the hotel were ok, but in the entrance there was the usual "friend" in Arab gear who introduced himself with "Welcome, my name is Youssef. There is a market in town today, I will show you round". The first thing I had to do was to rush upstairs to my en-suite toilet. The room was very old-fashioned, but quite comfortable and there seemed to be no other guests in the hotel. When I came down Youssef was waiting for me, and I pointed out that I had come all the way from England to go to Merzouga, and to Merzouga I was going to go, regardless of his market. He said he would wait until I came back and then take me round the market.
 Merzouga was only about 20 miles, and the famous Erg Chebbi Saharan dunes are at the end of the road, just past the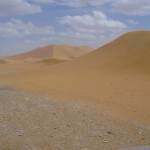 village. There was no one there apart from three "friends". One was standing in the middle of the village, one was on a moped in the village, and the other was at the dunes. The one on the moped chased me down to the dunes. There is a large area of tarmac with some sand on it, leading to the base of the first dune. I drove across it, and guess what -- I GOT STUCK IN THE SAND! The Rough Guide says "should this happen, rest assured that help will never be far away, but expect to pay dearly for a 4x4 rescue".
 To my immense relief, when I put the car in reverse it came out under its own steam, or, rather, before reaching the point of making any. I took some photographs, fought off my friends and went back to Rissani. Somehow I got lost in the middle of the town, and finished up in a square which was a cul-de-sac apart from a narrow alley straight ahead similar to the ones James Bond would go through on two wheels with the car tipped to 45º. I started to turn round and was approached by someone who welcomed me and asked me where I wanted to go. I told him the Hotel Sijilmassa. He said "That is my family's hotel. I am from there. I will take you, follow me. We go through there" He pointed at the alley. I said it was too narrow, but he insisted on walking in front of me and somehow I got through without resorting to two wheels or adding to the dents in the wings. At the end he wanted to show me the market, but I managed to escape. At the Sijilmassa Youssef was waiting for me, of course, and insisted on taking me to look at the kasbah and market. It was no good refusing, because he would have followed me anyway. I was the only possible source of income in town, and he was not going to let me go.
 He took me round the ruined kasbah and then we went into the market, which was actually quite interesting, with a lot of food and animals, as well as the usual stuff. The RG says it is famous and people set off early in the morning to get there. Inevitably we eventually worked our way through a maze of passages and came into a gift shop, which Youssef said belonged to his family. I was not happy about the situation, and I said "Look, I am not staying here" and walked out, with him trotting behind me. Somehow I found the way to the road and we walked back to the hotel in silence. As we sat on the hotel veranda having a drink I suddenly asked him "Why is it that every friend (emphasising the word) that I have met in Morocco finished up taking me into a shop and trying to sell me something?" He went quiet for a moment, and said "It is the culture". I gave him what I thought was a good tip for taking me round.
 For the evening meal at the hotel I had ordered tagine, which I don't really like much anyway. I got half way through and rushed upstairs to my bathroom just in time to bring all of it up. By now the problem at the other end had fully developed, and I was in for a bad night. I took a dose of anti-diarrhoea tablets, but I must have visited the toilet 15 times, and in the middle of the night I was desperately thirsty. There was no way I could risk drinking the tap water, but I had a bottle of water in the car. I crept downstairs with a torch, but as soon as I saw the lock on the hotel door I realised that it would take hours to get through that with a nail file. Luckily there was a drinks cabinet in the bar, so I helped myself to a bottle of water and paid for it in the morning.
 Wed 4.3
During the night I had no sleep, and could not face the thought of breakfast. By now I had abandoned the idea of going to the other dunes at M'hamid, and decided to go straight back to Marrakech, which was about 350 miles. The first 200 miles were more or less a straight bash across the desert, with no towns of any size, on a route to the south of the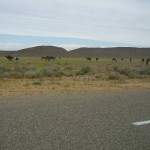 one I had driven on to Rissani. As soon as I had got up I took a dose of Instant Action Diarrhoea capsules, in the hope that they would keep things under control for the journey.
 The guide books all say petrol supplies in Morocco are unreliable, and that certainly appeared to be case. The first filling station after Rissani had no unleaded, and the next, which was quite large and modern, had no fuel at all. No unleaded was available until Asnif, which is about 60 miles. This was no problem for me, because I had kept the tank at least half full, but it shows that you could run into trouble.
 By about 12.30 I had reached a small town called Nekob and felt too shattered to go on. The RG had 2 or 3 recommended hotels, one of which was called Auberge-Kasbah Enakhil .. It was easy to find, on the main road, and was a very Moroccan establishment, like a little fort. The accommodation was in a 2-storey building, the auberge being downstairs and the kasbah above, although I was not very clear about the difference. The man in charge seemed to think I should go in the auberge, which was 100Dh (about £9) for the room, plus 25Dh for breakfast. Perhaps he thought I looked too poor to go in the kasbah, or too ill to climb the stairs.
 In the auberge the rooms were alongside a wide corridor permanently open at both ends. My room had 2 beds with a beautiful view across the desert, and the toilets and showers were at one end of the corridor. The first thing I did was to flop down on the bed and try to sleep for a couple of hours. When I arrived I had ordered tagine for the evening meal, but at about 4 o'clock I decided that I could not face that, so I cancelled it and went into town to see if I could get some fruit and anything else that I might be able to keep down.
 The main street of Nekob was straight out of the third world again. It was lined with people doing things at the side of the road, and there were food stalls and hole-in-the-wall shops. Several stalls had fruit, all just the same, with bunches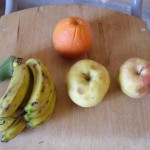 of slightly withered tiny bananas, shrivelled oranges and bruised apples. All covered with dust. I doubt whether Nekob gets many visits from the food buyers for Marks & Spencer or Waitrose.
 I bought one bunch of tiny bananas, one of the less shrivelled oranges, and two bruised apples. Then a packet of biscuits from a hole-in-the-wall shop heavily stocked with comfort foods. You would need something if you lived in Nekob, and I would imagine that there would be plenty of work for the tooth puller from Marrakech.
 Back to the hotel, and all I could eat was one small banana, which was better than it looked. Back to bed. Every couple of hours in the night I had to stumble along the dark corridor with a tiny torch to the toilets, and again I had no sleep. Eventually the torch packed up, but by then I could find the way in the dark. Fortunately the only other guests in the hotel were four young Germans who were in the kasbah upstairs, and I saw nothing of them.
 Thurs. 5.3
I tried breakfast, but all I could get down was half a biscuit and a cup of coffee. The car was in a courtyard, surrounded by a wall with an entrance with massive steel gates like the ones on a Foreign Legion barracks. When I went to put some things in the car the Germans were just departing (in a car like mine, but so far with fewer dents) and the steel gates were firmly closed behind them to make sure that I did not get away without paying my £11.25.
 In theory Marrakech was a not too difficult day's drive, and I decided to see how I felt about going the whole way when I got to Ouazazate. In the event I got to Ouazazate at about 12.30 and did not feel like driving any further. There were some wonderful proper Moroccan hotels on the outskirts of the town, but I played safe and went back to the characterless Ibis and lay on the bed for a couple of hours. In the middle of the afternoon I walked down into the town and had a look round. It was nothing like Tineghir, more like Harlow, and after a cup of coffee I went back to the Ibis.
 By the evening I had had almost nothing to eat for 3 days, not enough to drink and no sleep for 2 nights. When I was 11 I wanted to be a doctor, and it was at times like this that I wished I had become one. At least I would have known what was likely to happen next. Would I start hallucinating, or fall over? Hallucinating on the Tizi n' Tichka pass, with its hairpin bends and sheer drops did not seem a very good idea.
 Fri. 6.3
To my surprise I slept well and woke up feeling fine, and hungry. Breakfast went down well, and I was quite happy about facing the rest of the trip to Marrakech. The car did not have to be back until 18.00, so there was plenty of time.
 In many places during the trip I had seen men at the roadside holding up large stones containing coloured crystals, which are quite expensive at home. There were a number of such stone-sellers on the way to the Tizi n'Tichka pass and in moment of folly, probably a result of my recent illness, I decided to stop by one and find out how much they were. This was a mistake. The man came round to the open window and thrust his arms in and dumped the two halves of a big stone in my lap. I would estimate his age to be about 105 and at first sight he appeared to be wearing a wrinkled brown leather mask. His arms were like solid rods of steel, which I suppose they would be if he had spent years waving them about holding heavy stones. There was a lot of shouting about the price, partly in German, because he appeared to think I was of that nationality, and I came away with 2 big stones for about £11. I didn't really want them, but that applies to most of the other things in my house, and they will fit in nicely.
 The scenery going north over the pass with the sun behind was absolutely fabulous, equal to anything I have ever seen. There were quite a lot of large trucks going the other way, but none going in my direction, which was fortunate,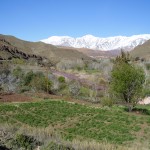 because they can be very slow and difficult to pass. Zirkten appeared quite different without the souk, and there was another small town where everybody was repairing vehicles on the road verges from one end to the other.
 The traffic in Marrakech had not calmed down since I left on Sunday, but I survived through to the Corail Hotel. The walk-in price was almost exactly double what I had paid for the booking made through easyJet, but the hotel was near the station, which made it convenient for getting a taxi to the airport in the morning. The room was nicer than before, with a balcony and a view of the Theatre Royal. After checking-in and leaving my luggage I took the car back to Europcar. The man in charge looked round it to ensure that it was still as bad as when I collected it, and duly signed the papers. The C3 had rattled along for 1369km (856 miles) over Moroccan roads without incident, so I could not really complain.
 I decided to give the gloomy restaurant a miss, and got something not too Moroccan to eat in a place not far away.
 Sat. 7.3
The flight was 11.45, so after breakfast I went along to the station and found a petite taxi. The price to the airport was a mere 100Dh, only twice what it should have been. The passport check to leave the country took as least as long as when I arrived, but after that everything went very smoothly, and I was home at 5.15 in the afternoon.
 So, what about Morocco? Make up your own mind.
The Foolhardy Driver's Guide to Albania
 I was looking for somewhere to go that was a bit different and where no-one had been. Albania came to mind.  I asked around, and could not find anyone who had been there or anyone who had the slightest desire to go.  Most people did not know where it was, but they knew it was full of criminals and was generally unpleasant and dangerous.  Sounded like just the place I was looking for.
 Further investigation on the internet suggested that it was not quite as bad as everyone seemed to think.  The Foreign Office website contained the usual references to terrorism, swine flu, dangerous driving, etc.  It also advised against going to the north east because of ordnance left over from the war with Kosovo, and mentioned that visitors should bear in mind the high level of gun ownership.  On the other hand, the Albanian government's own website presented the country as a tourist's paradise, with beautiful scenery and rich in culture.
 Apart from a brief section in the Lonely Planet Guide to Eastern Europe there are only two English language guides to Albania.  One, published by Bradt, has been around for a long time, and other is a very recent book by Thomas Cook.  I bought the latter one because it is cheaper, smaller and very up-to-date.  In perusing the guide books I came across a few memorable statements:
 "If you are thinking of hiring a car, our advice is - don't.  However, for the foolhardy here are the addresses……………" Lonely Planet
 "Just because a street exists in Albania doesn't mean it has to have a name, and even if it does have a name it doesn't necessarily follow that anyone knows what the name is.  This is the state of affairs throughout more or less the entire country…….." Thomas Cook
 "Driving in Albania is the rally enthusiast's dream and a prudent driver's nightmare."  Thomas Cook
 "Just because every room comes with a Jacuzzi doesn't necessarily mean there'll be hot water to put in it……" Thomas Cook
 One oft-repeated piece of advice about visiting Albania was to take a torch, as power cuts are frequent.  One guide suggested taking candles as well, for the longer blackouts in country areas.  A related piece of information was that in some food establishments when the freezer thaws out due to power failure they do not throw the food away, they just refreeze it and serve it up at a later date.
 Armed with all this information you can imagine that I was really looking forward to my trip.  The only direct flights between Britain and Albania are with British Airways from Gatwick, and there were flights on my preferred dates, so I booked on the internet.
 The plan was to fly out on a Thursday, and stay for 2 nights in a hotel near the airport.  According to all reports driving in Tirana would result in certain death, so I was proposing to go into the city by public transport (reputedly an unreliable bus service) and spend Friday looking round.  On the Saturday morning I would collect a rental car at the airport and drive around the country for 3 days, flying home on Monday evening.
 Albania Hotels.com listed 2 hotels within walking distance of the airport, one being €20 per night, and the other €30. On the basis that I would be less disappointed when it turned out to be dreadful I was going to book the cheaper one, but it was being renovated, so I had to go for the Verzaci at €30 (paid in US dollars).
 In the departure lounge at Gatwick it was interesting to see what sort of people were going to Albania.  There were probably about 120, mostly not British, and around 80% of them were men.  It was hard to say how many might be drug dealers or other types of criminal, but on the whole they were not as formidable looking as I had expected.  At Tirana there were two immigration queues, one for Albanians and one for foreigners.  Rather surprisingly, the queues were of approximately equal length, although most of the 'foreigners' were not British.
 The nice lady from AlbaniaHotels.com had told me by email that I could get a taxi to the hotel for €5, but as it was only 200m from the airport I might prefer to walk.  As I came out of the airport I was besieged by men shouting "taxi" but ignored them and got directions to the hotel from a man in uniform.  It was dark, but I started to walk, when a taxi driver asked me where I was going.  When I told him he said I couldn't walk because it was 1km and there were no lights on the road. I said I was going to walk anyway.  After about 200 yards the taxi pulled alongside me and the driver said it was dangerous to walk. Looking at the road ahead I was inclined to think he was right, so I got in.  In fact, it was about 500m, but there were no lights or pavement.  He drove at 20mph, to try to create the impression that it was 1km and justify his €5 fee.
 The hotel was fairly new and generally ok, although the people hardly spoke any English.  My room was very hot and when I went to go out on to the balcony the double-glazed door practically fell out of its frame and I had to lift it bodily to close it again.  There was, however, good air-conditioning, once I found out how to work it.  The breakfast consisted of a rather flattened fried egg, processed meat, cheese and heavy dry bread.  No drink was provided and the waiter seemed surprised when I asked for coffee.
 Tirana centre is 10 miles from the airport, and contrary to what I had expected the 10 o'clock bus departed dead on time, with just myself and one other passenger on board.  I sat behind the driver to get a good view of the hair-raising antics of the local drivers, and was not disappointed.  After half an hour, with a near miss every 2 minutes, we arrived at the museum in the main square.
 A few words here about the background to present-day Albania.  For about 40 years until 1985 the country was run by a strict and ruthless dictator named Enver Hoxha. First he allied the country to Russia, then to China, and eventually fell out with everybody, leading the country into a long period of isolation.  People were generally not allowed to travel around, and until 1991 there were only about 600 cars in the country.  Driving licences were normally only issued to members of the Communist party.  When the country was opened up in the early 1990s large numbers of well-used Mercedes cars were brought in from other parts of Europe, as they were considered to be the only cars that would stand up to the bad roads.  People taught themselves to drive in a somewhat spirited manner and the country became known as Mercedesland.
 The first thing you notice today is the enormous number of Mercedes vehicles on the road, accounting for about 60% of the total, and many are quite recent, a lot of them with British number plates.  Allegedly these have been bought in Britain by Albanians, but you have to wonder how many were stolen.  Presumably they are more or less outside the law, like foreign registered cars here, and they are driven even more furiously than the ones with local numbers. Considering that Albania is supposed to be the poorest country in Europe, the number of large expensive cars on the road is quite astonishing.
 By the end of the Hoxha period Tirana was a very grey, drab city, and as soon as his influence waned there was an official policy to paint the buildings in bright colours, and that has been quite successful.  For a capital city there are not a great many sights of interest, but a lot has been done to tidy the place up and remove the worst eyesores of Hoxha' s reign.  The place where his statue stood in the main square is now a paved area where youngsters ride around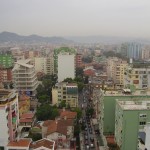 on quad bikes, a good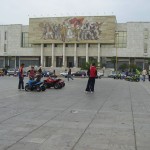 way of showing contempt for a hated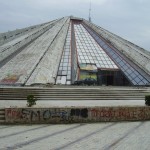 dictator.  There are some fine buildings from the period of Italian influence in the early 20th century and some other public buildings that are not too grim.  Hoxha had a massive pyramid built as a memorial to himself, and that has fallen into decay, but some renovation work now seems to be under way.
 Near the centre there is an area called Bllok, which is network of shopping and business streets with quite old buildings.  Many are in a poor state of repair, and if you go round the back it is a bit of a third world experience.  There are clearly a large number of people living in poor conditions.  All the wiring to the buildings is external, and has to be seen to be believed, with great bundles of wire wrapped round lampposts and junction boxes hanging down in mid air. There is rubbish everywhere and a fair amount of graffiti.  The pavements are in poor condition and you can't just walk around as you can here.  There are loose paving slabs and big uncovered holes, and I nearly fell flat on my face a couple of times.  There is no regard for the needs of blind or disabled people at all.
 The air quality was not as bad as I had expected, with few vehicles emitting visible fumes.  Most of the heavy industry has now been shut down.  The country is a smokers' paradise.  Cigarettes are cheap (I bought some for a chain-smoking lady of 93) and as soon as you sit down in a restaurant someone puts an ash tray in front of you.
 On the Saturday morning I checked out of the hotel and walked to the airport to collect my car, which I had booked with Avis on the internet.  Because of the bad roads and reckless driving the British Foreign Office advise using a 4X4, but as they don't offer to pay for it I had reserved a Chevolet Matiz , the cheapest car on the list.  Still quite expensive to hire, presumably because cars don't last long in Albania.
 The airport car rental counters are open only on request, and the car was brought from the Avis city centre depot by a smartly dressed man who spoke good English.  The Matiz had turned into an Opel Corsa diesel, in excellent condition apart from a badly cracked driver's door mirror.
 I set off northwards, intending to take a long inland route through the mountains to Shkoder, the second largest city. Within a few miles I had my first experience of Albanian drivers.  On the approach to a major junction with an expressway there was a single file queue of traffic.  Nothing moved for while, so cars and lorries started driving along the inside, on a muddy layby.  Then more people came from behind, and squeezed along the inside of the people who had already come along the inside.  Then vehicles started coming along the outside, in the face of the little traffic that was getting through from the opposite direction.  Then more vehicles came along the outside of the ones that had already come along the outside, blocking the road completely.  Police sirens were sounding, and there was a lot of horn blowing, but nothing happened for a long time.  Eventually the traffic crawled forward, and at the junction there were two policia, furiously blowing their whistles and waving their batons.
 After an hour I had travelled 6 miles, and I decided to alter my plan and go to a noted mountain village called Krujë that was not very far, and then take a more direct route to Shkoder, using older main roads passing through towns and villages.  The road to Krujë was bad, but made much worse by a stretch of roadworks with deep yellow mud through which cars and lorries were swerving all across the road to avoid the huge potholes.  Krujë had a castle and was quite attractive.  From the map there appeared to be a short cut across to the main road to the north, but all I could find was a rough track, so I had to retrace my route through the roadworks.
 Without too much difficulty I found the old road to Shkoder, but after a couple miles there was a junction with a bumpy road going straight on and a well-surfaced road branching to the right.  I assumed that that was the main road, but after a mile I finished up at the entrance to a cement works!
 The road continued with various degrees of bumpiness for the next 30 miles, to a town called Lezhë, after which the road had been upgraded.  Apart from the potholes there were unmarked speed humps and gullies across the road, and at times I could only travel at walking pace.
 Along the way I came to a town called Lac, which was, I think, the real Albania.  The main road was lined with businesses of all sorts, largely motor trade, and there was an area with 15 or 20 minibuses waiting for customers.  Set back from the road was a line of seedy-looking bars and betting shops, full of gangsters, drug dealers and money launderers.  There were men tearing around in big Mercedes, suddenly stopping in the middle of the road to talk to someone they knew.  I did not see any guns, but I have no doubt that there were plenty around.  There were a few modern shops and a rather run-down street market.  I tried to find a place where I could get a cup of coffee and a piece of cake, but that was far too twee for Lac.  In the end I bought a thing that was a cross between a trifle and custard tart from a baker's shop, and only managed to eat half of it.  Perhaps I should stick to Baden-Baden.
 An 18-year-old fire engine was recently donated to Lac by the people of Camborne in Cornwall.  One of the firemen who went with it to show the locals how to use it was quoted as saying "they've got absolutely nothing over there at the moment, no ladders, no pumps".  If the fire engine is a Mercedes it will be amongst friends in its new home.
 Driving northwards from Lac I came to a massive derelict industrial site.  Apparently there were two big industrial sites in the area, a copper smelting plant and a phosphate fertilizer factory, and both were shut down about 10 years ago due to inefficiency and pollution.  The pollution was so bad that people were being moved out of the area.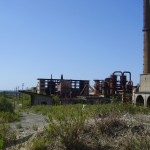 Between them they must have employed hundreds of people, and it is difficult to imagine what the people do now. Both sites have been investigated by an international body concerned with pollution, and they are both still causing problems.  Chemicals from the fertilizer factory are leaching into the water supply, so when you visit Lac DON'T DRINK THE WATER.
 There are enormous quantities of rubbish just dumped at the roadside wherever you go, and quite a lot of animals running around, especially dogs, which don't have any more road sense than the rest of the population.  Sadly, I saw three dead ones during my trip.
 Out in the country I frequently encountered minibuses, which are the main form of public transport between towns or to places of interest.  They operate scheduled services or can be hired on demand like taxis.  The timing of the scheduled services is rather loose, because they often do not start until they are full, and they stop (usually without warning) anywhere along the route to pick up or drop passengers.  The only full-sized buses outside towns are school buses and a very small number of luxury coaches operated by tour companies.  There is a limited and outdated railway network.
 The last part of the journey to Shkoder was on an upgraded well-surfaced main road, which meant that the local drivers all speeded up, thereby making their death-defying antics even more exciting.
 Shkoder has a population of 150,000, no traffic lights, no names on the streets, and few direction signs.  I just went with the flow, following signs to 'qendër', which I knew from my extensive knowledge of obscure foreign languages meant 'centre'.  When I thought I must be near the centre I abandoned the car and set off on foot to find a hotel.
 There were several hotels in the central area, but as far as I could see only one with secure parking.  This was the largest, called the Rozafa, and looked like a seven storey Soviet-style block perched on top of a large single-storey building.  As I approached I wondered whether I could afford it.  The foyer was a vast, gloomy area, with a long unmanned reception desk and no one in sight.  Then a man emerged from a small office at the side and went into the reception.  He spoke quite good English and said a room with shower would be €18 (£16), which was rather less than I had expected.  I paid 2000 lekë and went to my room on the first floor.  The room was clean and the bed ok, but the en-suite facilities left something to be desired.  The tap in the basin would not stop running, the toilet seat was loose, and the pièce de résistance was the socket for the power supply to the water heater, which was hanging in mid-air in the shower area, with the plug in it and live terminals exposed.  The Rozafa has seen better days, and is clearly for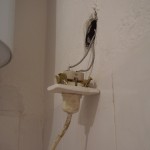 people who spend their holidays in Uzbekistan rather than Switzerland.
 After fetching the car I went for a walk and to find a restaurant, because the hotel did not have one.  The town was actually quite pleasant, with a renovated main street lined with Italian-style buildings, a cathedral, and a really beautiful new mosque next to my hotel.  There were a huge number of bars and cafes, but it took me some time to find a proper restaurant.  The food was ok and very cheap.  By now it was dark, but contrary to some reports I had read, it appeared to be quite safe to walk around, and there were a lot of people on the streets.  Promenading in the evening is a popular Albanian pastime.
 At 5.30am the next morning I was woken by the call to prayer from the mosque next door.  I did not go, and I don't think many other people did either, because after many years of state sponsored atheism there has not been a very strong religious revival in Albania.  You see more people in Muslim dress in Britain.
 Breakfast at the Rozafa was a somewhat slimmed-down version of that at the Verzaci, and again no drink was provided until I asked.  There were apparently few other guests in the hotel, but as I would like to go to Uzbekistan I booked in for another night.  There are actually two smaller but much better hotels in the centre of Shkroder, one of which is said to be of international standard.
 After breakfast I set off on the only main road leading northwards towards Montenegro and the mountainous area where the blood feuds used to be.  I had read that the 22 mile journey from Shkoder to the turn off up to the mountains would take 1½ hours, due to the state of the road, and that was not far out.  The road goes to within 1 mile of the border with Montenegro, so I just drove along the side of Lake Shkoder as far as the border post, but there was nothing much to see, although the scenery in Montenegro looked good.  Just on the Albanian side of the border was a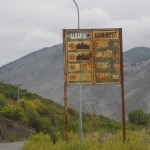 new filling station and café, so I went in for a cup of coffee.  It was Sunday morning and there were five young men sitting at a table drinking.  Although the blood feuds were normally reserved for members of the local clans, they looked at me in a manner that suggested that they might be thinking of broadening their horizons.
 The road into the mountains became narrower after the first village and soon went down to single track with passing places and a fairly rough surface.  It then began to climb, with endless hairpin bends and sheer drops.  There was a low wall which was missing on the exit side of many of the bends in the downhill direction.  I only went as far as the second village, because the road goes on for miles, and eventually becomes impassable for ordinary cars.  Fortunately there was very little traffic, but there was a Mercedes with collapsed front suspension partly blocking the road.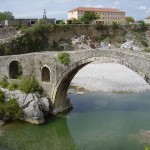 After retracing my route most of the way back to Shkroder I went to Ura e Mesit to look at Albania's best preserved Ottoman-era bridge, and then crossed the city and drove over a quaint single track bridge with wooden planks to a village called Shiroke with a beautiful view across the lake.  Despite the lack of street names and direction signs it is not too difficult to find the way, especially in the countryside, because there are few made up roads.
 After surviving another night in the Rozafa I drove over the wooden bridge again and along the side of the lake to a fishing village called Zogaj.  Although it was a scenic drive I would not do it again because the road was very narrow with endless bends and sheer drops into the lake, with little scope for evasive action in the event of meeting a lunatic local driver coming the other way.
 At Lezhë I turned off the main road to a place called Shëngjin, which sounds as if it should be in China, but unfortunately it is not.  It is my idea of The Seaside Resort from Hell (and I live in Bognor), with brightly-coloured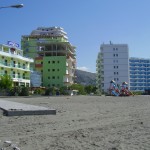 high-rise hotels going up at a great rate.  The beach has dark brown sand covered with rubbish like much of the rest of Albania, and it is unlikely that the sea water quality would be anywhere near Blue Flag standard.  A new access road has been built, and it is clear that before long Shëngjin will be appearing in the holiday brochures at home.  A novel feature of the beach is a number of round concrete bunkers with domed tops.  These were built all over the country by Hoxha, who lived in fear of being invaded.  Most of them still exist, because they are difficult to remove, and they are used for various purposes, including, needless to say, for storing rubbish.
 There is another seaside resort called Durrës not far from Tirana.  An English couple I met on the airport bus after going to Tirana said if I went there I would be glad I lived in Bognor.
 By the time I got back to Tirana airport the car was very dirty but otherwise had survived unscathed, and when the man from Avis eventually arrived he declared himself satisfied with it.
 The purpose of my trip was to find out what Albania was like, and although I only skimmed the surface of the country I felt that I had seen and learned a lot.  The people I met were mostly quite friendly and helpful, although the language is a major problem, as few speak English.  Apparently the best foreign language to have is Italian, of which I have no knowledge at all.  The Albanian language is rather strange, with lots of Qs and ës.  The Albanian word for Albania is Shqiperise.
 The country is changing fast, with new roads being built and buildings going up everywhere.  Where the money comes from is a mystery, although they are desperate to get into the EU, so that they can spend our money improving their roads while ours get worse.  It is hard to reconcile the reality of towns with poor medical facilities and no fire engines with the reality of people tearing about everywhere in big German cars.  I did not experience any power cuts, but they obviously occur, because there are generators everywhere, with some shops having them on the pavement in front of their premises.
 I don't think the country is as dangerous as it is sometimes made out to be.  You are more likely to get wiped out on the road or electrocuted in your hotel than mugged or shot.  However, if you want to go to a place where everything is nice, everything works, and people speak English, Albania is not for you.
 The Albanian lek is a non-convertible currency, which means that it cannot be bought or sold through normal channels outside the country.  I had bought a considerable amount at the airport when I arrived and needed to change back what I had left.  I asked the lady on the British Airways desk where I could change it, and she pointed at a man standing nearby who looked like a rogue and said "He will do it, or you can do it at the bank".
 The rogue rushed over and said "You want to change money?", and produced a bundle of notes larger than I would have imagined that anyone could hold in one hand.  "Do you want euros, pounds or dollars?" 
"Pounds"                                              
"How much do you want?"
"Fourteen thousand two hundred lekë"            
He tapped on his calculator.  "I give you seventy-eight pounds" 
"No, no. I want a hundred pounds".  
"Impossible.  I give you eighty pounds" 
No, no, I will try at the bank" 
"You can't, the bank closed at 6 o'clock."
With tears pouring down my face I accepted the eighty pounds.  He shook my hand
and said he was looking forward to seeing me in Albania again.  I am sure he was.