CLICK ON PICTURES TO ENLARGE
The Great Lakes – USA and Canada  2014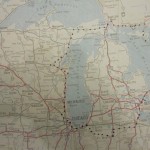 There are five great lakes, Ontario, Erie, Huron, Michigan, and Superior.  Lake Michigan is entirely within the USA, the others have shorelines shared with Canada. The only one I had seen close up was Lake Ontario, during a brief visit to Toronto years ago, but I had flown over the area a number of times on the way to other parts of the USA.  The striking thing was always the length of time it took for a plane travelling at nearly 600mph to cross any of the lakes, and the enormous extent of the shorelines, which looked more like those of oceans than lakes.
The plan was to fly to Chicago, rent a car and drive northwards more or less alongside Lake Michigan up to Lake Superior and then eastwards into Canada, skirting the north side of Lake Huron.  The preferred route would then be to take a ferry from Manitoulin Island across Lake Huron to Tobermory and drive down to Detroit, which I particularly wanted to see as it is about as close to a post-apocalyptic city as it is possible to get.  From there I would drive past Lake Erie and across to Chicago.  Needless to say there was an ulterior motive in this, as the area has traditionally been the home of the US motor industry and there were several car museums along the way that I wanted to visit
On arrival at Chicago I was given the usual hard sell at the car rental desk and finished up with a far larger car than I had ordered, although for only a small extra charge by European standards.  It was an almost new Dodge Durango 4x4 loaded with all the latest electronics including a keyless locking system which threw me into confusion when I tried to lock the car at the motel.  After spending a while with the handbook I managed to master that particular aspect of the vehicle operation, but with 74 pages of the book devoted to electronics I eventually concluded that the only people who would be able to exploit the features to their fullest extent would not  be old enough to drive the car.
Chicago
This was my first visit to Chicago, and I decided to dedicate a day to looking round the city.  Before leaving home I booked a 3-hour Segway tour for the afternoon, something I had wanted to do for a long time.  For readers who are still stuck in the 20th century I should explain that a Segway is a very high tech means of transportation consisting of an electrically powered platform on which the rider stands between two side wheels, the seemingly impossible balancing act being achieved by gyroscopes and computers.
The motel was near the airport, about 16 miles from the city centre.  Parking in the centre costs an arm and a leg, and as I would need both for the Segway I decided after some research to leave the car at a park & ride place at Rosemont, two miles from the motel, and go in on the 'L' or 'El' rapid transit system.  The name is derived from the original elevated  rectangular section of the network in the city centre, built in the late 1800s and called the Loop, a designation that is now applied to the general central area.  The Blue Line is the main public transport from the airport to the city, and I was quite surprised to find that it was almost empty on the Saturday morning. There were never more than about six people in the carriage, and most of the time only three, one of whom spent the whole journey slumped across his seat in a drink- or drugs-induced stupor.
In 2013 Chicago had more murders than any other American city, thereby earning the title of Murder Capital of the USA, although in terms of murder rate (number of murders per 100,000 inhabitants) it comes some way down the list.  The winner on that score is Detroit, which I was to have the pleasure of visiting later in the trip.  As I sat in the train and looked at some of the other passengers I did not feel entirely comfortable, but the vast majority of murders are drugs and or gang related, and the risk to tourists is not great.  The train travelled above ground for much of the time, and the suburbs were actually less densely built up than the older parts of London, with three- or four-storey wooden buildings amongst trees in many places.
On reaching the Loop I got off at a station called Clark and emerged into a typical American big city street, excepting that the 'L' ran high up along the middle of it on a massive and hideously ugly steel framework which was obviously much easier and cheaper to build than going underground.  As the system was extended much of it was put underground anyway.
It was mid-morning on a Saturday, a time when a European city would have been a hive of activity, but as I walked beneath the towering skyscrapers (and trains) there were few people or vehicles around.  I worked my way eastwards to Millennium Park and the enormous open lakeside area which fortunately has been protected from development by legal covenants put in place early in the 20th century.  The area is divided up into gardens, fountains, concert pavilions and numerous examples of public art, the only significant permanent building on it being the Art Institute of Chicago.
Alongside the park area is South Michigan Avenue, lined on the western side with imposing high buildings which make an impressive sight when viewed from the park.  At one point it is possible to look along East Adams Street to the Willis Tower (formerly the Sears Tower), the tallest building in the city, and once the tallest in the USA.  A sign in this street indicates that it is the start of the famous Route 66 which runs 2200 miles to Los Angeles, or at any rate, it once did, and quite a bit of it still exists.
Lake Michigan is 22,300 square miles in area (England is 50,300) so the lake shore is like a coast line and to some extent it generates its own micro-climate, with substantial waves under the right conditions, although during my visit it was dead calm.  Chicago is known as the Windy City but there was no sign of it while I was there.
The Segway Tour
About 20 people turned up at 2.00pm at the meeting place just off South Michigan Avenue, and we were divided into three groups.  Apart from me all the participants were American, and seemed to be quite normal, sensible people, with equal numbers of men and women aged between about 20 and 50 (again apart from me).  We were given bicycle helmets, shown a safety video and then pushed our Segways across the road to the park for a short practice session before being let loose amongst the unsuspecting public.  Our lady guide had restricted the machines to 6mph which seemed quite enough as we wound our way precariously through the pedestrians and vehicles at a busy road crossing and although by now the public must have been suspecting I thought they were amazingly tolerant of our near misses.  On the face of it riding a Segway is a quite unnatural activity, and I was surprised how quickly everyone seemed to get the hang of it.
Obviously you expect to fall over forwards or backwards when you get on it and there is a slight knack to getting started, but as long as you keep your weight over the centre of the platform it is not difficult.  To go forwards you lean forwards slightly and to slow down, stop or reverse you lean backwards slightly. Turning is achieved by moving the 'handlebars' sideways in the direction you want go, but they cannot be turned.
We seemed to going quite well when there was a loud crash and a lady member of the group was sprawled face down on the ground after hitting some ridges in the paving, but she was fairly unfazed and that was the only incident.  The youngest member of the group, a lad named Tyler, was by this time performing as if he had been born on a Segway. There is always somebody like that.
Once we got further into the park, away from the people, our guide raised the speed of the machines to a heady 10mph, which actually made them easier to control.  In the next couple of hours we covered quite a lot of ground in the lakefront area, including the Soldier Field (war memorial and stadium), Planetarium, Millennium Fountain and various other sights, with explanations by our guide.  She also pointed out the most expensive hotel suite in Chicago, overlooking the lake, at $10,000 per night, which made me feel that my room in the Travelodge Elk Grove Village was quite good value at $65.
The tour ended at an example of public art that might have been designed for examination by people on Segways.  Called 'Agora' and created by a Polish sculptor, it consists of 106 pairs of 9ft tall cast iron headless torsos, standing rusting in a group alongside Michigan Avenue.  Manoeuvring through the narrow spaces between the huge feet and legs of these weird structures provided an ideal opportunity for us to test our newly acquired skills. The designers of the Segway hoped that it would become a widely used means of transport, and although that aim was not achieved I felt that it was remarkable how easy we all found it to use after such a short time.
Another walk through the city streets and I was back on the Blue Line train to Rosemont, still as sparsely occupied and with the same congenial atmosphere as on the inward journey.
Moving on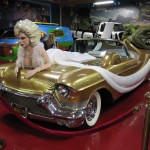 The next morning I set off northwards roughly parallel to the shore of Lake Michigan, but diverting inland to the town of Volo to visit Volo Cars.  This is a massive classic car dealership which also operates as a museum, with five large halls set in parkland, many vehicles also being displayed in the open if the weather is good.   Most exhibits are for sale, but some are permanently on show as one-off former show business props or connected with famous people like James Dean and Marylyn Monroe.   The cars were almost all in beautiful condition and the business is clearly very well run by dedicated people.
Next was a cross-country drive to Milwaukee, back on the lake.  The countryside in this part of the world is actually quite like parts of Sussex in England, with gentle rolling hills, well-wooded, and large areas of arable farming.  Although I am far from an expert in such matters, I got the impression that the farms here were considerably more prosperous than those I had seen in the southern USA a couple of years earlier.
In a report in 2014 Milwaukee was deemed to be the second most miserable city in the States. Within a few minutes of my arrival I was certainly miserable, because vast areas of the road system were dug up due to a massive public works project of some sort, with poorly signposted diversions.  It is likely that a high proportion of visitors to the city would, like me, be aiming for the Harley Davidson factory and museum, and
that proved to be surprisingly hard to find, even with the satnav and GPS phone.  Entry to the museum was via enormously high, heavy doors, which set the theme for the rest of the establishment, namely, heavy metal.  The interior was lavishly fitted out with stainless steel everywhere creating the impression of solidity and robustness that characterizes the company's products.  Dozens of bikes were on display, and spread over the walls were engines and fuel tanks covering every model ever produced.  One particularly striking exhibit was the bike that was washed up on the shores of Canada after spending 18 months crossing the Pacific Ocean following the Japanese tsunami in 2009.
It was time to take Interstate 43 north to my night stop at the Lakeview Motel in Two Rivers, near Manitowoc, a lakeside town that I had never heard of.  Between Manitowoc and Two Rivers was a large derelict covered shopping mall, including J.C.Penney, that finally closed in 2011 after over 40 years. According to the people in the motel it was a victim of the recession, along with other businesses in the area.  The Lakeview was a somewhat run down traditional motel with rooms overlooking the lake, or at least they would have been had there not been a thick mist when I arrived. A depressing end to the day.
To Lake Superior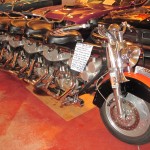 The next stage would take me to the northernmost point of the tour, on the shores of Lake Superior, a distance of about 200 miles.  As I set off from Two Rivers it was raining hard and still depressing, although now possible to see Lake Michigan.  A good breakfast at a remotely situated roadside place remarkably like an English pub (it didn't claim to be) cheered me up a bit, and I pressed on through Green Bay to Doc's Classic Car and Cycle Museum in a place called Bonduel.  This was a very good small museum attached to a Harley Davidson dealership with a stock of "about 100 machines" according to the man in charge, which was surprising considering that it was in the middle of nowhere.  I suppose people will travel a long way to buy a Harley.
The satnav managed to take me on a cross-country route to Marinette, on the shore of Green Bay, which is anoffshoot of Lake Michigan, and I then followed Highway 35 alongside the water up to Escanaba and Rapid River.  This should have been a fast drive but wasn't, due to multiple roadworks and somewhere along the line I lost an hour due to the change from Central Time to Eastern Time.  My map actually described this area as The Upper Penisular of Michigan, because it has a long border with Wisconsin, but is joined to the main part of Michigan only by a bridge.     
From Rapid River the road ran through the Hiawatha National Forest to Munising, on the southern shore of Lake Superior, where I quickly booked in at a motel and went for a wander round the town.  Small American towns are often worth a look and Munising was no exception, although there was nothing particularly attractive about it apart from a waterside area with a good view over Lake Superior.  At 49,300 square miles this lake is the largest fresh water lake in the world by area (about the size of England) and the third largest by volume.
The motel owner had given me a map marked with restaurants, and one caught my eye, namely the Bookshop Café, in the form of a large, deep shop with walls lined with secondhand books.  On one side was the food service area and the center (when in Rome) was occupied by a variety of country style wooden chairs and tables, including a rocking chair.  At one end of the room were two people playing the violin and as I sat on the rocking chair waiting for my meal I thought what a pity it is that the Americans export their McDonalds and Starbucks all over the world, but nobody knows about the really good places like the Bookshop Café.  A few people were looking at the books, and there were little tables with notices stating "After browsing please leave the books here and the staff will replace them on the shelves".  While I was there two or three teenagers came in on their own and looked at a few books before disappearing again, and surely anybody who can get teenagers into a bookshop deserves a medal.   Before leaving I had a look round and bought a book published in 1948 called "Sportsmanlike Driving" with illustrations of driving techniques, many of which would be frowned upon today.
To Canada
Breakfast at Hardees, then a quick look at Munising Falls and the lake view at Sandy Point before the rain started.  And when it came, it came.  My point of entry to Canada was to be a town about 130 miles away called Sault St.Marie, partly in Michigan but mainly in Ontario, and as I battled my way towards the frontier through the rain and roadworks in the seemingly endless forest I began to wonder whether my plan to one day drive thousands of miles through Russia to Japan was such a good idea after all.  Eventually I came to the short stretch of Interstate 75 leading to the bridge over St.Mary's River and the Canadian customs post where the lady officer said she supposed I would like a stamp in my passport.  It seems that it is optional nowadays, but I said I would and she sent me into a nearby building where a number of people in uniform were sitting doing nothing while I waited about 15 minutes for my stamp.
According to my guide book life in Sault St.Marie (apparently usually just referred to as "Soo") is great, although it didn't seem to me to have much going for it, but most places don't when they are dripping with water.  The road leading eastwards from here runs alongside  the St.Joseph Channel and North Channel which are connected to Lake Huron.  It rejoices in the ambitious name of The Trans-Canada Highway, something I would never have guessed had I not read it somewhere as it is mainly an ordinary single carriageway road with slow going and yet more roadworks.
At Blind River I found the Old Mill Motel on the main road, with grounds leading down to the lakeside.  It was only as I sat in the restaurant opposite that I realised that as well as the very busy road there was also a railway line running right across the entrance to the motel, literally 50 yards from my room.  The trains were enormous, mostly with two diesel locomotives and a vast number of freight wagons, travelling at about 20mph like American trains.  Apart from one train that came right through my room at 3am it was surprisingly quiet in the night.
It is possible to take a long overland route from Blind River to Detroit via Toronto, but my preferred course of action was to drive eastwards on the Trans-Canada Highway for some distance, and then turn south on to Manitoulin Island.   From South Baymouth on the southern tip of the island a car ferry runs to Tobermory on the Bruce Peninsular between Lake Huron and Georgian Bay.  The route would then follow the eastern shoreline of Lake Huron for about 200 miles, most of the way to Detroit.
Everything I had read about the ferry said that it needed to be booked in advance, but I decided to get up early and risk going without a reservation.  At 6.30am I emerged from my room to find that a big truck with some sort of track maintenance equipment was standing on the railway line across the motel entrance.  Extra axles with train wheels were lowered on to the track at the front and rear of the truck as I watched, and the whole thing was raised up, lifting the road wheels off the ground.  It then trundled off along the railway line.
To the turn off for Manitoulin Island was about 90 miles along the Trans-Canada Highway, still with lots of roadworks and trucks.  The latter are like American ones but even bigger, with more axles, and many have equally large trailers attached.  Eventually I reached Route 6 and the bridge over to the island.
If anyone ever asks you if you know anything they don't know, you can tell them that Manitoulin Island is the largest fresh water island in the world.  I am not sure how it would be measured because it consists to a great extent of lakes and inlets, but is scenically beautiful, with winding, hilly roads, certainly the best that I had seen so far on this trip.
Lake Huron
There was no problem in getting a ticket for the ferry at South Baymouth and as there were fewer sailings than I thought I finished up with a four hour wait.  South Baymouth is part of a township with a total population of 406, and after looking round the museum, old schoolhouse and coffee shop I still had three hours to spare.
The long wait was accounted for by the fact that there is only one vessel serving the route, a handsome white ship with the strange name of Chi-Cheemaun, which means 'big canoe' in a local indigenous language.  It is about the same size as an Isle of Wight car ferry, but the thing I noticed about it immediately was the lack of rust, as it operates only in fresh water.  The 25-mile crossing took two hours, and there was a decent restaurant on board serving proper English-style fish and chips, which are widely available in Canada but not in the USA.
Lake Huron has an area of 23,000 square miles, and is the second largest of the five Great Lakes.
The road leading south from Tobermory on the Bruce Peninsular was as boring as my guide book said it would be, and I decided to stay for the night in Southampton, the first town I came to.  It was very different from its English namesake, being somewhat smaller with a population of just over 3000 as opposed to 253,000.  At first sight the most notable feature of the town is an extremely large Canadian flag on a high pole near the beach at the end of the main street.  Close by is the mouth of the Saugeen River.
In a recent survey to find the country where British ex-pats were happiest Canada came out on top and as I went around I asked myself whether I would like to live there.  If you are planning to emigrate to a country you obviously have to consider factors such as taxation, healthcare, job prospects, property prices, schooling etc. that are irrelevant to tourists. It is easy to imagine living in places with dramatic scenery like the Rockies or Yukon Territory, but you would be far more likely to end up somewhere such as Southampton, Ontario.  It is a very pleasant town, with a main street lined with shops and restaurants, and as I walked around a few people spoke to me, but I just could not envisage living there.  A few miles south is a larger place called Port Elgin with shopping malls and industry, but apart from the area near the lake there seemed to be little of interest.
After I left my motel the next morning I was driving for many miles on a flat road with a view of wind turbines and power cables.  Looking at the map there appeared to be a vast network of straight roads with this sort of landscape stretching all the way to Toronto.
About 60 miles south of Southampton I came to a sign stating GODERICH – THE PRETTIEST TOWN IN CANADA, which intrigued me sufficiently to cause me to take a look. The story goes that a relative of Queen Victoria once stayed there, and upon hearing about the town the monarch said "It sounds like the prettiest town in Canada".  More recently this description was quoted by the present Queen and taken up with some enthusiasm by the authorities in Goderich.
In the centre of the town is a large octagonal roundabout called, rather oddly, "The Square", with a modern white courthouse in the middle of it.  For many years the Square and streets radiating from it were lined with large trees, but these were decimated by a typhoon in 2011 which caused a great of damage to the area.   I would stop short of saying that it is pretty, but, like Southampton, it came across as a pleasant place where people spoke to me as I walked about.
The road followed the lakeside from Goderich all the way to the US border at Port Huron in Michigan.  As at Sault St. Marie, the customs post was at the far end of a bridge, in this case with long lines of queueing traffic.  About 12 booths were open, but some cars were searched and it still took about 30 minutes to get through.
Sarnia and Port Huron are at the southernmost point of Lake Huron, and from here the St.Clair River runs due south to Lake St. Clair, which is only about 25 miles across, far too small to be included as a Great Lake.  As previously mentioned, Detroit does not have a lot going for it nowadays and I decided to stay the night in a small town called Roseville near the lake, where I found a Red Roof Inn surrounded by shops and restaurants.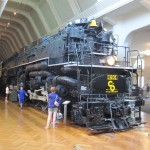 Before going into Detroit the next day I went to look at the lake and then drove across the city on the elevated Interstate 94, from which it was possible to glimpse some of the derelict buildings  for which the city is now famous.  I had set the day aside for the Henry Ford Museum at Dearborn, reputed to be one of the biggest and best car museums in the world.  The museum and factory complex is generally referred to as "The Henry Ford", and covers a vast area.  Set up by the Ford Foundation, the museum is by no means dedicated just to Ford products, but covers all forms of transport and other aspects of 20th and 21st century life around the world.  The only thing that detracted from my enjoyment was the beetroot and peanut butter sandwich that I just about managed to consume in the café.
As I was about to leave I saw a notice advertising tours of the production line at the nearby  Ford Rouge factory, where the F150 truck (pick-up) is made.  The F150 is one of Ford's best-selling and most profitable products, and the factory is a modern state of the art unit built as part of the company's recovery programme following the near collapse of the American motor industry a few years ago.  The driving force behind it was Bill Ford, the current boss, and it is on the site of Henry Ford's original factory.  The tour started with a bus ride of several miles, during which Bill Ford appeared on a screen, giving a brief talk about the company and the factory.  On arrival we were ushered into a movie theatre and shown a film about the history of the firm, followed by a weird and noisy symbolic representation of the production of a truck, which I thought was a waste of time.  We were then taken to the start of a gangway  that ran above the production line for most of its length, and told we could just wander along, taking as long as we liked.  Along the way were people and screens providing information about what was going on below.
Ford could certainly not be accused of lack of diversity in its work force, with people old and young, male and female, black and white on the line.  Maybe it was because it was Friday afternoon, but I did not get the impression that the workers were under very much pressure.  The F150 is a complicated vehicle, with a vast number of options in its specification, and it seems miraculous how all the parts arrive in the right places at the right time.
The tour finished high on an open terrace from which the whole of the Ford empire could be viewed.   At one time virtually every part of the car was produced by the firm on the site, which stretches as far as the eye can see, but nowadays manufacture of many items is carried out by other companies on a sub-contract basis within the original works complex.
Detroit
My motel was in a reasonably pleasant area midway between The Henry Ford and central Detroit, and after getting sorted I went along Michigan Avenue to get something to eat.   Rather to my surprise I realised that it was a Muslim district, with many of the shop signs in Arabic.  In a nearby snack bar I got into conversation with some well-travelled Americans, one of whom worked for the city council, and he warned me to be careful in the city centre, especially at night.  From what I had read about it, I had no intention of going there at night.
Not long after leaving the motel the next morning I started to come to derelict buildings, including the enormous and once prestigious Roosevelt Hotel.  It was Saturday, and as I had found in Chicago, the streets were almost deserted, with little traffic or pedestrians apart from a few down and outs.  Near the centre it turned into a reasonably smart business district, with wide streets and skyscrapers but still little activity, although two cars had somehow managed to collide, which seemed on a par with a mid-air collision between two aircraft.
I turned northwards and within a very short distance found myself once again amongst derelict buildings with open spaces where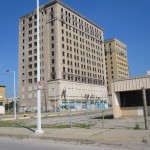 demolition had already been carried out.  To see  it for yourself find the junction of Park Avenue and Sproat Street on the Google map of Detroit, and then select Street View.  This will enable you to drive around the area with no fear of being mugged or anything, although as there was practically no one in sight I got out of the car and wandered about taking photographs.
It seems that as the motor and music industries declined the inner suburbs of the city completely died, leaving around 40,000 derelict buildings, a situation that is incomprehensible to most Europeans.  It is possible to go on privately organised tours of some of the more important buildings, often involving illegal entry and some degree of danger.
After this rather depressing scenario I did not need much encouragement to push on southwards towards Lake Erie and Ohio.
Lake Erie
The fourth largest of the Great Lakes, Lake Erie has a surface area of almost 10,000 square miles.  On its shores are large residential and industrial areas including Toledo, Cleveland (Ohio), Erie and Buffalo, giving rise to significant environmental concerns, especially over-fishing and pollution.  At the eastern end it is connected to Lake Ontario via Niagara Falls.
Interstate 75 between Detroit and Toledo runs close to the western end of the lake, and the main town on the route is Monroe, where I turned off and drove through a smart residential area to the shore.   The view across the water was serene and beautiful, with no hint of the problems mentioned above.
Back on the Interstate the road entered Ohio and traversed Toledo at rooftop level on the way to my next port of call, a car museum near a little town called Bowling Green with a really attractive main street.  Snook's Dream Cars turned out to be a well preserved former service station out in the countryside, the forecourt being graced with a superb 1950s Chevrolet convertible.  A notice on the entrance stated 'Open Monday to Friday and Weekends if you are Lucky'  It was Saturday, so I opened the door and shouted "Am I lucky?"   A voice from somewhere said "Come through", so I went through and discovered Mr.Snook, son of the late founder of the business, cleaning a car.  We had a long talk and I then wandered round looking at his father's excellent collection of cars and automobilia,  including those in two big buildings at the back that are not normally open to the public.  For a change I was lucky.
A cross-country drive on ordinary roads then took me to the town of Auburn in Indiana.  Classic car enthusiasts will recognise Auburn as the name of a famous car of the 1920s and 30s, and town is actually a petrolhead's paradise, with three museums.   After booking in at the Super 8 motel I made my way to the Auburn Cord Duesenberg Museum, which is in the former factory where the cars were actually made.   These were big high performance luxury cars, and the museum is of a size and standard commensurate with the quality of the products.
This left two other museums in Auburn for me to visit the next day, as well as the Studebaker Museum at South Bend, but my plans were disrupted when I got in the car the next morning and found a picture on the instrument display showing a tyre plan with one tyre at half pressure.  The National Automotive and Truck Museum was not far away, and I thought there would be someone there who might give some advice about where I could get the tyre sorted out, especially as it was Sunday.
They were very friendly people and inflated the tyre to its proper pressure, but discovered a screw embedded in it close to the side wall.  They let me call Alamo Car Rental on their phone, and Alamo said I should take the car to Firestone at Fort Wayne, about 20 miles away.  When I got there Firestone said the tyre was not safe to drive on, and as they didn't have a replacement they put the restricted-use spare on, which was only good for 50 miles at 50mph.  They arranged for me to go to Michel Tires Plus at Columbia City, 15 miles away. Michel's had a tyre, but Alamo refused to pay for it, because Michel's were not their accredited agent!  By now this had been going on for six hours, and I had to get the matter resolved, because I needed to be at Chicago airport by midday Monday, and that was 150 miles away.  In the end I paid for a new tyre, about $200, and hoped I could eventually get the money back from Alamo.   At least I was on the road again, and pushed on to Michigan City, which is actually in Indiana, and is a great deal less imposing than the name suggests.
When I took the car into Alamo the next morning I was expecting an argument about the tyre, and was astonished when, after a short wait, the manager presented me with the full cost of it in cash.  I had always thought car rental companies didn't know what cash was!  Alamo sometimes come in for criticism, but in this instance they were quite fair.
The trip was rounded off with a spectacular thunderstorm at Chicago that later made the BBC News in England, and the plane was inching forward on the ground for 4 hours 30 minutes before finally taking off.
The scenery on this trip was not as spectacular as the title might suggest, mainly because the route I took around the lakes did not rise to any great elevation, but it gave me an insight into a part of the States I had not seen before, and two of its most iconic cities.