CLICK ON PICTURES TO ENLARGE
INDIA  2016
Chaotic, filthy, dangerous, everything I had hoped for.
Some people have been to over 100 countries.  All I have managed is a mere 45 and I have always thought I could not call myself a proper traveller until I had been to India.  In particular I wanted to experience driving in India first hand, and some people said it would not be possible to apply my usual holiday format to the country, i.e. booking flights and hotels and then travelling around alone by self-drive hire car.  It is not uncommon for people to do motorcycle tours on their own, but self-drive car hire is very difficult to arrange and the people I knew who had been to India were aghast at the idea.  The more usual procedure is to hire a car with driver, which did not appeal to me at all.
The guide books all have pages about potential health problems, and everybody I spoke to at home seemed to know somebody who had been to India, caught some ailment, and never been the same again.  It was slight consolation that at the age of 77 the length of time for which I would never be the same again would probably not be all that long.  At the very least  I expected to have the famous 'Delhi Belly' which practically everyone from Britain gets, but on the advice of a friend I decided not to eat meat.    The books also make a big issue of the need to avoid insect bites, especially with regard to mosquitoes, although the area I was going to is considered to be low risk for malaria. The best repellants are those containing DEET, which I find very unpleasant to use but I took an ample supply with me and also got my vaccinations updated.  It is generally considered that it is not safe to drink the tap water unless you can boil it and if you buy branded bottled water it is important to check the seal, because it is not unknown for empty bottles to be refilled with tap water.  I took some water purification tablets, just in case, but where possible made tea or coffee in my room with boiled water.
For my base I chose Cochin (Kochi), Kerala, in the south eastern corner of India because there were cheap convenient flights with Emirates from Gatwick, and it is a small city compared to Mumbai or Delhi.  My flight arrived at Cochin at about 8.00am, and I was surprised to find how well organized the airport was.  I was expecting to be besieged by taxi drivers and money exchange touts, as Indian currency is not convertible, which means that you have to change money on arrival.  In fact there were several bureau- de-change and a counter for pre-booked taxis within the non-public part of the airport, which means that everything was sorted before I reached the exit. The pre-booked taxi voucher was for a particular car and an Indian bloke from Brighton helped me to find it in the crush outside.  The 20 mile journey to the Grand Hotel was an opportunity to study the driving, which I felt that I would be able to cope with, and contrary to what I had expected the driver was actually quite good.  Nevertheless, in the back of the car, with the bumpy roads, I was starting to feel sick by the time we got to the hotel which confirmed that the 'car with driver' option was not for me.
In the past I have generally been good at estimating in advance the amount of ground I would be able cover during my stay in foreign parts, but India was too much of an unknown quantity to risk booking any accommodation apart from the first two nights and the last night.
The Grand Hotel Ernakulam, which I had chosen from Booking.com, was traditional and not very smart, but turned out to be used by some British tour operators.  After 3 or 4 hours sleep I ventured out for a walk round and was immediately struck by the intense heat, which was to become an issue affecting my activities for the whole trip.  I was expecting it to be tolerably hot, maybe around 30°C (86°F), but in fact excepting in the mountains it was well in excess of that.  On the day I was in Calicut (Kozhikode) it was 38.5°C (100.7°F), the highest temperature ever recorded there, and we are talking about Southern India.  Under such conditions I cannot walk very far and am stuck either in my air-conditioned accommodation or air-conditioned car.
Ernakulam is the commercial centre of Cochin, and the hotel is in MG Road, the main artery running through the town.  I thought it was rather strange that an Indian town would have its main street named after an old English car company, but quickly discovered that MG stood for Mahatma Gandhi, and it seems that every town in the country has an MG road.  It was all rather scruffy, with lots of rubbish around and difficult walking on the rough pavements, which is what I had expected.  Just out of interest I wandered through to the main railway station to find the platforms crowded, although there were no people hanging on to the sides or roof of the carriages.
Fort Cochin
The next day was Sunday and I had planned to spend it looking round the area, with a ferry trip across the harbour to Fort Cochin, a former British army base.  Luckily the ferry terminal was easy walking distance from the hotel and it was only a short wait before the next sailing, which, judging by the look of the vessel, might well be its last.  I could see the Daily Telegraph headline 'India Ferry Sinks - 60 dead'.  At least there were plenty of lifejackets, about five for each person on the ferry, so I was planning to tie some together to make a raft as the boat went down.  Like the local buses, it had no glass in the windows, so it would be easy to get out.
At Wilmington Island, a naval base, the ferry stopped briefly at a jetty in front of a row of big colonial-style detached houses, before continuing to Fort Cochin.  As soon as I set foot on land I was surrounded by tuk-tuk drivers wanting to show me the sights. I insisted that I wanted to walk but one of them followed me along the road until I turned off into an alley too narrow for his vehicle.  Fort Cochin is a maze of narrow streets and alleys with a long main street lined with small shabby shops and cafes.  In one place I came across a bowl of rice placed on the edge of the pavement, and as I approached a large rat came out of a hole at the side, nibbled at a few grains of rice, and ran back into the hole.  I could only think that either the rice was poisoned or the idea was to attract the rats out into the open where cats could get them.  In one
dingy cafe I asked for a cup of coffee which proved to be so strong and sweet as to be almost undrinkable, and this turned out to be the norm for coffee in Indian cafes.
The intention was to walk along the main street to the beach, and follow the shore back to the ferry terminal, but unfortunately I turned the wrong way when I left the café.   By the time I discovered my mistake I did not have enough energy to walk the whole length of the street again, so I hailed a tuk-tuk and said to the driver "Straight to the beach, please".  Totally predictably he started to take me on a tour of the sights, which weren't very interesting.  Every time he started to deviate I said loudly "To the beach please", and eventually we got there.
This was definitely not a Blue Flag beach, with quite lot of rubbish around and no one in the water, despite the heat.  It is likely that the water was too polluted from the surrounding residential and industrial areas.  A stretch of the beach was given over to fishing activity, including the Chinese fishing nets, for which Cochin is famous.  These consist of nets up to 20m across suspended from wooden beams so that they can be lowered into the water, counterbalanced by heavy stones attached to ropes.  It takes several men to operate each net, and although they are a major tourist attraction the long term viability of such a labour intensive process is in doubt.
After surviving the ferry trip back to Ernakulam I walked along the busy promenade on the way back to the hotel.  All day I had seen only a handful of Westerners, which I found surprising considering that it  is supposed to be a tourist area.
The first thing I did the next morning was to carry out a brief health check.  Did I feel ill?  No, I felt fine. Insect bites?  A few small ones, and one big inflamed lump on my thigh with a red streak about two inches long running away from it.   This would have to be watched, as I thought it was possibly a sign of infection or blood poisoning.
Preparing to face death on the road
My car was due to be brought to the hotel at 10.00am and I was looking forward to it with some trepidation.  As previously mentioned, self-drive hire is very difficult to arrange in India, because most of the big international companies have given up doing it due to bad experience, and now only offer car with driver.  Eventually I had found on the internet a firm called Kerala Self Drive Car Rentals who were prepared to do it and seemed quite good to deal with.  They would not accept a credit card as security, and required a cash deposit equivalent to $1000 (£720 at the time), which needed a certain amount of trust.
At 9.30am Mr.Manu arrived in the hotel car park with a silver Hyundai I20 Sportz in quite reasonable condition. He insisted that I take photographs of all the minor defects, which took a while, but the car had good tyres and all the essentials seemed to be in working order.  He required copies of my passport, Indian visa, driving licence, international driving permit and payment for the rental as well as the cash deposit.    Nevertheless, I felt that he was risking more than I was.
Before going any further I should say a bit about the make up of traffic in India.  Notionally Indians drive on the left, but notionally is as far as it gets.  In reality they drive all over the road, and you meet people coming towards you on your side of the road much of the time.
Cyclists are in a minority, most having been killed I would imagine, and the remaining ones wobble around on basic upright bikes.  Motorcycles and scooters are the staple form of private transport, in numbers that far exceeded anything that I expected or have seen anywhere else excepting Taiwan.   Many of them travel quite slowly (20 – 25mph) carrying up to five people, though usually one or two.  They are mainly of Indian manufacture and up to 250cc, larger bikes being the locally-made Royal Enfields or Japanese models.  Some are ridden fast, but it is unusual to see really high speeds.  It is common for motorcycles to be ridden along the side of the road against the main flow of the traffic.
What we call tuk-tuks (Indians call them auto-rickshaws) and their commercial variants are everywhere in towns and sometimes found on main roads out in the countryside.  They have tiny engines which can push them along at about 25mph on the level, and as soon as they come to a hill their speed drops dramatically.  They are driven very aggressively in towns.
India still has a relatively low level of car ownership and as in all developing countries ownership of an expensive car,
especially a German one, carries with it an automatic expectation of priority on the road.  Taxis are driven the same as taxis everywhere.  The Hindustan Ambassador, based on the 1955 Morris Oxford is still around but in rapidly diminishing numbers, production having ceased in 2014.  Most cars are of Indian or far eastern manufacture, European makes being  rare.  The Tata Nano, the world's cheapest proper car at about £1700, has not been the success that was hoped for but is around in significant numbers.
Trucks travel as fast as they can.  When heavily laden this may mean 15 – 20mph, but at other times they go very fast, forcing their way past everything in sight, and it is best to keep out of their way.  In my experience  bus drivers are the most ruthless, indulging in crazy overtaking manoeuvres , in which I was almost pushed  off the road several times.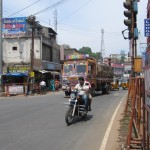 In towns and on many country roads, although it seems very hectic, the actual speed of the traffic is quite low, because there are so many slow-moving vehicles.  In towns a few junctions have traffic lights, or are controlled by a police officer, but a lot are completely unregulated.  Watching the traffic  negotiating an unregulated 4-way junction is an education, and even more so when you come to do it yourself.  The trick is to just keep moving, and somehow you come out the other side without really knowing what happened.   I quickly realized that  Indian drivers work on the basis WHEN IN DOUBT – GO!   Speed limits, where they exist, are completely ignored.
Horn blowing is incessant, especially by truck drivers.  Many slow-moving vehicles have a sign stating SOUND HORN on the back, which seems to have no effect whatsoever.
The people who come out worst in all this are pedestrians, who are, at best, poorly catered for.  In towns pedestrian crossings do exist, consisting of a faded sign on a post and some barely visible stripes on the road, but no one actually stops to allow people to cross.  If you wish to cross you have to wait for a small gap between vehicles, stride boldly into the road holding up your hand, and any vehicles aiming directly for you will usually slow down enough to avoid hitting you.  You then just have to hope that the next vehicle aiming for you will do likewise.  The ideal situation is to find two or three big blokes waiting to cross, and go level with them, using them as a sort of human shield.
Into the fray
Starting off in an unfamiliar car in the main street of a busy foreign town is never an ideal situation, and I must admit that as I emerged from the car park on to MG Road I was not brimming with confidence.  My original itinerary was to drive westwards to Munnar, a former British hill station and tea growing area, but I was not sure what the road conditions were or how long it would take, so for the first day I decided to take a more straightforward route to the north, which would give me a wider choice of places to stop for the night.
For route planning I had an A4 colour photocopy of a map at about 22 miles to the inch (1:1,400,000) and for navigation I used offline HERE and BING maps in my Windows phone and offline NAVMii in my Android tablet.  These did not tell me which way to go but ensured that I could always find out where I was.
The driving on National Highway 17 was far more difficult than I expected, with lots of slow-moving vehicles all over the road in both directions.  I made a note at the time "heavy traffic and lunacy". After a couple of hours I stopped for another awful coffee and decided to aim for a town called Thrissur which according to my guide book was a reasonably pleasant place.
Thrissur
By the time I got to the centre of Thrissur I was shattered, partly from the driving and partly due to jet-lag from the 6½ hour time difference between home and India.  The first hotel  I saw was a big place called the Ashoka Inn and the car park attendant guided me into a space.   He had a big moustache and gave the impression of being an ex-military man, which I later discovered seemed to apply to all the hotel car park attendants that I came across.  He did not appear to speak much English, but said "First floor" and took me up to a room where a conference was in progress.  This might have been an opportunity to learn something useful, but I chose to give it a miss, booked a room and went out for a walk.
Opposite to the hotel was an area of rough land with some market stalls and a bus station incorporating a shopping parade with a dense mass of motorcycles parked in front of it.  Piles of rubbish everywhere and muddy puddles which I thought were probably an ideal breeding ground for mosquitoes and other undesirable creatures, an assessment that later proved to be correct.
The hotel car park attendant had told me to go to the Mall of Joy, which turned out to be an air-conditioned upmarket clothing centre,  a world away from  street outside where the temperature was 38⁰C (99⁰F) which I could not tolerate for long.  It was hardly my scene, but the shops in the Mall offered a vast range of beautiful silks and fabrics in the traditional Indian style as well as modern clothing.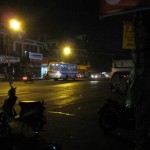 Back to the hotel and after a meal in the vast restaurant I went out for another walk around.  By now it was dark, but I will walk anywhere in the dark unless it is obviously dangerous, as in much of the USA.  The street lighting in Thrissur is poor as was the condition of the pavements, but I did not feel that there was any great threat of being mugged.  In the unlikely event that the people in the Foreign Office Travel Advice section read this they will probably take my passport away.  Anyway, I did not have the energy to walk very far.
Moving on
With the day's experience behind me I could now plan ahead, and decided to aim for Ooty, an old hill station in the state of Tamil Nadu, at one time under British occupation.  Like many places in India, Ooty has several different names, the most formal one being Udhagamandalam, and its elevation of 2,240m (7350ft) meant that it would certainly be cooler than the areas I had been to so far.  The most direct route was via Coimbatore, a thriving city of 1.6 million people, and I did not realise what I was letting myself in for.
The morning health check was good and the bite with the red streak showed signs of receding.  My notes at the time say "crazy drive out of town" (Thrissur) and it was slow going to Shoranur.  The road then became much less busy and quite scenic to Palakkad, where it joined National Highway 47, a modern dual carriageway toll road, though with its share of intersections and some slow traffic.  The road was still under development and eventually on the approach to Coimbatore dwindled down to a narrow strip of tarmac wending its way for about a mile through a building site.
Coimbatore
At 4.00pm I reached Coimbatore.  My notes say "Madhouse. Worst ever traffic nightmare", this coming from someone who has driven into Moscow and through the centre of Seoul.  My phone map showed some hotels near the end of a bridge leading to the town centre, and through the chaos I glimpsed one called the Kooloth Lake View Residency, much less smart looking than its name suggested, but by then I would have gone for sleeping over a rope in a dosshouse just to escape from the traffic.  In the end I had to park and walk to the hotel to find the entrance and the underground parking set up.
A steep ramp led down into the car park and the obligatory man with the big moustache also had an ear-piercing  whistle which he blew repeatedly while I was trying to make an eight-point turn so that I could drive out going forwards, making the task considerably more difficult than it should have been.
For the sum of 1400r (approx. £16.50) I was given an en-suite room on the corner of the Kooloth Lake View Residency with large windows facing along the main street one way and down on to it the other.   Coimbatore is the sixteenth largest city in India, its main industries being engineering, textiles and electronics, and certainly gave the impression of being a hive of activity.
The road in front was a dual carriageway, actually part of NH47, and when I went out to look round the town I was surprised to see three large cows lying in the road up against the central reservation.  I had passed a few cows on the road on the way from Thrissur, but these were in an exceptionally noisy and exposed position, and it is hard to understand why they didn't settle down in one of the quieter side roads instead of the main traffic stream.
The hotel didn't do food at all, but I found a vegetarian restaurant in the main street for my evening meal, after which I looked at the shops.  The range was enormous, including an up market clothing centre like the Mall of Joy.  Running parallel to the main street was a pedestrianized lane full of shops, and off that a souk (market).  The prices were by our standards very cheap and as far as I could see all this was aimed at local people, because there were no obvious tourists in the place apart from me.  The quantity of beautiful silks and fabrics, especially for women, was mind-boggling.
When I got back to my hotel room the first thing that struck me was the noise.  It must have been the noisiest hotel room in the world.   As always, I was very tired and with great reluctance I put in the ear plugs that I take to wear in cheap American motels.  They are quite uncomfortable, but I eventually fell asleep until I was woken by a truck sounding its horn under the window at 3.00am.  In fact the noise was incessant, especially the horns and brakes of the trucks as they approached the adjacent junction, and I must have somehow slept through it for a long time, but once awake there was no prospect of getting back to sleep.
To the mountains
By 7.00am what was left of my nerves after a few days in India could take no more so I packed and left the hotel.  The prospect of emerging into the Coimbatore rush hour traffic was not enchanting but anything was better than that room.   The main route out of this industrial city entailed driving through a mass of motorcycles going in all directions, and I don't know how I did it, but by the time I got to Mettupalayam things had calmed down a bit.  From Mettupalayam to Ooty, via Coonoor , was a continuous climb for 30 miles, a single carriageway road consisting entirely of sharp or hairpin bends joined together with no straight bits excepting through Coonoor itself.
Ooty is a much favoured place for people to escape from the high summer temperatures, and has been developing quite fast for a long time, which means that there are lots of trucks slogging up the mountain carrying building materials.  Their speed is such that it is unrealistic for vehicles operating to a time schedule, such as taxis and buses, to wait behind them, so if there is the slightest chance of getting past they go.  Europeans see this as highly reckless, dangerous, driving, but it is just how things are done, and time and time again you see vehicles coming face to face on bends.  Somehow some space miraculously appears and a collision is avoided.  People who have 'car with driver' often plead in vain with the driver to stop indulging in such practice but he or she just carries on because it is the norm.  I overtook when I could, but I could not bring myself to launch into a blind bend on the wrong side of the road, which sometimes made me unpopular with the people behind.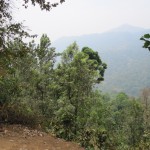 The scenery was excellent but there were few places where it was possible to stop for photos and it was rather misty.   Other impediments to progress were roadworks, landslides, breakdowns, cows and little grey monkeys running around on the road.
Ooty
Ooty is spread over a large area of high ground, with tea plantations and vast developments of bungalows, many of them fairly recent.  The road from Coonoor drops down towards the centre with a string of hotels on both sides, and I chose a modern one called the Hornbill Residency which had a sign outside listing a range of facilities including Doctor on Call and WiFi.  So far I had not been able to make the latter work with my phone or tablet anywhere in India, and I concluded, rightly as it turned out, that there must be something wrong with my set up at home.
The temperature in Ooty was much cooler than everywhere else I had been so far, making it really comfortable for walking about.  Most of the shops were straight out of the 1920s and 30s, a few having traditional English family names such as Higginbothams book shop, and I spent quite a bit of time poking about in the back alleys.   Ooty is an attractive place and I should have stayed longer there, although it was quite cold in the night.
Another health check the next morning and surprisingly all seemed to be well.  A few minor bites, but the one with the red streak had almost disappeared.   So far I had seen very little of the inefficiency  for which India is noted.  In fact, on the whole most dealings I had with people had been easy and straightforward by any standards.  It is true that I had difficulty in understanding some people and they  had difficulty in understanding me, but that was purely a linguistic matter.  However, the only way to get breakfast in the hotel was to have it brought to my room, which proved to be a logistical challenge. From ordering it at reception to actually getting it took about an hour,  during which staff came to my room several times to confirm what I wanted, each time with slight variations on what was actually available.  By the time it came I was on the point of giving up.
To the coast
Most of the traffic to Ooty goes out the way it came in, via Mettupalayam, but as I was essentially on a circular tour I left the town in the other direction, towards Gudalur.   This is a mountain road similar in character to the one the other side, still with the endless bends but with much less traffic and, of course, I was going downhill.  Within a short time I came round a bend to find the road completely blocked by two buses coming towards me side by side.  Exactly as I described earlier, some road space mysteriously appeared and there was no crash.  However, the bully-boy buses going in my direction were a problem for a long way, and my notes say "lot of near goes".  The scenery was brilliant, when I could look at it.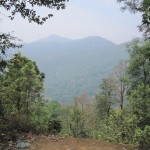 Somehow at one point I got lost, and although I quickly discovered where I was, I was about 15 miles from where I was supposed to be.  There were some police or military check points, and I was just about to be stopped when the officer realized that I was a foreigner and waved me on.  In most countries the foreigners are questioned and the locals waved through, but it seems that India is different.  The checkpoints may have had something to do with the state border between Tamil Nadu and Kerala.
My target for the day was Calicut (Kozhikode), a major city on the coast of Kerala, and I found quite a smart hotel without too much trouble.  Just as I got to the reception the lights went out and within a short time the hotel's own generator kicked in.  I asked if this was a common occurrence and was told that it was rare, which was belied by the number of businesses around with their own big expensive generators.  The central area of Calicut is quite Western in character, clean and tidy with modern shops, including an unbelievable number selling phones and associated products.  Also plenty of decent restaurants, but I stuck to my usual vegetarian fare which had served me well so far on the health front.
The next morning the heat was intense, and I had to abandon an attempt  to walk the half mile to the beach after breakfast.  Later in the day the temperature was to reach the highest figure ever recorded in Calicut, at 38.1⁰C  (100.58⁰F).  I drove through to the beach, and was rather surprised to find it almost completely deserted.    It was just too hot to sit around, so I carried on down the coast road towards what appeared to be a resort called Ponnani where I thought I might stay the night if I could find a hotel. It turned out to be a very poor run down area with a couple of 'hotels' that fell far short even of my undemanding standards.  After messing about for a long time I finished up driving down to Guruvayur, a spa-like town with lots of decent-looking hotels.
The first one I came to had no vacancies, and in the second one about ten young men walked up to the reception in front of me.  The man at the desk asked what I wanted, and when I asked if there were any rooms this was greeted with considerable merriment by the other group.   The man said they were fully booked, and then I suddenly remembered reading about Guruvayur.
The town is centred around one of the most famous Krishna temples in India, to which people come to worship from all over the country.  In particular it sees up to around 200 weddings every day, and the hotels are fully booked for months in advance.  The young men I encountered probably thought I had come to the town in search of a bride!
Thrissur again
It was too late in the afternoon to for there to be any hope of finding a hotel or a bride, so I decided to push on to Thrissur, where I could be sure of finding good accommodation.  I suddenly discovered that I had finally come to terms with Indian driving and made really good progress over the thirty mile journey, arriving well before dark.  At the Ashoka Inn I was greeted like James Bond returning to one of his old haunts. "Good Evening,  Mr.Bond.  How nice to see you. Your usual room?"  Well, not quite, but the staff ran around as if I was going to buy the place and I concluded that maybe I was tipping too generously.
During my previous brief stay in Thrissur I had completely failed to find the city centre or anything very interesting but this time I was better organised.  On the way to the centre the street was lined with market stalls, apparently for the locals because as elsewhere I was the only tourist.  And what about the beggars for which India is noted?  They were there, though not in the numbers that I expected.  Most of them were very old, many crippled and emaciated, looking as if they had just been released from Belsen.  Most developed countries have beggars but these people were in a different order of wretchedness from those on the streets of London or Brighton.  India is not  sub-Saharan Africa.  It has nuclear energy, space rockets and thriving industry which is investing all over the world, so perhaps it is time for this problem to be faced.
The town centre was quite lively with plenty of shops and restaurants, with a big choice of vegetable dishes, but strangely I ran into a serious language problem in the first place I tried.  I don't think they were being difficult, I think there really was no one who spoke English and ultimately a satisfactory meal was produced.  It just seems that Thrissur is not well set up for foreigners.
By now I had come close to using my 700km distance allowance with the car, after which a high kilometre charge would become payable, so I decided to take some photographs in Thrissur the next morning and then go back to Guruvayur to look at the temple.  On the way back to the hotel at about 11.00am after the photo session I was walking across the waste ground near the bus station when a large rat ran in front of me and hid under a bus.  About 50 yards further on were piles of rubbish each side of the path and I looked down to see about six rats on one side and three on the other.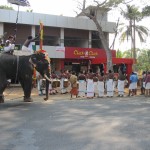 As I drove into Guruvayur I passed the only elephant that I saw in India.  It was highly-decorated, with two young men riding on it and appeared to be accompanying a band with about a dozen members. The main street in Guruvayur  was also highly decorated with a permanent roof supported by steel columns.  This led to an area in front of the temple where a large number of people were waiting for a ceremony of some sort to begin.    Non-Hindus are not allowed into the temple and people were looking quite hard at me, so I decided to move on.
Back in Thrissur in the evening I walked in the dark across the waste land opposite to the hotel where I had seen the rats.  They were not visible, but I was mindful of their presence.  From time to time I also had to step round heaps of old rags on the pavement, and it was a while before I realised that they were people.
I had arranged with Mr.Manu to meet him with the car at the airport the next day, before my flight home.   His first words were "Are there any scratches?".   By some absolute miracle there were no more than when I collected it, and I am surprised that after seven days driving in India it had not been reduced to a heap of scrap metal.  Anyway, he was quite happy with it, and handed over my £720 deposit.  Kerala Self-Drive Car Rentals are good people, and I would recommend them to anyone else who is foolish enough to consider driving in India.
Other people who go to India come back with wonderful stories of the Taj Mahal, fantastic scenery and wildlife.  All I seemed to do was face death twenty times a day and struggle against the intense heat.  I wonder which of these scenarios is closer to reality.