CLICK ON PICTURES TO ENLARGE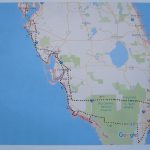 It was only 15 months since my last visit to the USA, but nine years since I was in southern Florida, that trip having been written up at length elsewhere on this site. It was also my first opportunity to experience a transatlantic flight with a low-cost airline (Norwegian) in a Boeing 787 Dreamliner, from Gatwick to Fort Lauderdale. American immigration procedures seem to change all the time, with some parts of the process now automated, but it appeared to have more stages than before and took just as long.
At the Alamo car rental depot I was sent through to the garage to choose "any car from the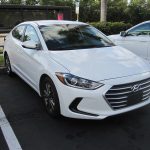 medium lot", which consisted of a row of about 12 cars of various makes and colours. For Florida you need a white car, because however good the air-conditioning is, a darker colour will be unbearably hot inside after it has been parked for some time in the sun. There were only two white cars, and the end I chose a Hyundai Elantra, which is what I had actually asked for.
Getting from the airport to accommodation at night in a strange car after a long flight is probably the most hazardous part of the whole trip, but I managed to reach the rock-bottom Motel 6 Dania Beach without incident, in time for a full night's sleep.
I had originally planned to take this holiday in November, but had to postpone it until March for various reasons. When I rebooked the accommodation I realised that prices were much higher and availability more limited, as early March is the peak season for Florida, and coincides with the students' Spring Break. Fort Lauderdale was the traditional home for the Spring Break before they moved to Daytona, but it seems to have regained its popularity to some extent.
Florida weather is not totally predictable in March, and when I went out the next morning it was about 55⁰F, which is cooler than I would have liked, although characteristically it warmed up quite quickly into the lower 70s.
In bygone days I always went out for a full American breakfast consisting of a stack of pancakes and syrup together with eggs, bacon, other fried items, and possibly fruit all on the same plate. Sadly my insides will not stand this every morning nowadays, but I did indulge on the first day at Joe's Café, a popular eating place at Harbordale, about 2 miles away.
In peak season it is difficult and extremely expensive (several dollars an hour) to park in many of the beach areas of southern Florida, and it occurred to me some time before I went that a folding bicycle that I could take in the car would be useful. I had recently seen one in a boot sale in England for £25, and something like that would be perfect. The place to find one would be one of my old haunts, the vast Fort Lauderdale Swap Shop a few miles away on the western side of the town, so that is where I made for after breakfast. The Swap Shop is a huge indoor and outdoor market and boot sale, which turns into a 14-screen drive-in movie theatre in the evening.
The whole establishment belongs to Mr.P.Henn who is a car enthusiast and collects cars mainly with a top speed of about 200mph. He has a museum at the site, and the collection has grown from about 12 on my previous visit to around 30 now.
There were a number of bicycles on offer, but no proper compact folding ones, and I think this is because cycling in America is mainly for people who are too young to drive a car or the lycra brigade, who ride around with the same expression of grim determination on their faces that Americans put into all their leisure activities.
On the way back to the motel I called at three bicycle shops, but all they had in folders were new German Dahon ones made in Taiwan, the same as the one I have at home, so I abandoned the idea. I also went into a Walgreen pharmacy (owner of Boots in the UK) for a couple of things, and was amazed at how expensive a lot of things were. The pound has actually gone up against the dollar since my California trip, and I am sure there has been inflation of the dollar prices in recent times.
The route back to Motel 6 took me along Fort Lauderdale Beach and Las Olas Beach, which were absolutely packed with people and no hope of parking.
The evening meal was something of a surprise. Shortly before going to the States I read a novel by a south Florida author and professor named James W. Hall, involving the creation of a new species of fish called red tilapia, which would be worth a fortune. I had never heard of tilapia, and thought it existed only in the realms of fiction until I looked at the menu in the International House of Pancakes and saw a meal called Tilapia Florentine with baked tilapia as the main ingredient. There are in fact many species of tilapia, though possibly not red ones, and certain aspects of tilapia farming and consumption are controversial. Anyway, it was delicious and there have been no after effects at the time of writing.
No Parking in Little Moscow
The plan now was to spend the next day looking at the east coast beaches down to North Miami, and then drive across to Naples on the west coast in the afternoon In the morning I started out early, but not as early as I thought, because I discovered that the clock had changed by one hour in the night.  Motel 6 is actually on route A1A which runs close to the coast right down to Miami via Hollywood, Hallendale and North Miami Beach, this Hollywood being a very far cry from its namesake in California. The whole area is a heavily built-up coastal strip with limited and very expensive parking. I was hoping to get breakfast in a place called Sunny Isles where I spent some time in the late 1980s, and where there are several strip malls (precincts of small shops with time-limited parking). On one these I found a bakery/café with a very pleasant waitress who had worked for a while in London, and after chatting her up a bit she offered to let me leave the car on their private car park for a couple of hours while I went on the beach.
Between the road and the beach are three identical 45-storey skyscraper 'condo' blocks and three smaller ones, comprising the Trump International Beach Resort, all built in the last 10 years. At least a third of them are occupied by Russians and the area, including Hollywood, is known as Little Moscow. When I first went there 30 years ago a lot of the residents were elderly German-speaking Jews and, during the holiday season, French Canadian 'snowbirds', but most of the holiday accommodation has now gone and the Russians have taken over in a big way.
It was not perfect beach weather, slightly cool and with a strong swell, but ideal for walking down to the wooden fishing pier. In both directions there were enormous buildings as far the eye could see, with a few of the original shabby 2-storey motel blocks tucked in between. Sadly the art deco reception buildings facing the road have long since disappeared. I walked back along the road to the café for another apple pocket (turnover) and coffee before driving along to Hollywood. With some reluctance I put the car in a multi-storey car park at 4 dollars an hour and went through to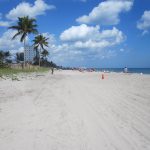 the beach. Hollywood has a classical American 'boardwalk' (actually tarmacked) on the beach lined with palm trees, a hive of activity, with walkers, skateboarders, cyclists and pedal-powered contraptions carrying up to four people. At the side was also an ingenious continuous wave on which people were practising surfing. This is where the bicycle that I didn't have would have been perfect. Hollywood seemed to have been spared large-scale development, and most of the single storey motels that I remembered from 30 years ago were still there, albeit somewhat smarter.
Moving on West
Time to drive on to Naples, over 100 miles away on the west coast, via the Interstate I-75 toll road. The toll was $1.50, laughable by European standards, and with the light traffic it took well under two hours to reach the Spinnaker Inn motel.  As flat as a pancake and mostly dead straight, the highway runs right through the Everglades. More about that later.  The Spinnaker Inn is a traditional motel, where you can park in front of your room, which I like, although the British Foreign Office travel advice is to avoid such places because they are easily accessible to strangers. There were two or three restaurants adjacent to the site.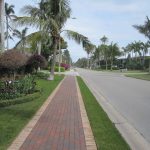 After surviving the night without getting mugged or shot I drove into central Naples which is a stylish upmarket area with mostly free parking. Presumably this Naples is a one-time descendant of the one in Italy where you would probably be far more likely to get mugged or shot. The open restaurants were very expensive so I went back to the main road and found Another Broken Egg Café for breakfast. As I was a new customer I got two items free!
On to the beach via the vast smart residential area that stretches for miles along the coast. No problem in finding free parking near the wooden fishing pier, which was barred off half way along due to damage from the recent hurricane Irma. Some of the big houses with enormous gardens set back from the beach were also being repaired. After a long walk on the wide sandy beach I went through to Old Naples for a coffee in the Bad Ass Café, the clientele of which did not seem at all appropriate for the name and more like the sort of people you would expect to find in the adjacent smart shops.
Naples to Venice and beyond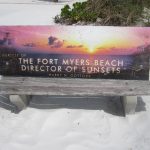 Next stop was Fort Myers Beach via Bonita beach. Development has been rife here, with limited beach access and expensive parking in places where it used to be free. As I walked along the beach I came across a bench facing the sea with a big sign stating Courtesy of THE FORT MYERS BEACH DIRECTOR OF SUNSETS Harry N Gottleib, over a picture of a gorgeous sunset. Back in the car it took an hour to drive the three miles to the centre of Fort Myers Beach due to the whole place being taken over by Spring Break students wandering all over the road.
Probably the most famous thing about Fort Myers is that it was the winter home of Thomas Edison, Henry Ford and Harvey Firestone, among other wealthy northern industrialists. My route took me along the tree-lined MacGregor Boulevard past their homes and the Edison Museum, which I visited years ago. It was slow going all the way to the Tropical Palm Motel, which was considerably less exotic than it sounded.
In the motel I picked up a leaflet about Rick Treworgy's Muscle Car City, which was on the main road at Punta Gorda, about 20 miles north, and resolved to visit it in the morning. When I got there the sign was in place in front of a large concrete building which was in the process of being
gutted for conversion to another use. I assumed that the museum had finished, and was annoyed to discover later that it had moved to another site about a mile away. A slight consolation was the discovery of a marvellous place called Destination Powersports with a range of fantastic recreational vehicles, the likes of some of which I had never seen before. Called UTVs, which apparently means Utility Task Vehicle, they have a skeletal frame, massive ribbed tyres and a high ground clearance.
From Punta Gorda I cut across to the weird town of Rotunda, a large "deed restricted" retirement community, consisting of bungalows built within a circle of narrow waterways, divided into eight segments, one of which has been left to nature. The circle is about 5 miles in diameter, and most of the shops and services are situated outside it to the north. The whole place was very quiet, almost like a ghost town, and maybe the residents were in the doctors' surgeries or playing on some of the five golf courses.
From Rotonda I went to somewhere I had never been before, namely Placida, a tiny fishing village on the edge of the Gulf of Mexico. As the name suggests, it was an absolute haven of tranquility on the edge of the ocean, even quieter than Rotonda.
Next stop was Caspersen Beach, a relatively undeveloped place with plenty of free parking in a wooded area within a short distance of the shore just south of Venice fishing pier. Close to the pier is a park with a lake which according to the notices is home to alligators, although I didn't see any. Certainly not the sort of thing you find in Bognor Regis.
Venice is another smart town, with an Esplanade, fairly similar in character to Naples. After a stretch on US41 again I turned off to Siesta Key and Siesta Village, pleasant not too over-developed places with good
beach access. A group of people on Siesta Key beach turned out to be a yoga class that was apparently open to anyone, although I did not take part. On to Sarasota, another city with a European-style main street, and across a long causeway to St Armands Circle and Lido Key. St.Armands Circle is a large roundabout with a little park in the centre and up-market shops and restaurants around the outside. From here you can walk to Lido Key Beach where there is plenty of free parking.
For 15 miles from St. Armonds Circle to Bradenton Beach the road runs along Gulf of Mexico Drive, a narrow strip of land between the Gulf and Sarasota Bay with spectacular views on both sides in places. Leaving the beach behind I drove on through Bradenton to my night's stop at the Day's Inn.
St Petersburg
The plan from here was to drive up to St.Petersburg via the Sunshine Skyway, an 11-mile long causeway with a 4-mile long bridge in the middle of it. It rises to a height of 430 feet and provides superb views across Tampa Bay. The toll for crossing this engineering masterpiece is a mere $1.50. Two long fishing piers beneath it are the remains of a previous bridge that collapsed after being hit by a ship in 1980, resulting in the deaths of a large number of people.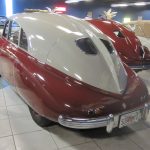 The first target in St.Petersburg was the Tampa Bay Automobile Museum, of which I had been aware for some time, but had imagined that it would not be particularly interesting. In fact, it was really excellent, with a lot of quite rare and technically unusual cars, mainly of European origin. It is always amazing that in America there are European cars that would be hard to find or may not even exist closer to home.
One of the top attractions in St.Petersberg for many years has been its pier, which extends from the centre of the city into Tampa Bay, and has been famous for the building at the far end, in the form of an inverted pyramid. I followed the signs from the freeway to 'The Pier', but was very puzzled when I got to the place where I remembered it to be, because the road was closed with barriers, and there was no sign of the unique and iconic building. At first I thought I must be in the wrong place, but eventually realised that the building had indeed gone, this being confirmed by signs showing pictures of the old one and artist's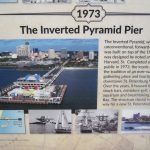 impressions of the new one that was being built. It seems that they just got bored with the inverted pyramid and decided to replace it with a new building of entirely different construction. It is impossible to imagine that happening in Europe, but Americans are much more ready to accept change than people this side of the Atlantic.
Anyway, somebody gave me his 3-hour parking ticket that still had 2 hours left on it, so I went for a look around the centre of the city, with its tidy streets lined with palm trees and generally upmarket atmosphere. It was then time to go back to the Days Inn Bradenton and spend the evening shopping.
Shopping blues
Not far away was the De Soto Square Mall, which was an example of the parlous state of the American retail scene, and perhaps a warning of the way we are heading in Britain. The shopping malls usually consist of two or more 'anchors', big stores such as Sears, Macy's, Bloomingdales, etc, connected by covered arcades of smaller shops and a food hall. In this case the anchors were Sears and J.C.Penny, which were not exactly booming, and at least half of the other businesses were closed. In the food hall only two places out of about six were trading, and it was altogether a very sorry scene. Efforts are being made to revive it by bringing in entertainment centres and other attractions, but its future obviously very much hangs in the balance. The situation has been described as a 'retail apocalypse' which will result in a high proportion of American shopping malls closing in the next few years.
Back to Naples
The next morning I set off to retrace my steps back to the Spinnaker Inn in Naples, but calling at a couple of places on the way, namely Ideal Classic Cars, a museum in Venice, and Fisherman's Village, a quaint but touristy shopping and entertainment centre on the bank of the Peace River in Punta Gorda.
The museum was really a classic car sales business, but had some interesting, mainly American vehicles on show. Entry was free by registering as a supporter, presumably as they hope to see you as a customer one day. Unlikely in my case.
Fisherman's Village was very busy, and I had to walk some distance from the car, something Americans do not usually do. It consists of shops and restaurants in a large covered arcade between old wooden buildings. There are actually moorings for fishing boats and a walkway alongside the harbour with pelicans and other marine life around.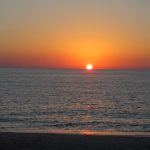 Naples is famed for its sunsets, and as it was a particularly fine, clear, evening I made straight for the beach to see it. Harry N.Gottlieb, the Fort Myers Director of Sunsets, does not have a monopoly, and I think the Naples ones are more famous. If it looks like being a good one a large number of people turn out to watch, including the residents of retirement homes on the beach. When I got through to the beach there were already a lot of people there, many sitting on chairs that they brought with them. I have seen Naples sunsets before and clouds often appear on the horizon at the last minute but this one really was exceptional with a clear sky right through to the end. When the sun finally disappeared the spectators clapped, a very American thing to do (they clap when planes touch down safely).
The next morning, before setting off for Miami I decided to have a look at the beach, but found that it was impossible to park anywhere near. There were many people and families dressed in green outfits flocking to the city centre, and I realised that it was March 15th, St.Patrick's Day. I have encountered this before in the USA, and it is astonishing that are there so many people who claim to be of Irish descent. The streets around the city centre were all closed to cars with barriers, so I pushed on out of town on US41 towards Miami.
The Everglades
After a few miles I turned off right to Marco Island, which was new territory to me. It is a true island, joined to the mainland by two road bridges, and is mainly residential with limited access to beaches unless you are staying in beach front property. All quite upmarket and undoubtedly expensive.
Returning to US41, within a few miles the road enters the Everglades (though not the National Park) and comes to the turn-off south to Everglades City. I stopped here for a snack at Subway, and while I was in the car park I heard 50 Harley Davidsons approaching at full bore. In fact, there were no Harleys, just a very big airboat packed with people on the river behind the restaurant. Unfortunately I did not have my camera.  These machines are considered to be environmentally unfriendly (even more so than Harleys) and are not liked by a lot of people. They are, however, an easy way of getting right into the Everglades and tours are available in various places all the way to Miami, often operated by members of the local Indian population.
Highway 29 leads south from here to Everglades City, which I had not visited for many years, but it was just as I remembered it, with the white City Hall and other buildings spaced out amid palm trees, presenting a very serene image. A few months ago it had been anything but serene, as it was right in the path of hurricane Irma and suffered a considerable amount of damage and floods.
Continuing on the road from Everglades City brought me to Chokoloskee Island via a bridge and causeway. This place is a bit of a shanty town, best known for the Smallwood Store, a wonderful general store dating from 1906 and preserved with all its contents as a museum including a life size figure of Ted Smallwood, its founder, relaxing in a chair.
Retracing my steps back to the junction with US41 (no alternative), I turned right for about 17 miles to Monroe Station, and then turned off again on to the unpaved Loop Road which goes south for several miles deep into the Everglades before turning east and eventually joining up again with US41. It is generally against the rules to take a rental car on unpaved roads but as the Loop Road has a number and is a recognised tourist route I think it is an exception. The surface could best be described as fine white shale, which billows up into a cloud of dust behind every vehicle that passes under dry conditions, but the traffic density is usually quite low so it is not too much of a problem. The large potholes that existed when I first drove it 30 years ago have now mostly disappeared.
The trees and vegetation extend right up to the edge of the road, but periodically there are clearings where the true nature of the Everglades can be seen close up. Essentially it is partially-flooded grassland which supports a unique range of flora and fauna much of which is not immediately apparent. It is quite flat, and while there are trees in abundance, mostly they do not grow very high, so it easy to drive through it and see it as just another forest. The water on which it depends is actually a slow-moving river 60 miles wide and 100 miles long, stretching from just below Orlando to where it enters the sea at Florida Bay.
It is an area of immense ecological importance, and despite its National Park status it is constantly under threat from surrounding human activity. To the average tourist it does not have the same stunning impact as, for example, Niagara Falls or the Grand Canyon, but it is no less important in the world of nature.
The human inhabitants of the Everglades are mainly native Americans in the form of Seminole and Miccosukee Indians whose forebears were driven south as the white settlers advanced from the north. In addition some war veterans and other people who wish to live away from the mainstream have property tucked away among the trees and swamps. It is considered very inadvisable to approach such premises. Back on the main road to the east I passed the Miccosukee Indian Village which is a major tourist attraction, but was too late to go in.
On the way back to the airport the next day I was planning to have a look at the fantastic art deco area of South Miami Beach which I had not seen for many years, but the hotels in any part of Miami are wildly expensive, and I decided to stay in Homestead, a rather ordinary town a few miles away. Homestead is in fact not rather ordinary, but very ordinary, its only saving grace
being a short stretch of main street with antique shops and cafés
Art Deco Saved
Parking in central Miami on a Sunday in peak season seemed to be from $20, so I went straight through to South Miami and quickly found Collins Avenue and Ocean Drive, the heart of the art deco district. When I first went there in the 1980s the movement to save these wonderful buildings from demolition was only just getting under way, and many were in a bad state. It was considered dangerous to walk off the main thoroughfares at night, or even during the day in some places. The restoration of the buildings combined with general smartening up and better street lighting has transformed the whole place. The area is thriving, with traffic on Ocean Drive proceeding at a snail's pace, which suited me, as it afforded a better opportunity study the stunning architecture. Unfortunately my camera battery packed up and I am never very successful at getting pictures with my mobile phone.
It is also astonishing how the art deco buildings continue as you drive northwards on A1A, the coast road. Years ago I knew this stretch of road quite well, and the buildings must have been there all the time, but were so shabby that they were not really noticeable. Presumably heightened interest and increasing values have been a driving force for their renovation.
As mentioned earlier, this trip would have been better had it not been at the height of the tourist season, but at least the weather was perfect for walking about, mild with, unusually, no rain.